"Buy me some peanuts and crackerjacks. I don't care if I never get back." Ballpark food has added to the excitement of going to the game. Hot dogs, big chewy pretzels, roasted peanuts and nachos in a helmet just seem right to have at a game.
But where did the hot dog come from? My research this month taught me that the hot dog was named after the Dachshund hot sausages that were sold by a German immigrant. Charles Feltman sold his sausages out of a food cart in New York around 1860 in Coney Island. Due to the unique long, thin body shape of the Dachshund, the nickname wiener dog came about. This explains the canine name for the "hot dog." 
We also call hot dogs Frankfurters. Why? That one is easy: Frankfurt, Germany. This is where these sausages were originally created, sold and eaten at beer gardens. The Germans were known for putting their sausages on bread. Sausage vendors found it easier to hand out these hot dogs on shaped bread to fit the dog.
Hot dogs can be boiled, grilled, fried or smoked. I used to cut hot dogs up in macaroni and cheese for my kids when they were young. There are many popular ways to eat hot dogs. The special hot dogs listed below are very simple to make.  
The BLT dog: wrap bacon around the hot dog and bake until the bacon is done. Place lettuce and tomato in the bun and add the bacon-wrapped hot dog. 
The chili cheese dog: add a generous scoop of chili on top of the hot dog and add your favorite cheese.  We used melted Cheese Whiz. 
The grilled cheese dog: (not pictured) a grilled cheese sandwich with a sliced hot dog inside. An option is to grill the bun instead of using the sandwich bread. 
The taco dog: (not pictured) simply add taco sides to your hotdog. Once your dog is in the bun, slather it with taco meat, lettuce, chopped tomato and shredded cheese. Instead of ketchup use salsa and add a dollop of sour cream to the top of your taco dog.
The Philly dog: add sautéed onions and peppers to your hot dog.  But be sure to add a slice of Swiss cheese on your bun before you load it with your goodies.
Pigs in a blanket: these are made by wrapping crescent rolls around the hot dog and then bake.
What is your favorite type of hot dog? Try one of these.
The following dishes make great sides to go with hot dogs or any summer meal.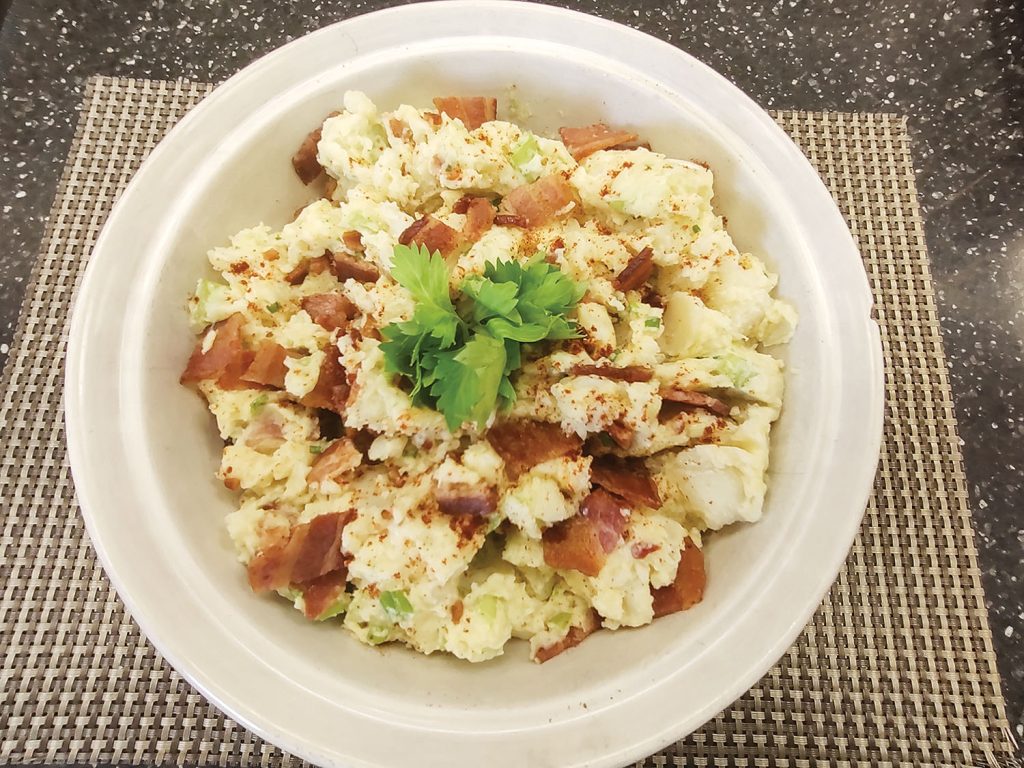 Mom's Potato Salad With Bacon
3 pounds potatoes, peeled and cut into large cubes
8 slices bacon, cooked 
2 celery ribs cut to bitesized pieces 
2 green onions
1 cup mayonnaise
1/2 teaspoon pepper
1/2 teaspoon celery salt
1 teaspoon Splenda  sweetener
2 tablespoons mustard
Salt to taste
Paprika to top
Cook potatoes in boiling water until tender.  Drain and cool. Place potatoes in a large mixing bowl.
While potatoes are boiling, cook bacon in a fry pan or line a cookie tray with foil and bake bacon. Once bacon is cooked, place on a paper towel. Pat bacon with a paper towel to remove excess grease. Crumble into large pieces.
Stir together mayonnaise, pepper, celery salt, Splenda  sweetener and mustard.
Take your mayonnaise mixture and stir into the potatoes and coat. 
Add celery, green onions and crumbled bacon.
Salt to taste. Add more mayonnaise and seasonings if desired.
Sprinkle top with paprika. Cover and refrigerate for one hour.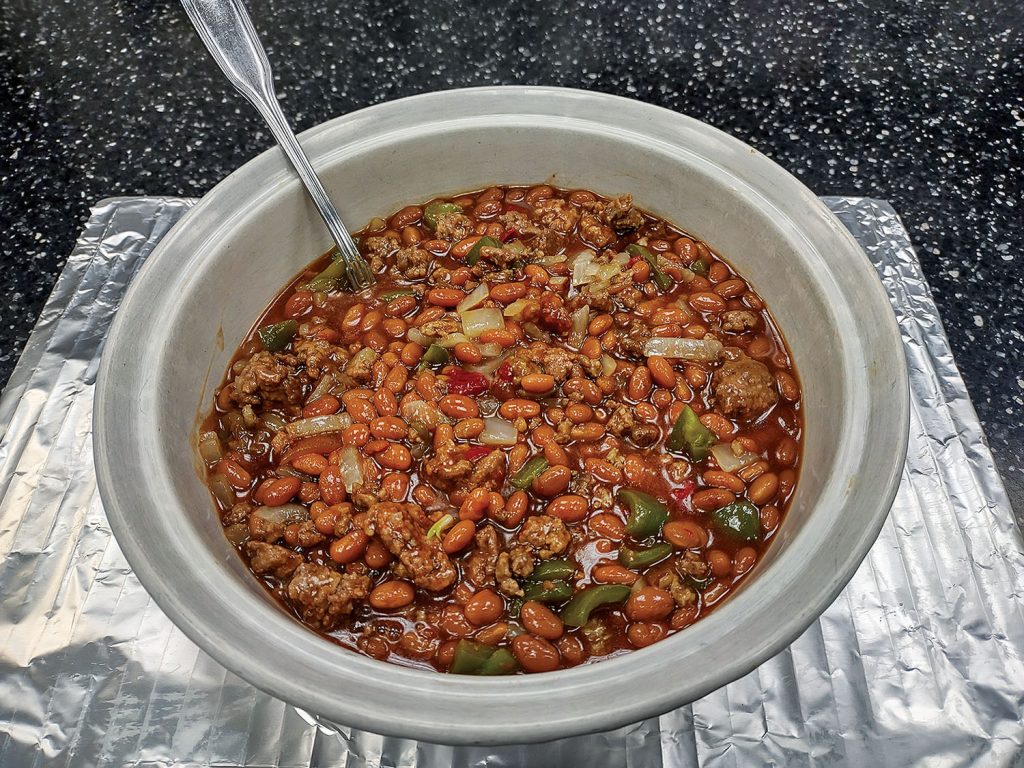 Baked Beans With Beef
1/2 pound ground beef
1/4 cup green pepper, cubed
1/4 cup red pepper, cubed
1/2 small sweet onion, diced in small pieces
(olive oil, butter or bacon grease for sautéing peppers and onion)
2 cans pork and beans or Bush's Grillin' Beans
2 tablespoons Worcestershire sauce
1/2 cup packed brown sugar
1/4 cup ketchup
1/4 cup any kind barbecue sauce
1 tablespoon spicy brown mustard
For the top of baked beans:
Two slices bacon, halved
Preheat oven to 350 degrees Fahrenheit. 
Fry ground beef, drain and set aside.
Sauté peppers, and onion. Use bacon grease if you have some or a pat of butter and olive oil.
Open your beans and place in an 8×8 pan. Recipe can be doubled.
Add the rest of your ingredients to the sautéed mixture. Stir to combine well.
Arrange your bacon on top of the beans.  Cover with tin foil and bake for 45 minutes.
Easy Soft Chewy Pretzel Bites
1 can Pillsbury Pizza Crust (two cans if you want more)
¼1/4cup baking soda
5 cups hot water
Melted cheese or cinnamon and sugar 
Line a baking sheet with parchment paper and spray parchment paper with a non-stick cooking spray. Preheat oven to 400 degrees.
Unroll pizza crust. Roll into a 10-inch rope.
Cut the roll into six or 10 little chubby pieces.
Mix baking soda with hot water in a small, deep bowl. Stir until the baking soda is completely dissolved. 
Dunk each of the pretzel pieces in the water with baking soda. Transfer pretzels to the parchment-lined baking sheet
Sprinkle the wet pieces of dough with coarse kosher salt.
Bake for 8-10 minutes. 
Dip in your favorite melted cheese.
Cinnamon and sugar option: 
Skip the step of sprinkling the coarse salt on your dough and just bake your pretzel dough. When the pretzels come out of the oven, butter them with melted butter and sprinkle cinnamon and sugar on top of hot pretzels. If you like them extra sweet, roll pretzel in butter, then roll in cinnamon sugar. 
NOTE: Earlier this year I asked our readers to submit copies of their favorite recipes. I received a letter from a man named Charles who lives in Frankfort, Ky. He sent me his soup recipe. This recipe calls for cream of chicken soup or cream of mushroom soup. With his canned soup he adds rice or noodles and cooks this mixture until ready to serve. For his extra added flavor he adds a can of oysters or clams. Thanks for the recipe, Charles. This sounds tasty and quick to make!
MaryAnn Kuper is a cook on an American Commercial Barge Line towboat.
Caption for top photo: There are lots of ways to serve hot dogs.