Sometimes it is necessary to work away from home. You may have to further your career and set up your future. With some professions, it is part of the job description. It is difficult knowing that you will be away from home during special days.
Employees working on the river usually are gone for long periods of time. Thus, they need to be flexible, plan their holidays with family and most importantly commit to the bigger picture. With that in mind, try these tasty dishes in the galley to ramp up your Father's Day away from home. 
Surf And Turf
Ingredients: (for the filet mignon)
1 inch filet mignons 
Salt, pepper
Garlic powder
Butter
Canola oil
Cast iron skillet 
Ingredients: (for the shrimp)
Large shrimp, peeled and deveined 
Garlic salt
Minced garlic
Butter
Fresh squeezed lemon
Olive Oil
(Note: No ingredient amounts are given due to variations based on how many servings are planned)
Instructions: Filet mignon
Set out your beef filet for at least 30 minutes to one hour before cooking to bring your meat to room temperature.
Generously season both sides of filet with salt, pepper and garlic powder.
Add butter and canola oil to a cast-iron skillet. Olive oil is always good for cooking; however, canola has a high smoke point. This means that your oil can withstand higher temperatures without smoking. 
Once pan is hot, add steaks to pan. Be sure your steaks are sizzling to get a good sear. Sear each side for three minutes.
Use a meat thermometer to check for desired taste: rare, 125 degrees; medium rare, 135 degrees; medium, 145 degrees; medium well, 150 degrees; and well done, 160 degrees.
Once filet is cooked to your desired temperature, remove immediately from pan and let set for five minutes.
Instructions: Shrimp
Rinse shrimp in cool water. Pat dry and season with garlic salt.
Add butter and olive oil to skillet (about one large pat of butter per one cup shrimp). Once butter is melted, add minced garlic to taste. 
Add shrimp to skillet and spread into a single layer.
Sauté shrimp. Shrimp is cooked when it turns pink and white. (Cooking time will depend on the size of your shrimp.) Do not sauté on high heat or butter may burn. Add more melted butter if you need more garlic butter sauce.
Drizzle squeezed lemon over shrimp and butter.
Serve with your filet mignon.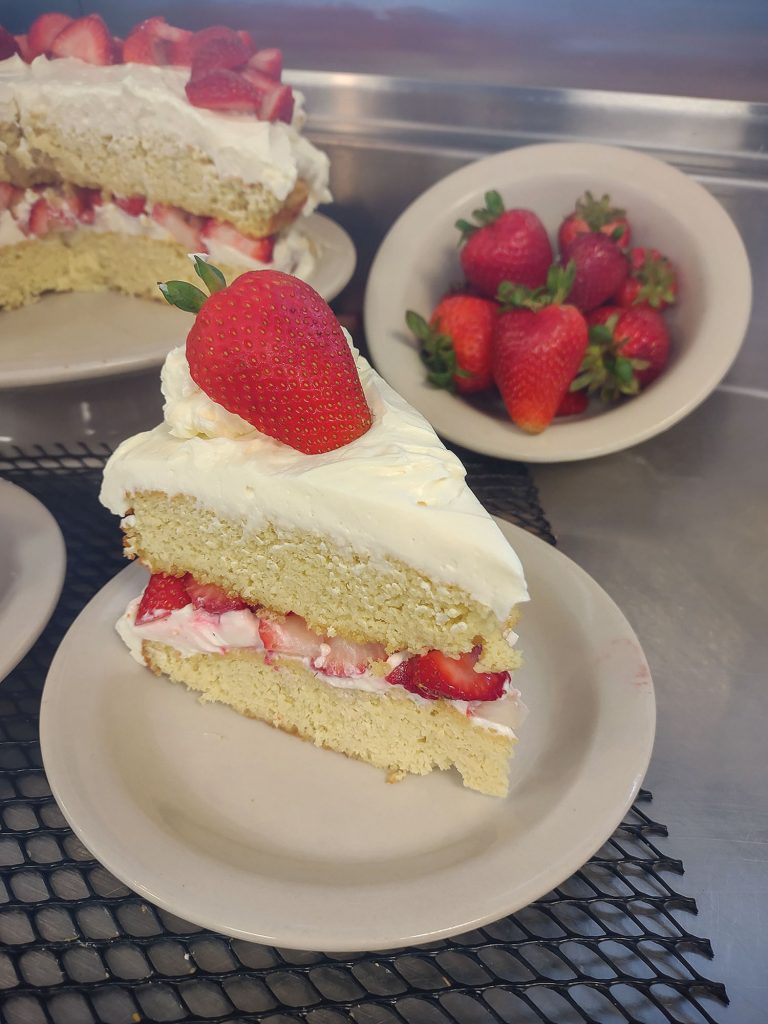 Strawberry Vanilla Cake – No Sugar!
Ingredients: Cake
1 cup granulated sugar-free sweetener 
3/4 cup butter softened
8 eggs
1/2 cup milk or unsweetened almond milk
1 Tbsp. vanilla extract
3-1/2 cups super-fine blanched almond flour  
1-1/2 Tbsp. baking powder
Ingredients: Cream cheese frosting
4 bricks cream cheese, softened at room temperature
1/3 cup butter, softened
1 cup granulated sugar-free sweetener
1 tsp. vanilla extract
1-1/2 cups sliced strawberries
4 large strawberries halved lengthwise
Instructions: Cake
Preheat oven to 350 degrees. Spray two 8×8 pans with a non-stick spray.
In a large bowl, beat the sweetener and butter until fluffy.
Beat in the eggs one at a time. Then add milk and vanilla and beat.
Add baking powder to almond flour. Beat in the almond flour one cup at a time to the egg mixture. 
Transfer the cake batter to the 8×8 pans. Bake for 18-20 minutes, until the top is lightly golden. Insert a fork; if it comes out clean the batter is completely baked.  
Instructions: Frosting
Beat together the cream cheese, butter, sweetener, and vanilla extract until smooth.
Assembly:
After the cakes have cooled gently remove one cake and place on an 8×8 or larger plate. 
Frost top of cake on plate with half of the frosting. Spread sliced strawberries on top of frosting.
Gently remove second cake and place on top of frosted cake and strawberries. Use rest of frosting to frost top and sides.
Garnish the top of your cake with your strawberries that were cut lengthwise.
Brownies With A Cookie
Ingredients:
1 family size box of brownies mix (any kind)
Eggs, water, and oil as called for on box mix
1 tube of slice-and-bake cookies (any kind)
Directions:
Preheat oven to 350 degrees.
Follow directions on back of brownie mix box.
Spread brownie batter in a greased 9×13 pan.
Cut the cookie dough into ¼-inch slices.
Place the slices of cookie dough evenly on top of the brownies, and lightly press into brownie batter.
Bake for 25-30 minutes.  Let cool before serving.
Easy Chicken and Broccoli
Ingredients:
8 chicken thighs or 4 large chicken breasts cut in half
Olive oil
Montreal chicken seasoning
Garlic powder 
1 2-lb. bag frozen broccoli – defrost in microwave 
Salt and pepper
1/2 cup mayonnaise
1 can cream of chicken soup
1 tsp. lemon juice
1 tsp. curry powder
Directions:
Preheat oven to 350 degrees.
Place chicken on a foil-wrapped cookie sheet. Lightly brush tops of chicken with olive oil. Season chicken with Montreal seasoning and garlic powder. Bake chicken in oven with no cover for 50 minutes. Meanwhile, put thawed broccoli in a 10×13 pan, drain any water and pat dry. Season broccoli with salt, pepper and garlic powder.  In a separate bowl, mix mayonnaise with cream of chicken soup, lemon juice and curry powder.
Place eight scoops of mayonnaise mixture on top of broccoli. Cover with foil. Heat in oven for 40 minutes.
When chicken reaches 165 degrees, remove from oven. When broccoli has baked and is bubbly, remove from oven. With tongs, remove chicken from cookie sheet. Place chicken on scoops of mayonnaise mixture in broccoli pan. Return chicken and broccoli dish to oven for 10 minutes.
If you would like your broccoli to have more of a gravy mixture, double the amounts of mayonnaise and chicken soup.  Mix gravy mixture with broccoli completely and bake in oven.
MaryAnn Kuper is a cook on an ACBL towboat.