Members of the Ingram Marine Group family gathered in Reserve, La., June 2 to honor two longtime Ingram leaders and commission a pair of new towboats into the company's fleet. The new vessels, the mv. Adrienne M. Moore and the mv. Tom Cornwell, are part of a 10-boat series Main Iron Works is building for Ingram. The vessels are also Ingram's first new builds in close to 40 years.
At the June 2 event, the company christened the mv. Adrienne M. Moore, while the mv. Tom Cornwell was nearing completion at the shipyard.
"I'm really excited for three reasons today," said Orrin Ingram, chairman of Ingram Barge Company and CEO of Ingram Industries. "First off, I started working full time at Ingram in 1983, and since I've been working for Ingram, this is the very first towboat we've built—1980 was the last time, I think, we built a boat." 
Ingram said the other two reasons he was excited were the two vessels' namesakes: Adrienne Moore and Tom Cornwell.
"Our family takes naming boats very seriously," Ingram said. "It's absolutely the highest honor we can give."
Moore has served about 30 years with Ingram. She spent 14 years as a general manager for the company before becoming a director in 2018. She now serves as associate vice president of logistics and customer service, overseeing the Nashville Dry Cargo Logistics & Customer Service team.
"Adrienne is the gold standard in the industry when it comes to customer service," said Ingram President and CEO Dave O'Loughlin. "I know this, because when I visit customers, they tell me so. Literally hundreds of times, I've heard it and heard it and heard it, 'Can we work with Adrienne?'"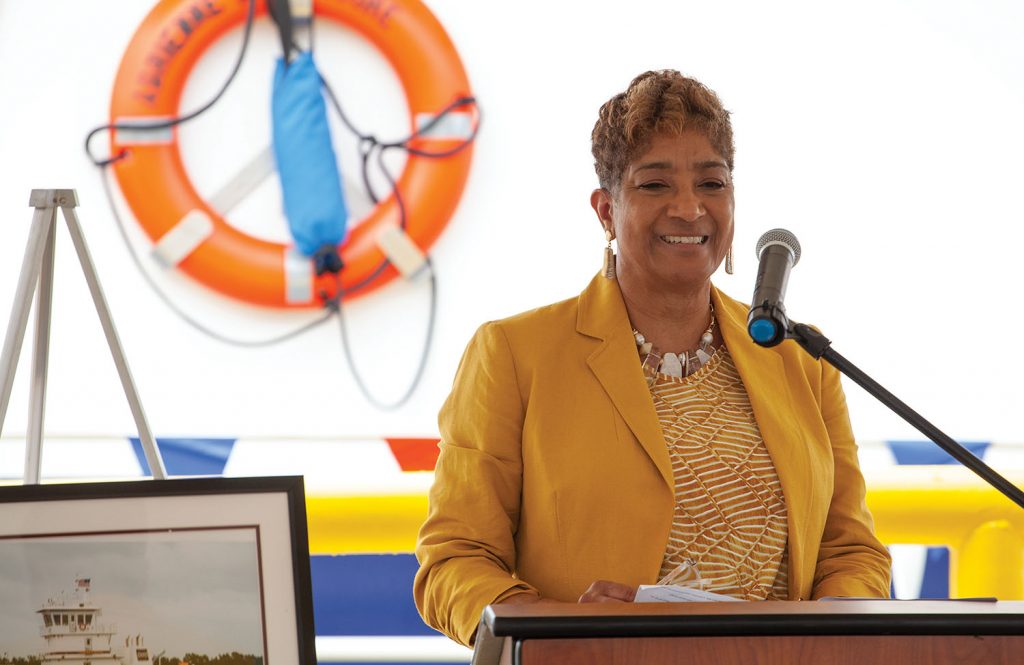 O'Loughlin said Moore is also the "gold standard" for logistics planning, tow building and capacity planning.
"I've seen her work miracles time after time, helping customers out of jams, tirelessly engaging with fellow associates as we encounter high water, low water, snowstorms, tropical storms and everything else mother nature throws at us," he said.
Celebrating with Moore was her family, including her husband, Rudy, as well as her son, daughter and granddaughter.
Addressing the crowd gathered, Moore heaped thanks on the Ingram family and leadership at the company.
"I am tremendously thankful and honored," she said. "This is just another example of how this family and how this company keeps sharing and giving back. We totally appreciate it."
Moore also recognized everyone who made the christening celebration possible and all the colleagues, friends and family who reached out to her to celebrate her namesake vessel. Finally, Moore addressed the crew of the mv. Adrienne M. Moore. 
"I want the crew to know this: Continue to work hard," she said. "I'm hearing good things about you. Continue to work hard and make this the hardest working boat in the fleet."
Tom Cornwell
O'Loughlin also recognized Cornwell for his impact on the company. Cornwell joined the Ingram family in 1977, first serving as chief engineer for the mv. Kathryn. He later became a port engineer for the company and was promoted to manager of motor vessel engineering in 2003. Cornwell specifically was responsible for Deloach Marine and Capitol Marine vessels after those acquisitions. In 2009, Cornwell became senior manager of motor vessel engineering, overseeing vessel maintenance for Ingram's entire Gulf Coast fleet.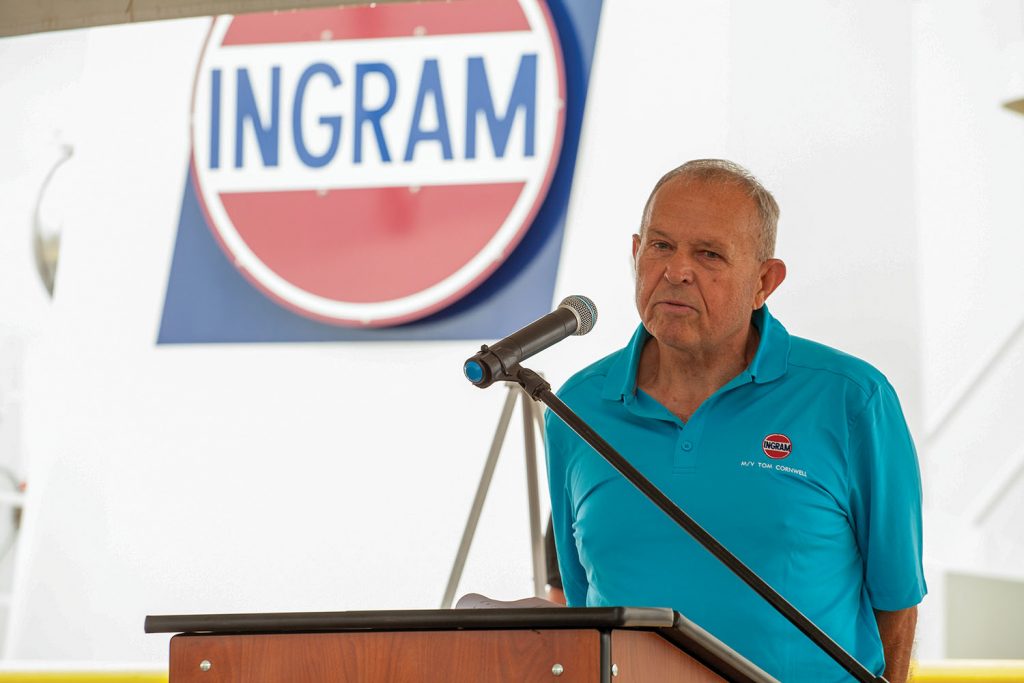 "Tom accepted his current role in 2020 as engineering projects manager, and in this capacity he oversees the construction of Ingram's new vessels, including the one named after him," O'Loughlin said.
O'Loughlin went on to praise Cornwell for his commitment to the job and his honesty.
"He's a true model of the Ingram way," O'Loughlin said. "He's honorable, accountable and driven, and he's always been that way his entire career. Throw in his technical knowledge and experience, and you have the perfect package. And to add on, you're a great teacher."
Celebrating with Cornwell was his wife, Donna, and his son.
"It's such an honor to be here," Cornwell said. "Orrin, thank you and all the executive team, anyone who had anything to do with this."
Rev. Tom Rhoades and Rabbi Jonathan Siger, chaplains with Seamen's Church Institute, offered prayers of blessing for the new vessels and crews. After that, Moore, with Ingram and O'Loughlin cheering her on, boarded her namesake vessel and broke a bottle of champagne over the bow of the mv. Adrienne M. Moore.
More About The Vessel
The mv. Adrienne M. Moore is a 78-foot by 32-foot open-wheel towboat, with a 10-foot depth and 8.5-foot draft. Design work for the vessel was a collaboration between Ashraf Degedy, Main Iron Works and Ingram Marine Group.
The vessel's 1,600 hp. come from a pair of Caterpillar C32 main engines from Louisiana CAT. Those engines and the vessel's Reintjes WAF 474 reduction gears from Karl Senner turn 76- by 62-inch, four-blade stainless steel propellers from Houma Machine & Propeller. 
Eagle Controls & Hydraulics supplied the steering system for the mv. Adrienne M. Moore, which is also equipped with a Townsend Design "twin diff" rudder system. 
The mv. Adrienne M. Moore has tankage for 25,272 gallons of fuel, 451 gallons of lube oil, 219 gallons of hydraulic oil, 512 gallons of slop oil and 15,430 gallons of water.
Ship service power comes from a pair of John Deere 99 kW. generators from Southern Power & Equipment. Eagle Controls supplied the Adrienne M. Moore's alarm systems. The vessel also features Duramax Marine bearings, Duramax keel coolers from East Park Radiator and Kemel shaft seals from Dale's Welding & Fabricators. On deck, the mv. Adrienne M. Moore is equipped with Wintech deck winches. Fendering is by M&M Bumper.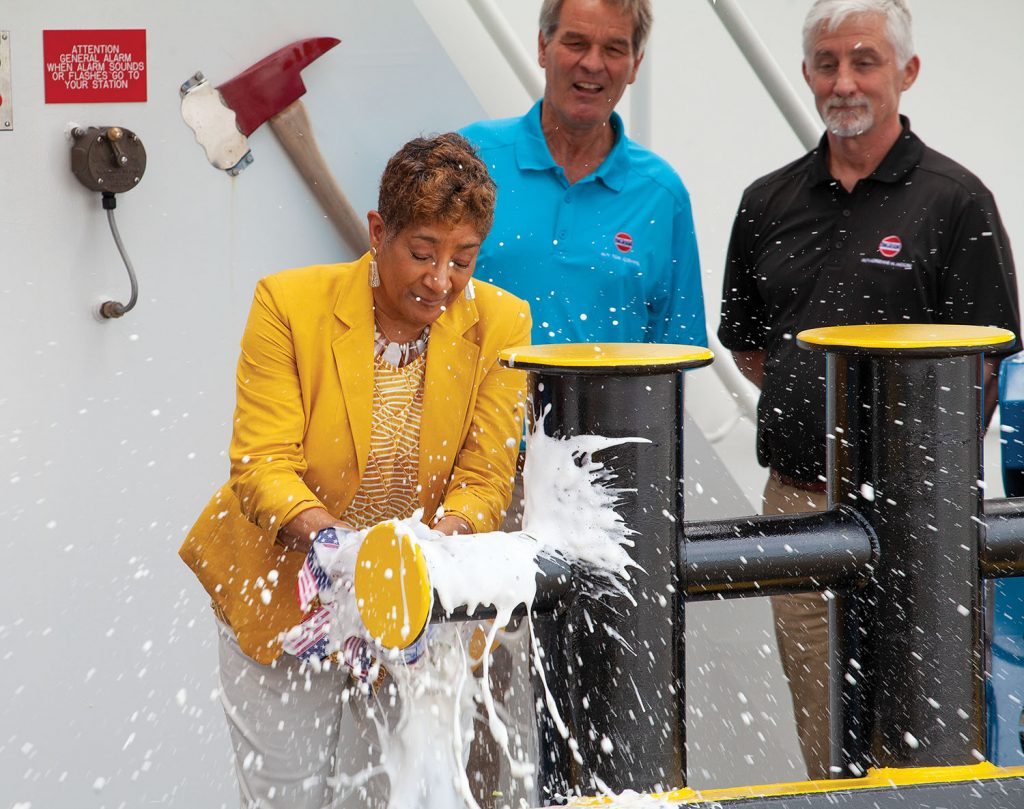 International Marine Systems supplied the vessel's electronics and communications equipment, which includes a radar, black box, depth sounder and loud hailer from Furuno. 
The vessel has accommodations for nine, with four double staterooms on the second deck and the captain's room on the third deck.
Speaking at the christening ceremony, Benny Cenac, owner of Main Iron Works, thanked Ingram for the opportunity to build the series of towboats and also praised company leaders for their commitment to build towboats designed with crew members in mind.
"This boat started off as a small project and it turned into a big project because of one very simple reason," Cenac said. "It was, 'We want the crew and our employees to have the best boat and the most comfortable boat for them to work on.'
"To all the employees that work for Ingram," he added, "I can tell you, from Orrin down to everybody that works on staff, it was always about the people."
Caption for top photo: The mv. Adrienne M. Moore is the first of 10 towboats being built by Main Iron Works for Ingram Barge Company.
Note: for more pictures from the christening ceremony, click on the slideshow below (photos by Frank McCormack):
Adrienne Moore with her family in the pilothouse of the Adrienne M. Moore; from left are Anya (daughter), Sean (son), Kensley (granddaughter), Adrienne and Rudy (husband).