In the United States for the past month or more, the supply of COVID vaccines has far outpaced demand. The oversupply has grown to the point that individual states have turned down vaccine shipments and the U.S. government has announced plans for shipping doses overseas.
But in many cases, vaccines remain somewhat hard to come by for one crucial group of people: the seafarers who work on foreign-flagged ships that call on the nation's seaports. Crew members are often caught in a difficult position. In some cases, their visa status may not allow them to leave their vessel or the jurisdiction of the port where it's docked. In others, ship protocol may prohibit unvaccinated crew members from leaving the vessel, for fear of contracting COVID-19 while on shore leave.
Since the beginning of May, port ministries serving seafarers on the Lower Mississippi River in Louisiana, led by chaplains with Global Maritime Ministries, have been working tirelessly to change that.
Philip Vandercook, executive director of Global Maritime Ministries, said his organization has a "vaccine request" form on its website, portministry.com. When a ship's captain, owner or agent submits a request, it includes information about which port or terminal the ship will call on and when it will arrive. That information helps determine which ministry organization—Global Maritime in the greater New Orleans area, the Gonzales Seafarer's Center near Baton Rouge, or Stella Maris in Destrehan—handles the call.
Sign up for Waterway Journal's weekly newsletter.
Our weekly newsletter delivers the latest inland marine news straight to your inbox including breaking news, our exclusive columns and much more.
For the month of May and the beginning of June, chaplains focused on transporting seafarers from their ship to the nearest pharmacy offering the vaccine from Johnson & Johnson, "because that's the only one that's a one-dose vaccine," Vandercook explained. The single-dose option is important, Vandercook said, since crew members may be at sea when it would be time for the second dose of the Pfizer or Moderna vaccine.
"Logistically, what that looks like is, we pick up about half the crew, take them to the pharmacy, then back to the ship," Vandercook said. "Then we pick up the other half of the crew and take them. It can take most of the day just to do one ship."
For Kerry Ash with the Gonzales Seafarer's Center that meant close to 100 miles of driving between Plaquemine, La., and a pharmacy in Baton Rouge, including a trip on the Plaquemine Ferry, to transport two crew members from India to get vaccinated.
On the last Saturday in May, Stephen McKinney, assistant director of Global Maritime, logged close to 200 miles on the road, transporting 18 crew members in two shifts from below Phoenix, La., near the Myrtle Grove Midstream Terminal, up to a pharmacy in Chalmette and back again.
"I think he started driving down there at 10 in the morning, and he got back at six or seven at night," Vandercook said.
Following that format, Global Maritime chaplains alone in the month of May were able to ferry 168 crew members from 12 ships to get vaccinated. That involved 850 miles on the road.
As successful as that month of ministry was, Vandercook said he and the other chaplains knew they needed a more efficient way to help seafarers gain protection against COVID-19 infection. Vandercook first identified a vaccine administration partner in Baptist Community Health Services (BCHS), a nonprofit New Orleans-based community health center. BCHS agreed to begin operating a weekly mobile clinic at Global Maritime's center on Tchoupitoulas Street, near the Port of New Orleans' Nashville and Napoleon terminals. Vandercook also set to work collaborating with port and terminal stakeholders, including officials from the Louisiana National Guard, U.S. Coast Guard and the U.S. Customs & Border Protection, to see if the team could make dockside and on-ship mobile clinics a reality.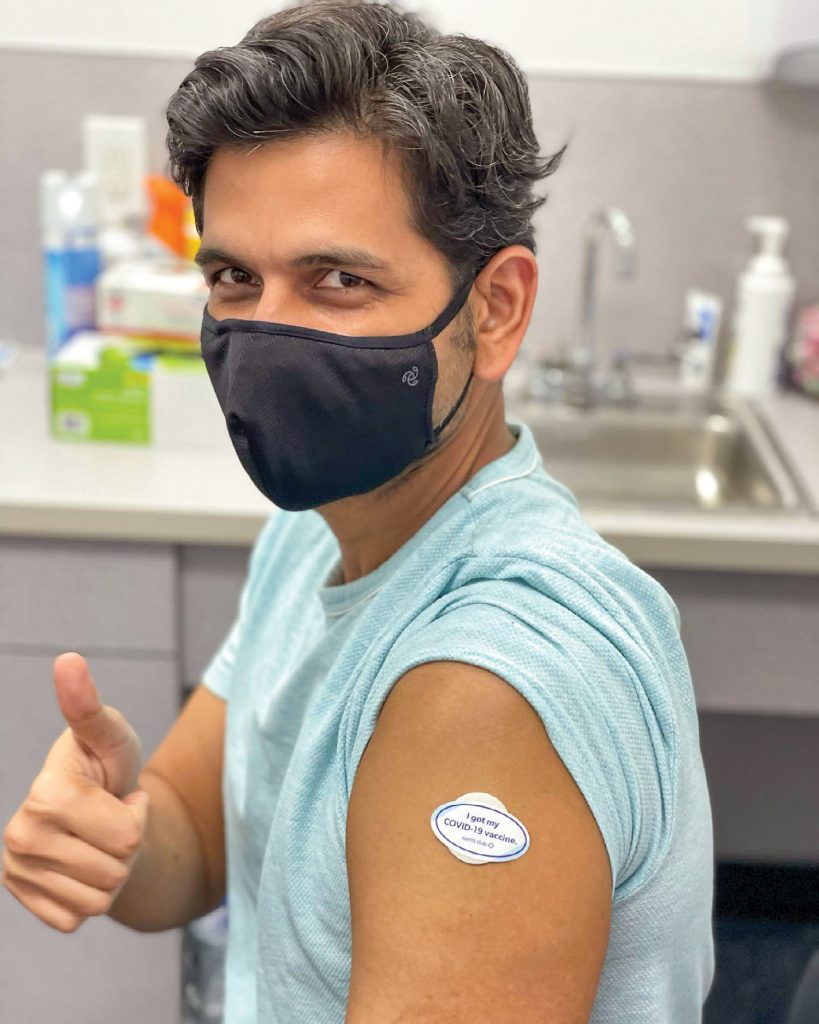 June 10 marked the first mobile clinic day. BCHS started by administering vaccines at Global Maritime's ministry center in the morning. Then, the group visited ships at IMTT and Cargill's grain terminal, both on the west bank of the river. In all, Global Maritime and BCHS saw 49 more seafarers get vaccinated in just one day.
Vandercook said the mobile clinic model represents a major breakthrough.
"That's the ideal way to do it, so it can be done in one trip and all at one time—it just makes more sense logistically," Vandercook said. "The whole crew can be done at one time, obviously, but those without visas or shore passes can be vaccinated, too, because they're not leaving the premises."
For American citizens, many of  whom are still reluctant to receive the COVID vaccine, it may be hard to understand the significance of getting the vaccine for these international seafarers. But Vandercook said, for the seafarers, the vaccine is met with "total relief."
"They are so excited just for the opportunity, because most likely, they're not going to get the vaccine anytime soon if it's not in the United States," Vandercook said. "It's just probably not going to happen."
In some cases, ship protocol may not even allow for unvaccinated crew members to leave the vessel. Others may simply not want to risk it.
"While they want off the ship, a lot of them are scared to get off the ship," Vandercook said. "They don't want to get something and then be at sea for two or three or four weeks, so there still is that caution."
For others who come from countries around the world where COVID is still spreading, getting the vaccine brings the promise of eventually being able to be with family and friends again.
"For folks like the Indian seafarers, as much as they want to go home and see their families, they don't want to go back until they're vaccinated, because they're so afraid," Vandercook said. "To get the vaccine is total relief for them. It's one step toward getting back to seeing their home and their family."
Caption for top photo: Representatives of Baptist Community Health Services and Global Maritime Ministries, alongside a cargo ship's crew, celebrate a successful mobile health clinic that brought COVID-19 vaccines to seafarers aboard their vessel.