Eight-year-old Jayden Leach thought hard about how she was going to break a bottle to christen the vessel named after her great-grandfather, whom she called "Papa," William "Peanut" Hollinger.
"I'm gonna hit it suuuper hard," she explained of her strategy.
With a little help from Hollinger's close friend, Winford Brewer of Paducah, Ky., that's exactly what she did.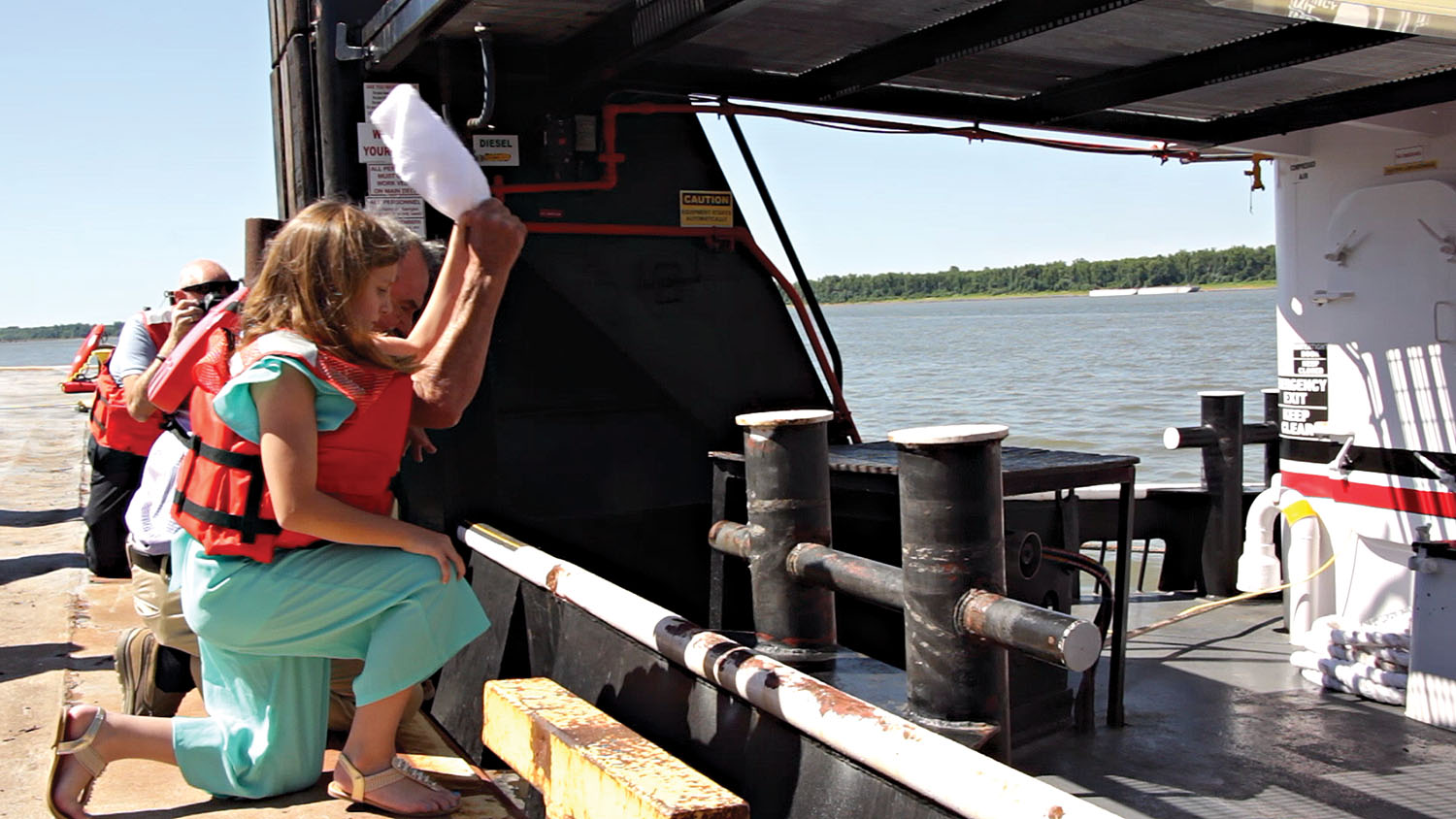 The christening ceremony June 23 at the Paducah riverfront was as much a way to remember Hollinger, who died April 15 at age 83, as it was a celebration of Wepfer Marine's purchase of the 1,700 hp. towboat, which Wepfer will use on the Ohio and Tennessee rivers, mostly between Paducah and Cairo, Ill.
"He's just a legend in the industry," said George Leavell, Wepfer executive vice president.
Leavell said when Hollinger called to tell him of his final illness, he and CEO John Wepfer had the same thought.
"We had just bought that boat, and there was only one name that came to mind, and that was Peanut Hollinger," he said.
The boat, which had most recently belonged to Kirby Inland Marine, is the former Chesley E. The twin-screw boat was built in 1981 by Scully Bros. Boat Builders in Stephensville, La. It is 73 by 26 feet and has a pair of Cummins KTA38 850 hp. engines and Twin Disc MG5225 gears. Its original name was the Miss Eddie Dell, according to the Inland River Record.
When Leavell called Hollinger to ask permission to name the boat after him, Hollinger said he'd be honored. Then, as typical for Hollinger, he started giving his own instructions.
He said he'd like to have the christening ceremony in Paducah, and that his memorial service would be whatever day Leavell would like to have the christening. Following the ceremony, he said, he'd like to have his ashes and those of his late son, Russell, a riverboat captain, spread from the boat. That's exactly what happened.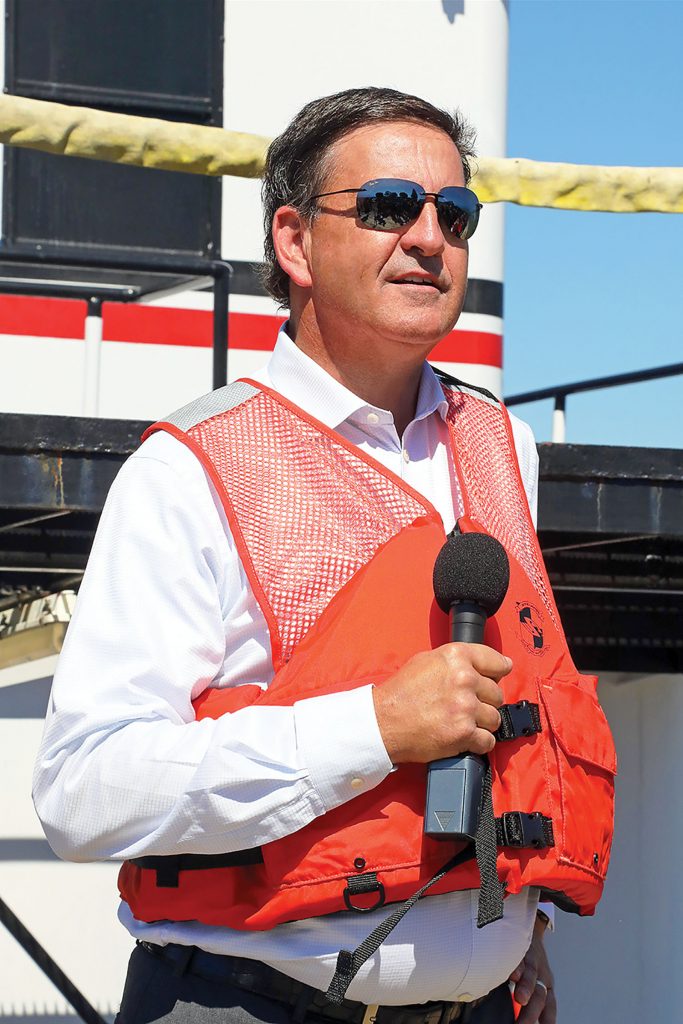 Hollinger was used to giving directions.
Leavell recalled that he called him in late 2005 and told him and Wepfer, "I want to get out of the people business, and I want you people to take over the Calvert City business."
That spawned a 15-year business relationship that really was only partly about business.
"Over that time Peanut taught John and me a lot about life," Leavell said.
Hollinger's widow, Jayne Hollinger, looked from a dock barge with close to 50 people on it toward a crowd of dozens more gathered along the shore and offered her appreciation for all of those who had come out and made the ceremonies special.
"It's just been amazing, and I know he would be so touched," she said. "He would just be amazed and be so happy."
Over the course of Hollinger's memorial service, the christening and a celebration of life at Doe's Eat Place in Paducah that followed as part of the course of the same day, several people mentioned that Hollinger was a storyteller.
Brewer said he's certain that if Hollinger had ever written a book,  "people would forget about Mark Twain" and read those stories instead.
He began on the river when he was a young teenager, having run away from home to work on the Saint Francis River, hauling logs. Hollinger went on to become the youngest licensed first-class pilot on the Mississippi River, eventually rising to the rank of captain on some of the most powerful towboats on the river.
For the past 25 years or so, Hollinger's business operated as First Marine Properties. He had dedicated himself to developing a river terminal and container port in Calvert City, Ky., on the Tennessee River.
Leavell said Hollinger put a lot of work in over the years because he wanted to create good jobs for people. He cared about river people, Leavell said into the microphone. Somewhere in the crowd, a voice said, quietly, "Yeah. He did."
Hollinger and Brewer had a weekly lunch together where they also talked over both business and life.
Having the boat named after him would have meant a lot to Hollinger, Brewer said."With what he put into this river, he could have had a pretty good chunk of this river named after him," Brewer said. Then he paused. "He was a phenomenal character, and the best friend a man ever had."
Caption for top photo: Built in 1981 as the Miss Eddie Dell, the mv. Peanut Hollinger is powered by Cummins KTA38 engines. (Photo by Jeff L. Yates)
For more pictures from the christening ceremony, click on the slideshow below.
Jayden Leach had the honor of breaking the bottle to ceremonially christen the boat named after her great-grandfather. (Photo by Jeff L. Yates)