Obituary: George David "Dave" Thomson Jr.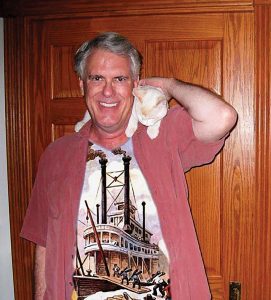 George David "Dave" Thomson Jr., 75, a steamboat historian who contributed numerous photos and other information to the steamboats.com online museum, died July 3.
A graduate of the California Institute of the Arts in 1968, Thomson worked at Disney Studios for 20 years, running the scene planning department and working with animators on many classics such as "Beauty and the Beast" and "The Little Mermaid." After Disney, he worked for Warner Brothers, Hanna-Barbera and Hyperion Studios.
Following his retirement in 2000, he "threw himself into Mark Twain and paddlewheel steamboat history," according to a blog post on steamboats.com. A collector of steamboat photos, paintings, models and other artifacts, he began contributing images to the steamboats.com site, along with detailed captions. The Dave Thomson collection on the site is now the largest collection of steamboat photos on the internet, according to the blog post.
"Losing Dave to medical complications is a loss for the entire steamboat community," wrote Nori Muster, webmaster for steamboats.com. "He was one of the elders, and took an encyclopedia of history with him when he left. Sadly, it is a history that was already disappearing."