Heat exhaustion and dehydration go hand in hand. Heat exhaustion occurs when a person works in a hot environment and the body cannot cool off adequately. Dehydration occurs with water loss from the body.
According to the Mayo Clinic, dehydration occurs when you use or lose more fluid than you take in. Your body needs enough fluids to carry out normal functions. The severity of dehydration can depend on several factors, including climate, physical activity and diet. Sugary sweet soft drinks and caffeine make for the worst kind of hydrators.
Determine how mild or severe the problem is to properly care for the individual.
Signs and symptoms of dehydration:
Mild: Excessive thirst, headache, cramping, dizziness, and fatigue.
Moderate: Nausea, pale skin, profuse sweating, decreased and dark yellow urine.
Severe: High fever, fainting, confusion, seizures, difficulty breathing and pains.
Treatment:
Mild Cases: When a person is overheated, immediately get into an air-conditioned building or a shady spot. Loosen clothing, cool down with a cool rag or a bag of ice, wrapped in a towel. Take a cool shower. Rest and drink fluids.
Moderate to Severe Cases: They may need to see a doctor to get treated with IV fluids. Severe dehydration is life-threatening; it can cause serious damage to your kidneys, brain and heart. If you are vomiting, in severe pain, confused and/or have difficulty breathing, it is critical that you seek medical attention.
As a cook for American Commercial Barge Line, I try to keep in mind what I am serving during hot months. With that in mind, I prepare a few more appetizers. When the men go to check tow in the hot weather, they do not want to be too full. Many times, they prefer to eat light before stepping on a hot barge.
Also keep plenty of fruit available at each meal to aid in hydration.
Fruit Dip
Ingredients:
8 oz. cream cheese
8 oz. plain Greek yogurt
¼ cup honey (Can substitute your favorite sweetener if you want less sugar)
1 teaspoon vanilla extract
Assorted fruit ready for serving
Directions:
Place cream cheese in bowl and use electric mixer on low speed until softened.
Slowly add yogurt, honey and vanilla and beat until well combined and smooth.
Taste for sweetness and adjust accordingly.
Cover and refrigerate for an hour before serving.
Fruit Tip: To keep your apples looking fresh, add lemon juice and a bit of Splenda sugar to your sliced apples. This will keep your apples from turning brown.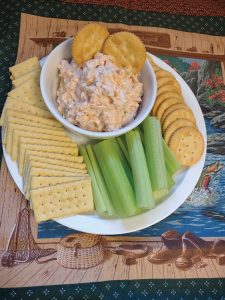 Crab and Shrimp Spread
Ingredients:
1 can crab, drained well
1 cup pre-cooked shrimp, chopped
1 8 oz. brick cream cheese
¼ cup sour cream
1 teaspoon Old Bay Seasoning
½ cup chopped green onions
2 cups shredded cheddar cheese
Directions:
Prepare your shrimp and crab meat and set aside.
Put cream cheese in a mixing bowl and put in microwave for 30 seconds. Stir.
Combine cream cheese, sour cream, Old Bay, and green onions. Mix well.
Add cheddar cheese, shrimp, and crab to cream cheese mixture. Place in a serving bowl and chill. Serve with celery and crackers.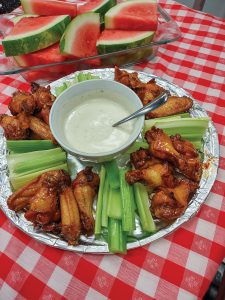 Jess Berry's Amazing Wings and Sauce
Ingredients:
2 lbs. chicken wings (about 15-20)
Garlic powder
Black pepper
Tony Chachere's Original Creole Seasoning
Cayenne pepper
15 oz. Tiger sauce (1½ bottles)
1 24-oz. bottle honey
2 Tablespoons Dale's steak sauce
1 cup parmesan cheese
Oil for deep fryer
Directions:
Line a large cookie sheet with foil and set aside. Line another pan with paper towels and set aside. Preheat oven to 350 degrees.
Rinse wings and pat dry. Cut wings at both joints. Discard the small wing tip. Place drumette and wing flat in a large bowl. Season chicken generously with garlic powder, black pepper, Tony Chachere's and cayenne pepper. Season sparingly with cayenne pepper if you do not want too much heat. In a separate saucepan, mix Tiger sauce, honey, steak sauce and parmesan cheese. Heat in a pan until just before a boil. Let sit in pan until ready.
Heat deep fryer. Fry chicken wings until they reach 165 degrees. Drain grease off wings by placing on pan lined with the paper towel. Next, take your drained wings and place a few at a time in the saucepan and toss well to coat. Take wings out of saucepan and place on foil-lined cookie sheet. Fry next batch of wings. Repeat draining wings and tossing in sauce. When all wings are done and on foil linedcookie sheet, put in oven for 10 minutes until sauce is sticky.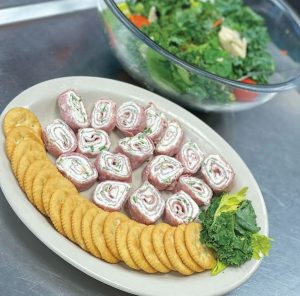 Hard Salami And Cream Cheese Roll-ups
Ingredients:
1 8-oz. cream cheese
4 green onions, chopped
½ teaspoon Tony Chachere's seasoning
2 packages hard salami or one package large hard salami, sliced
Crackers
Directions:
Soften cream cheese in microwave for 20-30 seconds. Stir until creamy. Mix green onions and Tony's seasoning into cream cheese. Set aside.
Lay a 20-inch piece of wax paper on a flat counter. On top of the wax paper, arrange the hard salami, very slightly overlapping, into approximate 10×15 rectangle. Take another 20-inch piece of wax paper and lay on top of your hard salami.
Use a rolling pin to roll very hard on top of wax paper. Press hard with the rolling pin to fuse salami slices together. May also use thumb to press edges of hard salami together after using a rolling pin.
Remove top layer of wax paper. Spread your cream cheese mixture on top of hard salami.
Starting from the long edge, roll up salami, removing wax paper as you go.
Once rolled, wrap your hard salami tube with the same wax paper. Twist ends of wax paper and refrigerate for 3 hours.
Once chilled, unwrap salami tube. Slice into ¼ inch pieces (like you do for slice-and-bake cookies). Arrange rounds on serving plate and serve with crackers.