Chem Carriers, a Sunshine, La.-based operator of towboats, tank barges and a fleet at Mile 207 on the Lower Mississippi River, christened a pair of towing vessels June 23 in a ceremony held at the Kemah Boardwalk in Kemah, Texas.
The new vessels, designed by Entech and built at Verret Shipyard in Plaquemine, are named the mv. Capt. Frank W. Banta and the mv. Ben Hays. The Capt. Frank is named after the father of Chem Carriers Managing Owner Frank Banta Jr. and Port Captain Robert Banta. The mv. Ben Hays is named for the company's chief operating officer, who is also Frank Banta Jr.'s son-in-law.
It was a family affair, befitting a business with rich family ties and a long history of operating on the nation's inland waterways, particularly the Mississippi River, Gulf Intracoastal Waterway and the Houston Ship Channel.
Nick Kohnke, director of marketing for Chem Carriers, offered a brief history of the Banta family and of Chem Carriers, which was founded in 1994. The family's connections to the maritime industry go back to the Banta brothers' grandfather, JW Banta, who got his first boat in 1916 at the age of 16. He would soon marry, and he and his wife would go on to have three daughters and three sons, including Frank W. Banta Sr.
Sign up for Waterway Journal's weekly newsletter.
Our weekly newsletter delivers the latest inland marine news straight to your inbox including breaking news, our exclusive columns and much more.
"Those three boys grew up at the side of their father, working the rivers as captains, pushing tow and moving barges," Kohnke said.
JW Banta, together with his brothers and sons, started Plaquemine Towing Corporation in 1950. Not long after that, Frank Banta, now a grown family man, and his wife had a son, Frank Jr. A few years later, they had a second son, Robert, and a daughter, Genie.
"Frank and Robert were raised just like their father, Frank," Kohnke said. "They were raised on the river, spending all their free time on barges and towboats, much like the rest of us would spend time on ball fields and playgrounds. While most kids would mow the lawn or wash a car to get gas money in the summertime, those two boys had to push barges in the river."
That foundation of family working side-by-side on towboats is one thing that distinguishes Chem Carriers from many other maritime companies, Kohnke said. In fact, Robert Banta, Kohnke said, was out piloting a towboat and pushing a six pack of barges just a few weeks ago.
"The Bantas are a family of mariners," Kohnke said, "and you'd be hard pressed to find upper management of any other towing company that will still drop everything to go on a boat to push barges."
And while the mv. Capt. Frank W. Banta honors Frank and Robert Banta's father and, in a way, the family legacy their grandfather started, the mv. Ben Hays looks toward the company's next generation and its future. Hays, married to Frank Banta Jr.'s daughter, Brooke, is not just a member of the Banta family. He's also a proven leader within the ranks of Chem Carriers.
"He works harder than anyone I know, and if you ask Brooke, he's constantly on the phone, handling problems and getting things done," Kohnke said. "But the greatest compliment one could receive is the one I've heard Frank say time and time again. Frank actually said it the other night at dinner. Frank said, 'I couldn't have found a better man to marry my daughter and run my company and raise our grandchildren.'"
Taking the podium, Hays praised the design and build quality of the mvs. Capt. Frank W. Banta and Ben Hays, which both feature retractable pilothouses and 1,600 hp. That combination makes the two new towboats versatile for Chem Carriers and the company's customers.
"Franky did a great job designing and building these two boats," Hays said of his father-in-law, Frank Banta Jr. "As soon as we started moving the first boat, it was apparent they will suit our needs very well."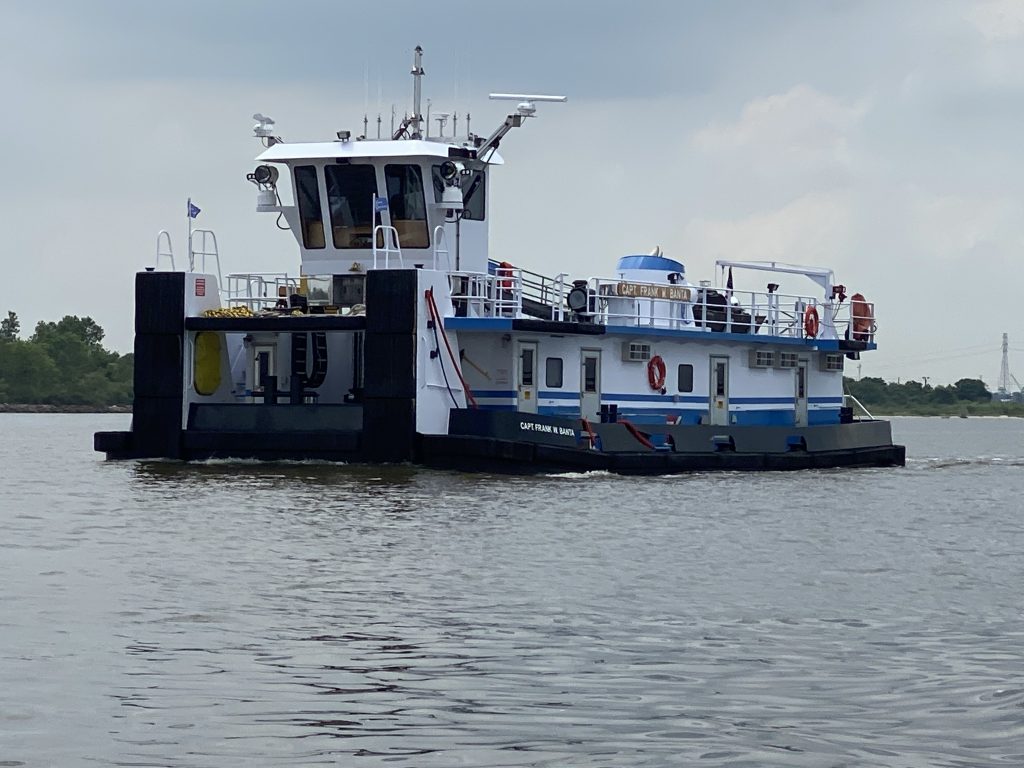 Hays, in turn, also recognized his own family legacy in the maritime industry. Hays described how his grandmother, Madelyn Hays, when she was alive, often spoke of her grandfather, who was a riverboat pilot in the early 20th century.
"It thrilled her that I made it into the industry to carry on the family tradition, as she would say," said Hays, who later added, "I'd like to thank and show my appreciation to Franky and to the entire team for making this event happen. It's really an honor and a privilege that will stick with me for the rest of my life."
Seamen's Church Institute river chaplain Rabbi Jonathan Siger offered a prayer of blessing for the mvs. Capt. Frank W. Banta and Ben Hays and the crews that will work aboard them. Afterward, Hays, Frank Banta Sr. and their families boarded their namesake vessels and officially christened them into Chem Carriers' fleet.
Shortly thereafter, both vessels departed the Kemah Boardwalk, en route to their work sites in the area.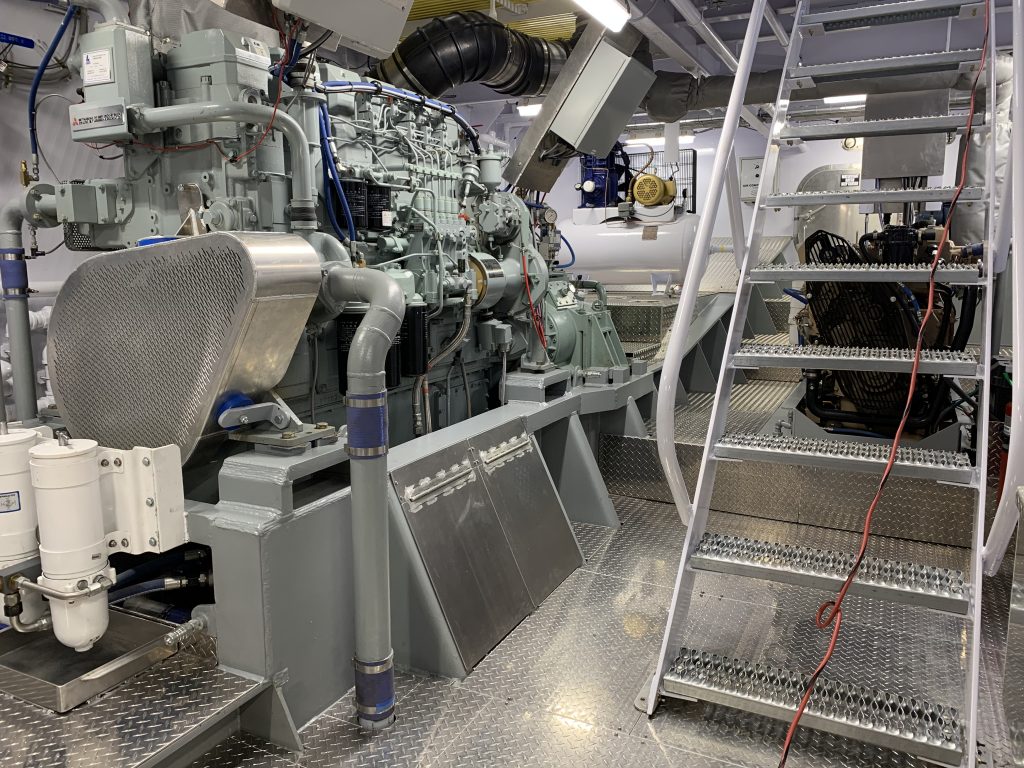 More About The Mvs. Capt. Frank W. Banta And Ben Hays
The mv. Capt. Frank W. Banta and mv. Ben Hays are sister vessels built by Verret Shipyard. The vessels measure 76 feet by 32 feet, with a 10-foot depth. When fully raised, the pilothouse eye level aboard the vessels is just under 28 feet 10 inches, but when lowered, the pilothouse clearance drops to 17 feet 6 inches.
"When Frank designed these boats, his goal was to design a vessel capable of going under the I-10 bridge here in Channelview, but he wanted it to have enough power that it could still punch above its weight, work the whole Houston Ship Channel for our customers, run east and west on the canal, and even go into the river," Kohnke said.
The vessels' 1,600 hp. comes from a pair of Mitsubishi S6R2 main engines from Laborde Products. Those fully mechanical engines are mated to Reintjes WAF 563 reverse reduction gearboxes from Karl Senner LLC. Main engines and gearboxes turn 82-inch by 69-inch propellers.
HydraForce supplied the steering system and wheelhouse lift system for the Capt. Frank and Ben Hays. Baton Rouge Marine Electric supplied the vessels' engine alarms, while Eastpark Radiator provided the cooling systems for the vessels. The Capt. Frank and Ben Hays also feature John Deere/Newage 99 kW generators, Duramax seals and Thordon bearings.
The mvs. Capt. Frank W. Banta and Ben Hays have tankage for 27,400 gallons of fuel, 5,400 gallons of potable water, 3,302 gallons of wash water, 460 gallons of lube oil and 460 gallons of waste oil, along with gray water storage.
On deck, the vessels feature Nabrico 40-ton winches and firefighting capabilities. Fendering is by the Schuyler Companies. Wheelhouse Electronics supplied the electronics and communications equipment.
The staterooms, storage areas and galley aboard the vessels are all on the main deck. The Capt. Frank and Ben Hays both have four staterooms, two full baths and a half bath.
Kohnke praised the Verret Shipyard team for delivering two quality towboats that will serve Chem Carriers for years to come.
"Because Frank has high standards and likes things done the right way, his first call was to Ted Verret and Verret Shipyard, who's been building first class boats since before I was born," Kohnke said. "[Ted Verret's] team of Paul Taylor, Warren Berthelot, Clint Juneau and Patrick Ledet did a magnificent job breathing life into these two vessels."
Note: For more photos from the christening ceremony, please see WJ Photo Page in the print or eEdition issue.