Where does most restaurant catfish come from?
Most domestic catfish are raised in Mississippi, Alabama and Louisiana
Is catfish farmed in other countries?
Catfish is also farmed in Thailand, Vietnam and China. These imported catfish are half the price.
What is the largest catfish in North America?
The blue catfish is the largest. It can weigh up to 150 pounds and can live up to 20 years,
Is catfish good for you?
Catfish is enriched with omega 3 and 6 fatty acids. Catfish has a low calorie content.
What is the heaviest catfish ever caught?
The Mekong catfish was caught in Thailand. It weighed 646 pounds and was 8.9 feet long.
Why are catfish called catfish?
Catfish have long barbels (feelers) located near the mouth of the fish. These barbels resemble cat whiskers.
How many eggs can a catfish lay?
Catfish can lay up to 4,000 eggs a year.  This also depends on their body weight.
What are young catfish called?
Young catfish are called "sac fry." They are called sac fry because they live off the food in their yolk sacs. When they are four inches long, they are called "Fingerlings." This is because that is the average length of an index finger.
What is a good bait to use for catfish?
The most common homemade catfish baits are stink baits. This would include Spam, canned dog food, Ivory soap, garlic and chicken skin, French fries, spoiled shrimp, hot dogs mixed with dry Kool-Aid packet and green apple bubble gum. 
Catfish Bait Recipe
Ingredients:
1/2 cup softened cheese (any kind)
1 cup uncooked ground or shredded meat (any kind)
Blood from your uncooked meat, if any
1 Tablespoon minced garlic
Flour
Directions:
Soften cheese in microwave. Combine with meat, garlic and blood. Slowly add flour about ¼ cup at a time until your mixture resembles the consistency of playdough. Form into one-inch balls. Place in a ziploc bag. May freeze. 
Fried Catfish Fillets (see photo above)
Ingredients:
½ cup buttermilk
½ cup milk
½ tsp. cayenne pepper
Salt and pepper  
1 pound catfish fillets
For the breading:
1 cup cornmeal
1 cup Zatarain's seasoned fish fry
¼ cup parmesan cheese
Directions:
Prepare your deep fryer and heat oil to 350 degrees.
Mix buttermilk, milk, cayenne pepper and salt and pepper in a container large enough to hold the filets. Add fillets to container and coat each side with buttermilk mixture. Set aside.
In another container large enough to hold fillets, combine all the breading ingredients.  
Add a fish fillet to the breading. Gently coat fillets one at a time. Be sure to evenly coat both sides.
Deep fry fillets until golden brown, about three minutes. Avoid overcrowding so fillets have enough room to brown. Place fish on paper towels to drain.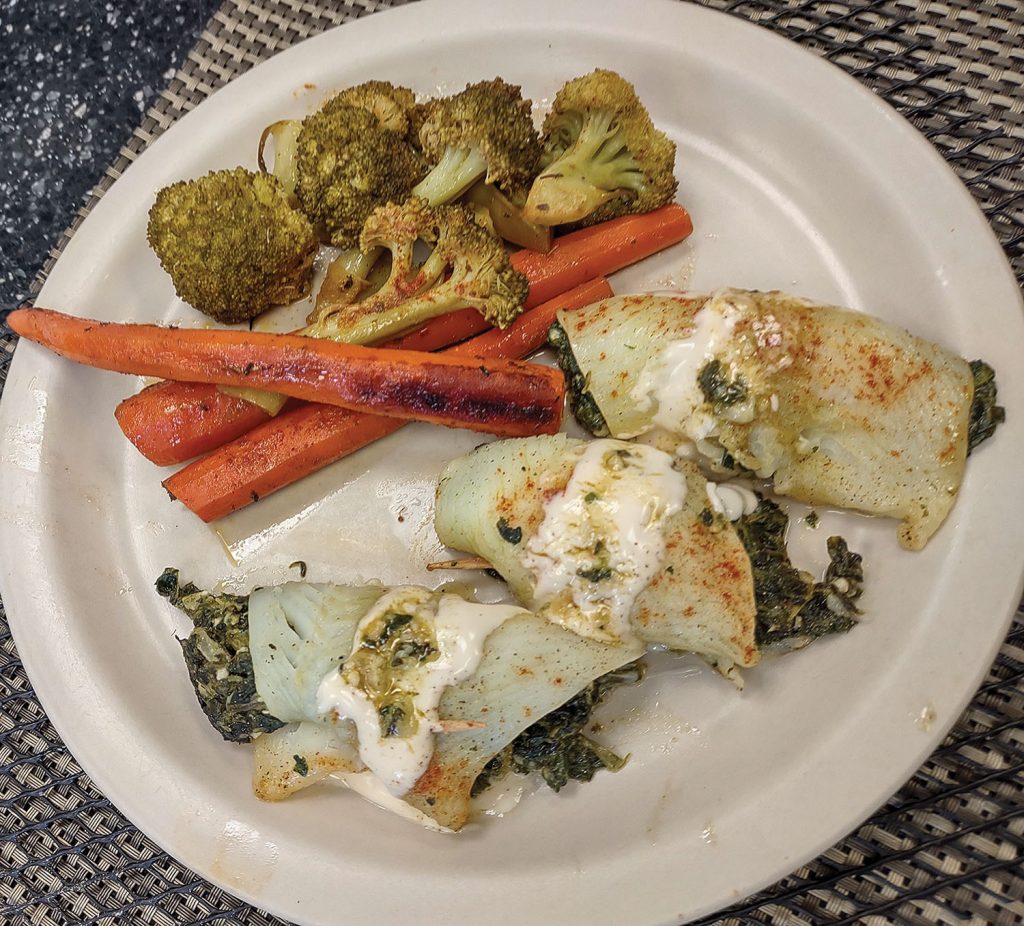 Fish Florentine Rolls
Ingredients:
1-2 pounds flounder fillets (may use catfish)
2 Tablespoons olive oil
¼ cup finely chopped onion
1 cup frozen spinach, thawed and drained dry
1 tsp. garlic powder
¼ cup parmesan cheese
1 Tablespoon Dijon mustard
Salt and pepper
For the Alfredo Sauce:
½ stick butter
1 cup heavy cream
1 Tablespoon minced garlic
1 cup Parmesan cheese
Garnish: parsley flakes
(You can cheat and buy a jar of alfredo sauce. Add extra parmesan cheese and minced garlic to have it taste like homemade!)
Directions:
Rinse fillets and pat dry. Spray a glass pan with non-stick spray. Set aside. Add olive oil to a small frying pan and sauté onions lightly. Add drained spinach to onions. Mix garlic powder, parmesan cheese and Dijon mustard into your spinach and onions. Salt and pepper to taste.
Lay fillets flat on cutting board. Place spinach mixture on fish. Sprinkle with salt and pepper.  Roll up each fish fillet, and close fish with a toothpick. Gently lay stuffed fish, toothpick side down, in a 9 x 13 pan. Bake uncovered at 350 degrees for 20-30 minutes.
Directions for the Alfredo Sauce:
In the same frying pan, melt butter. Add cream, minced garlic and parmesan cheese. Whisk together until it thickens some. Salt and pepper to taste. (White pepper keeps sauce white!) Simmer.
When fish is done, spoon alfredo sauce over each fish roll.  Garnish with parsley.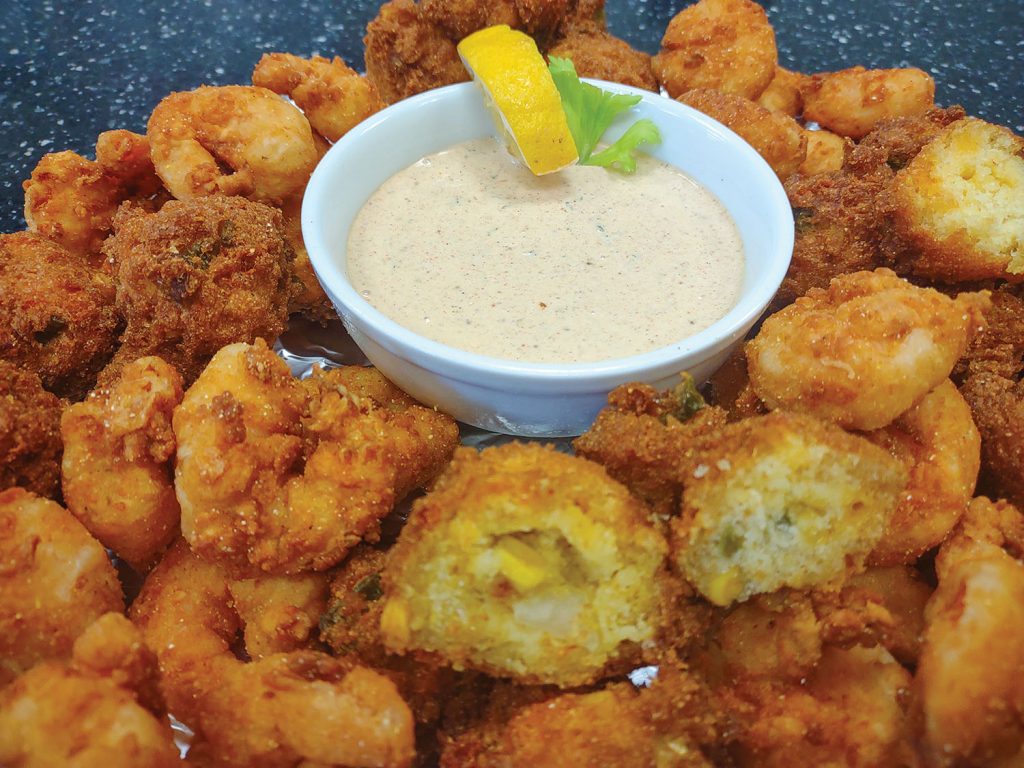 Remoulade Sauce
Ingredients:
1-1/2 cup mayonnaise
¼ cup cocktail sauce
1 tablespoon minced garlic
2 tablespoons spicy brown mustard
1 tablespoon Horseradish
2 tablespoons hot sauce
juice of ½ lemon, freshly squeezed 
1 green onion, chopped
½ tsp. chili powder
½ tsp. cayenne powder
½ tsp. Old Bay or Tony Chachere's seasoningDirections:
Mix all the above ingredients. Cover and refrigerate. May add more or less of any ingredient to suit your taste.
Hush Puppies
(Recipe by ACBL Cook Marty Smith)
Ingredients:
½ cup self-rising flour
½ cup self-rising cornmeal
½ teaspoon baking soda
1 teaspoon sugar
½ can creamed corn
1 egg
½ cup diced onion
¼ cup chopped jalapenos from a jar 
Directions:
Prepare oil in deep fryer.  Heat to 350 degrees. 
Mix all of the ingredients lightly and form into one-inch balls.
Gently drop one serving size of hush puppies into fryer.
Turn when lightly golden brown.
Place hush puppies on paper towel-lined plate.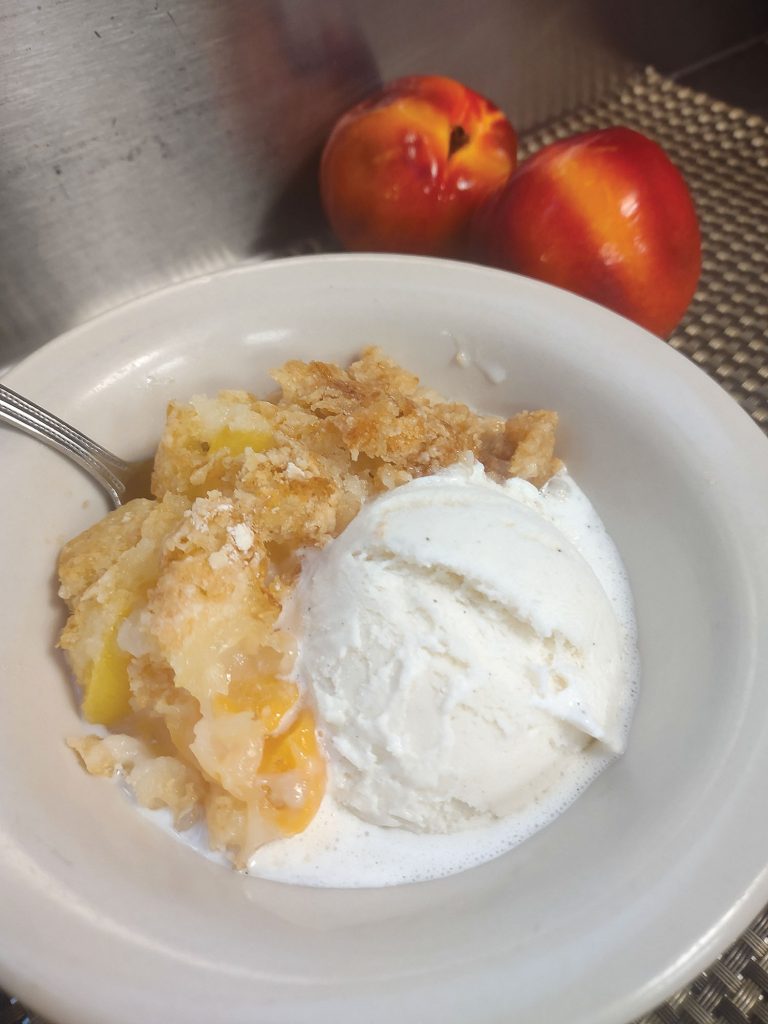 Easy Peach Cobbler
Ingredients:
2  14.5 ounce cans sliced peaches
1 yellow or white cake mix box
1 stick butter
Directions
Preheat oven to 350 degrees.  Lightly grease a 9×13 baking dish with nonstick cooking spray. Open your canned peaches and pour into baking dish. Be sure to include liquid. Next, evenly pour the entire cake mix box onto the peaches. Use a spatula to spread cake mix on top of peaches. Do not mix peaches with cake mix. 
Slice your stick of butter into 12 pieces. Place the butter pieces over the cake mix, spacing them out evenly. Place your cobbler in oven and bake until the top is golden brown, about 40 minutes. Transfer the cobbler to a wire rack to cool for 10 minutes before serving. Serve with a scoop of vanilla ice cream.
Note: Peaches with either no sugar or heavy syrup may be used.
Mary Ann Kuper is a cook on the ACBL towboat Carl Page.