New Commander Charts Course For National Maritime Center
Capt. Bradley Clare assumed command of the National Maritime Center in Martinsburg, W.Va., July 1, relieving Capt. Kirsten R. Martin, at a time when the NMC had been dealing with the challenges of COVID-19 for more than a year.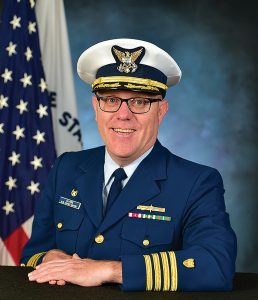 Clare has more than 23 years of Coast Guard experience and 21 years of marine safety experience. A native of Westminster, Calif., Clare received his commission from the Coast Guard Academy in 1996. He was assigned to the Coast Guard Cutter Escabana as a deck watch officer, followed by a tour as senior watch officer at the National Response Center. 
From 2001 to 2005, he was a domestic inspector and chief of port state control at the Marine Safety Office in San Francisco. From 2005 to 2009, he served as chief of inspections and prevention  at Sector Juneau, where he also completed a three-month merchant marine industry training program with the Alaska Marine Highway System and other state and industry organizations. He became chief of inspections at Sector Anchorage from 2009 through 2012.
From 2012 to 2015, Clare served as the detachment chief at the Cruise Ship National Center of Expertise. From 2015 to 2019, he was the prevention department head and acting deputy sector commander at Sector Miami.
Sign up for Waterway Journal's weekly newsletter.
Our weekly newsletter delivers the latest inland marine news straight to your inbox including breaking news, our exclusive columns and much more.
The WJ interviewed Capt. Clare via email on the current status of the NMC and future plans.
Waterways Journal: What are the current hurdles or challenges facing NMC and/or the Regional Exam Centers (RECs)? What do you see as the No. 1 challenge facing the NMC in the coming months? 
Clare: Challenge number one is eliminating our processing delays and backlog of in-progress applications resulting from COVID-19 impacts.
The NMC serves more than 200,000 mariners and on average issues 60,000 credentials and 60,000 medical certificates to qualified mariners annually, for both national and international operations. Currently the NMC is experiencing some delays in processing of applications and has a backlog of applications in progress.
Additionally, we allowed for a COVID-19 extension on the expiration of many credentials. As those extensions expire on October 31, 2021, we'll likely see an increase in the total number of applications. Because of these delays, we're now recommending that all mariners needing credentials apply 90 days in advance of the credential or medical certificate expiration.
One of the challenges the Regional Exam Centers currently face is they can only accommodate 50 percent of the previous maximum capacity for mariner examinations because of social distancing requirements. RECs are still adhering to COVID-19 screening procedures and protocols, in order to maintain a safe environment for patrons and staff. No walk-ins are allowed for examinations or counter service; appointments are mandatory. All mariners with scheduled appointments are subject to COVID-19 screening questions and temperature checks.
WJ: How have the ongoing challenges of COVID-19 affected the NMC's mission?
Clare: Currently, the NMC is experiencing an application backlog, causing delays in processing that we are working to get through. 
Just like many other agencies, COVID-19 required us to re-evaluate our work processes. We instituted an electronic evaluation process that allowed for increased telework, protected our staff from potential exposures and enabled us to continue operations. 
The RECs experienced more direct impacts because we were forced to temporarily suspend walk-in counter service and examinations. We were able to increase telework opportunities and processed mariner applications digitally to keep a constant flow.
The RECs were able to open their doors throughout the summer of 2020; however, in order to protect our employees and mariners, the RECs operated at a reduced capacity for testing. We continue to operate with a reduced testing capacity but have opened up counter service for mariners seeking assistance with applications. 
It's important to note that RECs are still adhering to COVID-19 screening procedures, and no walk-ins are allowed for examinations or counter service; appointments are mandatory. At the start of the pandemic and because we were unable to provide testing at the RECs, we had get creative to meet examination requirements and keep our pilots in service. We were able to arrange and safely proctor exams at various Coast Guard units under very strict COVID protocols. This allowed ports to keep pilots on waterways to meet critical maritime commerce demands.
Additionally, we were able to facilitate academy exams under strict COVID protocols to ensure every maritime academy was able to test cadets in a timely manner to receive credentials and enter the maritime workforce. 
Overall, because we had to transition to a new way of doing business, we experienced processing delays. Because of these delays, we're recommending that all mariners apply 90 days in advance of the credential or medical certificate expiration. We have a dedicated and professional staff that continues to work hard every day to overcome these delays and keep our mariners working.
WJ: Has Hurricane Ida affected REC operations?
Clare: Hurricane season often affects the operations of our RECs in affected areas. Hurricane Ida temporarily impacted the operational hours of REC New Orleans, New York and Boston.
To mitigate delays, affected RECs can shift application processing and testing workloads to unaffected RECs in order to maintain a continual workflow.  
Additionally, COVID-19 impacts have prevented the NMC and RECs personnel from attending outreach events with industry, specialized trainings and/or conferences.
WJ: Credentialing is only one part of the mariner pipeline story. Many factors are operating, including some beyond the control of any one actor like the NMC. What do you see as some of these other factors?
Clare: A trend that we are seeing at both the NMC and RECs is that around 50 percent of all application submissions require additional information. If an application is incomplete, we have to then go back to the mariner to obtain the missing information. This adds time to the overall production and delivery of the credential. 
We are encouraging mariners to take the time and ensure applications are complete before sending it to the Coast Guard.  Mariners may also schedule a meeting with one of our RECs to have a credentialing specialist review their package before submittal.  Additional information can be found on the NMC website under the Merchant Mariner Credential Application Processing Time Update and Important Additional Information bulletin released on August 23. 
WJ: How has technology streamlined the mission of the NMC? 
Clare: Our ability to process applications electronically has streamlined our operation. It has reduced the amount of paper, alleviates some mail-based correspondence between the mariners and NMC and reduces the amount of time to receive and transfer documents or applications from RECs to the NMC.
Most important, it allows us to shift application processing from one REC to another in the event an REC is experiencing a closure or staff shortage. For example, if an REC is impacted by a hurricane, we can easily redirect applications to an REC not affected by storm. This helps us continue a consistent workflow and avoid processing delays.