Engineer Profile: Tim Kilburn
As a boy, Tim Kilburn and his two brothers were always tinkering with engines.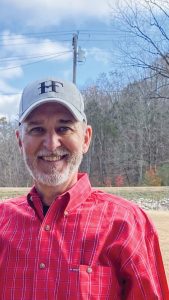 Small engines, like those for lawnmowers, came first. Then they discovered motorcycle engines and those for other vehicles.
"I grew up working on just anything that ran," Kilburn said. "When I started on the river, that just got my interest, working on the diesel engines, so the transition was pretty easy for me."
Kilburn, 62, of Savannah, Tenn., has spent the past 40 years working on the river, the last 38 as an engineer. He is currently the engineer on board the Hines Furlong Line vessel the mv. Ron Hunter.
Kilburn's brother-in-law was working on the river and got him his first job  after Kilburn had spent time as a truck driver.
"My intentions at the time were working six months to a year and quitting, and somehow that's lasted for 40 years," he said. "It's one of those things where after you get out there, I guess you get to liking it."
Kilburn and his wife, Marcy, were newlyweds at the time. As time passed, along came son Brandon, now 38, and daughter Brittany, 35. As even more time passed, three grandsons and a granddaughter arrived.
Kilburn said working on the river means time away from home, but it also means the opportunity to have quality time with his children and grandchildren when he is home. He likes getting to have the grandkids for days at a time and not just for the weekend. He also likes having the opportunity to hitch his horse trailer up to his motor home and go trail riding in the Ozarks of northern Arkansas or the Shawnee National Forest in southern Illinois.
Kilburn spent 10 years with Walker Towing and then 19 years with Mid-South Towing before the company was sold into an investment company. He then went to work for Hunter Marine in 2009. It was acquired by the Hines Furlong Line a few years ago.
One of his career highlights was spending more than three years living in Louisiana, overseeing construction of new boats and retrofitting of old ones for Hunter Marine.
"It's funny how time passes," Kilburn said, noting that the guy who relieves him on his vessel now is one of the guys he trained. He also used to work with his dad on the boat.
Kilburn said he has seen a lot of changes over the decades. In the engineroom, that has included greater attention to stricter emission standards and movement toward Tier 4 engines. Engines are still mechanical, but they have electrical controls, and newer forms of propulsion are on the horizon.
Technology has also advanced elsewhere on the boat, he said. He recalls picking up letters at locks and climbing the lock wall to use a pay phone for a few minutes to call his family. Now, he said, thanks to his cell phone FaceTime, he can talk to his children and grandchildren daily. Satellite television and the internet also allow connectivity that is greater than ever before.
"It's just a whole different world from where I've been in my career out there," he said.
As Kilburn thinks about retirement in not too many more years, he said he will always be grateful for the time he spent out on the river. And now a nephew is also following in his footsteps, beginning his career with Hines Furlong like his Uncle Tim.
"I guess you just learn it at a young age," Kilburn said, "and I guess it just goes in your blood."
Danny Whitford, senior vice president of operations for Hines Furlong in Paducah, has worked with Kilburn for about 30 years. He said he considers him as both a great engineer and a close friend.
"He takes a lot of pride in his vessel and keeps it in top condition," Whitford said.