Breakfast gives you the energy needed to kick-start your metabolism and helps you focus during the day. A good breakfast provides calories to burn throughout the day. If your body doesn't get food when you wake, you'll be more likely to overeat later in the day. Breakfast breaks the overnight fasting period. That's why we call it breakfast; you're breaking the fasting period.
 Given that bit of information, Americans enjoy a good breakfast. Our traditional breakfast consists of dishes such as bacon, eggs, sausage, toast, pancakes, oats, grits, cereal, fruit, French toast and doughnuts. But many countries enjoy a different kind of breakfast. Check out the following countries and their breakfast. While they sound healthier, I will take an American breakfast any time. For dinner and brunch, I have given a couple of different recipes we eat in the USA.
Breakfast With Other Countries:
Australia—Toast with Vegemite. Vegemite is a dark brown spread made from yeast, vegetables and spices.
Russia—Kasha. Kasha is a type of porridge.
Japan—Rice, boiled fish and miso soup. Miso is a stock made with dried fish flakes.
France—Toasted baguette with jam/honey/butter or Nutella.
Malaysia—Coconut rice, anchovies, hot sauce, peanuts and boiled eggs.
Philippines—Silog. Silog is dried beef and rice.
Pakistan—Sweet chick-pea soup and dried bread.
Switzerland—Burli. Burli is rolls. Also cheese, cold cuts, jam, butter, soft boiled eggs and fruit.
Mexico—Rancheros (chorizo and fried or poached egg, served on a tortilla topped with salsa).
Israel—Cucumbers, tomato, feta, poached egg, hummus and olives.
England—Fried egg, sausage, mushrooms, baked beans, hash browns, toast and grilled tomato.
Ireland—Bacon, sausage, fried egg, pudding, fried tomato and Irish tea.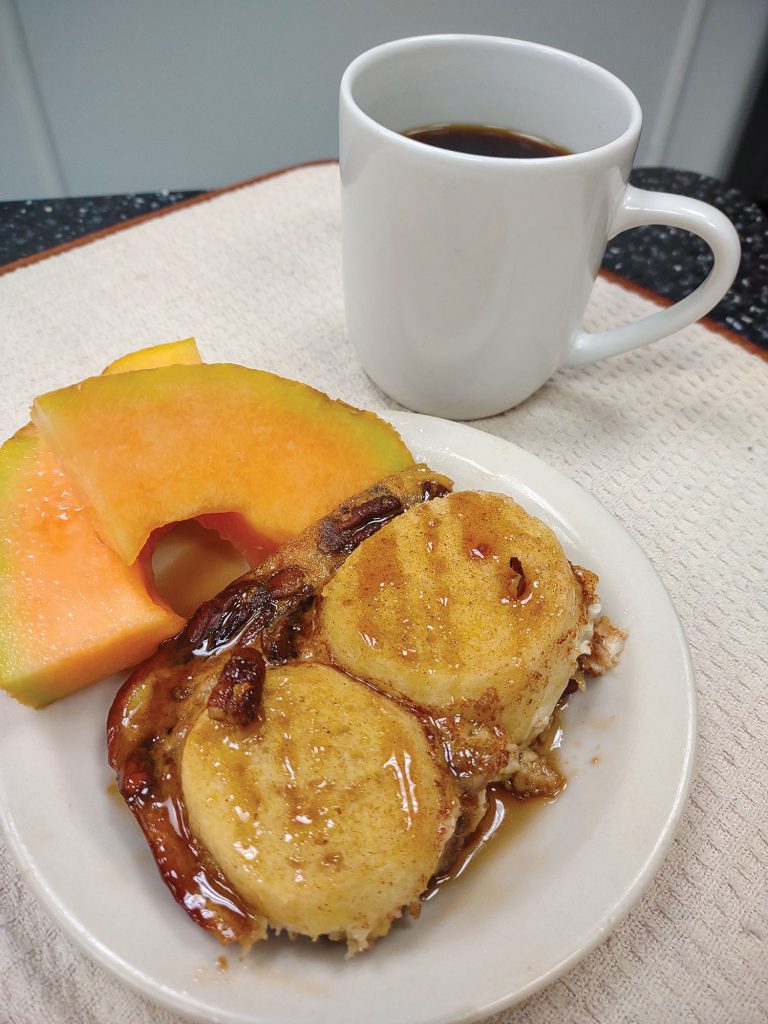 Overnight French Toast
Ingredients:
1 cup brown sugar
1/2 cup butter
1/4 cup maple syrup
1/2 cup chopped pecans
12 thin slices French bread
1-1/2 cups milk
6 eggs
1 teaspoon vanilla extract
Topping:
chopped pecans
cinnamon and sugar
Directions:
Grease a 9 x 13 baking dish.
Mix together brown sugar, butter and maple syrup in a small sauce pan. Heat mixture on low until butter melts and sugar dissolves. Pour into prepared baking dish and sprinkle pecans evenly over the top of mixture.
Layer the bread slices on top of pecans. Beat milk, eggs and vanilla extract together. Pour milk mixture over the bread slices. Top with chopped pecans and cinnamon and sugar. Cover dish and refrigerate overnight.
Preheat oven to 350 degrees. Bake uncovered for 30 minutes until milk and egg mixture is thoroughly cooked.
Breakfast Lasagna
(Pictured at top of page)
Ingredients:
(for the French toast) 
4 eggs
1/3 cup milk
1 teaspoon vanilla
1/2 teaspoon cinnamon
9 slices bread
(for layering into breakfast lasagna)
syrup
1 dozen scrambled eggs
1 cup chopped ham
1 cup shredded cheese
Directions:
(For the French toast)
Prepare a 9 x 13 pan with non-stick spray.
In a mixing bowl whisk eggs, milk, vanilla and cinnamon. Turn skillet on and spray pan with a non-stick cooking spray. Dip sliced bread into egg mixture. Dip other side of bread and place in skillet. Cook bread until lightly browned, flip and cook other side of bread. Cook all nine pieces of bread. Slice French toast bread in half.
(For layering your breakfast lasagna)
You will now have 18 slices of French toast. Place nine of the sliced bread halves into bottom of a 9 x 13 pan. 
Squirt syrup on top of bread slices. Divide your scrambled eggs in half. Take a spoonful of scrambled eggs and place on top of the nine slices. Divide your chopped ham in half and take a spoonful and place on top of scrambled eggs. Divide your cheese in half and sprinkle on top of your French toast, eggs and ham. Repeat with remaining French toast, syrup, eggs, ham and cheese.
Bake for 20 minutes at 350 degrees until cheese melts. May drizzle more syrup on top when serving.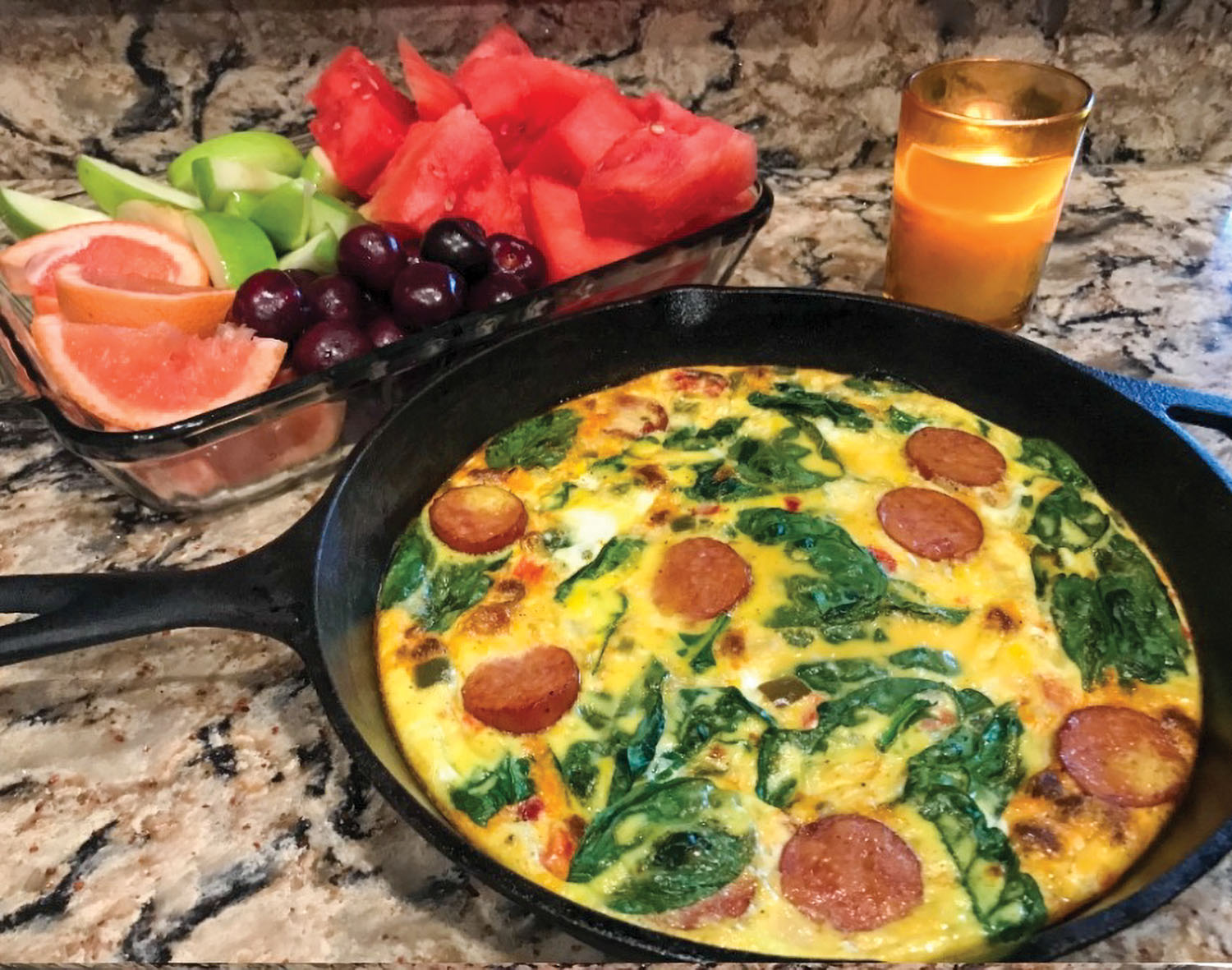 Smoked Sausage And Spinach Frittata
Ingredients:
1/3 cup chopped onions
1/2 cup chopped red peppers
1/3 pound hot sausage
8 eggs
1/2 cup milk
Salt
Pepper
1 teaspoon Worcestershire sauce
1/4 cup parmesan cheese
1 smoked sausage, sliced
1-1/2 cups fresh spinach
Mushrooms and tomato (optional)
Directions:
Preheat oven to 350 degrees. In a cast iron skillet, sauté onions, peppers and hot sausage. Cook until the meat is done and onions and peppers are al dente. Set aside in another dish.
In a medium bowl, whisk eggs with milk, salt, pepper and Worcestershire sauce. Pour seasoned eggs in the cast iron skillet. Stir in onions, peppers and hot sausage. Sprinkle parmesan cheese on top of egg mixture. Add spinach on top of egg mixture. With a fork, gently push spinach into eggs. Add smoked sausage to top of spinach, and push down gently.  If you like mushrooms and tomatoes, add to the eggs the same as you did with the spinach and smoked sausage. 
Bake in oven for 30 minutes.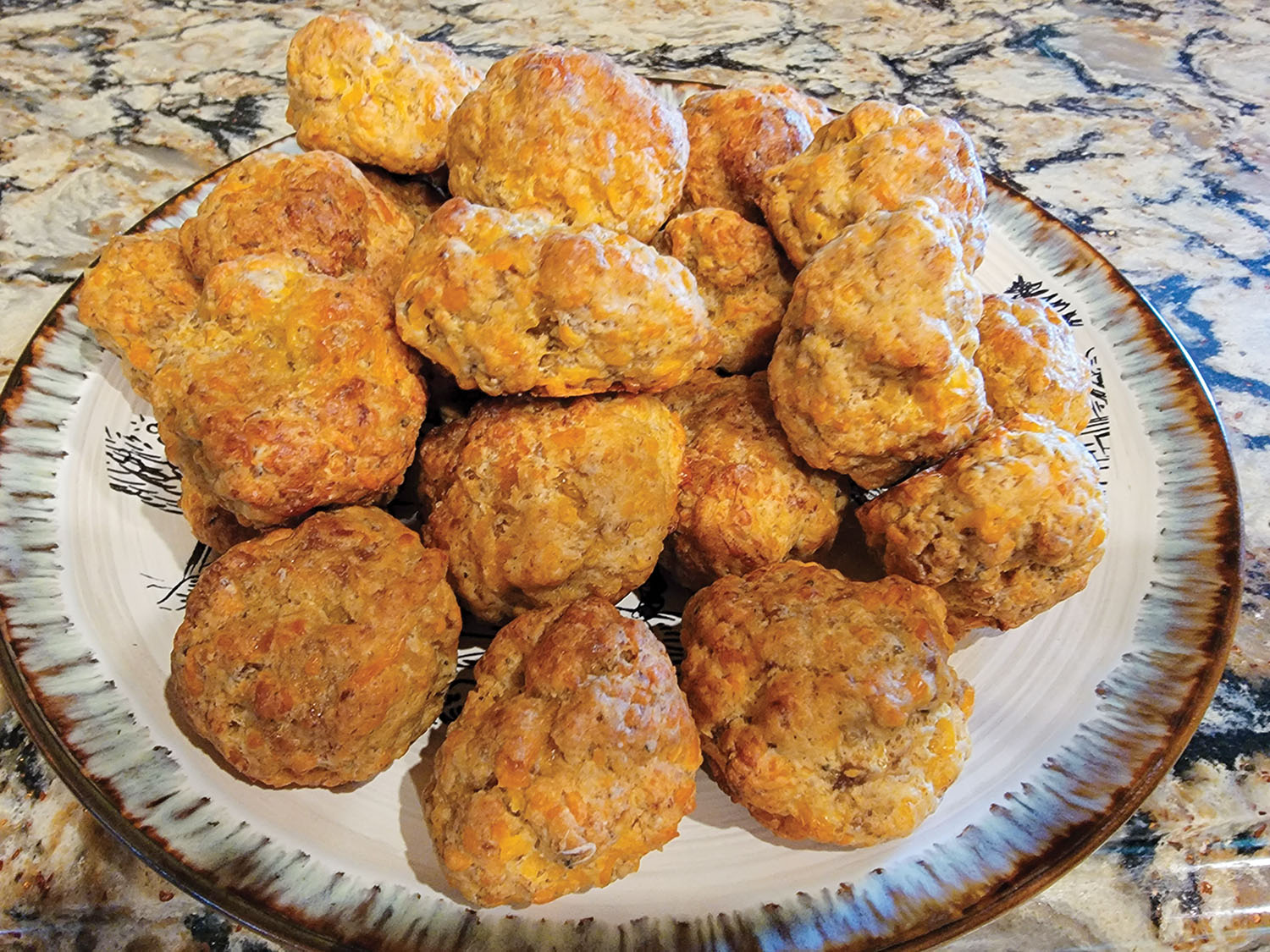 Sausage And Cheese Breakfast Balls
(These sausage balls make a great appetizer as well as a breakfast side dish.)
Ingredients:
3 cups Bisquick baking mix
1 lb. sharp cheddar cheese
1 lb. hot pork sausage
Directions:
Preheat oven to 350 degrees. Line a cookie sheet with parchment paper. Mix all ingredients together in a bowl. Mix thoroughly until pork sausage is crumbled up into baking mix and cheese.
Roll mixture into golf ball size balls. Place balls on cookie sheet.  Bake 30 minutes. Let cool.
Mary Ann Kuper is a cook on the ACBL towboat Carl Page.