When Florida Marine Transporters took delivery recently of the mv. Eric Brumfield from Steiner Shipyard, it was one of the few instances where the namesakes of two boats are a father and a son from the same company. It just so happens that Florida Marine has two other sets of towboats that are named after a father and a son: Big D/Lil D and Harvey Sbisa/Justin B. Sbisa. And, for sure, there are a few other barge and towing companies in the industry that have father/son combos. 
Some that come to mind are the Parsonages of former Memco Barge, now ACBL; the Joneses of Amherst Madison; the Bantas of Chem Carriers; the Goldings of Golding Barge Line; the Joneses of Canal Barge; the Luhrs of Luhr Bros.; the Ecksteins of Marquette Transportation; the Stegbauers of Southern Towing and the Terrals and Gattles of Terral RiverService.
Still, though, it remains somewhat of a rarity, and the fact that there are others makes the Brumfield instance no less special.
Eric Brumfield, 34, is manager of vessel inspection and documentation for FMT, while his father, Jeff, 59, is senior director of vessel engineering and new construction. Eric's namesake vessel is a 76-foot, 2,000 hp. towboat, while his father's, built by Eastern Shipbuilding in 2008, is 90 feet long and has 2,600 hp.
In April 2010, as FMT responded to a wellhead blowout at the BP Deepwater Horizon oil rig that released more than 130 million gallons of crude oil into the Gulf of Mexico—the largest U.S. marine oil spill ever—Florida Marine would become the most prodigious marine contractor on the scene. The Mandeville, La.-based barge and towing company provided boats, barges and other equipment for the massive cleanup.  And one of the five onsite representatives for performing on- and off- charter surveys was Eric Brumfield. 
He had been working at FMT assisting port engineers. Ironically, the day he was picked to help with the BP oil spill cleanup, June 9, 2010, was his dad's 48th birthday. It is ironic because he considers his dad to be his biggest mentor.
He first learned of FMT naming a boat after him while he was in a planning session with owner and CEO Dennis Pasentine and others. The company was in the middle of a 15-vessel newbuild program at the time. When the talk centered on what to name them, "Dennis turned to me and smiled, saying 'we'll name this one after you.' I couldn't have been more surprised," he said.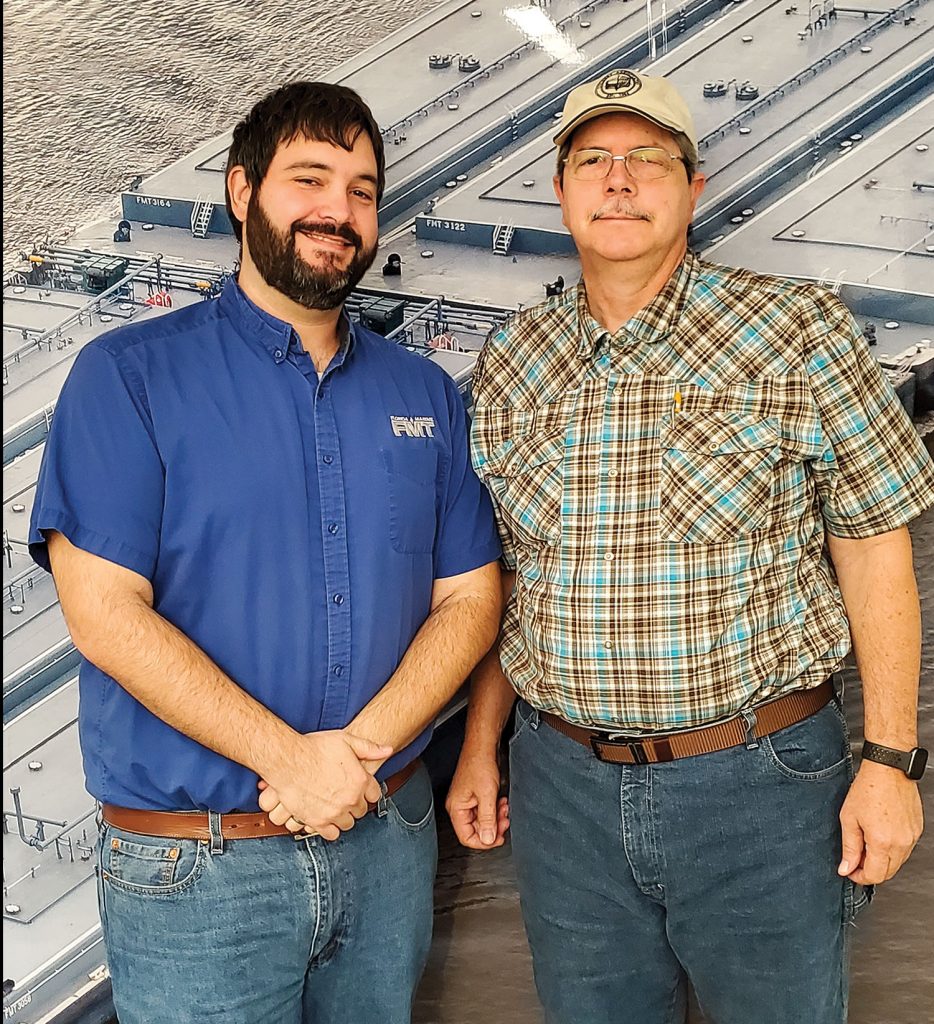 It was 13 years ago that Florida Marine put his father's namesake vessel, the mv. Jeff Brumfield, into service. Jeff said he was as surprised to learn about his son's honor as he was his own. To have the boats in operation at the same time is especially meaningful to both father and son. 
"Dad was my first mentor, the best man in my wedding and is one of my best friends," Eric said. "I couldn't be more grateful for all the support he and others at Florida Marine have given me."
His dad wasn't the least bit surprised that Eric followed in his footsteps. "After all," he explained, "we grew up in the same house." He described his son as very analytical and organized. "I helped him get his foot in the door, but after that, he made his own path," the elder Brumfield said.
Blessed with an innate grasp of computer technology, according to his father, Eric supplemented his education with online courses from Penn Foster College and is working toward a business administration degree from Ashworth College. He and his wife have two daughters, who, along with his job and studying, leave little  time for leisure activities. They live in Ponchatoula, La., about a half-hour from FMT's office.
At Florida Marine, Brumfield does all the work necessary for obtaining and maintaining the Certificates of Inspection for the company's fleet of approximately 100 inland towing vessels operating under Subchapter M.
Vessel Specs
Designed by Sterling Marine and built by Steiner Shipyard at its facility on Bayou La Batre, Ala., the 2,000 hp. Eric Brumfield is a conventional twin-screw towboat that measures 76 by 35 by 11 feet. It is one of 11 boats Steiner Shipyard is building for FMT. 
The main engines from Caterpillar are C32 Tier 3 units coupled to Twin Disc 540 reduction gears from Sewart and have a 7:1 ratio. They turn Sound 76- by 68-inch propellers on 7-inch shafts with Simplan tailshaft seals and Duramax Cutlass bearings. The engines are cooled by Fernstrum keel coolers and monitored by an alarm system from EMI, which also provided the electric-over-hydraulic steering system. When fully loaded with fuel and water (30,000 gallons and 10,000 gallons, respectively), the boat draws 8 feet. 
The pilothouse eye level is 34 feet, 6 inches. Auxiliary power for the new boat is produced by a pair of John Deere 99 kW generators furnished by Kennedy Engine Company. 
Quarters for seven are composed of three double and one single bunkroom, plus two full and two half bathrooms. An exercise room, fully furnished lounge and all-stainless-steel galley provide additional comfort for the crew. The deckhouse interior, manufactured and installed by Kern Martin, is insulated throughout with mineral wool and Mascoat sound-deadening coating in strategic locations. Air conditioning and heating is provided by a Mitsubishi split ductless system, fire safety is achieved through a Novec system from Hiller Systems, and fendering is Schuyler.
The Eric Brumfield has two Patterson 40-ton electric winches. Its electronics suite was supplied and installed by FMT's in-house IT/electronics department.
A sister vessel to the Eric Brumfield, the Steven Sikes, is being built by Steiner Shipyard for Florida Marine. It is named for a long-tenured port engineer and is expected to be delivered in mid- to late-November. And, no, in case you are wondering, there is not another vessel named Sikes in the fleet.
Caption for top photo: The mv. Eric Brumfield has 2,000 hp. from Caterpillar C32 engines.