Did you know that a colder atmosphere is cleaner than warm air? This is due to the lack of water vapor in the air. Warm air has more moisture in it, which lowers the amount of oxygen present. When the atmosphere becomes chilly, pollution is also reduced, making the air cleaner and easier to breathe. October usually is the time of year for dramatic changes in temperature.
What things do you think of during the fall season? I enjoy the early mornings of cold, crisp air, red and yellow leaves, hunting season, pumpkins and Halloween. Autumn is a great time to view the beautiful foliage on the river. When the cold, crisp air hits, some plants stop making chlorophyll, and other pigments start to show their colors. Also, some leaves hold more sugar, which in turn leads to brighter fall colors.
Our deckhands perform a variety of tasks in all types of weather, day and night, while the vessel is underway. The beautiful views of the river take you closer to nature and help  you forget about things like COVID-19, politics and other stresses.  With the thought of beautiful river views, I will leave you with a joke and a few treats!
A shipwrecked mariner had spent several years on a deserted island, completely alone. Then one morning he was thrilled to see a ship offshore and a smaller vessel pulling out toward him. When the boat grounded on the beach, the officer in charge handed the marooned sailor a bundle of newspapers and told him: "The captain said to read through these and let us know if you still want to be rescued."
(joke by https://upjoke.com/mariner-jokes)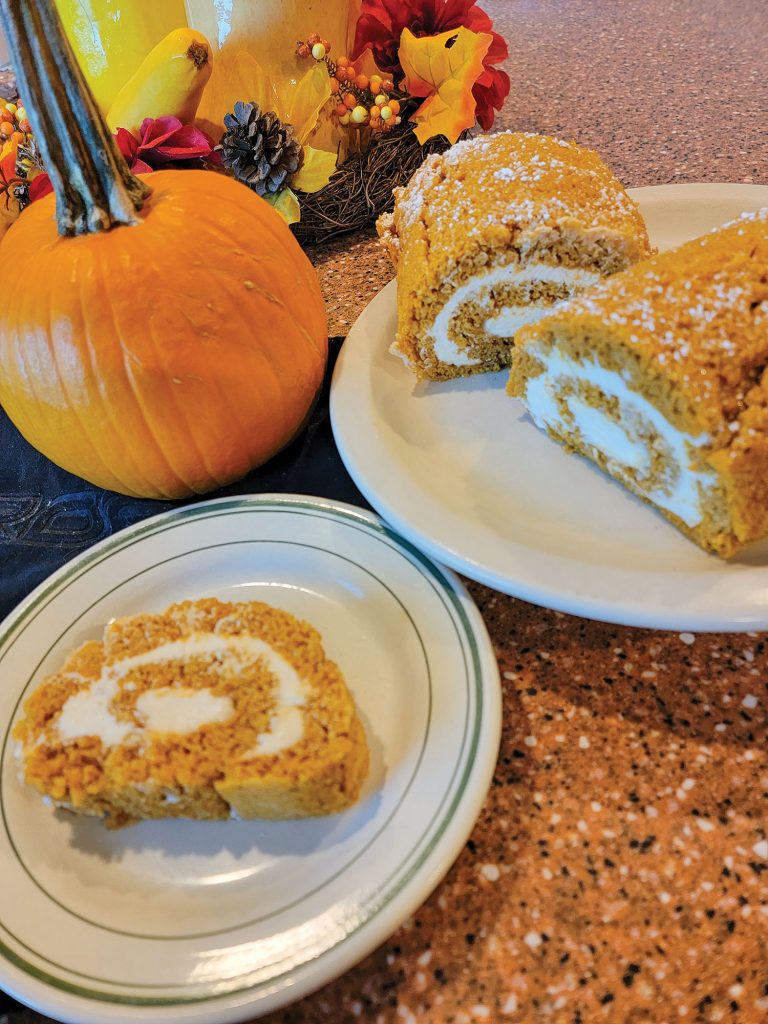 Pumpkin Cake Roll
Ingredients:
3 eggs
3/4 cup sugar
1/3 cup brown sugar
14 ounces canned pumpkin
1 teaspoon lemon juice
1 teaspoon vanilla extract
2/3 cup all-purpose flour
2 teaspoons ground cinnamon
1/2 teaspoon nutmeg
Filling:
8 ounces cream cheese, softened
1 cup sifted powdered sugar
1/4 cup butter, softened
1/2 teaspoon vanilla extract
Directions:
Preheat oven to 375 degrees. Beat eggs on high for 5 minutes. Slowly add in sugars until eggs are somewhat thick. Add pumpkin, lemon juice and vanilla extract. Continue to mix.
In another bowl, combine flour, cinnamon and nutmeg. Fold into the pumpkin–egg mixture until well combined. 
Grease and flour a 15 x 10 x 1-inch baking pan or line the pan with parchment paper. Spread pumpkin mixture on baking pan.
Bake for 15 minutes. Immediately turn out onto a linen towel dusted with powdered sugar. Peel off paper, if used, and gently roll cake up in the towel, starting with the short end. Let it cool.
For the filling:
Mix cream cheese, powdered sugar, butter and vanilla until fluffy.v
Carefully unroll the cake. Spread the filling over the cake to one inch of the edges. Gently roll up again. Cover and chill until ready to serve. Dust with powdered sugar if desired.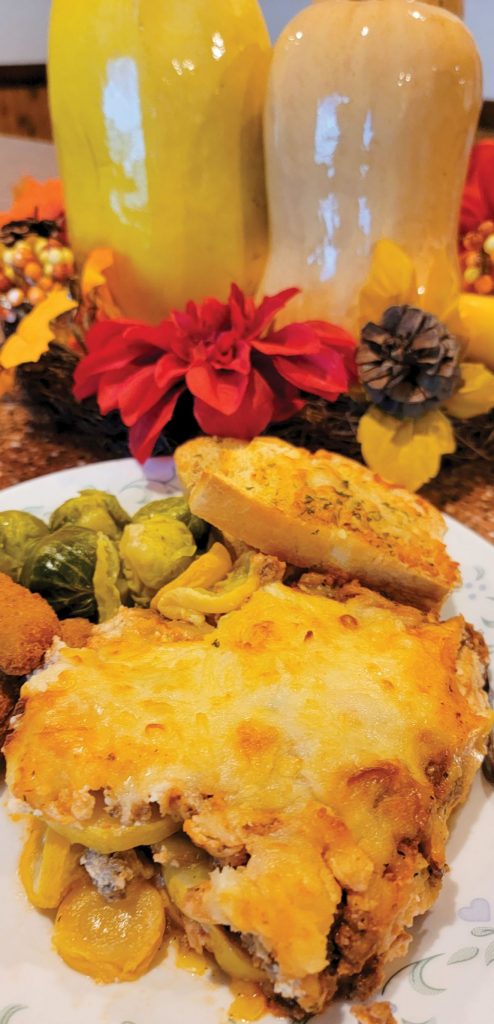 Yellow Squash Lasagna
Ingredients:
2 large yellow squash 
2 pounds lean ground beef
1/2 pound Italian sausage
Salt and pepper 
1 tablespoon garlic powder
1 tablespoon Italian seasoning
1 tablespoon onion powder
36 ounces pasta sauce
2 cups ricotta cheese
2 chopped green onions 
3 cups shredded mozzarella
Parmesan cheese to sprinkle on each layer
Parsley
Directions:
Preheat oven to 350 degrees. Wash and dry squash. Slice into rounds about 1/4-inch thick. Microwave the yellow squash for 2-3 minutes and drain any water.  Pat dry squash with a paper towel. 
Brown beef and sausage. Salt and pepper meat while browning. Drain any fat from meat. Add garlic powder, Italian seasoning and onion powder. Stir pasta sauce into meat. 
Add the chopped green onions to the ricotta cheese. Mix well and divide into three sections.
To layer your lasagna, divide your yellow squash into three piles. Lay the first pile in a 9 x 13 pan. Mentally divide your meat sauce into threes. Add 1/3 meat sauce on top of yellow squash.  Spoon 3/4 cup ricotta cheese in small dollops over meat mixture. Sprinkle with parmesan cheese and add one cup mozzarella cheese. Continue same procedure until all three layers are completed. Finish with an extra heavy sprinkle of parmesan cheese on top layer. Sprinkle top with parsley.
Cover and bake 35 minutes. Uncover and bake another 10-15 minutes until slightly browned. Rest for 10 minutes before serving.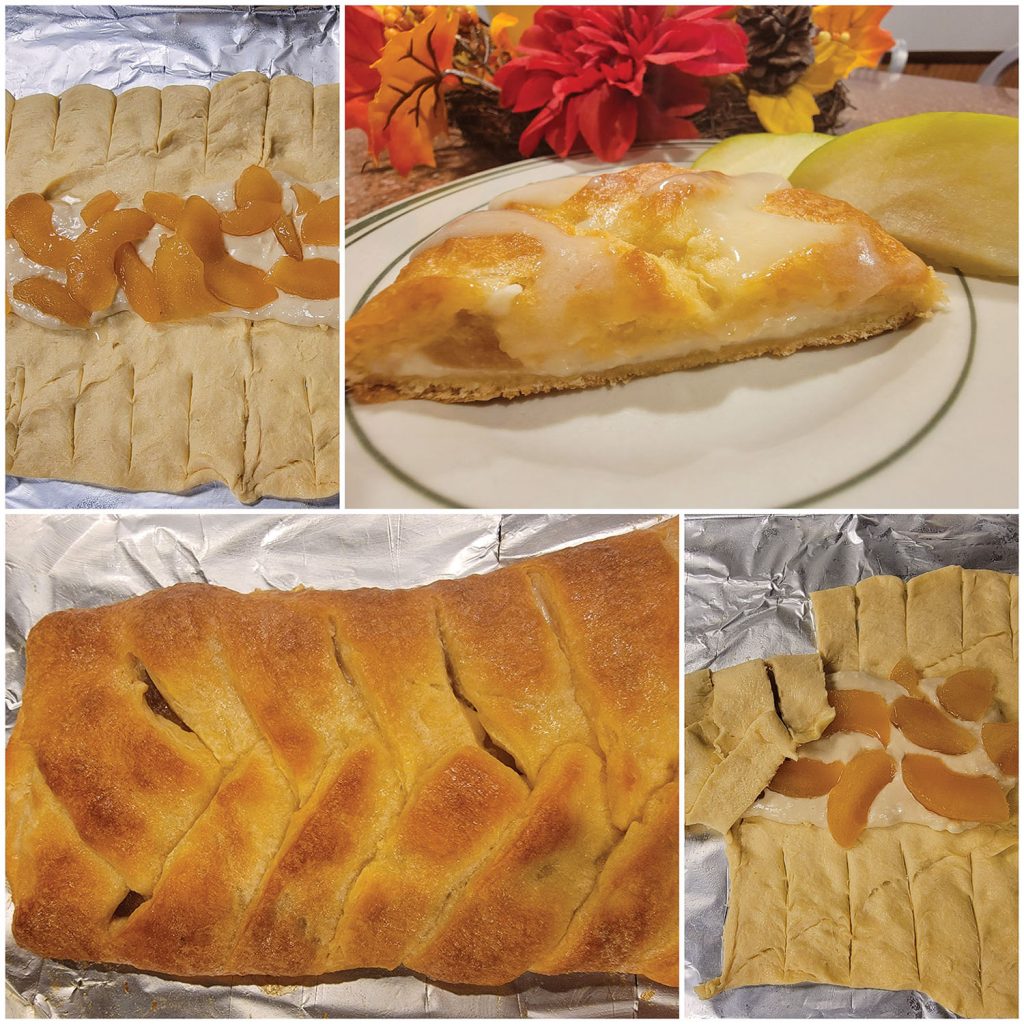 Cream Cheese Apple Coffee Cake
Ingredients:
1 (12oz.) can Grands Crescent Rolls
1/2 brick cream cheese, softened
2 tablespoons brown sugar
1 teaspoon vanilla
1/2 can fried apples or (any kind of pie filling)
Glaze:
1 cup sifted powder sugar
1/4 cup softened butter
3 tablespoons milk
Directions:
Heat oven to 375 degrees. Grease foil-lined cookie sheet with a non-stick spray. Unroll dough onto cookie sheet. Gently pinch perforated cuts together.
Blend cream cheese, brown sugar and vanilla together. Spoon cream cheese mixture lengthwise down center of rectangle, leaving 2 inches on each side. On each 2-inch-long side of dough, make 1-inch cuts to edge of filling. Fold opposite strips of dough over filling towards center, overlapping ends. This will create a braided appearance. Seal ends.
Bake 18-20 minutes. Remove from oven and cool. 
Mix the glaze ingredients together. With a spoon, drizzle glaze over each braided strip.
Sweet Potato Pie
Ingredients:
1 frozen pie shell
1 brick cream cheese, softened
1 29-ounce can sweet potatoes or yams
1 can sweetened condensed milk
1/3 cup brown sugar
1/2 cup granulated sugar
2 eggs
1 teaspoon vanilla
1/2 teaspoon cinnamon
1/2 teaspoon nutmeg 
1/3 cup milk
Directions:
Preheat oven to 350 degrees. 
Line a pizza pan with foil. Place pie shell on top of pan. 
Combine rest of ingredients in a bowl and mix well with an electric mixer. Pour the mixture into your pie shell. Bake for one hour. Cool and refrigerate.
Caption for top photo: Sweet potato pie.
Mary Ann Kuper is cook on the ACBL towboat Carl Page.