Kurt Moerbe, vice president of Vessel Repair in Port Arthur, Texas, was familiar with Blessey Marine Services' reputation before he joined the family business full time. He remembers well the team's reaction when a Blessey boat visited the yard, which he now runs alongside his father and company president Ron Moerbe.
"They were excited because they knew the boat was well maintained," he said. "Working with Blessey and their crew was and continues to be an honor."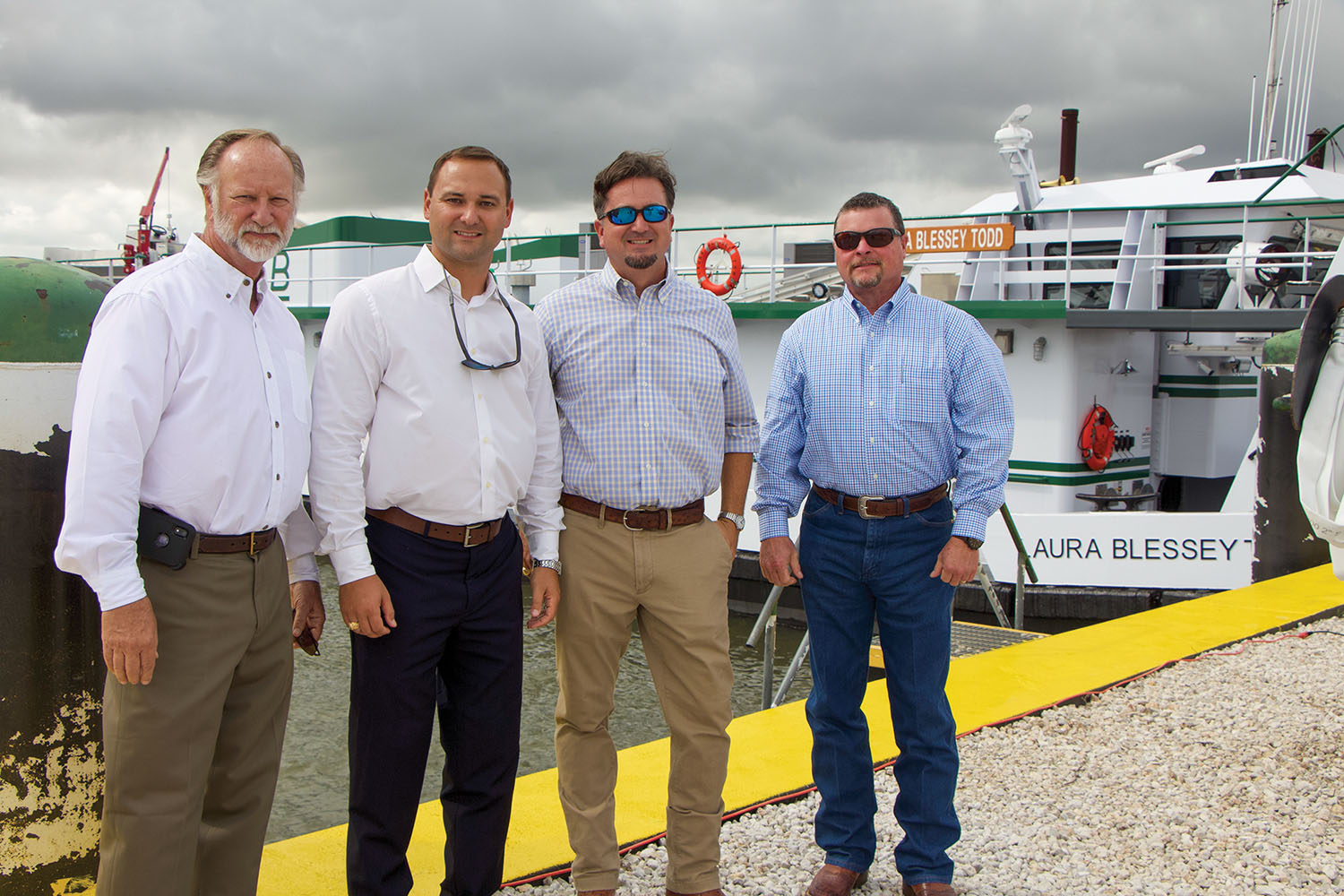 Vessel Repair entered the new-construction business a few years ago, and now its relationship with Blessey has taken another step forward. On October 26, Blessey christened the latest of Vessel Repair's Pacesetter class of pushboats, this one with a retractable pilothouse for bridges spanning the Illinois Waterway and several custom specifications typical of Blessey boats.
The boat's name, Laura Blessey Todd, is a nod to the importance of family to Blessey Marine Services, one of the largest transporters of petroleum and petrochemical products in the business. Laura Blessey Todd is the daughter of chairman and CEO Walter Blessey and the wife of Clark Todd, the company's president. She worked at Blessey in prior years, working her way up to vice president, and is still involved by preserving its culture and supporting her husband and father. The company has maintained family values as a core part of its culture.
"It is a special boat for a special person," Todd said. Walter Blessey, after surprising his daughter as crew revealed the nameboard, reminisced about his company's growth and the past boats that have proudly carried Laura's name over the years.  He attributed much of the success to loyal employees and, the past several years, the work of his son-in-law. 
The christening, smaller than usual for Blessey due to COVID-19 protocols, was October 26 at the company's center of operations in Channelview, Texas. In addition to comments from the namesake, Todd and Blessey, it featured remarks from Vessel Repair and a blessing by Seamen's Church Institute Chaplain Associate Jonathan Siger, who later gifted the crew with its official Bible.
"Everything wonderful starts with the letter 'B,'" Siger said, referring to the words Bible, blessing and, of course, Blessey.
Laura Todd christened the boat with her husband, two daughters and son looking on.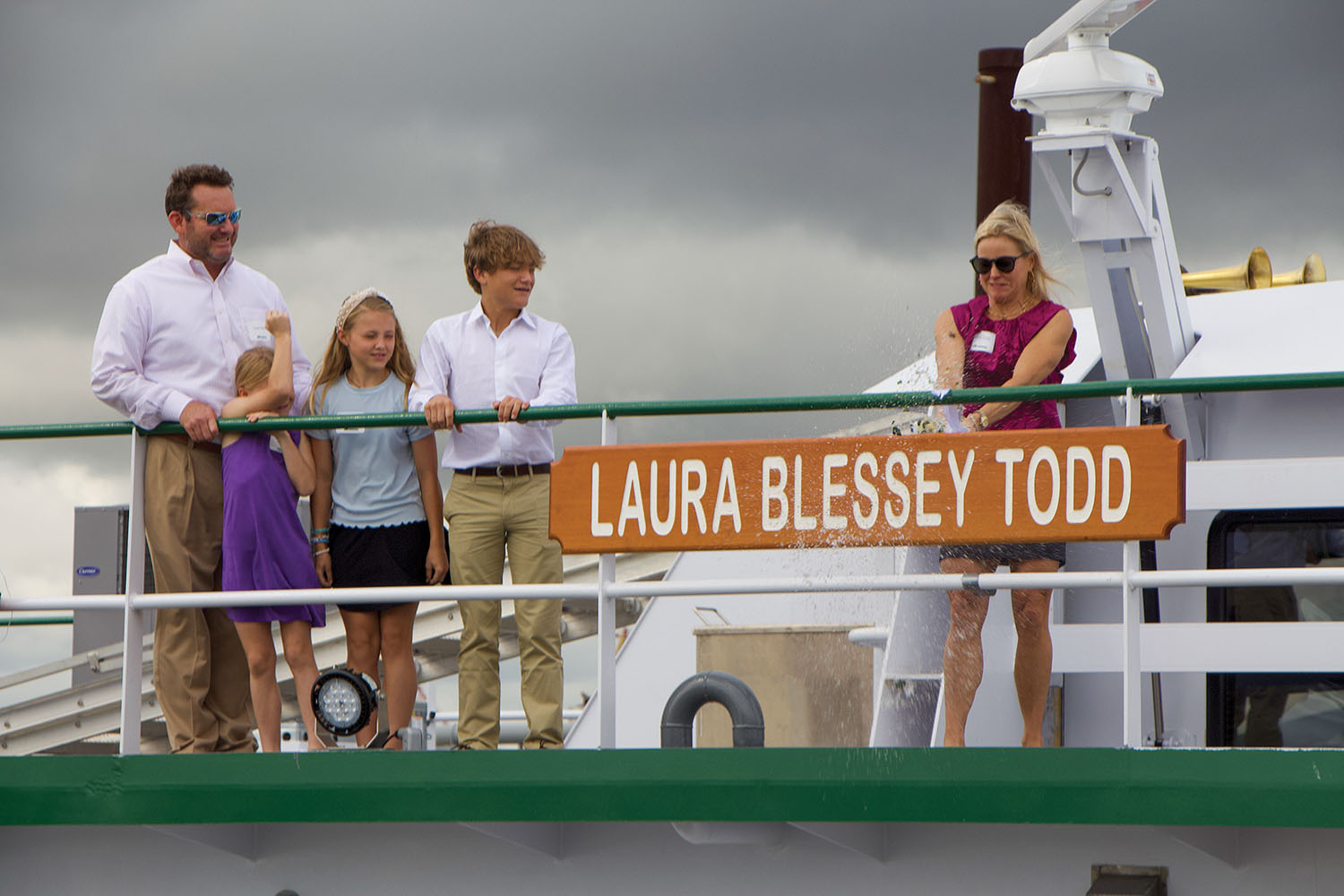 Vessel Specs
The Pacesetter class of vessels includes a recently patented hull (see full story in WJ, May 24, 2021). "The design brings together the maneuverability during flanking of single-chined (or flat-bottom) hulls with the efficiency of a double-chined hull," Moerbe said. That efficiency can reduce fuel burn, a feature important in a world demanding environmental awareness. The rudder design is also unique and patent pending.
The 100-by-34-foot towboat is powered by twin Cummins QSK38-M1 engines providing 2,600 hp., connected to Reintjes WAF675 reduction gears with a 7.091:1 ratio and internal shaft brakes. The gears and shaft brakes were provided by Karl Senner. The retractable pilothouse raises to 30 feet, 6 inches.
Custom Hydraulic Components furnished the pilothouse lift system as well as the ABS-approved steering systems.
Wheelhouse electronics and communication equipment were provided by Wood River Electronics.
The propellers are 85 by 60 inches. The Sound Propeller Dominator four-blade stainless steel props were supplied by Texas Wheel Works. Thordon Bearings provided its TG100 seals and RiverTough bearings.
Stanley Parts provided the John Deere 4045 99 kW generators for the engineroom as well as winches for the deck. The engineroom also features Dura-Weld grid coolers from East Park Radiator and Baton Rouge Marine Electrical Service's 42-point engine alarm.
On deck are Patterson 40E-5 deck winches and a Schoellhorn-Albrecht SA 1214-10-48 capstan. Schuyler Maritime's laminated rubber fendering protects the exterior.
The towboat has capacity for 37,000 gallons of fuel, 15,800 gallons of fresh water, 500 gallons of lubricant and 500 gallons of waste oil.
Wastewater is treated by a Seahorse SMSD 300-RF from Sea Horse Manufacturing. Fire safety is provided by a fixed fire suppression system from Herbert S. Hiller.
The interior provides the crew with comforts many homes don't enjoy, with five bunkrooms, four full bathrooms and a half bathroom, a large galley and a first-class lounge. There is ceramic wood tile floor throughout, tongue and groove cypress in common areas and suspended vinyl-covered Sheetrock tiles for the ceilings. Sound dampening and vibration control is achieved with a concrete subfloor and Rockwool.
The galley is all stainless steel with granite counters and modern appliances. The lounge deserves further mention with glass walls and a door featuring a custom Blessey logo putting Laura's interests and hobbies on full display. It is 13 by 10 feet and includes a full entertainment center.
Back To Work
In addition to significant work on the Gulf Intracoastal Waterway, Blessey Marine operates upriver as far as Chicago, with work on the Great Lakes as well. This boat was headed north following the christening to take over a route on the Illinois Waterway. It will be operated by long-time Blessey Captain Shawn Martinez from Kentwood, La., and his crew, including pilot Tim Bullock, tankermen Terry Bissler and Ethan Ward and deckhand David Mitch.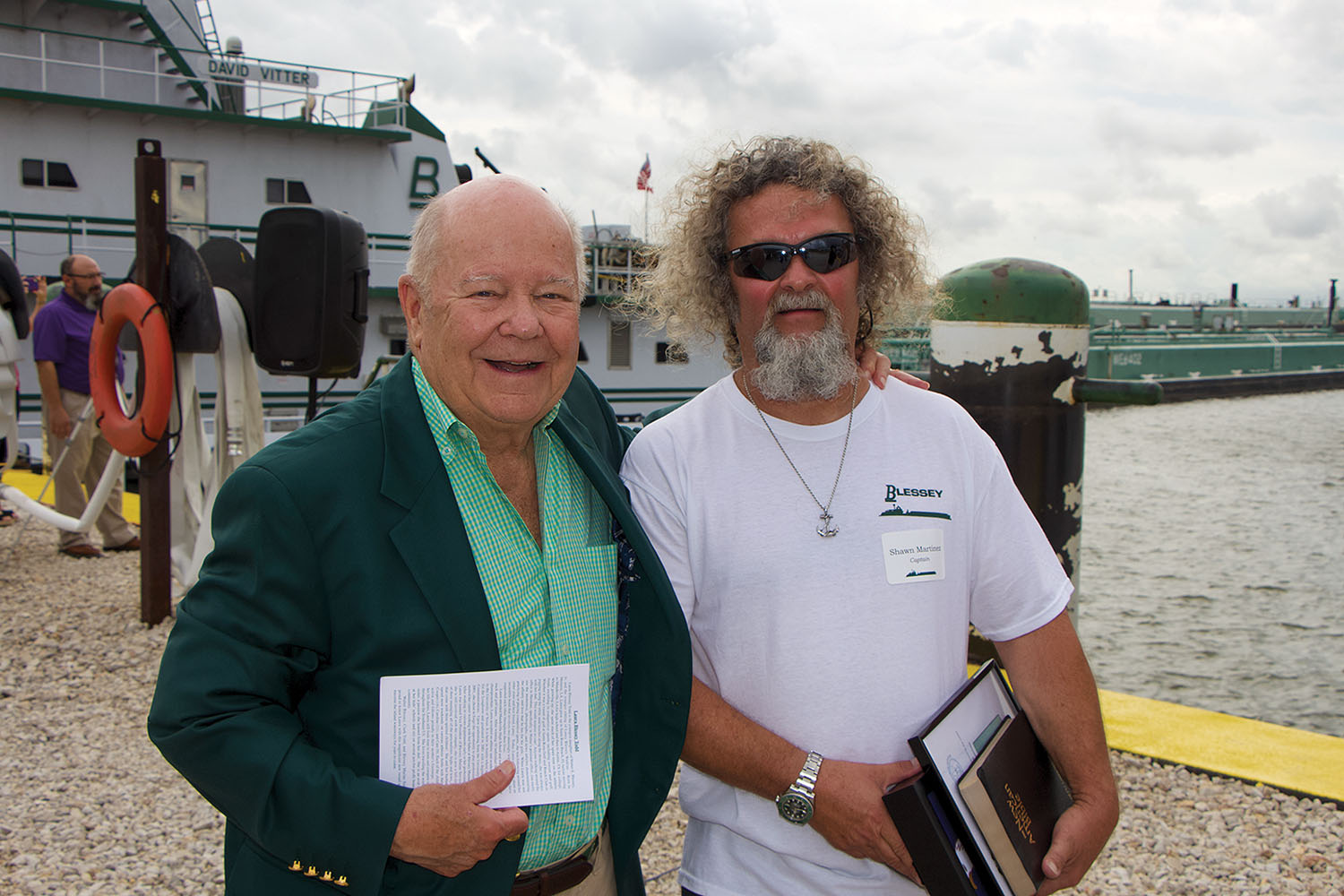 Blessey Marine Services owns 170 inland tank barges and 82 towboats. Its corporate offices are in Harahan, La. Its sister companies, WEB Fleeting LP, a full-service fleeting and training facility often shared with Coast Guard partners, and WEB Engines Inc., an engine repair and fabrication facility, provide a center of operations in Channelview, Texas, near Houston.
Caption for top photo: The 2,800 hp. Laura Blessey Todd is the latest in Vessel Repair's Pacesetter line of towboats. (Photo courtesy of Vessel Repair)
For more photos from the Laura Blessey Todd christening, see the slideshow below.
Laura Blessey Todd christens her namesake vessel while her family looks on. (Photo by Nelson Spencer Jr.)