On Sunday, November 7, we changed our clocks back an hour to end daylight saving time. Early this spring, on March 14, we moved our clocks up an extra hour to start daylight saving time.
So why do we do this? This all started in 1916. The Germans were the first to start this practice. The reasoning was to save money on energy costs by using less power for lighting and to save fuel for the war. Soon after, other European countries began to follow. Two years later, the United states implemented this idea also to take advantage of longer daylight hours and save energy for war production.
Back in 1784, Benjamin Franklin wrote a letter suggesting doing the same. His theory was that the city would save 64 million pounds of wax for candles. Imagine that!
Did you know that Hawaii and Arizona do not observe daylight saving time? Hawaii has never observed daylight saving time because of the tropical latitude and the length of daylight each day between winter and summer being more similar than in more northern latitudes. Arizona voted to opt out of daylight saving time in 1968 because of Arizona's hot climate. Puerto Rico and the Virgin Islands also do not observe daylight saving time.
Polls show 54 percent of Americans would like to abolish daylight saving time. A group of U.S. senators tried to do away with the twice-a-year clock changes. The Sunshine Protection Act was proposed in March 2021, calling for not "falling Back" in November. The change is currently not allowed by federal law.
So in the meantime, we will continue to wind our clocks back, or rely on our electronic devices for daylight saving time changes. And if the time change messes up your internal clock, you will always have these Thanksgiving comfort foods to rely on.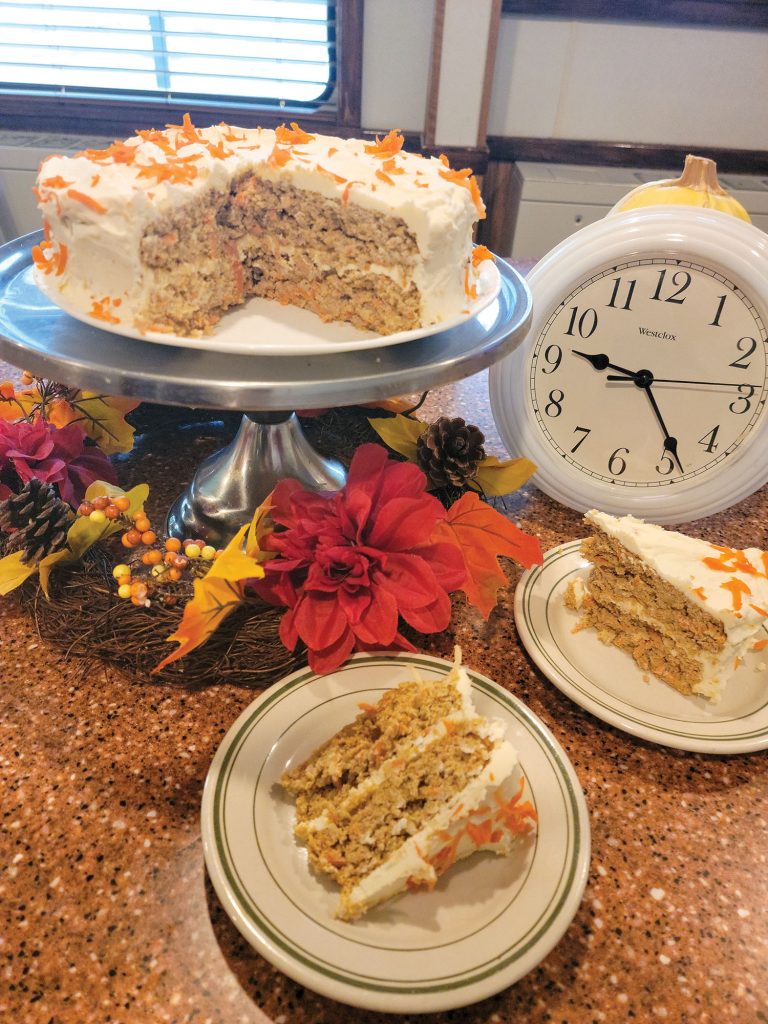 Keto Carrot Cake
Ingredients:
8 eggs
3/4 cup unsweetened almond milk
3/4 cup vegetable oil
1 tablespoon Vanilla extract
1/2 teaspoon nutmeg
2 teaspoons cinnamon
1 cup Splenda
1 ounce box instant sugar-free vanilla pudding
4 cups fine almond flour
3 teaspoons baking powder
2-1/2 cups shredded carrots (reserve 1/4 cup for garnish on top of cake)
1/2 cup shredded coconut
Frosting:
16 ounces cream cheese (two blocks)
1 cup softened butter (two sticks)
1/2 cup Splenda
Directions:
 Preheat oven to 350 degrees. Grease and flour two 8-inch round cake pans.
 Beat together eggs, almond milk, oil, vanilla, nutmeg and cinnamon. In a separate bowl, mix Splenda, pudding, almond flour and baking powder. Slowly add dry ingredients to wet ingredients until well combined.
 Fold carrots and coconut into batter. Do not over-mix. Evenly distribute batter into the two pans. Bake 20-25 minutes. Insert fork into the center of cake. If fork comes out clean, it is done. Let cake cool 30 minutes. 
Once cakes are cooled, gently loosen sides of cake with a bendable spatula. While loosening sides of cake, try to lift cake a bit so it will easily be removed from pan. With a non-stick spray, lightly coat the platter on which you will be serving your cake. Place the serving platter over one of the cake pans and invert cake onto platter.
 Make the frosting by creaming the cream cheese. (Soften your cream cheese in the microwave for 10 seconds.) Then add the butter and Splenda and blend until smooth. Spread half of your frosting on top of the first cake. Push some frosting to sides and frost sides of cake. Loosen the second 8-inch cake, and place it on top of the first cake. Use rest of the frosting to frost the top.
 With your reserved shredded carrots, evenly sprinkle on top of cake and sides.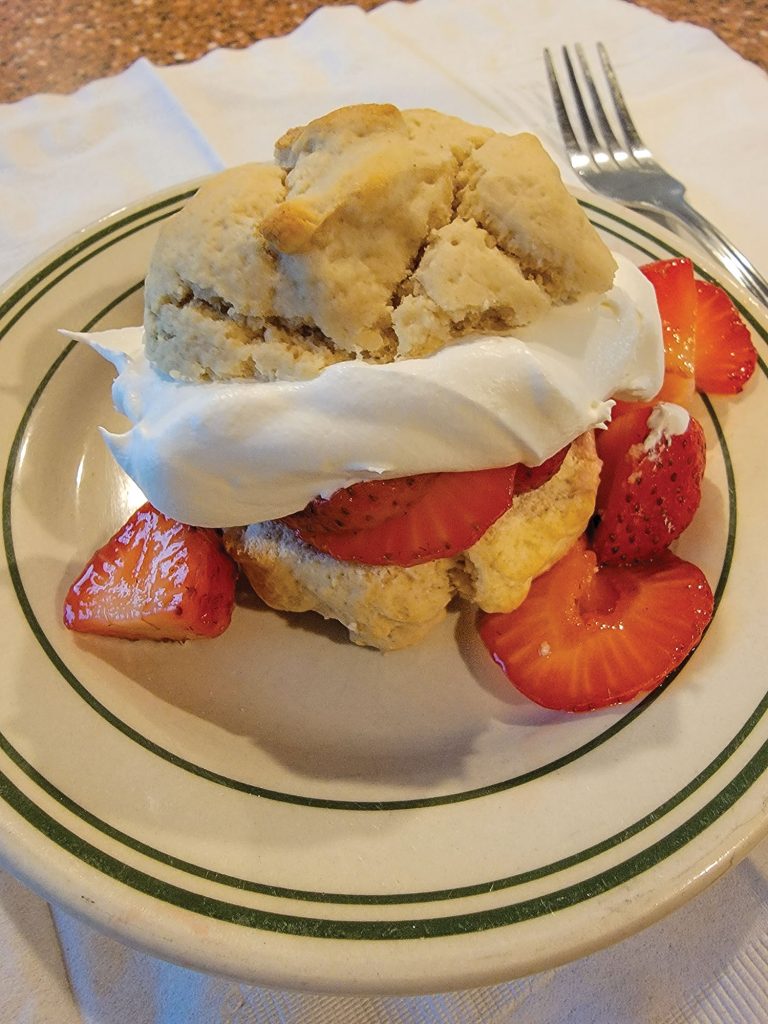 There Is Always Time For Strawberry Shortcake
When purchasing ingredients for this recipe, if strawberries are not in season, frozen, sliced strawberries work just as well.
Ingredients:
2-1/2 cups original Bisquick
2/3 cup milk
1/4 cup brown sugar
2 tablespoons granulated sugar
1 teaspoon vanilla
Toppings:
2 cups fresh, sliced strawberries or 1 bag frozen, sliced strawberries
1/3 cup granulated sugar
1 tub Cool Whip
Directions:
 Mix the Bisquick, milk, brown sugar, granulated sugar and vanilla until a soft dough forms and pulls away from the sides of the bowl. If your dough is very sticky, add a bit more Bisquick. If it is too dry, add a slight amount of milk. Drop dough by the spoonful onto an ungreased cookie sheet. Bake 8-10 minutes. Makes about a dozen.
 For the topping, mix sugar with the sliced strawberries. Refrigerate one hour. When it is time to serve, cut your short cake in half, put a spoonful of strawberries on bottom half, top with Cool Whip and replace top half of shortcake.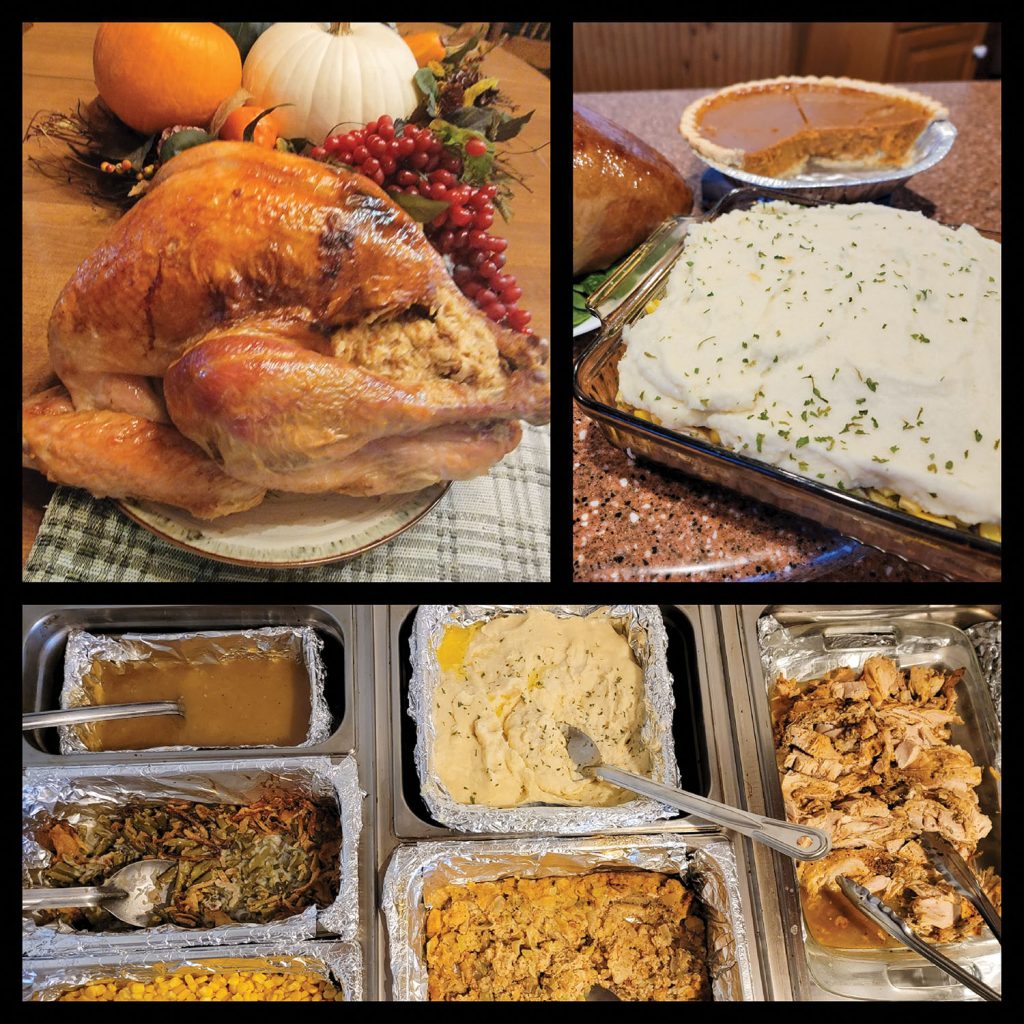 Thanksgiving In One Dish!
 This is a great way to use up your leftovers from your Thanksgiving dinner. You can either make another meal in a large dish or make single serving dishes for giveaways. It is also called Thanksgiving leftover casserole.
The recipe is a simple layered casserole using your leftovers. Coat a 9×13 pan with a non-stick spray. Layer your turkey on the bottom. On top of the turkey, layer your stuffing, next your green beans, corn and drizzle with gravy. Lastly, add your mashed potatoes. Spread potatoes nice and even, and sprinkle with parsley. This casserole may be frozen and taken out at a later date, orr you can reheat the next day. The best part is you can make this one dish casserole with any leftovers. 
Layered Salad
This is a colorful combination of a variety of ingredients of your choice for the salad. The salad is topped with a mayo mixture and shredded cheddar. Any type of meat can be used.
Layers:
Lettuce, red onion, cooked bacon, peas, cooked turkey, carrots.
Mayo Topping:
1-1/2 cup mayonnaise
1 teaspoon pepper
1 teaspoon sugar
1/2 teaspoon dill seasoning
3/4 cup shredded cheddar cheese
Directions:
 Use any size bowl. A clear glass bowl looks attractive. Amounts of your layered salad will depend on the size bowl you use. Use any ingredients you enjoy in your salad, and begin building your layers. For the mayonnaise topping, I used Hellman's mayonnaise. Add sugar, dill and pepper to your mayonnaise. Mix well. Spread on top of your layered salad. Add shredded cheese last.
Top photo: Layered salad.
Mary Ann Kuper is a cook on the ACBL towboat Carl Page.