The Rev. Kempton Baldridge makes a habit of reaching out to people.
He shakes the hands of the towboat crews he calls shipmates. He lays a hand on a shoulder as he meets someone's eyes, offering comfort in a few words or a prayer or offering a quip that brings laughter bubbling up. He gives hugs, too.
He makes it a policy to never get on a boat empty-handed. Instead, he brings boxes of books, candy or toiletries, anything he can find to show each person he or she is cared about, and they all welcome a visit from the man they have come to call simply, "Chaps." Especially popular are the Christmas on the River boxes of gifts, including hand-knit items. Baldridge is responsible for making sure every towboat gets a box, so his meeting a boat at a lock is a bit like an appearance from Santa Claus this time of year.
Early mornings, late nights and long drives are part of his daily work in his chosen mission field.
Sign up for Waterway Journal's weekly newsletter.
Our weekly newsletter delivers the latest inland marine news straight to your inbox including breaking news, our exclusive columns and much more.
"His level of energy is second to none, and his passion for mariners," fellow Seamen's Church institute chaplain Tom Rhoades said. "His claim to fame will be the amount of mariners he has personal relationships with because he got on their boats."
After 11-1/2 years with Seamen's Church Institute, Baldridge, SCI's senior river chaplain, has announced he plans to retire early next year.
At SCI's 21st Annual River Bell Awards Luncheon December 9, the Rev. Mark Nestlehutt, SCI's president and executive director, said Baldridge carried out SCI's mission "faithfully and enthusiastically" for more than a decade.
"Kempton has been an exceptional presence on the river and in the lives of many mariners, known for his genuine compassion and concern for each mariner's wellbeing, his willingness to jump into action when called upon, his tireless dedication to fulfilling SCI's mission and his ability to help shoulder others' burdens and share in their joys," Nestlehutt said. "Kempton has become a legend on the river and will be a difficult act to follow."
In front of the crowd of nearly 500 people gathered in Paducah, Ky., where Baldridge is based, Nestlehutt presented Baldridge with a framed photograph as a token of gratitude and appreciation for his service.
'Deckplate Ministry'
Although he often attends such gatherings, from towboat christenings to ribbon-cuttings, Baldridge is still most at home stepping onto a towboat in his well-worn steel-toed boots, usually wearing his orange PFD and either his Navy ballcap, marked "chaplain," or his white hard hat, marked the same way.
Baldridge regularly plays what he calls "lock and dam ping pong," where a chaplain boards a vessel southbound through one lock, disembarks at the next lock down, then hops aboard the next northbound towboat.
"I think the record is 12 different boats in a single day," Baldridge said.
He spends about two-thirds of his time aboard boats, doing what has been called "deckplate ministry."
Baldridge notes that with a fleet of 7,000 towboats in 18 states and two time zones, getting out on the river is much more effective than sitting in an office.
When asked what a typical day is like, his first response is to laugh and say, "If I ever have one, I'll let you know."
He quotes a Yiddish proverb, "Mann tracht un Gott lacht," meaning, "Man plans, and God laughs."
Speaking at the River Bell Awards Luncheon, Baldridge described one week this fall. He had told his wife the weekend before it looked like "nothing special" was on his agenda, which was good since he had so many boxes to pack for Christmas on the River.
Then, on Monday, a canoeist who had been caught on the river in severe weather and rescued by a towboat crew came to visit. The same day, a former mariner who was homeless and had recently been through rehab stopped to ask for help getting a TWIC card. By the end of the day, the same captain who had rescued the canoeist had hired both. 
On Tuesday, a new captain aboard a lineboat emailed to ask if Baldridge would come aboard the following day to visit the crew. The previous captain had died of COVID-19 just three weeks prior. On Wednesday, Baldridge rode along with the mariners until their 10 a.m. crew change, taking photos for the late captain's family. 
On Thursday, Baldridge received a call from a port captain who requested a crisis intervention for a deckhand going through a difficult divorce. He met the deckhand, sat and listened to him until evening, and then arranged for a hotel room and brought him to shore.
"He's doing fine," Baldridge said. "He's back on the boat, by the way."
That Friday, Baldridge received another call for crisis intervention, this time for a crew that had found the remains of a missing person. The same crew had made a similar discovery three weeks before. 
"Needless to say that Friday night I was bone tired, and yet gratified to know that the Seamen's Church ministry had made a difference in mariners' lives that week, even though there was absolutely no progress made on the 1,789 Christmas boxes that we had yet to prepare."
Then, he quipped, "Can I see a show of hands? Have any of you received them?" "No, you haven't? Well, I'll get back to work. I've determined that by February 28, I will have logged some 607 weeks just exactly like that week two months ago, and all of them are exactly alike, except really different."
Problem Solver
Most people couldn't have handled even a single week like that, but friends talk about Baldridge's boundless energy and relentless optimism almost as much as about his knack for remembering details. He greets mariners by name and remembers their stories.
"He's so outgoing, an extrovert until you are in crisis, and then he can get very focused on you and become a good listener," Rhoades said.
Trying to describe Baldridge proved a bit difficult. "Like trying to catch air in your hands," Rhoades said at one point.
"From a divine perspective, God uses him really well because he's willing to be there, but he's also a genius," Rhoades said. "One of his great capacities is his creativity of care. He's a master problem-solver. Because of that, there was never an incident that I know of that didn't get worked in some way or another. He's very passionate about that."
One of the problems Baldridge helped to solve this year involved a phone call SCI received from Rear Adm. Michael Alfultis from the Maritime College of the State University of New York, asking if chaplains could assist the maritime academy with its summer sea term.
Cadets, some on their first ever sea term, were at sea during a global pandemic and dealing with the stress of COVID-19, their upcoming USCG licensing exams and longer cruises. Alfultis had been notified there was a serious need to provide mental health support to both the crew and cadets on board the ship and wanted to know if SCI chaplains could provide it aboard the Empire State VI, the college's training ship, which was underway and sailing to the Port of Charleston, S.C.
Nestlehutt happened to be visiting Paducah at the time and asked Baldridge and Rhoades if they thought SCI could help. Within a week, Baldridge was on board and stayed with the vessel until Fort Lauderdale, Fla. Meanwhile, SCI worked to arrange chaplains for additional legs of the A and B cruises. 
Such a response would have been impossible before Baldridge arrived in 2010. At the time, Baldridge was the "lone ranger," as he describes it, in river chaplaincy. Since then, SCI hired Rhoades as a second full-time chaplain, based in the Gulf, and they are supported by more than three dozen chaplain associates in 18 states. Most of them are trained in crisis intervention and qualified to assist wherever a need arises, Baldridge said. 
Baldridge has also been instrumental in making sure services are always available to mariners, near and far. He is responsible for such ideas as cross-training river chaplains with SCI's Port Newark, N.J., chaplains, expanding SCI's chaplaincy to include the Great Lakes and deploying crisis response chaplains outside the normal boundaries of SCI's ministry as needed in specific geographic areas, including collaborating with maritime academies, such as the New York Maritime Academy and the United States Merchant Marine Academy in Kings Point, N.Y.
"The very fact that Seamen's Church Institute took this input seriously and acted upon it in time and as budget allowed means and will mean a great deal to me always," Baldridge said. "So as I stand here on the eve of retirement, being part of SCI's iconic chaplaincy has been the absolute pinnacle of my ministry and one of the great joys of my life, hands down."
Many Friendships
Baldridge's efforts to expand the chaplaincy and reach more mariners is no surprise to Rhoades, who talks about Baldridge's commitment to "doing things right every time with people on the waterways."
His determination is unmatched, Rhoades said, and he always sees the very best in people.
"He's got an incredible capacity for empathy, so if they're suffering, he's suffering," Rhoades said. "A lot of us can't cope, so we just avoid, we close off. But he's right there, suffering along with you.
"I've never met anyone like him," he said, then paused to think again about the right words to describe Baldridge and his loving focus on each and every person he encounters and the relationships he continually builds with them.
Finally, he hit upon a phrase perfectly describing Baldridge and his many and varied, but always genuine and heart-felt relationships. "He's a collector of people," Rhoades said.
Rhoades met Baldridge when Rhoades was working as a cook on a towboat. He recalled trusting Baldridge while grieving following the passing of a family member, knowing Baldridge really does care about every person he visits.
"When he visited me on my vessel, it brought a sense of relief to the emotions and probably also to the soul," Rhoades said. "That's what I think chaplaincy does. When we're cared about, we can breathe a little deeper. We can relax a little more because we know we're loved."
Frank Price, 68, of Greenville, Miss., is one of Baldridge's close friends and calls him his brother. Price was one of the first people Baldridge met when he went to work for SCI. Price remembers him coming down into the engineroom to talk to him, being there when he had family in the hospital and celebrating with him after his retirement as an engineer for Ingram Barge Company after 44 years of service in March 2016.
"He keeps an eye on me, and I keep an eye on him," Price said. "I don't see how he keeps going sometimes. I tell him, 'You must have an Energizer battery plugged into you.'"
Background Of Service
Because Baldridge tends to talk with the people he meets about what is going on in their lives, not everyone knows that Baldridge is a Connecticut native and a graduate of the military school The Citadel, earning a Bachelor of Arts in history. He went on to earn a Master of Divinity from Yale University.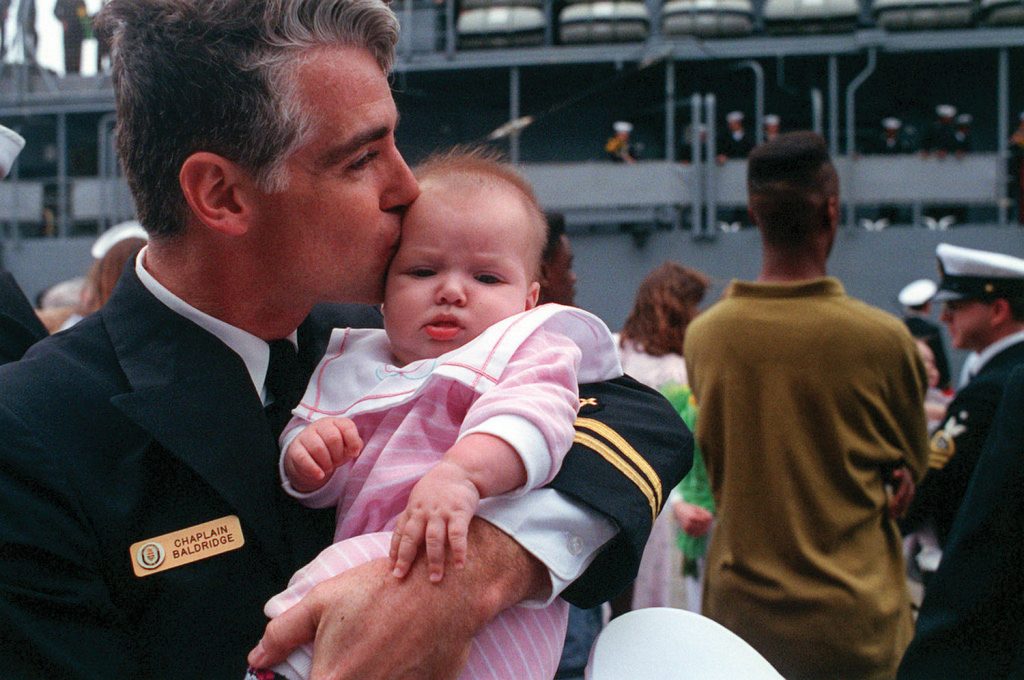 He has served in a variety of both military and civilian positions and deployed in response to the space shuttle Challenger disaster. He responded as a Navy chaplain to Operation Desert Shield and Operation Desert Storm.
In 2016, Baldridge was called to Djibouti, to the Red Sea pirate attack on C/S Responder.
"If I'd gone any farther, I'd be on my way back," he quips.
In fact, much of Baldridge's service has been overseas. In the civilian world, he served as rector of All Saints' Episcopal Church in Waterloo, Belgium, from 1999 to 2010, immediately before coming to SCI. There he served as chairman on the Commission on the Ministry of the Baptized, overseeing vocational discernment for the Convocation of American Churches in Europe for his final four years there.
Before attending seminary at Yale, his early work experience took him all over the United States and included everything from being a recruiting officer for The Citadel in South Carolina, an associate director for Gonzaga University's Annual Fund in Washington, a capital campaign consultant for Auburn University in Alabama, acting chief of public affairs for Military Traffic Management Command in Washington, D.C., a high school teacher in math, history and chorus in Connecticut, as well as head coach of a university lacrosse team at Fairfield University there.
Post-seminary he served in two Episcopal churches in South Carolina and then, from 1993 to 1999, as university vicar and associate rector of the Episcopal Campus Ministry at the University of Delaware before taking the position in Belgium.
Baldridge has also received recognitions and commendations along the way, including the Maritime Person of the Year from the Port of Paducah Propeller Club in 2017, the Distinguished Service Award from the U.S. Merchant Marine Academy Alumni Association and Foundation, Music City Chapter, in 2018 in Nashville, Tenn., and the 2019 Civilian Service Award from the Paducah Police Department.
Although he had an extensive work history before coming to SCI, Baldridge said he knew about the nonprofit and its mission even in childhood. His mother was knitting hats and scarves for mariners when she was 15 and now, at 95, has returned to doing so. His father was a mariner, sailing a quarter of a million miles between 1941 and 1947.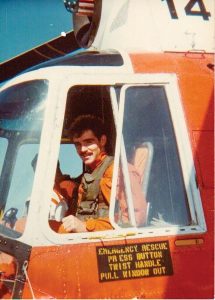 Baldridge himself was a sea cadet in high school and in the Navy ROTC program and the Coast Guard Reserves, spending time on active duty from 1976 to 1980.
He spent time on 41-foot utility boats, standard rescue boats for the Coast Guard, along with the 95-foot cutter the Cape Morgan and the U.S. Coast Guard 180-foot buoy tender the Paw Paw, along with some time in 1984 on the battleship Iowa.
"I strove to become the chaplain that I, myself, would have needed as a young deckhand," he said.
Reflecting on what led him, ultimately, to SCI in 2010, Baldridge used a marine metaphor: "Rivers don't run straight, else they'd be called rapids."
Future Plans
In 2020, Baldridge was certified in Critical Incident Stress Management (CISM) by UMBC Emergency Health Services in Baltimore, Md.
It was needed, he said. The year was full of untimely deaths, both from COVID-19 and otherwise.
"Sometimes it would just knock the stuffing out of me," Baldridge said, but he added that the CISM training he has received over the years, beginning at Fort Dix, N.J., in 1996, has helped him to respond to maritime casualties and other incidents in a way that helps those most affected to process their trauma and return to a state of wholeness so they can go back to work and support their families. He has seen CISM strategies go from a newly developed method of helping survivors handle stress to the strategy endorsed by the Coast Guard for use in responding to major incidents worldwide.
Although he is retiring from SCI, Baldridge is not retiring from ministering to others, he said. Instead, he hopes to teach classes in CISM to SCI chaplains, the Coast Guard and other first responders.
"I don't think God put me on this earth to be one of the people watching it on TV," Baldridge said.
While able to spend more time with his wife, Isabel, and their adult children Kempton and Grace, Baldridge said he also would like to be available on an as-needed basis to be called upon to respond to help others, using his training.
As for what he will miss most, predictably, Baldridge said, "Probably the thing that means the most and that I'm going to miss the most is the privilege of standing alongside people, being shipmates. Those are the moments that I want to take with me."
It seems that as long as people are willing, Chaps wants to keep extending that helping hand.