To all the river friends and family, put your faith in the Lord, and live another day. When you're on the tow working in the ice and snow, and mother nature throws the worst elements of weather that you can imagine, be safe, and look out for each other. Remember your training. Stay on top of your safety meetings, and follow through. Do not do a quick job. Do a correct job.
Winter Safety Tips To Remember
Please take your time and watch out for slips, trips and falls. One slip could be the end. 
Keep your hands and feet warm; frostbite is a serious issue.
Hypothermia is also something to keep in mind. If your clothes get wet during the winter months, change into dry clothes as soon as possible. 
Remember to keep your fire hose unplugged as ice will form in the hose, and it will not be usable in case of an emergency.
Keep your deck non-skid.
Inform somebody when you go outside on the bottom deck of the boat; remember the buddy system.
As we all know, the Titanic sank over an ice issue, so please keep your skiff in working order.
Be sure batteries are charged; remain seated while in transit; do not exceed maximum capacity.
Always wear proper PPE; two people in the support vessel always; face forward when in operation.
Do not stand in the support vessel; keep all safety equipment in good working condition.
Water must be drained out of the lower unit so the prop on the lower unit will not freeze. You may not have power and be at the mercy of the current. We want to get on the boat together and get off together to see our family and loved ones.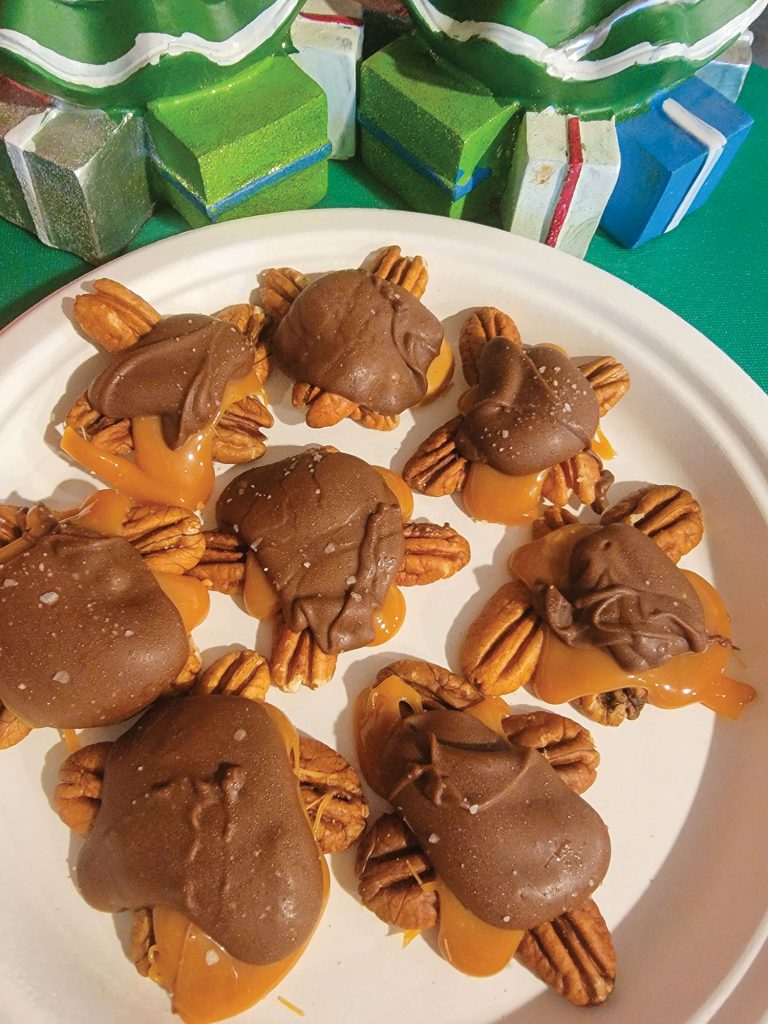 Pecan Turtle Clusters
Ingredients:
12 oz. bag natural pecan halves
12 ounces soft, store-bought caramel candy
10 ounces almond bark (may use 1 bag of milk chocolate chips)
1/2 teaspoon vegetable oil
Directions:
Prepare a cookie sheet by covering it with parchment paper or cooking spray.
Arrange the pecans in cluster of four. Unwrap caramels, and place in a microwave-safe bowl. Microwave caramels 30 seconds, and then stir. Continue to microwave caramels and stir every 30 seconds until completely melted. Be careful not to overheat, as they will burn. Stir completely in between intervals.
Set melted caramel aside for a short period until chocolate is melted.
Melt chocolate the same way you did the caramels but add in 1/2 teaspoon of vegetable oil. DO NOT allow any water, not even a drop, to mix in with your chocolate, or the chocolate will stiffen and will not reheat again.
Place a spoonful of caramel onto each pecan cluster. Place a spoonful of melted chocolate on top of the caramel layer. Refrigerate for 30 minutes until the chocolate hardens.
Christmas Butter Cookies (Picture at top)
Ingredients:
1 box white cake mix
1 stick butter, softened
1 8-ounce block cream cheese, softened
1 egg
Red and green food coloring
Red and green sprinkles
Directions:
Beat butter, egg and cream cheese. Divide cream cheese batter in half into separate bowls. Put several drops of food coloring into each bowl, creating one red mixture and one green mixture. Open cake box mix and place in a 4-cup measuring cup. 
Slowly add half of the cake mix into one bowl and beat until mixed completely. Pour rest of cake mix into other bowl and mix.
Chill batters in refrigerator for 30 minutes or chill in freezer for 15-20 minutes. Place red sprinkles in a small dish and green sprinkles in another small dish.
 Once cookie batter is chilled, roll into 1-inch balls. Flatten balls slightly. Dip one side of red cookie batter into red sprinkles. Lay cookie sprinkle side up on parchment lined cookie sheet. Repeat with green cookie batter and green sprinkles. 
 Bake at 350 degrees for 10-12 minutes.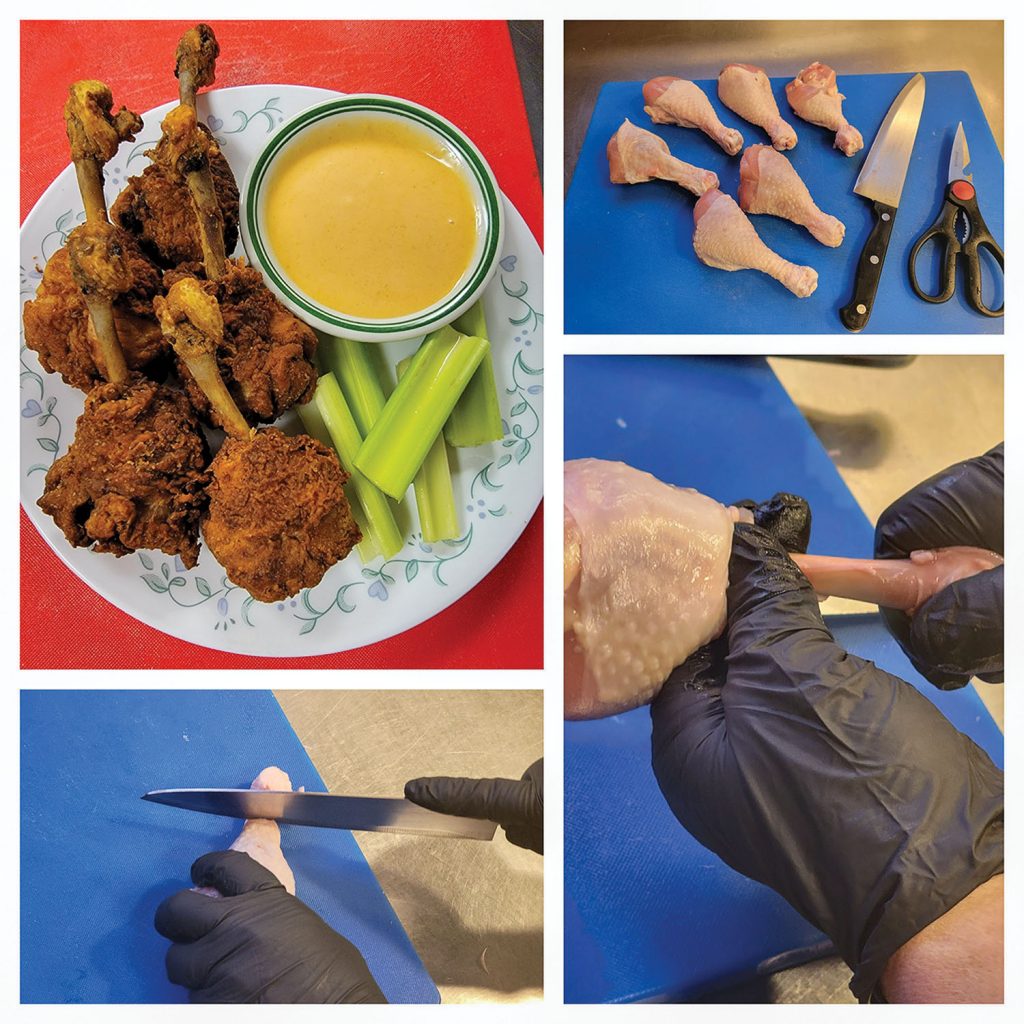 Chicken Leg Lollipops
 Try something fun and different for the holidays or a New Year's Eve appetizer. These chicken lollipops are easy to prepare. Once you have prepped your chicken lollipop you can BBQ these, braise them in the oven with a honey mustard sauce, or fry them up like you fry chicken in a vat of oil. Please refer to picture when preparing.
Collect your ingredients. Thaw as many chicken legs as you want.
With a sharp knife, cut the skin and tendons around the bone near top half of the leg.
Use kitchen shears to cut tendons if they did not get completely cut with the knife.
Slide the meat as far down as you can to the bottom end of the chicken leg. Arrange skin evenly over meat for looks.
Your chicken lollipop is prepared. You may dip in batter and fry, grill, bake or smoke them; whatever your liking is. Or "whatever floats your boat!"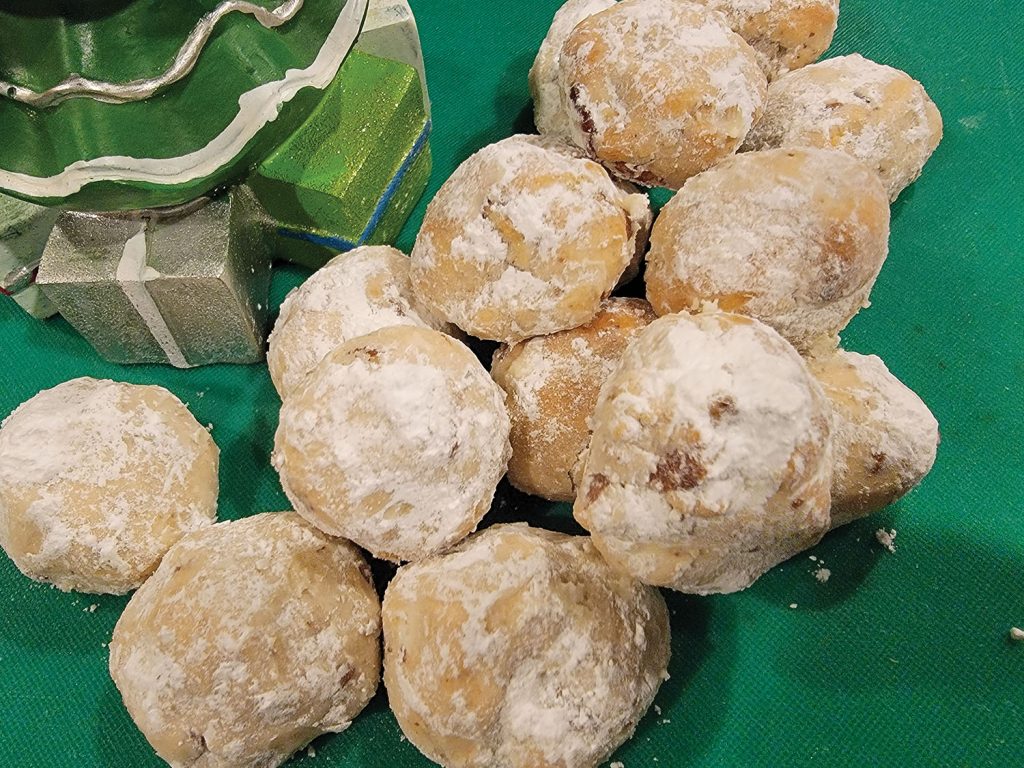 Pecan Snowballs
Ingredients:
1 cup softened butter
1-1/2 cups powdered sugar 
Dash of salt
2 tsp. vanilla 
1-3/4 cup all-purpose flour
1 cup chopped pecans
Directions
Preheat oven to 350 degrees. Prepare two cookie sheets with parchment paper.
Mix butter and only 1/2 cup of the powdered sugar. Mix until well combined. Add in vanilla extract and flour. Continue mixing until thoroughly combined. Add pecans.
Scoop dough out into heaping tablespoons and shape into balls. Bake about 13-14 minutes. Let cool. 
Roll cookie balls into remaining powder sugar. Roll one cookie at a time. Arrange on serving tray or place in an airtight container.
Caption for top photo: Christmas butter cookies.
Mary Ann Kuper is a cook on the ACBL towboat Carl Page.