Lydia Ann Channel Fleet, more familiarly known as LAC Fleet, a provider of fleeting and fuel services in Rockport, Texas, and an operator of towing vessels on charter, christened three towboats in ceremonies held October 30. The honored trio consisted of the newly built mv. Samantha Trueheart, (Sam T, for short) and two existing fleet boats heretofore not christened, the mvs. Lydia Ann and Melissa Lynn.
Friends, family members, company personnel and vendors gathered around the boats moored along the Gulf Intracoastal Waterway (GIWW) outside the company's Rockport facility. All had been there a year earlier to celebrate the christening of four of the company's other towboats, the mvs. Isla Margaret, Louisa Frances, Shaw Elizabeth and LAC Fleet's first new build, mv. Elin Merritt (see WJ November 16, 2020). The Sam T is the company's seventh vessel.
The christening ceremony for the Samantha Trueheart and the two other boats featured remarks from Todd Maise, LAC Fleet's chief of operations, and Todd Pietsch, the company's CEO and managing partner. Rev. William Campbell, assistant rector of Church of Good Shepherd in Corpus Christi, Texas, offered the blessing for the towboats.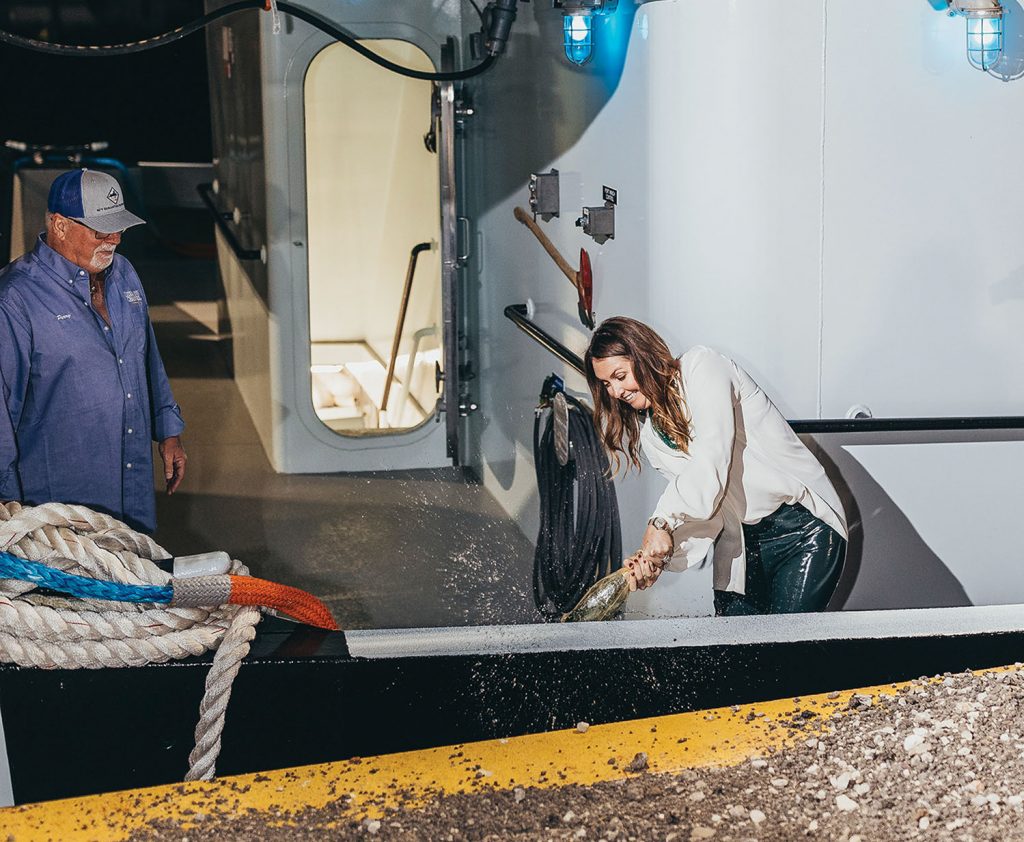 The Sam T is named for Samantha Trueheart Gates. She is the wife of one of LAC Fleet's board members, Dos Gates, who is president of Espejo Energy in Corpus Christi, and she was joined as the vessel's christening sponsor by the vessel's captain, Capt. Perry Russo.
The mv. Lydia Ann, a 60-foot, 1,200 hp. triple-screw vessel previously owned by Boh Bros. Construction, was christened by its captain, Capt. Tim Laughlin. 
Finally, the mv. Melissa Lynn, a 72-foot, 2,000 hp. towboat previously owned by Higman Barge, was christened by its namesake, Melissa Abel, with the help of its captain, Capt. Mark Miller. Melissa Abel is Pietsch's mother-in-law. 
Built and designed by Diversified Marine in Bourg, La., the 2,000 hp. Sam T measures 78 feet by 34 feet with a 9-foot draft. The twin-screw towboat features a pair of Cummins QSK38 Tier 3 engines from Cummins Mid-South mated to Twin Disc 540 reduction gears with a ratio of 7:1 from Sewart Supply. Texas Wheel Works supplied the vessel's Sound Dominator 78- by 68-inch propellers. The main shafts are 7-inch Aquamet stainless steel, while the rudder shafts are 8-inch Aquamet stainless steel. Ship service power aboard the new boat comes from a pair of Cummins 85 kW generators, also from Cummins Mid-South. 
The vessel has tankage for 40,000 gallons of fuel, 10,000 gallons of potable water, 1,200 gallons of engine oil, 450 gallons each of gear oil and dirty oil, and 165 gallons of hydraulic oil.
The vessel's engines are cooled by Durweld keel coolers provided by East Park Radiator. Unlimited Control & Supply furnished the Sam T's engine alarms, fire detection system, general alarm, pilothouse alerter system, fire pump control and switchboard.
Dale's Welding supplied the vessel's Wärtsilä seals, and Donovan Marine supplied its Duramax Marine bearings, wastewater treatment system and fire safety equipment. The Sam T's steering system is from Pneumatics Specialties, and International Marine Systems supplied its electronics and communications equipment. M&M supplied the vessel's fendering, while International supplied its paint. 
On deck, the new boat features two 40-ton Patterson deck winches supplied by Johnny's Propeller. The vessel's crew accommodations include five bedrooms and four bathrooms.
Maise said the Sam T immediately went to work on charter when LAC Fleet took delivery. Despite the virus and the economy, all the company's vessels remain busy and under contract.
LAC Fleet History
In 2014, LAC Fleet was created to address the lack of barge fleeting space in the Corpus Christi area. The entrepreneurs were Todd Maise and his former partner James Scott, who has since moved on. Both had worked for Settoon Towing in Pierre Port, La. Maise was director of operations for Settoon Towing for five years, having spent 10 years before that with Blessey Marine Services as port captain and director of operations. Scott was a towboat captain and port captain for Settoon for many years. The pair enlisted the partnership of several Corpus Christi businessmen when it launched the new company. 
While it began primarily as a fleeting operation in the Corpus Christi area, LAC Fleet has since become a substantial exporter of fuel to Mexico thanks to its affiliation with a Harlingen, Texas, firm named Titan Fuel. Together they operate twenty 30,000-barrel tank barges and one 10,000-barrel tank barge dedicated to the transportation of diesel fuel and gas from various collection points along the GIWW to a terminal in the Port of Harlingen. From there, the product is trucked to Mexico.
The demand for its services has been such that LAC Fleet has two more towboats on order. One, a 72- by 30-foot, 2,000 hp. towboat, is being built by Intracoastal Iron Works for delivery in March. The other, a 78- by 34-foot, 2,000 hp. boat, is under construction at Diversified Marine, which expects to have it completed in August. It is a sister ship to the Sam T, except that it will be a Tier 4 vessel.
"We have a team of very smart people from the top to the bottom," said Maise, "and they are all quick to take advantage of opportunities when they come up. We're at a really good place right now," he said, adding with a laugh, "although at times I'm not sure exactly where we're headed."
Maise said the barge fleet remains busy, as well. It has capacity for about 250 barges, with 68 mooring pilings stretched across about 8,000 feet on the Lydia Ann Channel. The fleet is located between Miles 531 and 533 on the GIWW. 
The Samantha Trueheart is the 50th hull built by Diversified Marine since its opening in 2007. The shipyard is led by Robert Boudreaux Jr and family, whom have been owners and operators of offshore and inland vessels for almost 50 years. It was the need to repair its own vessels that prompted the Boudreaux's to start the shipyard.
Maise said when he first interviewed shipyards to build the Elin Merritt, he was impressed with how much iron Diversified Marine put into its boats, and their workmanship. He said the welding was exceptional. The Sam T, and its predecessor, the Elin Merritt, he said, are smooth running and quiet because of how heavily built they are. The boats each contain just over 575,000 pounds of steel.
Boudreaux explained he didn't believe in underbuilding anything. "We believe in overbuilding. We put the materials and workmanship into building a vessel that will last a lifetime."
Located on 14 acres southeast of Houma, Diversified Marine recently added construction space that is under roof and out of the weather, to further ensure prompt delivery, Boudreaux said.
Maise said he was very pleased with Diversified considering all the challenges they faced, building both the vessels in the middle of COVID-19 and other weather-related disruptions. "The shipyard did extremely well with all the blows they were dealt," he said.
Caption for top photo: The mv. Samantha Trueheart was designed and built by Diversified Marine. (photo by Tracy Adams)
For more pictures from the christening ceremony, click on the slideshow below. (All photos in slideshow by Lillian Jean Photography)
From left, Eric Sanchez, Capt. Mike Miller, Mike Skipper, Melissa Abel, Pilot Robert Cervantes and Heaven Zamora.