Strawberry cookies
Ingredients:
1-3/4 cup all-purpose flour
1/2 teaspoon baking powder
1 egg
2 tablespoons lemon juice
1/4 cup oil
1/3 cup butter
1/2 teaspoon vanilla
1/2 cup brown sugar
1/2 cup granulated sugar
1 cup strawberries, chopped
Directions:
Preheat oven to 375 degrees. Line two baking sheets with parchment paper.
In a separate bowl, mix together flour and baking powder.
With an electric mixer or stand mixer, cream together egg, lemon juice, oil, butter, vanilla and sugars until well combined.
Add flour mixture until combined. Using a spatula, gently mix in the chopped strawberries. 
Form cookie dough into golf-ball size balls, and slightly flatten with the palm of your hand.
Place cookie dough on the prepared baking sheet and bake for approximately 12 minutes.
 Let cool.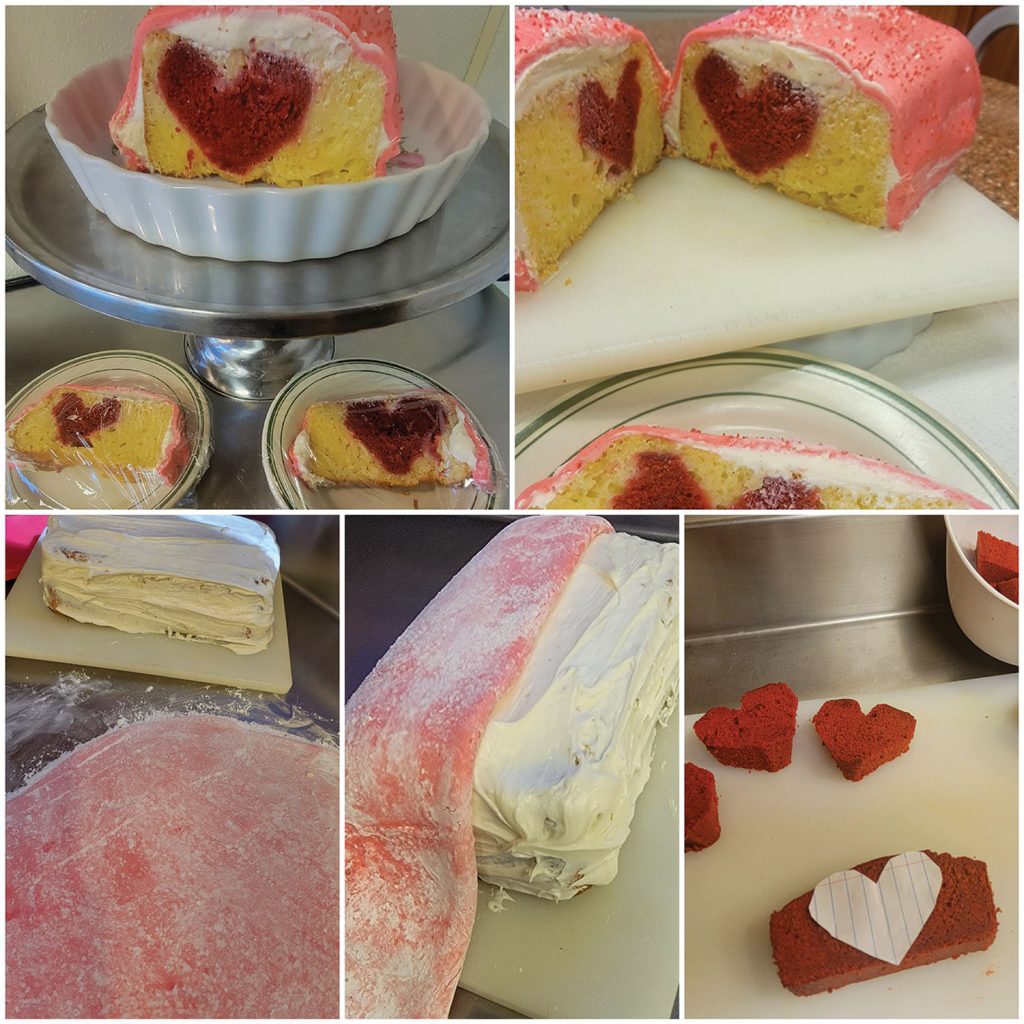 Heart Cake
Ingredients:
(For the heart)
1 box red velvet cake mix (any brand)
1.5-inch size heart shaped cookie cutter or paper heart
You will need eggs and oil as stated on cake mix. 
You will need buttermilk (in place of water) as stated on cake mix.
(For the layer around the heart)
1 box yellow or white cake mix
You will need eggs and oil as stated on cake mix. 
You will need buttermilk (in place of water) as stated on cake mix.
(For the frosting)
1 jar white frosting
(pink fondant outer frosting)
1 package 16-ounce white mini marshmallows
3 tablespoons water
8 cups sifted powdered sugar
1/3 cup vegetable oil
Red food coloring 
Note: Gel food coloring is best for fondant, but liquid food coloring may be used also. Gel food coloring gives deeper colors, and liquid food coloring will produce lighter colors.
Directions:
Prepare red velvet cake mix as directed on the back of the box with the following exceptions. Preheat oven to 350 degrees.
Substitute water as listed on back of box with buttermilk.
Bake cake in a loaf pan. Be sure to spray loaf pan with a non-stick spray. Bake for 40 to 45 minutes until toothpick inserted into the center comes out clean or with few crumbs.
Cool cake for 30 minutes
Chill red velvet cake in freezer for 30 minutes.
Do not prepare yellow cake mix until red velvet cake is completely chilled.  Remove red velvet cake from loaf pan. Cut width of the loaf into four slices. Use your cookie cutter or paper heart template to cut one heart shape from each of the four slices.  Save your scraps of leftover red velvet cake to make a dump cake. You may freeze these leftovers for a later date.
Prepare yellowcake mix. Spray a loaf pan generously with a non-stick spray. Substitute buttermilk for the water as listed on the cake box mix. When batter is completely mixed, pour about one-fourth in bottom of sprayed loaf pan. 
Gather your red velvet cake hearts and line them up next to each other. Place hearts upside down on top of the batter in the loaf pan. Pour rest of batter on top of the hearts. Bake at 350 for 30 minutes or until toothpick inserted in center comes out clean. Cool cake. Cut a small portion off the top of the cake to create a flatter surface. Invert cake upside down on your serving plate.
Frost entire cake with the jar of white frosting. Set aside.
Directions to prepare fondant outer frosting:
Add marshmallows and water together in a microwave safe bowl.  Microwave for 30 seconds. Stir. If not completely melted, microwave again. Stir in vegetable oil. Mix again.
 Add desired amount of food coloring to oil and marshmallows.
 Add 6 cups of the sifted powder sugar to the colored, melted marshmallows. Mix well. Add more powdered sugar if sticky. 
Add rest of powder sugar to a flat surface for kneading. Knead marshmallow fondant like dough. If dough is too dry, add a little oil. Roll dough about 18 by 18 inches. Use a flat spatula to continually lift bottom and keep powdered sugar under fondant so it will not stick to work surface. 
Fold fondant in half and lay across your frosted cake loaf. Trim sides. Fondant may be covered in powdered sugar. Use a damp towel to easily blot clean. Trim edges.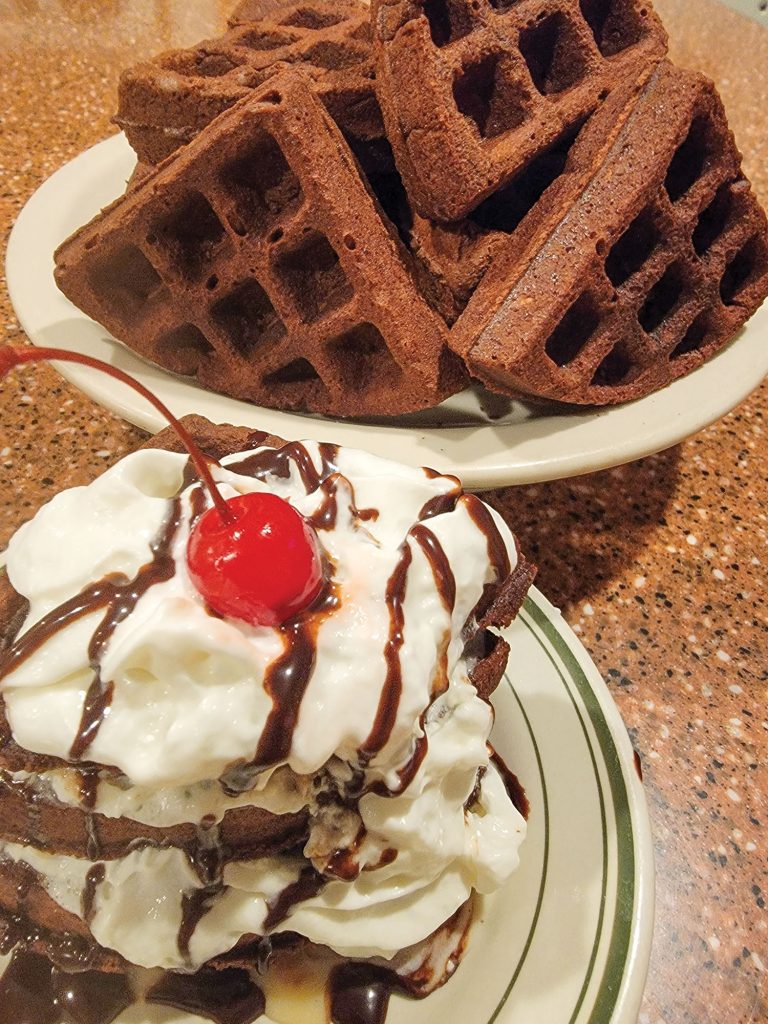 Waffle Brownie
This is just too simple to put in a recipe. 
Prepare any kind of box brownie. We made two boxes of brownies. Heat up your waffle maker, and pour your brownie batter in the waffle maker as you would your waffle batter. That's it! Your can add layers of whipped cream in between the waffles. The brownie waffle was pretty good just plain. Put leftovers in a resealable plastic bag to snack on later.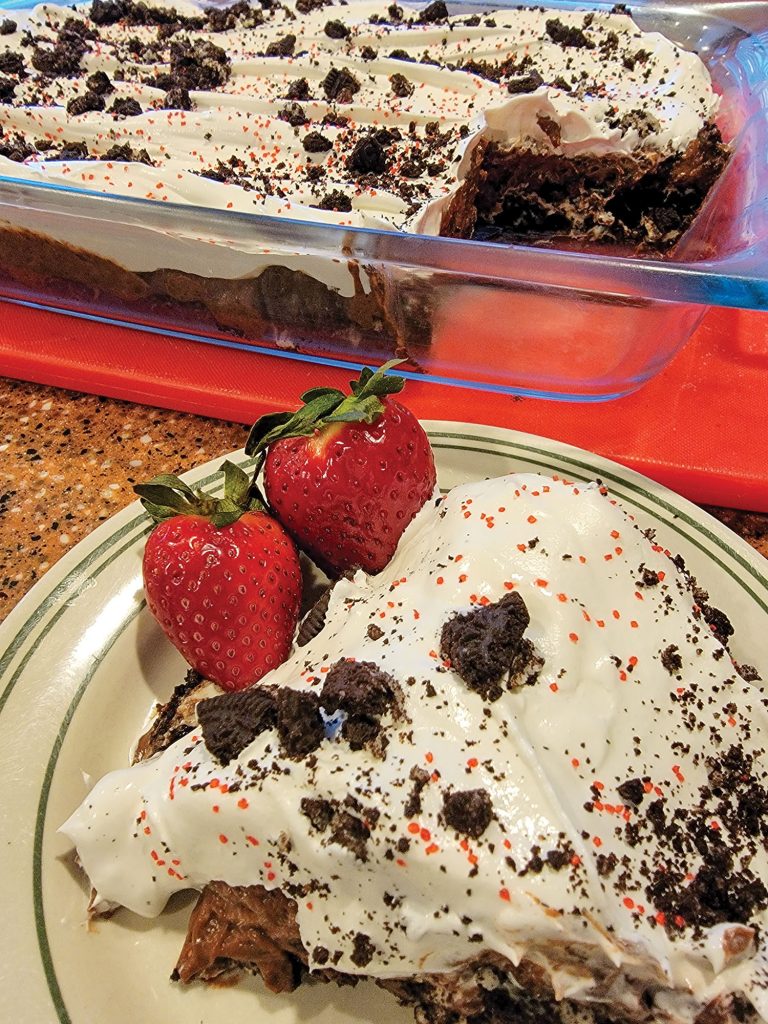 Quick and Easy Oreo Cookie Dessert
Ingredients:
18-ounce package Oreo cookies
8-ounce brick cream cheese
Two 3-ounce boxes instant chocolate pudding
8-ounce container cool whip
Directions:
Place cookies in a large, resealable plastic bag. Crush cookies. Reserve 1/4 cup crushed cookies to decorate top of cake.  Put rest of cookies in a 9-by-13 pan. 
Microwave cream cheese for 30 seconds. Stir cream cheese and place spoonfuls evenly on top of crushed cookies. 
Prepare your pudding as directed on box. Spread pudding over the cream cheese layer. 
Spread the 8-ounce Cool Whip over the pudding. Top with the reserved crushed Oreos. For holiday cheer, add colored sprinkles. May add sliced strawberries to the top.