Mike's Inc., from its shipyard in Wood River, Ill., at Mile 198.8 on the Upper Mississippi River, has completed final touches to the new-construction towboat mv. Bianca Marko. Workers finished in February, after whittling away at the project as time allowed, said Mike Marko Jr., general manager. The project allowed Mike's to keep its employees busy during slower times, which can be common for yards on the upper rivers. It also allowed Mike's to once again leverage its 56 years of experience servicing the river industry. 
This 72- by 30- by 11-foot, twin-screw towboat was designed by Mike's founder and owner Mike Marko Sr. and Casey Herschler, an independent marine architect. The vessel has a pilothouse eyelevel of 30 feet and can hold 20,000 gallons of fuel and 15,800 gallons of water.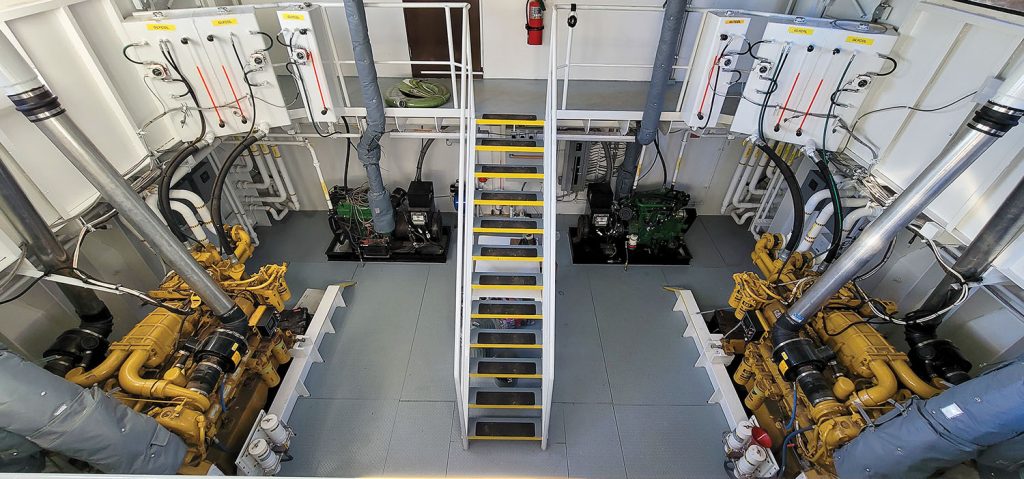 Named Bianca Marko after Mike Marko Sr.'s mother, the 2,000 hp. vessel is driven by a pair of Cat 32 diesel engines from Fabick turning 74-inch stainless steel propellers through ZF reduction gears with a 5.952:1 ratio. Mike's manufactured the 7-inch shafts in-house; Wartsila supplied the seals. The sturdy vessel features half-inch, plasma-cut framing rather than the normal angle framing, said Mike Marko Jr.
Auxiliary power is provided from 64 kW John Deere generators. The steering system is from Valtec Hydraulics working in conjunction with Rivertronics Inc. The main and auxiliary engines are cooled by Duraweld keel coolers from East Park Radiator. There is a FAST wastewater treatment system for the three-bunk, one-head boat.
Wood River Electronics supplied the navigation and communication equipment, featuring a Furuno FR-1908V-BB radar. The main deck has 40-ton Wintech winches, and the hull is protected by Schuyler fendering. 
The Bianca Marko is not the first boat built at Mike's. That honor goes to the mv. Jim Marko, named for Marko Sr.'s father, which the shipyard had rebuilt for charter. Mike's had also reconstructed the mv. Sparky, which was sold to RRR Grundy LLC in February 2020, and there's also the mv. Pammie that Mike's repowered for use at the yard.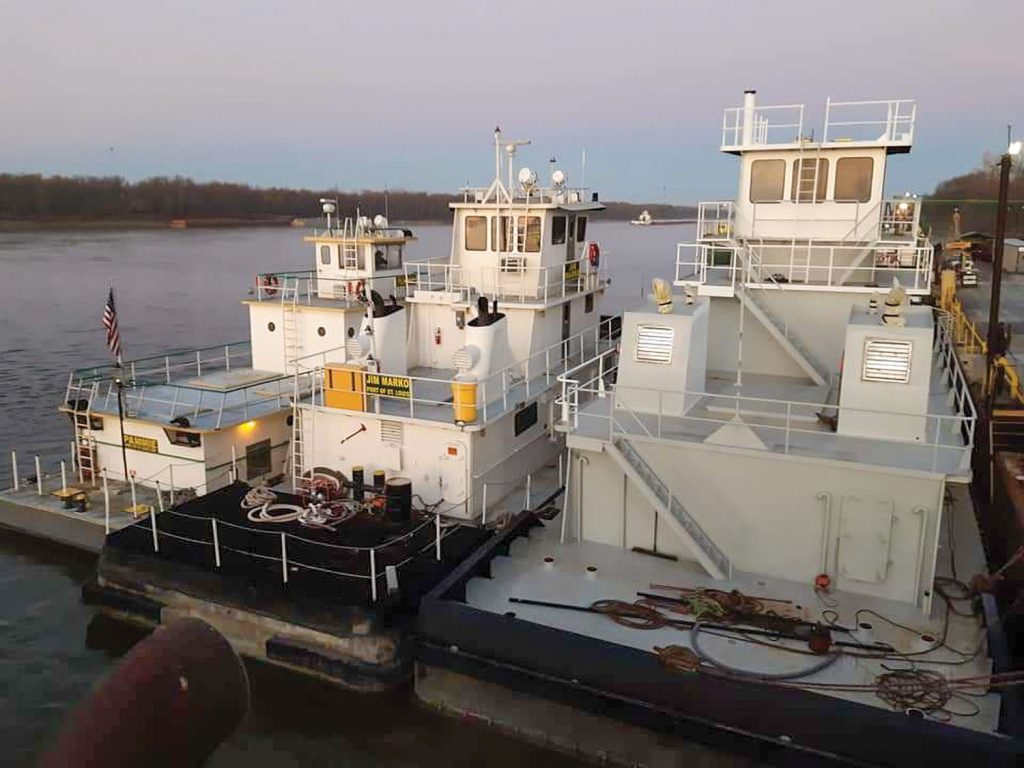 Mike's has a long history with facilities both on and near the river. In 1970, it opened its riverfront facility, which has grown to a full-service shipyard for repairs. New and repaired tailshafts and rudders, shaft welding and straightening, gearbox repair and more are handled at its nearby machine shop, Marko Jr. said. The machine shop includes a 500-ton brake press and CNC plasma cutter.
The expansion to the river was a major milestone in the history of the company, which began in 1965 when Marko Sr. and his father bought a small building with a double-door garage in Roxana, Ill. Today the shipyard features two drydocks, one of which the company bought that has a 2,700-ton lifting capacity. Always up to the challenge, Mike's built the second, which can accommodate vessels up to 2,500 tons.
The mv. Bianca Marko is being offered for sale. Mike's is also currently offering the mv. Jim Marko for either sale or charter.
Caption for top photo: The mv. Bianca Marko was built by Mike's Inc. on spec and completed in February.