Vane Brothers, Baltimore, a marine transportation provider on the U.S. East, West and Gulf coasts, took delivery earlier this year of the final boat in a series of four 3,000 hp. Salisbury Class towboats. Named the mv. Charles Hughes, Vane's newest addition is the 20th Maryland-built towing vessel to join Vane Brothers' fleet since 2008.
Designed and constructed by Chesapeake Shipbuilding, the shipbuilders and naval architects best known lately for a series of five river cruise boats it has built for American Cruise Lines, the Charles Hughes measures 94 by 34 by 10.5 feet with a draft of 8.5 feet.
The 3,000 hp. boat is equipped with Caterpillar 3512 main engines, conventional shafts, rudders and flanking rudders. The Cats each produce 1,500 hp. at 1,800 rpm. and are connected to stainless steel Hung Shen troost-style five-bladed propellers through Twin Disc MGX-5600 gears with 6:1 ratio. The propulsion package gives the vessel a running speed of 10.5 knots.
The new pushboat will accommodate up to seven crew members and has large private and semiprivate quarters. A roomy pilothouse features both Simrad and Furuno electronics, as well as dual Rose Point electronic charting systems. There's tankage for 40,000 gallons of fuel, 15,000 gallons of ballast water and 5,000 gallons of water, plus a 5,000-gallon zero-discharge tank. Ancillary equipment includes 65-ton Patterson winches, JonRie InterTech capstans and Fernstrum box coolers. 
The boat features eight separate heating and air-conditioning systems that operate independently throughout the vessel. This enhances crew comfort in addition to augmenting fire-containment capability in case of emergency.
The Charles Hughes' three sister vessels, Salisbury, Annapolis and Rock Hall, were delivered in 2019, 2020 and 2021, respectively. Designed to provide exceptional crew comfort, reliability and operational efficiency, all four Salisbury Class pushboats comply with federally mandated, U.S. Coast Guard-enforced Subchapter M safety standards and are especially well-suited for operations along the inland waterways.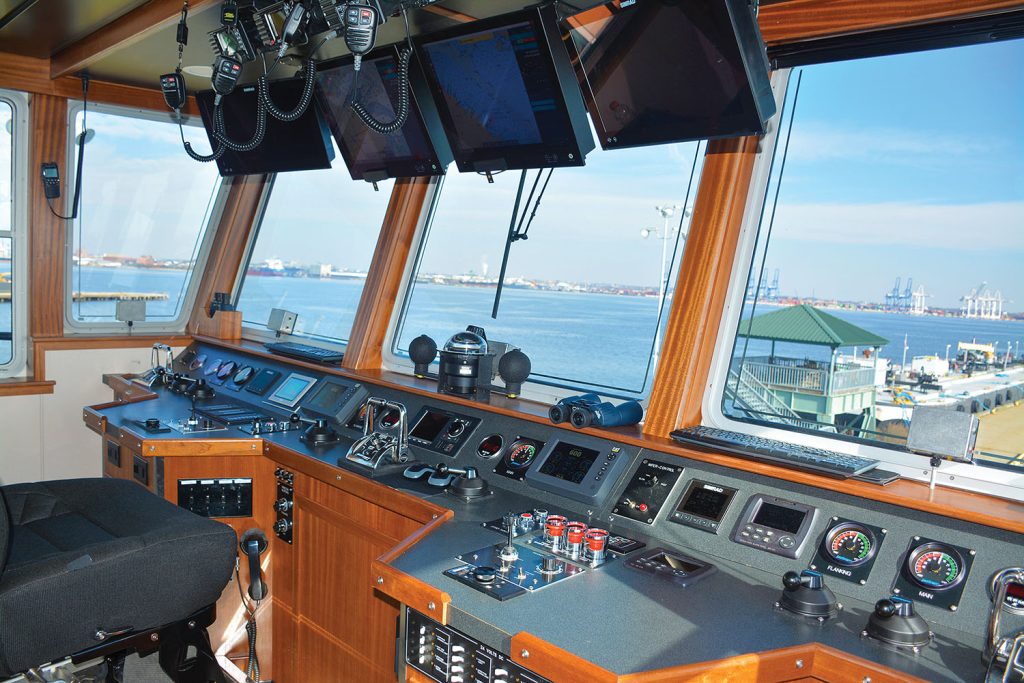 "Vane Brothers takes pride in providing our customers and crews with vessels constructed to the highest standards," Vane Brothers President C. Duff Hughes said in a statement announcing the delivery. "The Charles Hughes is another powerful, peak-performing vessel that maximizes maneuverability where it is needed most."
To create the Salisbury Class design, Chesapeake naval architect John Womack worked in collaboration with Vane Brothers port captain Jim Demske, who has overseen construction of 48 boats for Vane over the last two decades.
"Chesapeake has such a talented group of shipbuilders right in our back yard," Demske said. "Each tug capitalizes on safety, comfort and productivity." Along with the four towboats, Chesapeake Shipbuilding has supplied sixteen 3,000 hp., model-bow tugs.
The mv. Charles Hughes is named in honor of the late Charles F. Hughes, former Vane Brothers chairman of the board and the father of Vane's current president, C. Duff Hughes. Hughes was a U.S. Navy veteran, Johns Hopkins University graduate and Vane Brothers executive from 1951 to 2004.
A previous boat Charles Hughes, built in 1975 and rated at 1,800-hp., was acquired by Vane Brothers in 1991 and sold in 2019. The classic-looking name boards from the first Charles Hughes were refinished and are now proudly mounted on the new Charles Hughes.
Caption for top photo: The 3,000 hp. mv. Charles Hughes is powered by Caterpillar 3512 main engines.