For the record, when selecting corned beef, feel the meat.  The meat should be firm. Soft and mushy corned beef means that it contains too much fat. Corned beef used to be a cheaper cut of meat, but the prices today are high. Today you will pay about $15 for three pounds of corned beef.
The corned beef comes from beef brisket. The Irish cooked the brisket the same way they made their bacon. Large grains (or corns) of salt were used in the curing process. Thus the "Corned Beef" was born. 
During the month of March, St. Patrick's Day is celebrated, and corned beef is eaten as a reminder of the Irish heritage. Cabbage was added because it was cheap and readily available.
Corned Beef And Cabbage (top photo)
Ingredients:
1 medium onion
3 lbs. packaged corned beef with spice packet
1 bag baby carrots
1 head cabbage cut into sections or wedges
2 chicken bouillon cubes
5 potatoes 
1/2 cup melted butter
1/4 cup Parmesan cheese
Salt 
Parsley
Directions:
Slice onion and place in slow cooker. Next, place your corned beef in the slow cooker on top of the onions. Fill with water just enough to cover corned beef. Add the spice mix. Cook the corned beef about five hours. When the corned beef has cooked for two to three hours, add cabbage and carrots.  Cook another hour. The meat is ready when it is fork tender.
Peel and cut potatoes. Boil potatoes with the bouillon cubes. When the potatoes are done, add melted butter, parmesan cheese and salt. Place potatoes in a serving bowl and sprinkle with parsley. 
When your corned beef is done, remove from slow cooker and let rest for 10 to 15 minutes. Resting your meat will make it easier for cutting. Serve with cabbage, carrots and potatoes.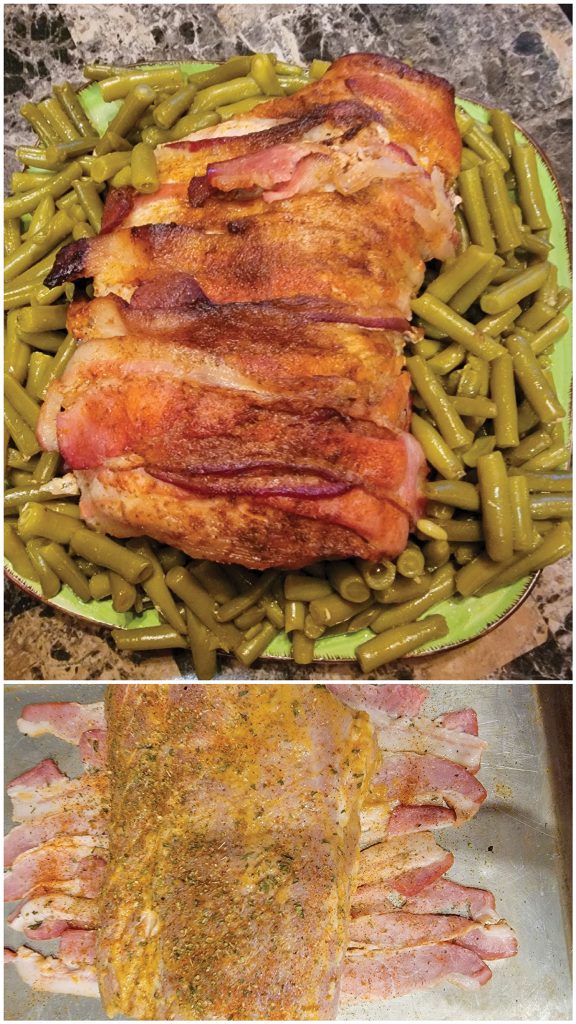 Bacon-Wrapped Pork Loin with Green Beans
To make your pork with extra added flavors and even more juicy, soak your pork in a brine overnight. I also do this with chicken. Many brines are boiled and cooled down before adding meat. I just prepare my brine with room-temperature water, add my meat and refrigerate.
Brine Ingredients:
3 qts. water
1/4 cup salt
1/4 cup sugar
1 Tablespoon each:
    parsley, cumin, poultry seasoning, garlic powder, onion powder, oregano
2 bay leaves
3 lb. pork loin
Directions for brine:
Prepare your basic brine by putting all of the ingredients except the pork loin in a large container with a lid. Stir to dissolve. Add your pork loin and place in the refrigerator overnight.
Ingredients for bacon-wrapped pork loin:
8 bacon strips
1/4 cup Dijon mustard
1/4 cup honey
1/4 cup of your seasoned brine water
Salt and pepper
Seasoned salt
Directions:
Preheat oven to 375 degrees. Line a roasting pan with foil for easy clean up later. Spray foil with non-stick spray. In a small bowl, mix together the honey, mustard and brine water. Remove pork from brine water and pat dry. Sprinkle salt, pepper and seasoned salt over entire pork. Use a pastry brush to coat honey mustard mixture over entire pork loin. 
On a clean counter or a large cutting board, line the bacon up close to each slice. You will need a work surface the size of the loin. Gently press and stretch the bacon with your hand to make bacon longer. The reason you stretch your bacon is; when it bakes it will shrink and be tighter on your loin. Lay your loin on top of bacon. Wrap the stretched bacon over loin, criss-crossing ends. 
Place the wrapped pork, criss-crossed ends facing down on your prepared foiled pan. Roast meat uncovered in oven for 40 minutes or until the thermometer reads 145 degrees. Cover pan with foil and bake another 15 minutes. Remove pork from oven and allow to rest for 15 minutes. Slice and serve with fresh or canned green beans. To get the most flavor with your green beans, add butter, garlic powder, salt and chicken base to your water when heating green beans.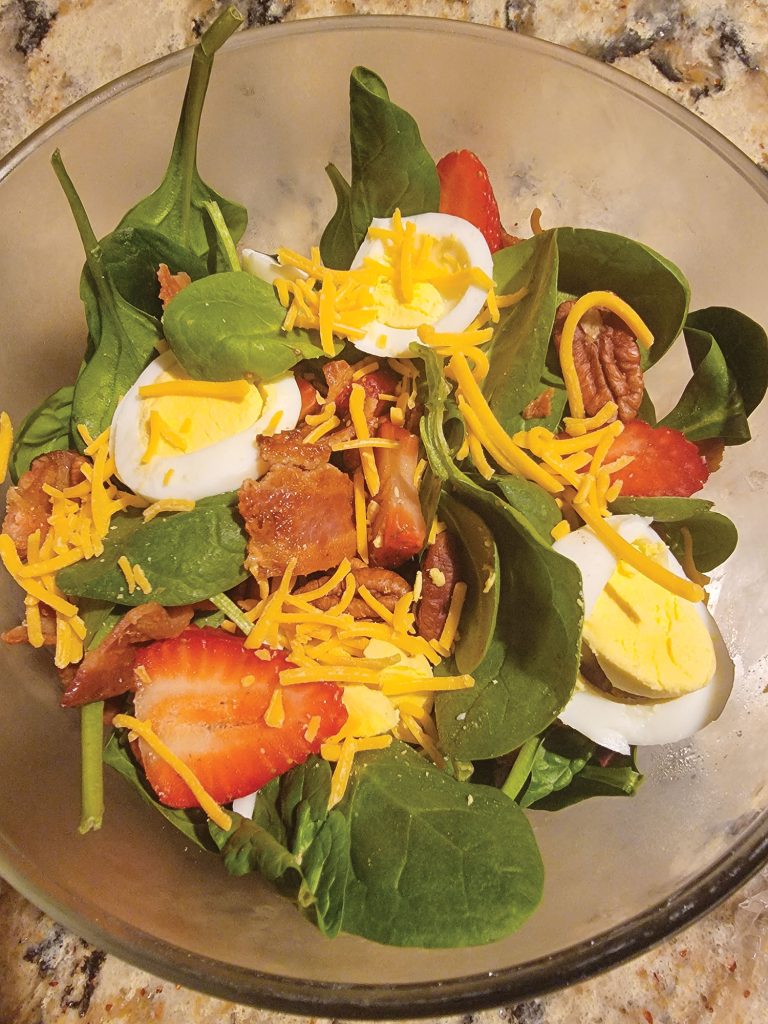 Spinach Salad
Tired of the same old salad? This salad is quick and easy to prepare. 
The ingredient amounts vary in this salad depending if you want to make individual bowls or one large bowl. Also, the cheeses can be changed up to feta, blue cheese or pepper cheese.
This is a very simple salad to make. 
Ingredients:
1 bag fresh spinach
Bacon
Strawberries
Hard boiled eggs
Pecans
Shredded Cheddar cheese or your favorite cheese 
Directions:
Slice desired number of strawberries and set aside. Peel and slice eggs. Set aside. Cool bacon and chop into bite-sized pieces. Add spinach to bowl. Add rest of ingredients. 
Another quick and easy, but very tasty salad. (Not pictured)
The ingredient amounts in this salad depend on the size you want to prepare. The ingredients may be substituted with any fruit or change the chicken to seafood. Note: there is no lettuce in this salad. This is what makes this salad unique from other salads.
Ingredients:
Chopped red onion
Chopped tomato or grape tomatoes
Chopped bell pepper, red, orange or yellow
Chopped cucumber
Chopped celery
Mango
Shredded chicken
Directions: 
Rinse and chop all the vegetables. For your chicken, you may use leftover chicken, canned chicken or boil boneless, skinless chicken breasts in seasoned water. Add all ingredients, toss and serve with your favorite salad dressing.
Mary Ann Kuper is a cook on the ACBL towboat Carl Page.