We all get busy in our lives; and it is often missed how much we tell our family that we love them. We have a second family on the boat; people whom we live with for six months out of the year. Sometimes we seem to spend more time with our boat family than we do with our own family.
I remember one year the deck crew made me brownies. I came to the galley early one morning to prepare breakfast for the crew, and there sat a pan of brownies with a note on it saying, "Happy Mother's Day." That was so nice! They knew I had a family at home that I missed very much during the holidays.
While you are on the boat, or at home, call your family and tell them how much you love them. Another way of telling someone how much you care for them is preparing something in the kitchen. Start the morning off with these easy hacks using canned cinnamon rolls.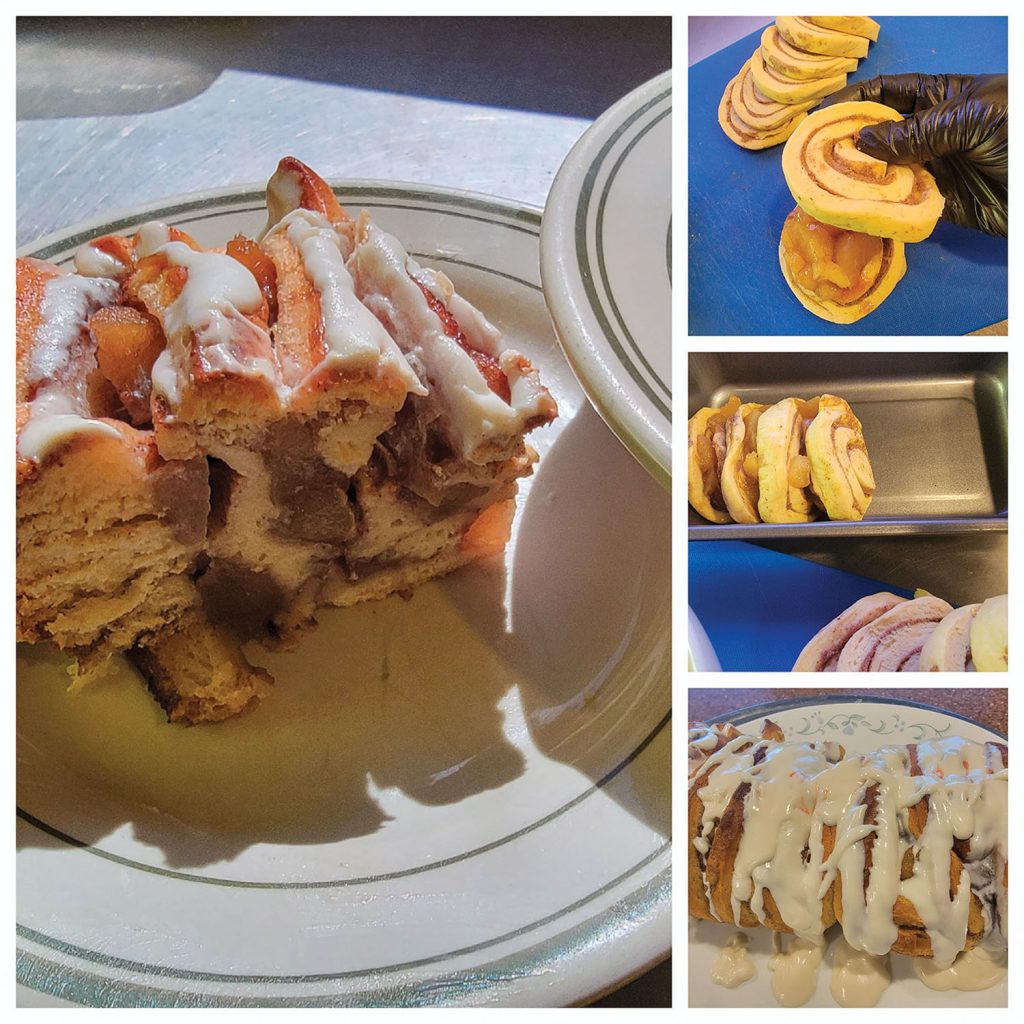 Easy Apple Loaf
Ingredients:
1 loaf pan
Non-stick spray
1 can apple pie filling
1 large can Pillsbury Grands cinnamon rolls
Maraschino cherries (optional)
Directions:
Spray the loaf pan with non-stick spray. Open the can of cinnamon rolls and separate dough layers. Split dough layers in half lengthwise. Place a spoonful of apple pie filling on one layer of dough. Place another layer of dough on pie filling and repeat layering. Gently lift to place in loaf pan with dough layers standing up. Continue until all slices have been used.
Bake 40 minutes or until top is golden brown. Check center with a fork to be sure all layers are cooked. Cool 20 minutes. Remove cooled loaf from pan and place on a serving plate. Slightly warm frosting from the canned cinnamon rolls and drizzle on top of loaf. May garnish with Maraschino cherries.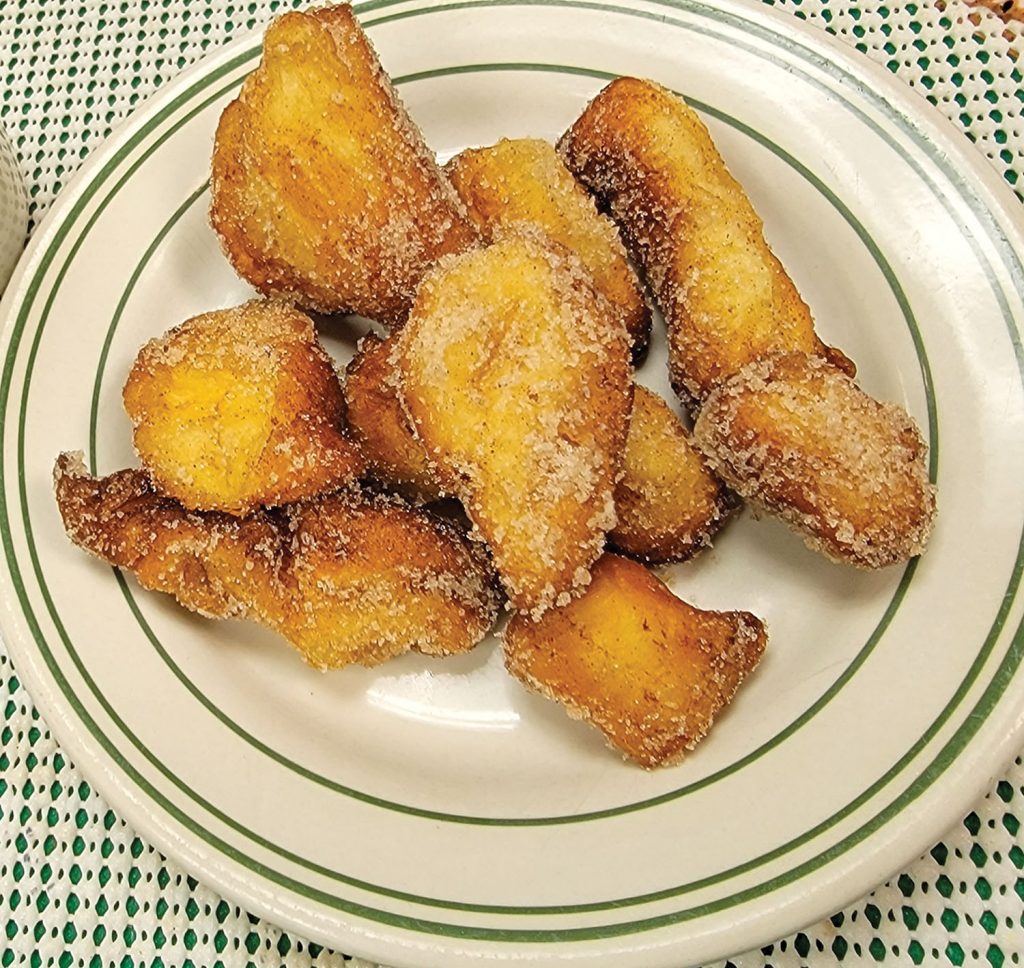 Cinnamon Roll Nuggets
Ingredients:
1 can cinnamon rolls (any kind)
1 cup granulated sugar
1 teaspoon cinnamon
4 cups vegetable oil for frying
Directions:
Use a large pot with a heavy bottom or your deep fryer and place clean vegetable oil in the pot. Heat the oil. Caution! Oil heats very fast and can create a fire. A temperature-controlled deep fryer is best.
Prepare a plate lined with paper towels and set aside. Mix cinnamon and sugar in a separate bowl.
Cut the cinnamon roll dough into strips for nuggets. You may also cut the dough into quarters and roll into a ball. Carefully add dough into the vegetable oil. With a metal slotted spoon, dunk nuggets so all sides are evenly browned. Fry for about two minutes.
Remove your deep-fried cinnamon roll pieces and set on paper towel. 
Roll nuggets in the bowl of cinnamon and sugar!
Cinnamon Rolls Plus
This just doesn't get any easier.
Ingredients:
1 large can cinnamon rolls
1 can pie filling: blueberry, cherry, strawberry or any flavor you prefer
Directions:
Spray a pie pan with non-stick cooking spray. Cut each cinnamon roll into four pieces. Arrange the pieces evenly in a 9×13 pan. Spread the can of pie filling evenly over top of the cinnamon roll dough. Bake at 375 degrees for 30 minutes. 
Cool for 1 hour. The heat will continue to cook the ingredients when out of the oven. This will help in case any of the bottom layer of dough is not cooked through.
Drizzle frosting from canned cinnamon rolls over top of dish. To get a nice even drizzle, warm the frosting in the microwave for 10-15 seconds. May add more frosting if desired.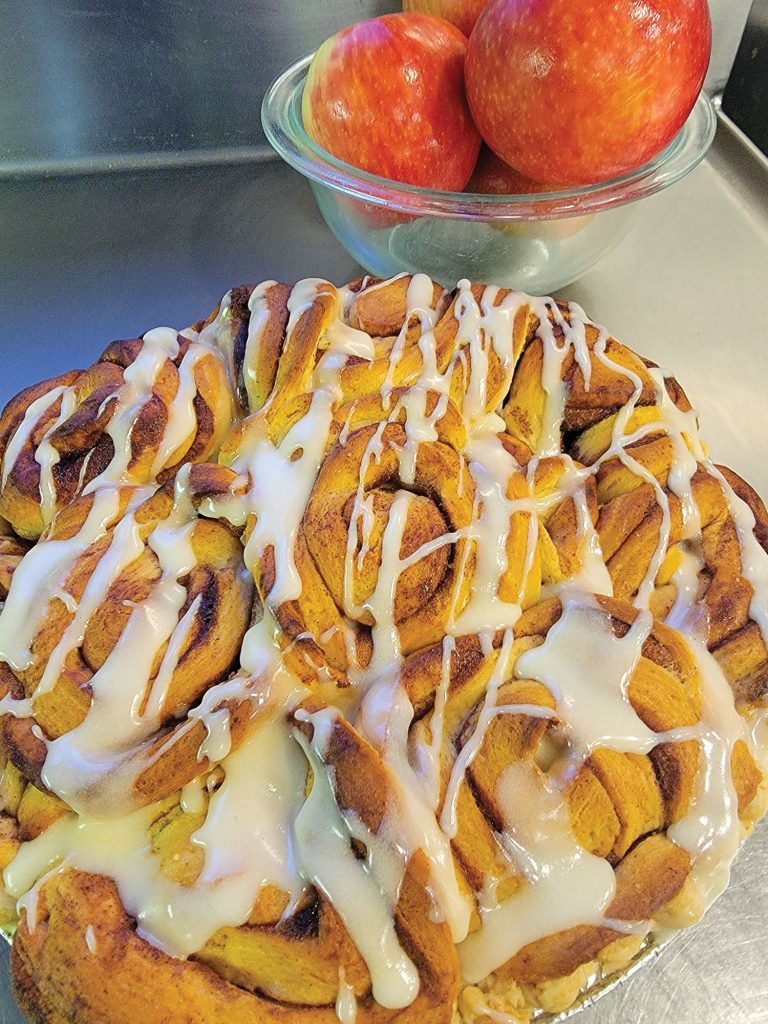 Apple Pie On A Cinnamon Roll Crust
This is just an apple pie except canned cinnamon rolls were used for the crust. 
Ingredients:
7-8 apples 
2 teaspoons cinnamon
3 tablespoons flour
3/4 cup sugar
2 cans cinnamon rolls
1 pat of butter
Directions:
Spray a pie pan with nonstick cooking spray. Preheat oven to 350 degrees.
Peel and cut the apples into medium slices. Place in a large bowl. Mix cinnamon and flour with the sugar. Add this mixture to apples. 
With a rolling pin, flatten each cinnamon roll from one can. Place each flattened cinnamon roll in prepared pie pan. Be sure cinnamon roll dough is touching each other and cover the sides of the pie pan also. 
Add the apples on top of the flattened cinnamon rolls. Flatten the next can of cinnamon rolls. Place this can of flattened rolls on top of the pie. Pinch any holes together. Bake for one hour. If it seems the top crust is browning too much, lay a piece of foil on top. Do not close sides of foil as this will keep moisture in and not allow for the cinnamon roll dough to bake completely through. Cool one hour before serving.
If you do not have two cans of cinnamon rolls, you can use a regular pie crust for the bottom.
Can you put cinnamon rolls in a waffle iron? Yes, you can!
Heat up your waffle iron, and spray with a non-stick cooking spray. Open the can of cinnamon rolls. On a clean surface, pinch three rolls together and slightly flatten. Use a spatula to gently lay the cinnamon rolls on the waffle iron. Close the lid and cook for four minutes. Drizzle with frosting and nuts or eat as a waffle with syrup.
Mary Ann Kuper is cook on the ACBL towboat Carl Page.
Caption for top photo: Blueberry cheesecake roll.