Fresh Pineapples Are The Best
The article "Pineapple: Impressive Health Benefits" written by Lisa Wartenburg and Ryan Raman for healthline.com, (Updated March 2022) lists the benefits of pineapples. The first benefit is the large amounts of Vitamin C. Vitamin C is an ascorbic acid necessary for growth and repair of body tissues. Pineapples are also packed with enzyme compounds that protect from inflammation and disease. WOW! I am ready to go to the grocery store now!
Other benefits of pineapples are the bromelain compounds that may have anticancer effects and may aid in digestion. In addition, pineapples are also loaded with antioxidants. Antioxidants ward off oxidative stress. Oxidative stress is free radicals floating through your body that cause cell damage, inflammation and weaken the immune health. I am going to start eating pineapples to improve my health, and they are tasty too!
In addition to the impressive information listed above, here are a few other pineapple facts I found on the internet.
What is the best time of year to buy pineapples?
Starting March to July is the best time to buy pineapples; however, fresh pineapples are available year-round. Smell them at the grocery store. The stronger the sweet smell the better!
Where are pineapples grown?
The bulk of pineapples are grown in Costa Rica, South America and Mexico. Most U.S.-grown pineapple comes from Hawaii or Puerto Rico. Surprisingly, Florida and California have a smaller scale production of pineapples.
Can you grow pineapples at home?
Yes. All you need to do is cut off the crown, the leafy top, about 1/2 inch below leaves. You may set crown in a pot of soil, or root it in a container filled with water. If using the water method, suspend the crown in the container so the roots may grow freely. It will take approximately 18-32 months to get a pineapple.
Can pineapples, fresh or canned, be frozen?
Yes. However, when freezing a fresh pineapple, you must cut and peel off the outer layer.
Who should not eat pineapples?
There may be possibilities that the bromelain in pineapples can interact with certain medications. These medications would be antibiotics, anticoagulants, insomnia drugs and antidepressants. Also do not eat unripe pineapple or the juices.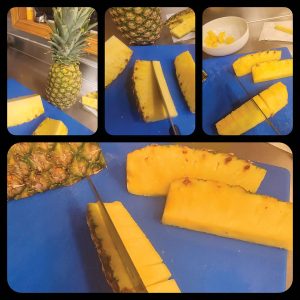 How To Cut Up A Pineapple
Cut approximately 1/2 inch of top crown and bottom base off the pineapple.
Stand pineapple upright and cut down the center lengthwise.
Cut each half in half again into wedges.
Lay a wedge on its side and cut the core lengthwise about 1/2 inch down.
Cut all cores out of each wedge.
Lay wedge skin side down and cut into chunks crosswise; about 1 inch each cut.
Lay cut wedge on side and make a slice next to skin to cut chunks off wedge.
Cut chunks out of rest of wedges.
Hummingbird Cake – No Sugar, No Flour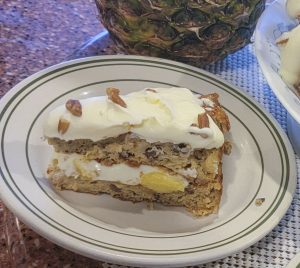 This recipe is not only good for anyone on a diet, but also for people who are diabetic. Not to mention, this is a great way to use up ripe bananas!
Ingredients:
3 cups finely ground almond flour
1.5 cups Splenda
1 small box sugar-free vanilla pudding
1 teaspoon ground cinnamon
1 teaspoon baking soda
3 eggs
3/4 cup vegetable oil
2 teaspoons vanilla
1 can crushed pineapple with juice
2 cups chopped ripe bananas
3/4 cup chopped pecans
Ingredients for frosting:
1 cup softened butter
1 8-oz. brick softened cream cheese
1/2 cup Splenda
1 cup fresh chopped pineapple
1/4 cup chopped pecans
Directions for cake:
Preheat oven to 350 degrees. Grease and flour two round cake pans. Whisk together almond flour, Splenda, cinnamon and baking soda. Add eggs, oil, vanilla, canned pineapple and bananas to flour mixture. Mix well. Fold in chopped pecans. Divide batter evenly between the two round cake pans. Bake for 25 minutes or until fork is inserted in center and comes out clean. Completely cool for one hour.
Directions for frosting:
Prepare frosting by mixing butter, cream cheese and Splenda in a mixer. Set aside.
Invert one of your round cake pans onto a serving plate. Layer the fresh chopped pineapple on top of first cake layer. Spoon one-fourth of the frosting on top of fresh pineapple. Spread as best as you can. Invert the second cake on top of first cake with pineapple and frosting. Gently plop spoonfuls of the frosting evenly around the top of cake. While frosting the top, push some of the frosting down the sides of the cake. Frost sides. Sprinkle rest of chopped pecans on top of cake.
NOTE: May substitute one can undrained crushed pineapple.
Banana Bread With Pineapple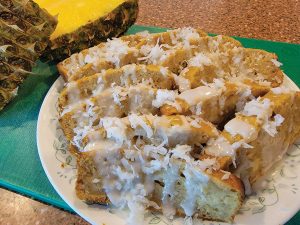 Tired of the same old banana bread? Change up the flavor with pineapples. The pineapple in this recipe may be canned or crushed.
Here is a little bit of information that is noteworthy. Use baking soda in recipes that have acidic ingredients like lemon juice, pineapple or vinegar. Use baking powder in recipes that do not have acidic ingredients like biscuits, pancakes or corn bread.
Ingredients:
2 cups all-purpose flour
1 teaspoon baking soda
1/2 cup vegetable oil
2 eggs
2 teaspoons vanilla extract
2/3 cup crushed pineapple
2 ripe bananas
1/2 cup canned frosting (optional)
1/3 cup shredded coconut flakes (optional)
Directions:
Preheat oven to 350 degrees. Use a non-stick spray to prepare a 9×5 loaf pan. In a large mixing bowl, add flour and baking soda, and whisk together. Add rest of ingredients to flour mixture and blend until just combined. Pour the batter into the prepared loaf pan. Bake 45-50 minutes. Use a toothpick or fork inserted into the center until it comes out clean. Cool one hour. For an extra added touch, warm the canned frosting in microwave about 10 seconds until somewhat runny. Use a fork and drizzle on top of your bread. Next, sprinkle coconut flakes on top of bread.
Note: When you are baking bread, the top of the bread often becomes brown very quickly. You do not want to cover your bread with foil as it will hold in moisture, and the center possibly will not get cooked all the way. I put my breads on the second shelf of the oven and place a large cookie sheet on the first shelf. If I had a convection oven, I would not have to worry about this too much. In a convection oven there is a fan that circulates the heat to cook foods evenly.
Jackie Marshall's Watergate Salad
Ingredients:
2 cups fresh pineapple
1 4.5-oz. tub Cool Whip
1 small package pistachio instant pudding
1/2 cup chopped nuts
1/2 cup mini marshmallows
Directions:
Mix everything together and refrigerate.
Mary Ann Kuper is a cook on the ACBL towboat Carl Page.