Representatives from Eastern Shipbuilding Group and Cranford, N.J.-based Weeks Marine Inc. gathered at Eastern's Allanton Shipyard, near Panama City, Fla., June 17 for the launch of the trailing suction hopper dredge R.B. Weeks.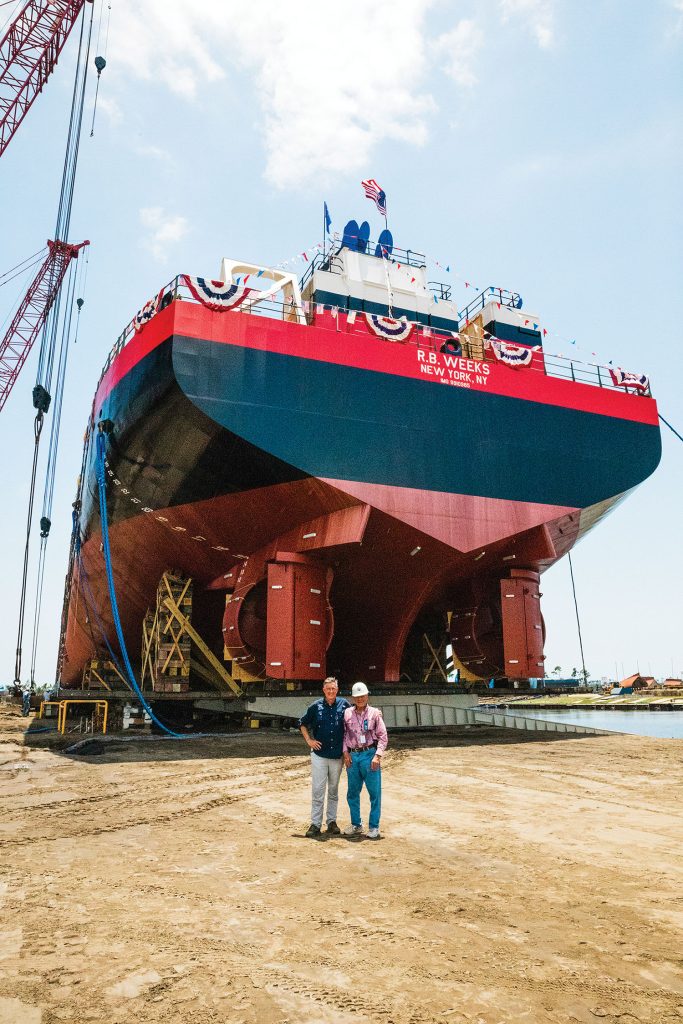 The R.B. Weeks, a sister vessel to the dredge Magdalen, is named in honor of Richard B. Weeks, co-founder of Weeks Marine. He was the husband of Magdalen Weeks. Vessel outfitting and sea trials will be based at Eastern's Port St. Joe facility, with the hopper dredge scheduled for delivery next year.
"Eastern Shipbuilding Group has enjoyed a strong partnership with Weeks Marine Inc.'s team over multiple projects, and we are proud to build another dredge vessel that will enhance our waterways and restore our coastlines," said Joey D'Isernia, president of Eastern Shipbuilding Group.
According to Eastern Shipbuilding, the R.B. Weeks is identical in almost all respects to the Magdalen, which went to work for Weeks in 2017. The R.B. Weeks has a hopper capacity of 8,550 cubic yards and measures 356 feet long by 79.5 feet wide, with a draft of 27 feet 3 inches. The dredge, designed by Royal IHC, will include a pair of IMO III/Tier 4 main engines by Wabtec Corporation (previously GE Transportation) and two Wartsila controllable-pitch propellers in kort nozzles. Reduction gears are by Siemens, and the R.B. Weeks comes equipped with a Wartsila fixed-pitch tunnel unit bow thruster. Main generators are by Hyundai, and the vessel will carry a Caterpillar emergency generator. The R.B. Weeks will have accommodations for a crew of 26.
Get the latest infrastructure and dredging news in your inbox.
Powered by the Waterways Journal and International Dredging Review, our monthly Infrastructure Report newsletter covers dredging, construction and civil engineering.
"We are excited to see the launch of our newest trailing suction hopper dredge, the R.B. Weeks, which will join her sister vessel in various dredging activities, primarily aiding the U.S. Army Corps of Engineers to maintain ports, harbors and other waterways to ensure ship navigation is possible," said Weeks Marine President Eric Ellefsen. "These two vessels have an equivalent hopper size and pumping capacity, and we look forward to utilizing the R.B. Weeks, putting her to work deepening shipping lanes, nourishing beaches lost to erosion and completing coastal restoration due to storm damage."
Established in 1919, Weeks Marine is one of the largest marine, dredging and tunneling contractors in North America. The company has divisions focused on construction, dredging and marine services, along with three major subsidiaries: Healy Tibbitts Builders Inc., McNally International Inc. and North American Aggregates. Besides its Cranford headquarters, Weeks Marine maintains U.S. offices in Louisiana, Texas, Hawaii and Guam, along with Canadian offices in Ontario and Nova Scotia.