As mentioned in the column last week, Capt. Joseph Chotin wasted no time after the loss of his steamer J.N. Pharr, and almost immediately arranged with the Nashville Bridge Company, Nashville, Tenn., to have them construct for him another sternwheel steamboat hull. The hull they built was 128.4 by 31.8 feet and had a 5.8-foot depth. The steel hull with a lower cabin, also of steel, was towed to Paducah, Ky., to be completed. The boat was finished at the Ayer & Lord Marine Ways, which installed the wooden second cabin, pilothouse and 18- by 18-foot sternwheel.
The boilers for the new boat were supplied and installed by the Fowler-Wolfe Boiler Works, Paducah. The engines, 12-1/2s by 31.8s with a 6-foot stroke and rated at 600 hp., were used, having seen service on the original Vesta of Jones & Laughlin Steel Company, a steel-hull sternwheel towboat built at Pittsburgh in 1902. (It was dismantled in 1930 shortly after having been renamed Hercules, and just before a new steam prop Vesta came out in 1931. This second Vesta is today the J.S. Lewis of Amherst Madison.)
A news piece in the January 23, 1937, issue of The Waterways Journal notes that the new steamer Jos. Chotin was given a trial trip at Paducah on January 14. Aboard were Capts. William T. Hunter and William P. Fiske, steamboat inspectors from Nashville. The piece also said that "Capt. Joe Chotin was in personal command and stated, after the trial, that the boat performed up to expectations."
Way's Steam Towboat Directory says that the new boat spent 1937 towing between Memphis and Nashville for the Standard Oil Company with Capt. Joe Chotin, master, and Scott Chotin, J.B. Chauvin and Lynn Moss, pilots. In 1938, still working for Standard, the boat made trips to Burlington, Iowa. In 1942 and 1943, it was towing to Standard Oil facilities at Midland, Pa., with Capt. J.B. Chauvin as master.
Sign up for Waterway Journal's weekly newsletter.
Our weekly newsletter delivers the latest inland marine news straight to your inbox including breaking news, our exclusive columns and much more.
In 1945-46, the Jos. Chotin was taken to Canulette Shipbuilding Company, Slidell, La., where it was extensively rebuilt and converted to twin prop. Two Cooper-Bessemer diesel engines provided a total of 1,600 hp. Hull dimensions were now shown as 127 by 32 feet.
In 1952, Chotin had a new 3,200 hp. towboat built at Nashville Bridge that was christened Jos. Chotin, and the original was then renamed Paul Chotin. In 1955, the Paul Chotin was sold to Valley Towing Service, Memphis, Tenn., which renamed it Ole Miss.
In 1960 the Ole Miss was repowered with a pair of GM 16-567AC diesels, making it 3,200 hp. It was sold in August 1983 to StaBrite-Cummings Marine Inc., Memphis, and again sold in December 1983 to G&C Towing Inc., Point Pleasant, W.Va. In 1990, the G&C assets were transferred to Kanawha River Towing Inc., Point Pleasant. In December 1996, the Ole Miss was sold for a final time to Ronald Grimm, McKees Rocks, Pa. Grimm did not operate the boat much and in the 2001 edition of the Inland River Record it was listed in the "Off the Record" section and shown as "Out of Documentation." At some point after this it was scrapped.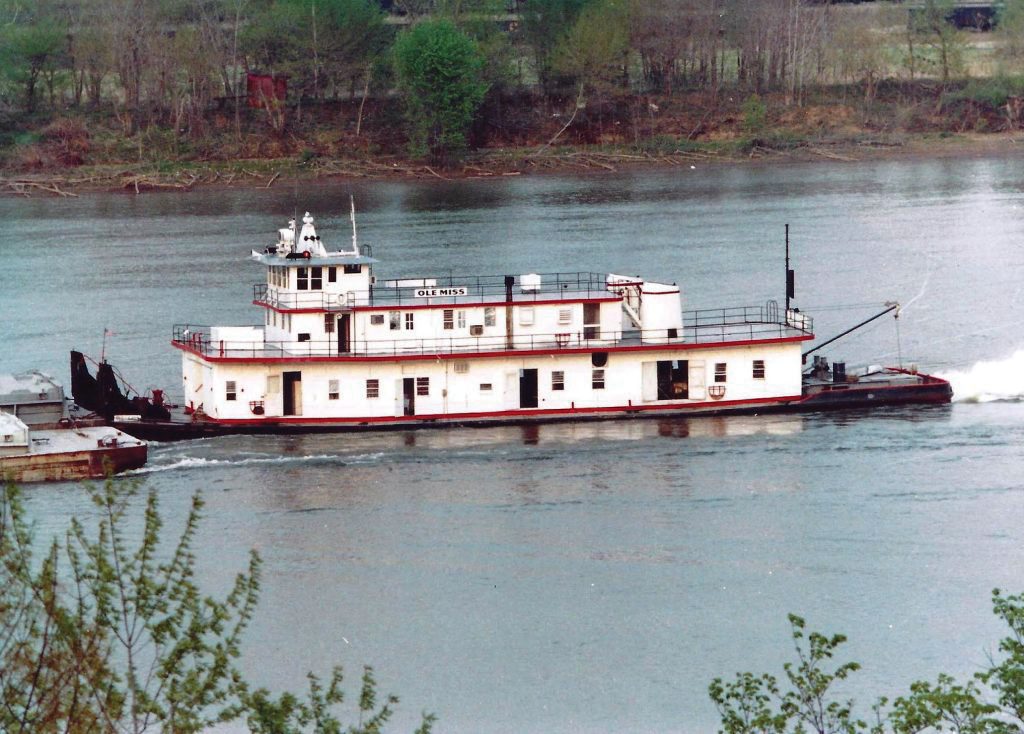 Capt. Joe Chotin had this boat built at a time when Nashville Bridge and others were already building good-sized diesel prop towboats, but he must have wanted what he was used to. After spending what must have been a considerable amount of money to rebuild it, the boat did go on to have a total career of some 65 years of service, going from 10 years as a sternwheel steamer to 55 years as a diesel prop boat, still somewhat retaining the aura of a steamboat.
Caption for top photo: Str. Jos. Chotin underway. (Dan Owen Boat Photo Museum collection)