Nashville-based Ingram Marine Group held a christening ceremony June 24 in Reserve, La., to officially welcome four vessels into the company's fleet: the mv. Capt. Roy Daniels, mv. Randy Hooper, mv. Debbie L. Owen and mv. Harold B. Warren. The event was held at Ingram's Triangle Fleet.
Two of the vessels, the mv. Debbie L. Owen and the mv. Capt. Roy Daniels, are new builds and part of the 10-vessel series of 1,600 hp. towboats that Houma, La.-based Main Iron Works is building for Ingram. The mv. Harold B. Warren and mv. Randy Hooper are recently refurbished and renamed vessels, with the Harold B. Warren part of Ingram's 2020 acquisition of Cheryl K LLC.
"The people we are honoring today are a testament to the kind of company we've worked hard to build," said Orrin Ingram, chairman of Ingram Marine Group and CEO of Ingram Industries. "They really represent the 'Ingram Way,' which is why it is so fitting to christen some of our vessels in their honor.
"As we've said before, this is the highest honor we can bestow on an associate," Ingram added, "and today is no different."
Two of the vessels, the mv. Debbie L. Owen and the mv. Harold B. Warren, provided the backdrop for the christening, but all the namesakes were present for the event and were recognized for the role they play  in the company.
Capt. Roy Daniels
Ingram began the ceremony by introducing longtime captain Roy Daniels. Daniels joined the company in 1991 after Ingram acquired Georgia Transporters, and he currently serves as captain aboard the mv. Craig E. Phillip. While the Craig E. Phillip primarily works the Lower Mississippi River, Daniels has piloted vessels throughout the inland waterways, including the Upper Mississippi, Ohio, Cumberland and Tennessee rivers, the Gulf Intracoastal Waterway, and in Ingram's fleets.
"Roy is one of the most conscientious people in the Ingram organization," Ingram said. "If we need someone to run a tug and don't have anyone, Roy will volunteer. If we need somebody to run a line haul vessel because we're short, Roy will volunteer. Sometimes we have to chase him off the boats to spend a little bit of time at home. He is absolutely an unbelievable person, and we're thrilled and honored to name a boat after Capt. Roy."
The mv. Capt. Roy Daniels, a Main Iron Works-built vessel, is scheduled for delivery in August.
Randy Hooper
Next, Ingram introduced Randy Hooper, who serves as the company's director of flight operations. At the age of 17, Hooper was already a certified pilot, and he continued flying during college. He came to the Ingram organization in 1980, and he was promoted to chief pilot in 1987. Since the Ingram Marine Group began aircraft operations in 1948, only three people have held the title of chief pilot.
Ingram noted that, while Hooper is a little bit older than him, they basically grew up together.
"We have a tradition of naming our boats after family and longterm associates," Ingram said. "Well, Randy is definitely a longterm associate, but he's like family, too."
Hooper often flies on holidays, Ingram said, and he also ensures the company's airplanes are maintained well.
"He's a very, very special person, and they don't make people like Randy anymore," Ingram said. "It's our whole family's great pleasure to name a boat after Randy Hooper."
The mv. Randy Hooper was built by St. Louis Ship in 1980. Measuring 138 feet by 44 feet, the Randy Hooper is equipped with a pair of EMD 16-645-E7B main engines that supply 6,140 hp. Ingram Marine conducted a partial refurbishment of the mv. Randy Hooper this year.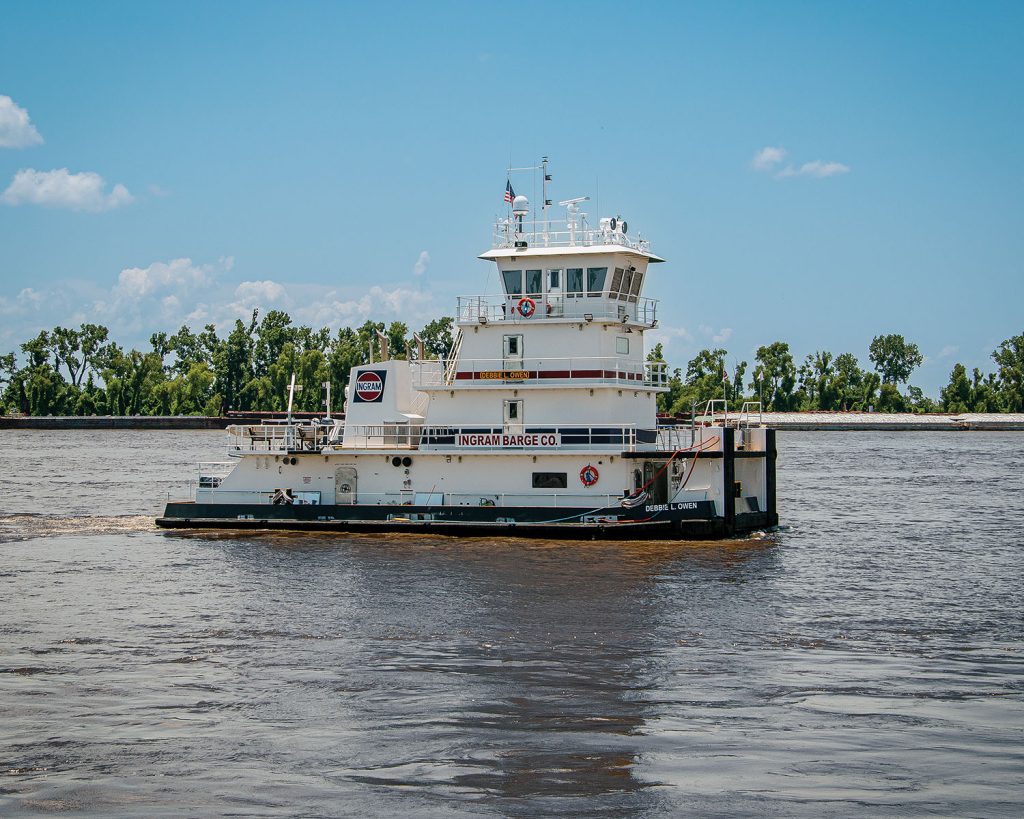 Debbie Owen
Ingram Marine Group President and CEO John Roberts then recognized Debbie Owen, the company's assistant vice president for logistics and customer service, liquids. Owen started her career with Ingram 31 years ago. She spent her first year as a demurrage coordinator in dry cargo. Owen has been part of the liquids logistics and sales team ever since.
"Through that time, not only has she done sales, but she's become an expert in logistics, and not just for one waterway area but every waterway area," Roberts said.
Roberts said Owen also knows every partner or vendor the company works with on those waterways and the cargoes the company moves.
"When we talk about the 'Ingram Way' and we talk about integrity and being honorable and being driven and accountable and empowered, she's the definition of every one of them," Roberts said.
The mv. Debbie L. Owen measures 78 feet by 32 feet, with a 10-foot depth and an 8.5-foot draft. The design for the vessel was a collaboration between Ashraf Degedy, Main Iron Works and Ingram Marine Group. Louisiana Cat supplied the vessel's pair of Caterpillar C32 Tier 3 main engines, while Karl Senner supplied its Reintjes WAF 474 reduction gears. That pair turns 76-inch by 62-inch, four-blade, open wheel Michigan Wheel propellers from Houma Machine & Propeller. The mv. Debbie L. Owen offers 1,600 hp.
Eagle Controls & Hydraulics supplied the vessel's steering system. The Debbie L. Owen also features a twin differential rudder system from Townsend Design. The vessel has tankage for 25,272 gallons of fuel and 15,430 gallons of potable water. Southern Power & Equipment supplied the Debbie L. Owen's two John Deere 99 kW. generators. The vessel also features Duramax bearings, Duraweld keel coolers from East Park Radiator and Kemel shaft seals from Dale's Welding & Fabricators. On deck, the Debbie L. Owen features Wintech deck winches. Fendering is by M&M Bumper, and International Marine Systems supplied the vessel's electronics and communications equipment.
The Debbie L. Owen has accommodations for nine crew members, with four double staterooms on the second deck and the captain's room on the third deck.
Owen said she found out about the boat about a year ago, but she didn't see it until the day of the christening.
"It has just been awesome," Owen said. "It's a great honor. I wanted to wait until I saw it the first time when all of my family was here."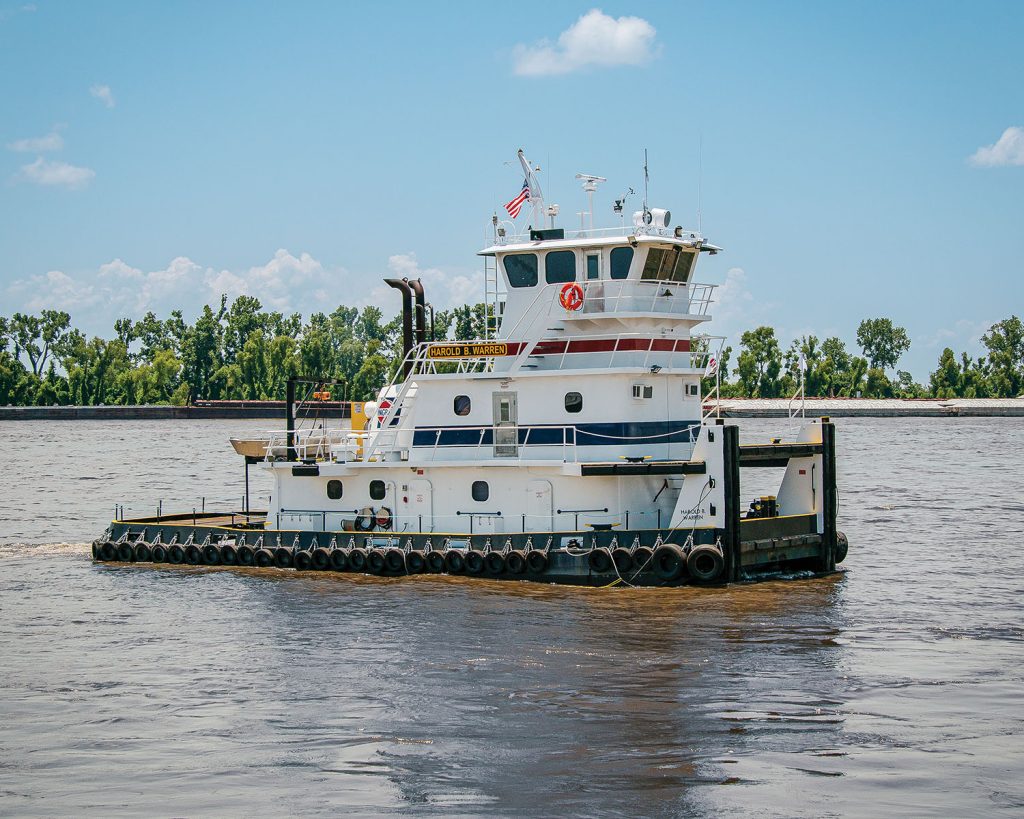 Harold Warren
Lastly, Ingram Marine's Patrick Morton introduced Harold Warren, general manager, fleet dispatch, for Triangle Fleet. Warren has worked almost 40 years at Triangle Fleet, where he started out as a member of the Bull Gang. He served as fleet mate and later moved into the dispatch office. Morton highlighted Warren's commitment to constant learning, communicating the important work that goes on at the fleet and, in turn, teaching that to others.
"I've worked with Harold for almost 25 years and know firsthand that Harold has taken every opportunity to learn more about our industry and to teach others what he already knew about the impact that the fleet can have on our overall operations," Morton said.
The mv. Harold B. Warren was built in 1980 by Rayco. The vessel measures 70 feet by 26 feet. Repowered in 1997, the Harold B. Warren is equipped with two Caterpillar 3508 main engines that produce 1,800 hp.
Warren said he found out about the boat to bear his name only about three weeks before the christening.
"They had an email come out that said I had to have a meeting with Orrin, John Roberts and Patrick, my boss, but there was no subject," Warren said. "When I got the call, Orrin said, 'Well, how are you doing with your health?' I've been a little sick here lately. I said, 'I'm doing fine. I'm off my back and on my feet now.' And he said, 'You ready to swing the champagne bottle?' And I said, 'Swing the champagne bottle?' I still didn't get it. Then he said, 'We're naming a boat after you.' And the tears just came down."
After each of the namesakes were recognized, representatives from Coast Guard Sector New Orleans presented them with United States flags to be flown on their respective vessels. Then, the Rev. Tom Rhoades, chaplain for Seamen's Church Institute, offered a blessing for the towing vessels and their crews.
To close the ceremony, Owen and Warren, along with their families, gathered aboard their namesake vessels. Owen broke the bottle over the mv. Debbie L. Owen, while Warren gave the honor of christening the mv. Harold B. Warren to his wife, Loretta.
Caption for top photo: Debbie Owen christens her namesake vessel. (Photo by Frank McCormack)
For more photos from the christening ceremony, see the slideshow below.
The mv. Debbie L. Owen is powered by Caterpillar C32 Tier 3 main engines with Reintjes WAF 474 reduction gears. (Photo by Frank McCormack)