Eating light foods before you go out on tow during a hot day is important. Precautions should be considered during heat waves. You lose fluids through sweating and physical work. Some foods increase your body's water excretion. This would be caffeinated beverages, high-protein foods and spicy foods.
During the summer, your appetite may be reduced when you are feeling hot. This is because your metabolism is at work digesting foods, and your body temperature increases. Fruit and vegetables are good for hydration. In this extreme heat working on a metal barge, it would be a good idea to eat foods that are light and do not lay heavy on you.
Sometimes it is difficult to pick foods that you do not normally eat. We tend to eat with our eyes first. When I prepare foods for my crew, I try to ensure the dish looks attractive. In the summertime I like to serve more salads and lighter desserts. As much as I like pot roasts and soups, I save those meals for the winter. 
Gatorade Jell-O Squares
Here is a great hydrating summertime dessert packed with electrolytes. Electrolytes help regulate the body's fluid balance. Gatorade and Powerade also have potassium, which is good for hydration.
There is a downfall to these sports drinks because they have sugar. However, these drinks have only half the sugars that soft drinks contain.
With this dessert, try different flavors of Jell-O mixed with different flavors of Gatorade. The first one I prepared for the crew was a mix of yellow Gatorade and raspberry Jell-O. You can use regular or sugar-free Jell-O or Gatorade. (The Gatorade Jell-O is shown with the fruit platter.)     
Ingredients:
2 (20 oz.) bottles Gatorade (any flavor)
3 (3 oz.) pkgs. Jell-O (any flavor)
Directions:
 Heat the Gatorade in a pan until hot but not boiling. Stir in the Jell-O packages. Do not whisk in the Jell-O packets so hard that you will have foam on top. Pour in a 9 x 13 glass pan and chill for three hours.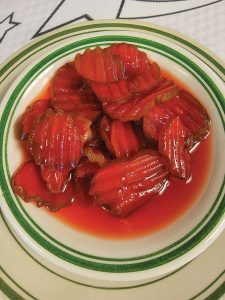 Kool-Aid Pickles With Gatorade
Holy cow, who thought of this one? It's weird, but it tastes pretty good! As we all know, pickle juice is good for leg cramps. Pickle juice contains salt and vinegar, which may also help replenish electrolytes. I made this to have pickles look more fun and entertaining to eat. Yes, there is some sugar added in here, but that is to balance the Kool-Aid packet. They almost looked like candied apples!
Ingredients:
1 (32 oz) jar dill pickles, ovals or spears
1 cup Gatorade
1/3 cup sugar
1 packet red Kool-Aid
Directions:
 Pour pickles in a bowl. Add Gatorade, sugar and Kool-Aid. Stir gently until Kool-Aid packet and sugar are dissolved. Place in a serving bowl, and refrigerate overnight. Save the pickle jar for your leftovers.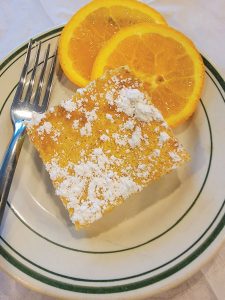 Orange Bars
This recipe is much like lemon bars. The exception is that orange juice is substituted for the lemon juice. It is light and tasty. There is sugar in this recipe, and sugary types of foods can be more dehydrating than others, but that is true only if you consume large amounts of it.
Ingredients for crust:
2 sticks of unsalted butter
3/4 cup powdered sugar
2 cups sifted flour
Ingredients for filling:
1 tablespoon orange zest 
4 large eggs
1-1/2 cups granulated sugar
2/3 cup orange juice
Powdered sugar to dust top of bars
Directions for the crust:
 Preheat oven to 350 degrees. Spray a 9×13 inch pan with non-stick spray. Cut butter up into cubes. Place in bowl. Add powdered sugar and flour to butter. Blend with a pastry cutter. A food processor may be used to blend the crust. Press into pan and bake for 15 minutes.
Directions for the filling:
 Prepare the filling while the crust is baking. This way the filling can be poured into the crust as soon as it comes out of the oven. (You will then re-bake it). With a grater, use the smallest side of the grater to zest your orange. When zesting, be sure not to rub off any of the white under the orange skin. (The white gives a tart, sour taste.) Whisk eggs in a large bowl. Add sugar, flour and orange juice to the eggs. Add the orange zest to egg mixture. 
Once the crust is baked, immediately add the filling on top of the crust. Bake for 20 more minutes. Remove from oven and cool. Place orange bars in refrigerator for approximately two hours.
Dust with powdered sugar.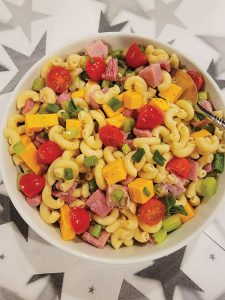 Cold Pasta Salad
 During these heat waves of July and August it is a good idea to put up many types of salads. There are many different salads. The internet is great for ideas. Here is a handful of salads I like to prepare: Ceasar, chef, cobb, seafood, taco and Southwest. One of my favorite salads is the cold pasta salad. 
Ingredients:
12 oz bag macaroni noodles
1/2 sliced red pepper
1 cup cherry tomatoes, halved
3/4 cup cubed ham
3/4 cup cubed hard cheddar cheese
2 green onions, chopped
1 cup chopped celery
1/2 cup zesty Italian dressing
Directions:
Boil noodles, drain, rinse in cool water, drain again. Toss in rest of ingredients. Voila, you're done!
Mary Ann Kuper is a cook on the ACBL towboat Harold Dodd.
Caption for top photo: Gatorade Jell-O Squares.