For the fifth year, 40 of the industry's future leaders were honored at the Inland Marine Expo with the "40 Under 40" award, which recognizes individuals for their outstanding contributions to the inland marine transportation industry in a variety of fields. All 40 honorees were nominated by executives and peers for their hard work and dedication to the industry.
Over the last 10 weeks, The Waterways Journal has featured recipients. This week we recognize Michael Steiner, Kristen Stojakovich, Zac Usselton and Rob Wayne.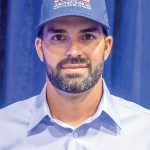 Michael Steiner
Michael Steiner, 32, is supervisor at Steiner Construction Company Inc.
Steiner has worked in the shipyards of Bayou La Batre, Ala., since he was 19, starting out at the bottom and learning as much as he could from his uncle, Daryl Steiner. He has worked for multiple yards. He went to work for Bubba Steiner around 2014, along with his uncle. After advancing in positions, he became the supervisor in 2019.
"He has worked very hard at learning the art of building workboats," said Shirley Steiner, purchasing manager for Kern Martin Services. "His greatest accomplishment in the journey is the finished vessel for Hines Furlong Lines. This was his first launch under his position. Since then he has launched seven vessels for Maritime Partners, four vessels for Enterprise and two for Canal Barge."
Kimberly Crosslin, executive administrative assistant for Steiner Construction, also noted the construction of the Ron Nokes for Hines Furlong as a major accomplishment.
"I think Michael deserves to be recognized because of the hard work and dedication he puts into every build," she said. "Michael is respected by all in the industry and our community."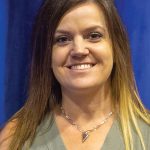 Kristen Stojakovich
Kristen Stojakovich, 37, is senior manager of logistics for Campbell Transportation Company Inc.
For the past two years, she has combined leadership skills, risk analysis and maritime logistics in her current role. Having served in the logistics department of Campbell Transportation Company for more than six years, she has taken on responsibilities that include managing customer relations, planning and negotiating vendor relations and overseeing key measurements pertaining to the company's productivity.
Stajokovich graduated from the University of Pittsburgh's College of Business Administration in 2015, majoring in supply chain management. Before joining Campbell Transportation later that year, she launched her career with one of the largest home improvement retailers in the country, where she was responsible for orders, sales and customer satisfaction. She was promoted to manager of logistics in 2017 and then promoted again into her current role in 2019.
Stojakovich is also active in industry associations. Recently, she was elected to the board of directors for the Waterways Association of Pittsburgh. She also chairs the Waterways Association of Pittsburgh's membership and networking committee.
Gary Statler, vice president-administration for Campbell Transportation Company, said Stojakovich has become a vital part of the company's logistics team, leading by example and serving as an inspiration to others.
"Kristen's understanding of the value of customer service and client satisfaction has allowed her to successfully manage CTC's business accounts," Statler said. "Her ambition for continuous improvement of CTC's processes and procedures has made her a valuable asset to the CTC logistics team."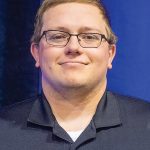 Zac Usselton
Zach Usselton, 26, is senior project engineer for Marine Solutions Inc.
Usselton's focus is on the inspection, assessment and rehabilitation of marine structures, including bridges, culverts, locks and dams, piers, wharves and mooring cells.
"He has performed structural inspections of waterfront structures and has assisted in the design and planning of waterfront facility rehabilitation," said Sean Anderson, PE, SE, senior project manager for Marine Solutions Inc. "He has experience with river repair design theory on evaluating existing mooring structures and maximizing the extension of service life with optimized repairs versus replacement."
Anderson noted that the acceptance and award for Usselton's paper at the PORTS conference on "Extending the Service Life of Mooring Cells" demonstrates his competence.
The paper describes common observed deterioration, important considerations for repairs versus replacement, including cost, service life and the ability of the structure to meet the demand of facility operations, and common methods and best practices for the repair of mooring cells.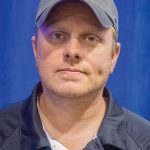 Rob Wayne
Rob Wayne, 39, is a mechanic with SCF Lewis & Clark Fleeting in Granite City, Ill.
Wayne started his career with the company in June 2008.
Bart Freeman, purchasing manager for parent company Seacor Holdings Inc. in St. Louis said Wayne has been a great asset, keeping vessels and equipment moving.
"We are pleased to have him on our team as he will never give up when it comes to fixing/solving mechanical or electrical issues throughout our companies," he said. "We are lucky to have him."