On May 16, The U.S. Department of Transportation announced that Rear Adm. Ann Phillips  was confirmed and sworn in as the 20th administrator of the Maritime Administration. She is the first woman to lead MarAd as administrator, bringing with her a distinguished career as a U.S. Navy officer who steadily climbed up through the ranks, along with recent experience in developing a Coastal Resilience Master Plan for the state of Virginia, where she lives in Hampton Roads."From her distinguished naval service to her leadership on coastal infrastructure, Rear Adm. Ann Phillips has championed America's maritime sector throughout her career," said Transportation Secretary Pete Buttigieg as he announced her appointment.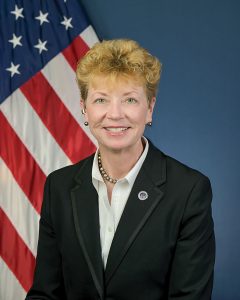 As head of the Maritime Administration, Phillips will advise the secretary of transportation on commercial maritime matters, to include the movement of goods, supply chain, as well as the U.S. maritime industry, environment and compliance, ports and waterways infrastructure and strategic sealift. She will engage public and private stakeholders in the maritime industry and oversee the U.S. Merchant Marine Academy.
As Phillips noted in her acceptance speech, this is an important moment in MarAd's history. She will oversee MarAd's programs to improve and modernize the nation's maritime network by administering the unprecedented investment in our ports and waterways made possible by the Infrastructure Investment and Jobs Act, also known as the Bipartisan Infrastructure Law, through such programs as the Port Infrastructure Development Program (PIDP) and America's Marine Highway Program.
Phillips served most recently as special assistant to the governor for coastal adaptation and protection, Commonwealth of Virginia, developing Virginia's first Coastal Resilience Master Plan. Prior to her appointment to the Office of the Governor, she served nearly 31 years on active duty and has extensive experience operating with multi-national maritime forces, including NATO and Partnership for Peace nations, and served overseas in Guam and Lisbon, Portugal.  
Phillips' final flag command, Expeditionary Strike Group Two, comprised all the Amphibious Expeditionary Forces on the East Coast of the United States, including 14 ships and 10 subordinate commands. Earlier she served on the chief of naval operations' staff as deputy director and then director of the Surface Warfare Division. 
Phillips graduated from the University of North Carolina at Chapel Hill and earned a Master of Business Administration, with distinction, from The College of William & Mary–Raymond A. Mason School of Business. 
This is the second interview Administrator Phillips has given since her appointment.
WJ: Thank you for speaking with us, Admiral! The Maritime Administration's mission is to "promote and develop the maritime industry of the United States to meet the nation's economic and security needs." How Does MarAd educate blue-water shippers, truckers, railroads and other logistics providers about the importance of the inland waterways?
Phillips: The points of contact between MarAd and its client base are the Gateway Offices. The program was started 20 years ago, but has been expanded lately, and it recently added an office in Paducah. Ky.
The Gateway directors are the people who promote PIDP grants, so they are very much in touch with the needs of ports. The Gateway Offices work with headquarters staff, state and local authorities, congressional representatives at the local and district level and a broad range of port, shipper and carrier stakeholders to cooperate on projects, identify federal and state funding and work on environmental and community challenges in the ports and their intermodal connections.Those connections are very important; I live in Hampton Roads, Va., where the port is surrounded by rail lines and connections. We encourage dialogue across all transportation modes and encourage shipping by river, where available, as the most cost-effective mode. 
Americans didn't think much about supply chain logistics in the past, but now they have become a household word. We are on the cusp of important changes that will continue to speed the movement of goods to consumers. 
WJ: Given that all your Navy experience has been blue-water, what is your view of the importance of the inland waterways sector within the merchant marine?
Phillips: We owe the brown-water community a great debt as it continued to serve across the COVID-19 lockdown. MarAd continues to educate the public about the importance of the inland waterways through its involvement with the 45 maritime-focused high schools, as well as the Gateway Offices. 
WJ: We have heard a lot about vital but non-college-degree requiring occupations having trouble attracting young people, even when some of them are well-paying and have good futures. What are the best avenues for interesting young people in careers in the merchant marine at all levels? How can MarAd help? And what about support positions in ports, terminals, shipyards, etc.? Can you update us on progress in changes in the Sea Year program at Kings' Point?
Phillips: Recruitment in our industry has been a challenge for years. Diversity, especially when it comes to gender, is also a challenge. Our carriers and unions are all saying the same thing: "We need people!"
The EMBARC program [Every Mariner Builds A Respectful Culture] was developed to focus on blue water in response to reports of horrific assaults at sea [the Midshipman X and Midshipman Y cases in which sexual assaults were reported during a Sea Year program]. EMBARC is also meant to strengthen safety and promote culture change within the industry. To change cultures that could drive people away at a time of urgent need is difficult, but necessary. We need to ensure that young people of all backgrounds feel safe as we seek to attract them to our industry.  
WJ: How important is the Jones Act to today's merchant marine?
Phillips: Inland Jones Act trade is essential to our national security. It's very important that our brown-water assets remain under U.S. control and ownership. Our brown-water fleet is a strong economic driver and job supplier, providing crucial connections to rail and trucking. It's a critical asset to maintain and support. The recent public focus on logistics and supply chain issues is also an opportunity for our industry to keep educating the public about the Jones Act and its importance.
WJ: How important, in your view, is decarbonization in the future of the U.S. merchant marine?
Phillips: There is great interest in decarbonization across the maritime world. Within MarAd, the PIDP grants include criteria that address issues of carbon emissions, port pollution, building resilience into port infrastructure and protecting vulnerable communities that live in areas surrounding ports. There are a lot of inputs that go into a PIDP grant. We are working through the process of evaluating them now. 
WJ: The Small Shipyard Program at MarAd has been vital for many small shipyards. Do you foresee any changes in funding for, or administration of, that program?
Phillips: Just a few weeks ago, we announced this year's award of $19.6 million in Small Shipyard Grant funding to 24 shipyards.  As you noted, these investments are vital for our small shipyards, which are vibrant parts of our maritime industry.  These funds help shipyards modernize their operations and become more productive while continuing to innovate. The awards also help expand employment in an industry that is a key component of our industrial base. This program operates under very tight timelines, and we will continue to ensure the program moves as quickly as possible to get money to work in our small shipyards.
WJ: Under the PIDP, will private terminals be eligible for grants if they have a public sponsor, as Congress intended? How does MarAd see the public benefit of private terminals?
Phillips: Consistent with congressional direction, port authorities and commissions and states and tribal entities can apply for PIDP grants—and the owners or operators of private facilities can apply together with eligible public entities. Private entities are critical to our supply chains and help build resilience.  The PIDP program seeks applications from all eligible projects that will improve the movement of goods and the safety of operations while strengthening resilience and combating the climate-related impacts of port operations.
WJ: Thank you, Admiral, it's been an honor.