Hines Furlong Line (HFL), headquartered in Nashville, Tenn., recently placed the 6,000 hp. towboat mv. Capt. Reggie Tubbs back in service after an extensive refurbishment. Built by Jeffboat in 1975 as the Mr. Aldo, the 46-year-old towboat was known as the Sheila Johnson in 1992. When Hines acquired it from American Commercial Lines in 2018, the company changed its name to Mae Etta Hines, only to change it again most recently to Capt. Reggie Tubbs. National Maintenance & Repair of Kentucky performed the renovation.
The mv. Capt. Reggie Tubbs is one of three Jeffboat-built 6,000 hp. towboats HFL operates. The company refurbished the mv. James G. Hines in 2015 and has recently started work on the J.W. Hunter.  
National Maintenance & Repair of Kentucky replaced a major portion of the bow hull plating of the 145- by 48-foot Capt. Reggie Tubbs during its year-long stay at the NMR's yard in Paducah. Workers installed new 111-inch Harrington propeller nozzles and reconditioned tow knees, along with new Schuyler fendering. Other hull work of the rehab project included installing new stainless steel tank hatches and coating the potable water and wash water tanks and voids. The original channel coolers were removed from the hull, and inset cooler boxes were installed to house the new Fernstrum coolers and Duramax generator and gear box coolers. The vessel was outfitted with four new 65-ton Wintech winches. A new fuel centrifuge and a back-up filtration system were installed.  
Marine Systems Inc. of Paducah overhauled both GM16-645E7B main engines.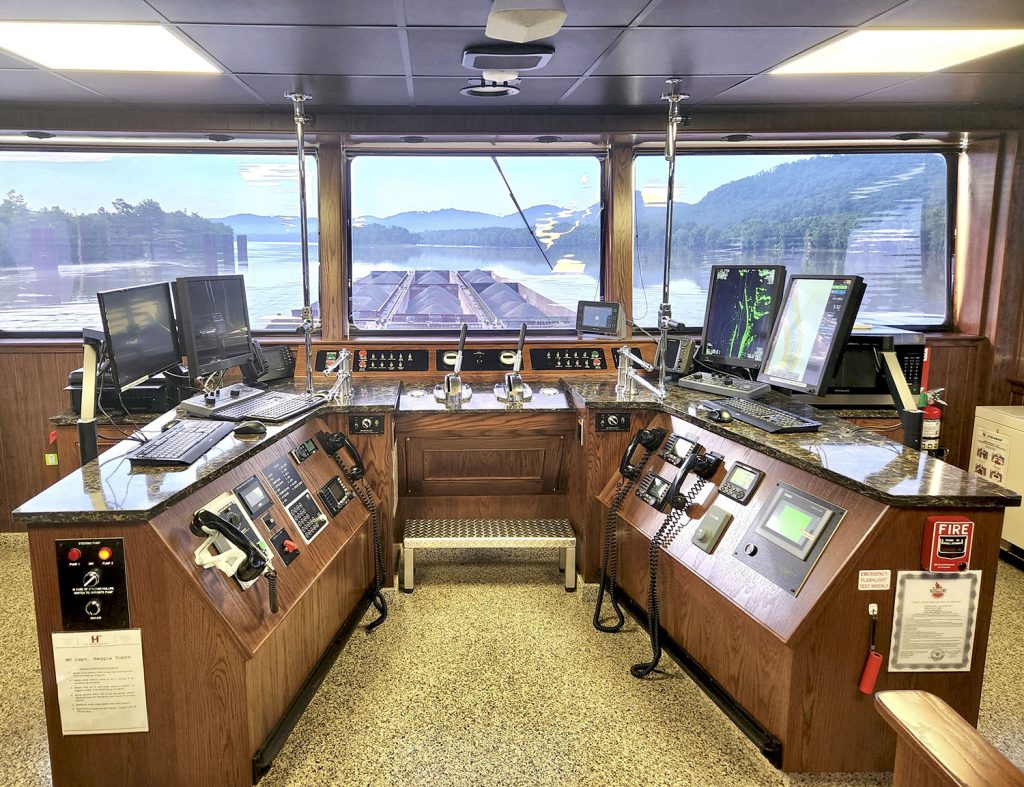 Work on the interior of the Capt. Tubbs featured completely new carpentry by McGarity Cabinets. The interior consists of dark oak paneling in the pilothouse, gray marlite paneling and wood furniture in the crew quarters, drop tile ceilings throughout and epoxy chip style flooring in the galley, together with white marbled quartz countertops and backsplash.
Hines Furlong team members performed electrical updates and improvements that included new breakers, meters and remote generator throttle synchronizing controls in the main switch gear. The work also entailed updating the cabin electrical panels and a significant portion of the vessel's wiring. 
HFL electricians installed a new machinery alarm system made by Unlimited Controls. United Mechanical Marine provided and installed a new HVAC system, and Thermal Control Solutions installed insulation as well as noise reduction materials. Upgraded navigation and communication electronics featuring Koden 5200 radars were furnished by Gmeni Marine.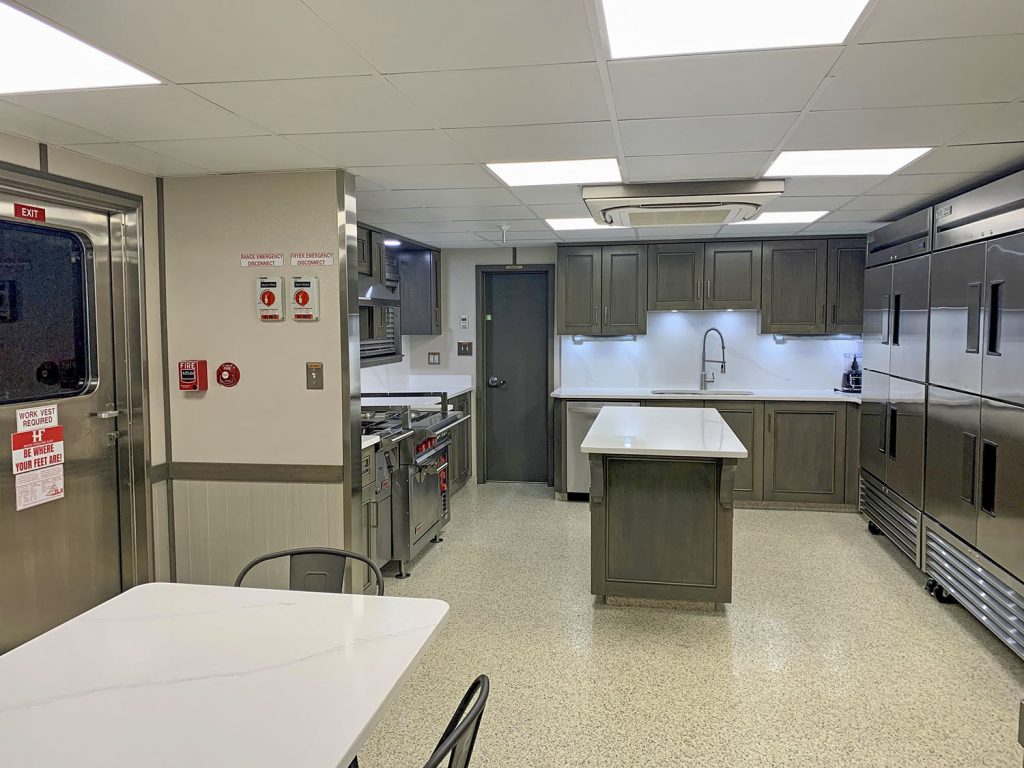 The refurbished vessel was outfitted with a new ultraviolet water filtration system from Controlled Water Systems. Fluid Power Systems rebuilt and upgraded the hydraulic steering system, Omega Products furnished new stainless-steel doors and showers, and Donovan Marine provided the boat with new Bomar windows, stainless-steel hatches and tow knee pads. 
The all-new galley was equipped with True brand refrigerators and freezers and a Lang range and deep fryer from Paducah Restaurant Supply; Brake Supply provided the vessel with new main air tanks, clutch air tanks and two Quincy air compressors; and Ingram Sheet Metal fabricated several one-of-a-kind items such as a stainless-steel gasoline tank and stand and fire dampers for the intake fans.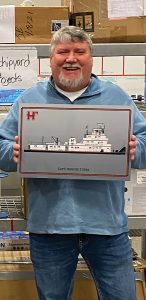 About The Namesake
The vessel's namesake is a 59-year-old riverman who comes from a family of towboaters, going back to his grandfather and great grandfather—W.D. "Bo" Pickett Jr. and Sr.—who worked for Hickman Sand & Gravel. In the late 1970s, his grandfather was written up in The Waterways Journal for building radio-controlled model towboats. His father was a deckhand for Hougland Barge Line.
Capt. Tubbs went to work for Walker Towing Corporation after graduating from high school in Ledbetter, Ky., where he was born and raised. The first boat he worked on was the mv. Bessie Walker. He decked for four years before earning his pilot's license, then transferred to the Patricia M.
He gives credit for his career on the river to Gary Miller, a co-worker with Walker Towing, who urged him to be a pilot. "He somehow saw that I had a talent for piloting, and he encouraged me to stay with it and try for my license," Tubbs said.
Capt. Tubbs plied his trade with a couple of other companies, namely Ingram Barge and Marquette Transportation, before signing on with Hunter Marine, the forerunner of Hines Furlong Line, in 2009. He was captain of the mv. Sarah Hunter. He was promoted to port captain, working out of the Paducah office, in 2014.
Speaking about how significant it is to be the namesake of a towboat, Capt. Tubbs said, "It means more than words could ever express. I am both humbled and honored for the recognition, but it's not just about my name being on a vessel. It also represents my family, friends and coworkers who have supported and helped me through the years to learn, work and be a small part of such a great industry."
When not on his namesake vessel, Capt. Tubbs travels with his wife and enjoys riding his Harley-Davidson Street Glide, which he took to Sturgis, S.D., recently for the annual rally. They have one daughter and two sons, one of whom, Trace, works for Hines.
Caption for top photo: The mv. Capt. Reggie Tubbs was completely refurbished at National Maintenance & Repair of Kentucky. (Photo by Jeff Cumptan)