Somewhere south of Vicksburg, Miss., on the Mississippi River, there's a crew numbering more than 275 working to do its part in keeping the river on its current course.
Levees, spillways and floodways are in place up and down the river to keep the Mississippi within its current banks, and the Old River Control Structure just upriver from the Red River Landing in Louisiana prevents the stubborn river from taking a westward turn toward the Atchafalaya River.
But this mobile crew that conducts revetment operations aboard the Vicksburg Engineer District's Mat Sinking Unit (MSU), which deploys in the low water months, has the equally important task of identifying scour points along the river and armoring the bank with an articulated concrete mattress to stabilize the river bottom and prevent further scouring.
The current MSU was first deployed 74 years ago in 1948. The unit consists of a deck barge loaded with concrete "squares" that measure four feet by 25 feet. Four gantry cranes move two squares at a time onto the mat laying barge, where an on-deck crew of about 100 stitches the squares together using copper rods and pneumatic tie tools that resemble jackhammers. As the mat is stitched together, the deck barge and mat-laying barge are winched away from the bank, with the concrete mat gently lowered to the river bottom two rows of squares at a time.
Sign up for Waterway Journal's weekly newsletter.
Our weekly newsletter delivers the latest inland marine news straight to your inbox including breaking news, our exclusive columns and much more.
Anchor barges in the channel and dozers on the bank hold everything in place, with winch crews, tie crews, surveyors, engineers and repair mechanics all working in concert.
If the system sounds complicated, it's because it is. But it's carried out by an experienced crew, made up of permanent, seasonal and temporary workers. Crew members work 12 days on, two days off. There's only one shift per day, so all of those near-300 crew members have to be ferried back to the unit's quarter barge and fed within about a 35-minute time span each day. Off duty, full-time crew members have their own staterooms, but the others often live three and four to a room. Everything is provided, including up to four meals a day, work gear, laundry services, even entertainment and exercise facilities.
"We're a floating city," said MSU Chief Maurice Gilmore, who has worked on the MSU since 2003. "Basically, when a man gets ready to come to work, all he has to have is a good attitude and some clothes."
This season, the MSU's quarter barge features new exercise equipment, game rooms and multiple theater-quality TV rooms ready for the younger crew members to hook up their gaming systems. The age of MSU crew members ranges from 18 to 80 this season, with two women serving as part of the revetment team.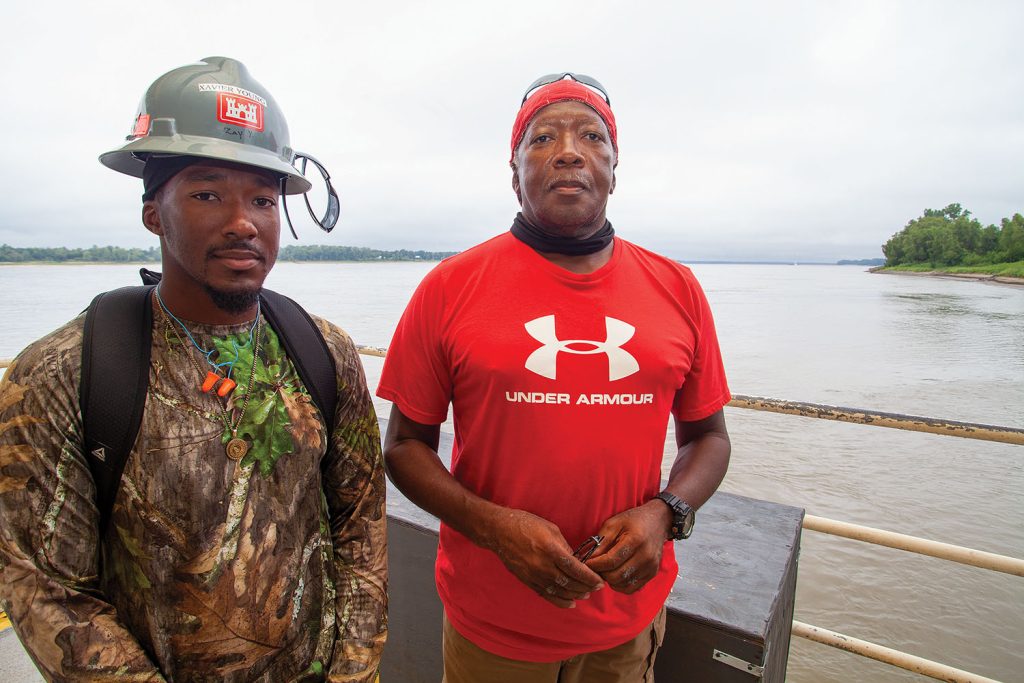 "Basically, everything's still the same," said Lawrence "Fess" Young, a crane operator aboard the MSU and one of the most senior crew members.
"There's just a different generation."
Fess is well aware of the changing generations on the MSU. His father worked on the unit before him and now his son, Xavier, works on the revetment crew as a gunner, or tie tool operator.
Xavier previously worked as a law enforcement officer, but when the opportunity presented itself, he took a temporary job as a gunner. This is his second season.
"I just wanted to be like him," Xavier said of his father.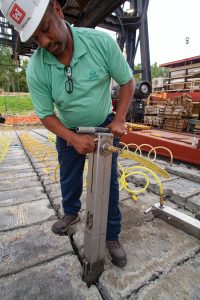 The Youngs aren't the only multigenerational family aboard the MSU, either. Gilmore's son works aboard the MSU, as does the son of safety lead Christopher Johnson.
"We're just a big family," Johnson said.
Johnson said that sense of family extends beyond crew members that are blood relatives. Because of the time spent together in tight quarters and remote parts of the Mississippi Delta, the entire crew develops a familial bond, which includes both good times and occasional conflict.
"I interact with the young guys just as I do the old ones," Gilmore said. "There's a continuity to it. I tell them, instead of letting problems fester, come talk with me. I interact with everyone on a regular basis and try to know everyone by their first name."
And while the crew carries a sense of family, they also understand the significance of what they do day in and day out. A course change or levee failure wouldn't just upset navigation or industry along the river, it would have a wide-reaching impact on communities as well.
"If we didn't do what we do, the river would cut its own path," Fess said. "A lot of towns would cease to be."
ARMOR 1
But one change that is inevitable on the river is the makeup of the Mat Sinking Unit. The Corps of Engineers, working with the National Robotic Engineering Center at Carnegie Mellon University, has designed a replacement, dubbed ARMOR 1. The new unit will be safer, more efficient and more automated. Once the new unit comes online, the MSU crew will drop from its current number of 278 to around 172.
Gilmore and David Jenkins, deputy chief of the Vicksburg District's operations division, said the goal is to carry over all of the permanent MSU crew members. There will be a dramatic cut in the mat-laying deck crew, which will go from around 100 to about 28. But that move will come with significant safety benefits, with as much as 85 percent of the MSU's injuries occurring on the mat-laying deck.
ARMOR 1, under construction at Thoma-Sea in Houma, La., was originally scheduled to come online next season. Due to labor shortages, damage from Hurricane Ida and pandemic-related delays, ARMOR 1 is now expected to embark on its first season in 2024.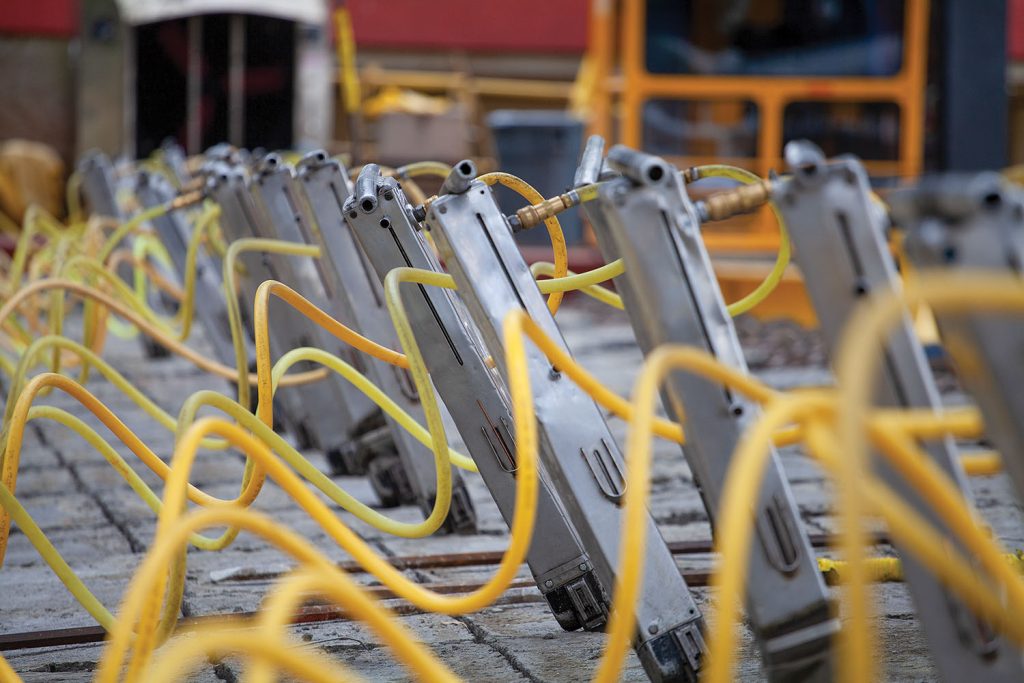 That means the current MSU will have a chance to complete its 75th revetment season, with young and old, men and women, fathers and sons working side by side fulfilling their mission to keep the Mighty Mississippi within its banks for another year.
Caption for top photo: The mv. Harrison bringing the revetment crew back to the MSU after lunch. (Photo by Frank McCormack)