Oh my gosh! Groceries are outrageous! As with most places, we have a budget to follow when purchasing groceries for the boat. Beef, pork and chicken seem like they have doubled in price. Hamburger can be $4.78 a pound. Steaks have been seen to cost about $14.99 a pound. I remember when steaks were $8.99 a pound and I thought that was high. Believe it or not, I saw a pack of bologna for $5.19. 
When purchasing meat, bone-in is a better deal than your loin cuts. Meat is one of the most expensive items cooks have to purchase. Think about ways to stretch your meat. First, serve the big meal, then get creative with leftovers.
For instance, if I serve a pork roast, later I will use the leftovers to make pulled pork, or shredded pork quesadillas, or even pork on top of nachos for a different fling. One of my favorite ways to use leftover taco meat is to make chimichangas, which are deep-fried burritos. 
Leftover chicken can be turned into chicken enchiladas, stir fry or jalapenos stuffed with chicken and cream cheese, wrapped in bacon and baked. Leftover sweet potatoes turn into sweet potato casserole or sweet potato pie. Any leftover beef can turn into pepper steak. There are so many meals you can make with leftovers. 
As a cook for a barge line, I have to plan all my meals to get the most out of the food I purchase. By making these plans ahead of time, I am more efficient with my meal preps, using up leftovers and keeping costs at the planned budget. 
Pulled Pork (pictured above)
I freeze leftover cooked pork until I have enough to fill the slow cooker to make pulled pork. Cooked meats freeze very well. Just remember to label and date.
Ingredients:
1 sliced onion 
3 to 4 lbs. leftover cooked pork
1 teaspoon onion powder
1 teaspoon garlic powder
1 tablespoon brown sugar
1/2 teaspoon seasoned salt
1 cup water
1/2 cup apple juice
1/2 cup beef broth
Directions:
Place sliced onions on bottom of slow cooker, and place thawed leftover cooked pork on top of onions. Mix seasonings with liquids and pour over pork. Set the slow cooker to high, and allow it to heat 3-4 hours. Pork will be tender and easy to shred. Barbecue sauce can be added separately to the sandwich. Serve with coleslaw.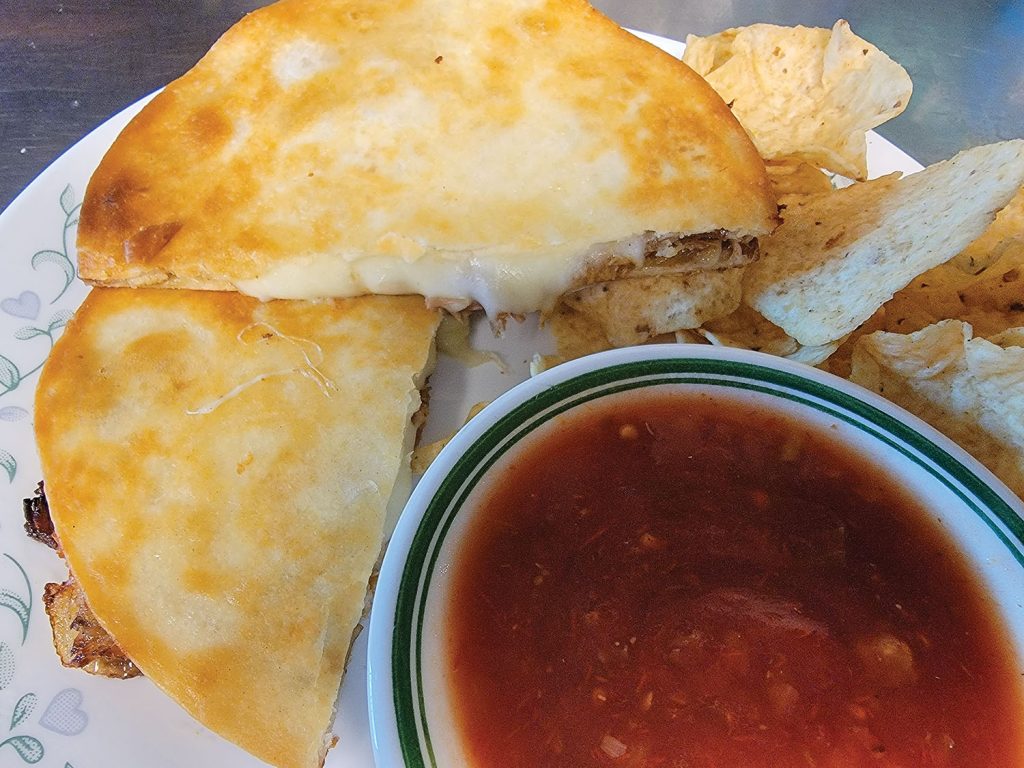 Pulled Pork Quesadillas
Ingredients:
2 lbs. pulled pork
5-ounce can diced green chiles
8 slices provolone cheese
2 cups mozzarella cheese
½ stick melted butter
16 4-inch flour tortillas
1/3 cup oil
Directions:
Line a baking sheet with foil to work on. Warm pulled pork if it has been refrigerated. Brush four flour tortillas with butter on one side. Lay butter side down on baking sheet. Lay one slice provolone cheese on tortilla, add 1/4 cup pulled pork on top of provolone cheese, sprinkle approximately 1/4 cup mozzarella cheese on top of pork. Lastly, sprinkle 1/2 teaspoon of green chiles on top of mozzarella. Next, butter one side of remaining flour tortillas. Place on top of layered quesadilla, buttered side up. Layer the rest of the tortillas as above until you have eight quesadillas. Add three tablespoons oil to electric skillet. Fry two quesadillas in pan until golden brown, and then flip and fry other side. Fry rest of layered quesadillas, adding oil as needed. Cut in half to serve.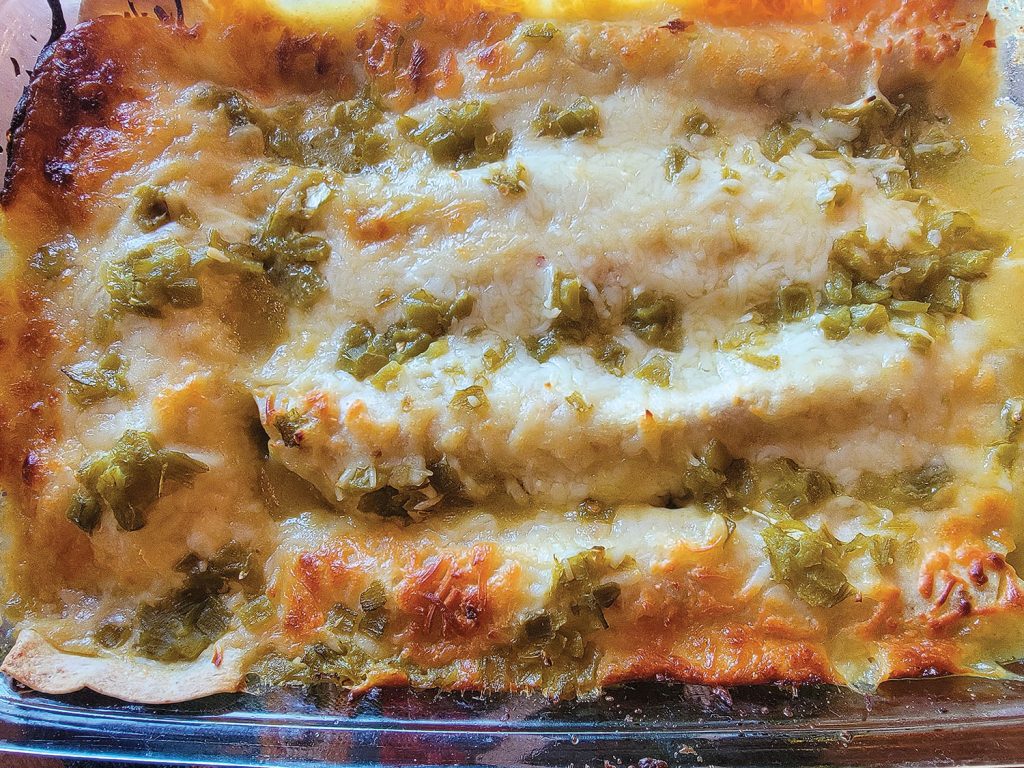 Chicken Enchiladas
You can use leftover baked chicken, or you can cook 1-pound boneless chicken. I have even boiled some chicken legs and thighs for this recipe.
Ingredients:
2 cups cooked chicken
Salt and pepper to taste
One 8-ounce brick cream cheese
One 15-ounce can green enchilada sauce
One 5-ounce can chopped green chiles
2 cups mozzarella
6 large flour tortillas
Directions:
Preheat oven to 350 degrees. If using leftover cooked chicken, chop up into bite-size pieces. If using raw chicken, chop into bite-size pieces and pan fry. 
Spray skillet with a non-stick spray. Place the two cups of chicken in the skillet along with the brick of cream cheese. Heat until cream cheese is melted and thoroughly mixed with the chicken. Salt and pepper to taste. Spray a 9×13 pan with non-stick spray. Pour half the green chile sauce on bottom of pan. Divide chicken mixture into sixths. Take one-sixth of chicken and place in flour tortilla and roll. Put in 9×13 pan. Continue to roll rest of chicken. Pour rest of green chile on top of filled flour tortillas. Evenly add mozzarella cheese on top. Lastly add chopped green chiles on top of mozzarella. Bake at 350 degrees for 30-45 minutes until cheese is melted and bubbly.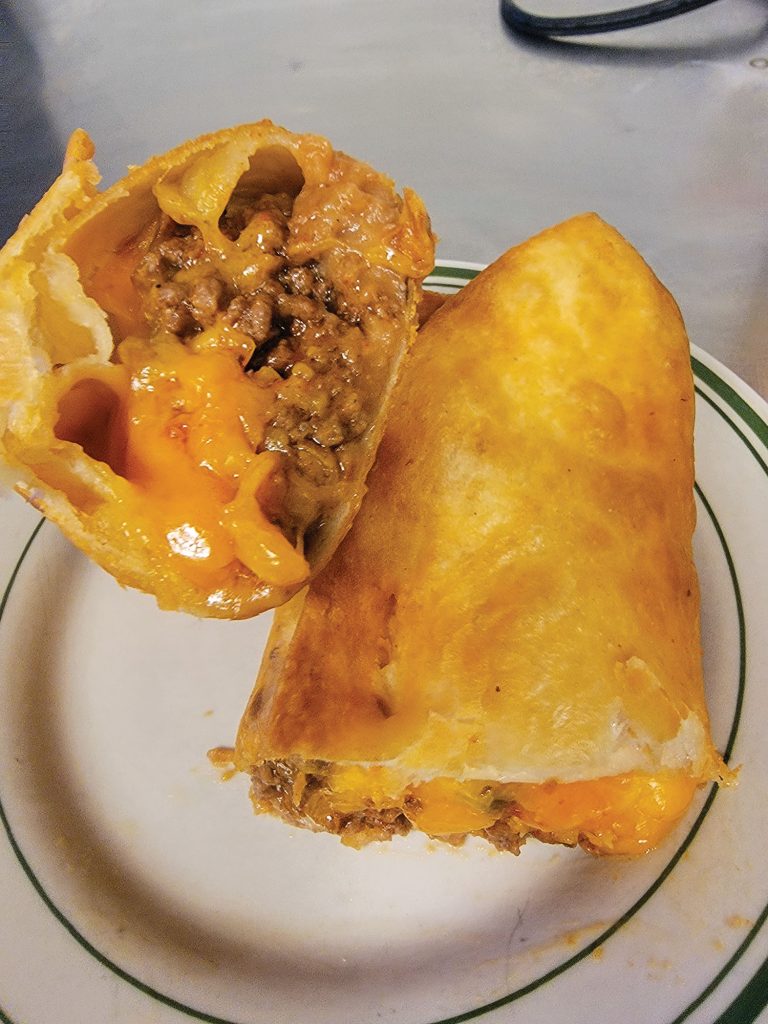 Chimichangas
For the deep-fried chimichangas, chicken or beef may be used in the filling.
Ingredients:
3 cups cooked taco meat
1/2 cup salsa
1 cup refried beans
1-2 cups shredded cheese (mozzarella or cheddar)
6 large flour tortillas
Directions:
Divide taco meat into sixths. Wet edge of flour tortilla lightly with water. Add one-sixth meat to flour tortilla center and spread in a line almost to end of tortilla. Add 1 tablespoon salsa on top of meat. Add 1/6 of the beans and 1/6 of the cheese or more if you want. Fold filled flour tortilla in half. Fold in sides, and roll like a burrito. With metal tongs, carefully place the chimichanga burrito in the hot oil. Hold it in place until the chimichanga starts to brown. This is important because sometimes the edges do not seal, and it will help keep it closed. Remove and place onto a paper towel-lined plate. Serve with chips, salsa, sour cream and/or guacamole.
Mary Ann Kuper is a cook on the ACBL towboat Harold Dodd.
Caption for top photo: Pulled pork sandwich with coleslaw.