Former Jeffboat President Bob Greene Dies
Robert W. "Bob" Greene, for 33 years the leader of Jeffboat shipyard and other divisions of American Commercial Lines, Jeffersonville, Ind., died October 9 in Harbor Springs, Mich. He was 83.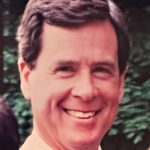 Greene joined American Commercial Lines in 1968, was named president of Jeffboat in 1980 and served in that position until he retired in 2001. Under his leadership, the shipyard built more than 5,200 vessels and established a longstanding reputation for the highest quality craftsmanship.
In 1981, Jeffboat built a record 580 hopper barges, tank barges and towboats, including one of the first towboats with a floating deckhouse, the mv. Alois Luhr. Among other special  projects were the passenger vessels Mississippi Queen and General Jackson.
Greene joined ACL when he was 28, having worked for his father at R.W. Greene Sand & Gravel Company in Louisville, Ky., where he grew up. After graduating from Georgia Institute of Technology with an engineering degree, he continued his education at Harvard Business School, where he earned an MBA, then served as an officer in the U.S. Navy.
Shipyard Conference Chairman
He was a respected leader in the industry and served as chairman of The American Waterways Operators' Shipyard Conference and as a member of the Marine Transportation Council. He participated in the Young Presidents' Association, Leadership Louisville and was a board member of Junior Achievement.
The 6,250 hp. towboat Robert Greene, still in operation by American Commercial Barge Line, was built in his honor by Jeffboat in 1980.