Well, it is that time of year when you see blazing orange and camouflage colors. No, not Halloween, it is deer season. Deer season typically starts in early September and runs until December. Some states offer hunting to the middle of February.
So why is hunting such a big deal? People like to hunt not only for the food, but for antler trophies, deer hides and a hobby. However, deer hunting is very important for deer population control. Back in the day, Native Americans hunted deer to create clothing products. But today if we did not hunt deer there would be lots of crop damage and car-deer collisions; hunting lessens the starvation of deer and spread of diseases.
Texas leads in the most deer obtained during deer season. According to the Texas Park and Wildlife Department, 430,000–500,000 are harvested annually. Wow! That's a lot. 
Some of the food plots that attract deer are red clover, orchard grass, soybeans, alfalfa and corn. When bagging your deer, you should yield about 40 percent of the deer's weight in usable meat after removing the bones, guts and skin. I have included several recipes that we do often at home. My husband and boys enjoy deer hunting.  When we were raising the boys, I used to go through about five deer a year.
Deer meat (venison) is an excellent source of lean meat. I use deer meat for spaghetti, chili, lasagna, deer tips with gravy, deer nuggets and canned deer meat. The backstrap on the deer is the most tender, like your beef loin cuts. Just about any recipe that calls for beef may be substituted with venison.
Deer Tips And Gravy
With this recipe I use either my canned deer meat or deer chunks. When I use the canned deer meat this recipe is done in a minute. Just add brown gravy and, if you desire, sauté up some onions.  Serve over noodles. 
Ingredients:
3 Tablespoons butter
2 lbs. deer loin cut into 1-inch cubes
3 Tablespoons flour
1 onion, sliced thinly
1 cup beef broth
1 beef stew packet
1 teaspoon garlic powder
2 Tablespoons Worcestershire sauce
Salt and pepper to taste.
Directions:
This recipe is easy. Add all ingredients into slow cooker. Stir thoroughly. Cook on low for 6 hours.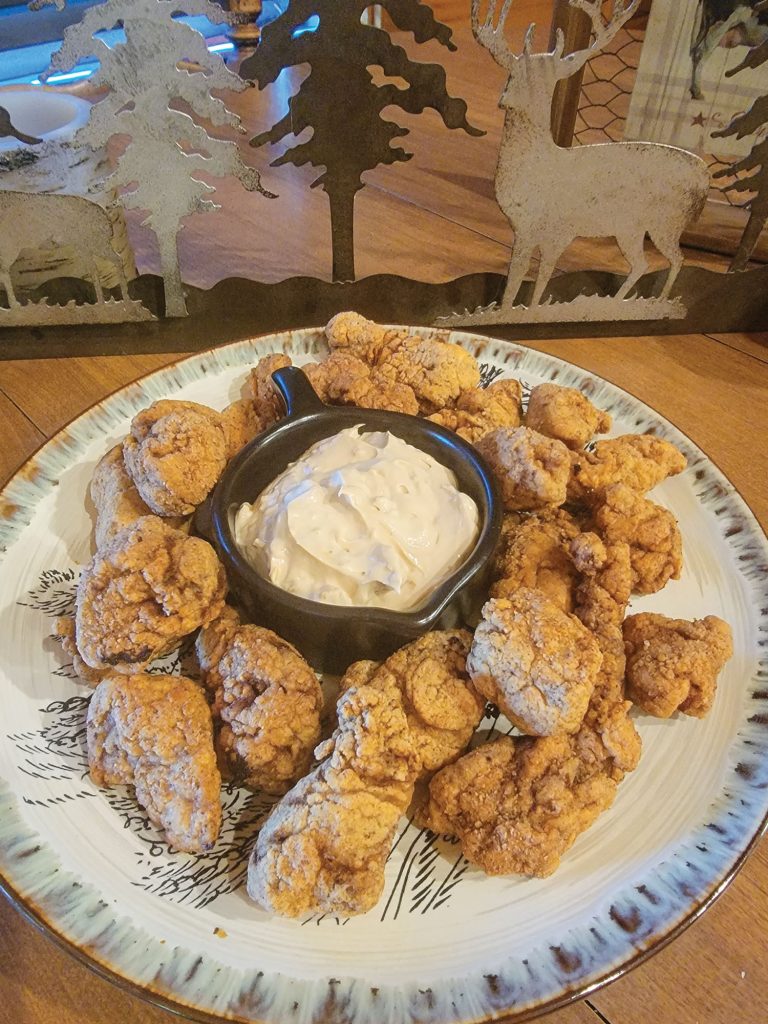 Deer Nuggets
You can use your deer steaks, rump, loin or backstrap for these nuggets. If you want to try this on the boat, a sirloin steak works well. Serve with French onion dip—really good. With this recipe, be sure to cube your meat a day ahead of time so most of the blood drips out. Allow time the next day for the venison to marinate in the milk one to two hours before frying.
Ingredients:
Vegetable oil for frying in deep fryer
1-1/2 lbs. venison cut into 1-inch cubes
3 cups milk (reserve one cup milk for later)
3 cups all-purpose flour
1/2 teaspoon cayenne pepper
1 Tablespoon dry mustard
1 Tablespoon seasoned salt
1 teaspoon garlic powder
1 teaspoon parsley flakes
1 teaspoon pepper
1 teaspoon seasoned salt
1 teaspoon paprika
Salt and pepper to taste.
Directions:
Rinse your cubed meat thoroughly in cool water. Pat meat dry. Add milk, cayenne pepper and mustard to large bowl. Add meat to milk mixture. Let meat marinade in milk mixture for one to two hours. 
 Heat oil for frying. Drain milk from meat. Mix flour with rest of seasonings in a pan or large sealable bag. I like the bag method; less mess. Put a few venison chunks into the flour at a time, shake bag. Shake off excess flour, put venison into the one cup reserved milk.  Re-dip back into flour. Place floured meat onto large sheet pan. Once all meat has been floured, fry in hot oil until lightly browned, about 3 minutes. Remove and place on plate with paper towel. Serve with French onion dip. If you do not have French onion dip it can be easily made with beef base, dried onion flakes and sour cream.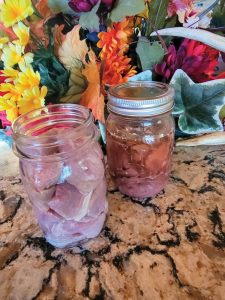 How To Can Deer Meat
There are several different ways to do this. I usually just pack raw deer meat in jars and process it in a pressure cooker. This method is called cold pack canning. I have also prepared my venison with potatoes and vegetables as a deer vegetable soup and processed in a pressure cooker. Your tougher cuts of meat tenderize so nicely when these meats are processed in a pressure cooker. 
Ingredients per jar:
2 lbs. venison meat cut into cubes 
1 teaspoon beef base
1/2 teaspoon garlic powder
1/2 teaspoon onion powder
Quart jars
1 tablespoon vinegar (for water only, not per jar)
NOTE: So if you are canning 12 jars of venison you will need 12 teaspoons beef base, six teaspoons of garlic powder and onion powder. 
Directions:
Sterilize canning jars and lids in dishwasher or boil. Rinse and pat dry meat. I do this to ensure most blood is gone from meat. Blood will coagulate in jar, edible but not pretty looking. Pack meat into the jars up to the shoulder. Add one teaspoon of beef base to jar and 1/2 teaspoon garlic powder and onion powder to each jar. Wipe rim of jar with a clean damp cloth. Add lid and band. Tighten. 
 Fill pressure cooker about two to three inches of water. Add 1 tablespoon vinegar to water; this helps to keep your jars clean. Place jars in the pressure cooker on a rack. Turn burner medium to high. Let pressure build up with weighted gauge off. Let steam for 10 minutes. Put weight gauge back on pressure cooker. When gauge comes to proper 10 psi set your timer for 90 minutes. Keep an eye on your gauge and adjust your temperature so it remains on 10 psi. When 90 minutes are up, remove cooker from burner and let cool a good hour before opening.
Mary Ann Kuper is a cook on the ACBL towboat Harold Dodd.