American River Transportation Company (ARTCo), a wholly owned subsidiary of ADM, christened the 58- by 26- by 8-foot Chuck B on October 6 at its Ottawa, Ill., location.
The Chuck B is the third boat ARTCo has built in-house at its New Orleans shipyard and the first since Subchapter M was fully implemented, said Lukas Lonergan, manager of ARTCo Fleeting Services in Ottawa. It was named after Charles "Chuck" Burlingame.
"He was the general manager of the Illinois River (for ARTCo)," Lonergan said.
Burlingame worked for various divisions of ADM for 46 years before retiring. That included overseeing both the Peoria and Ottawa locations for ARTCo. He retired in 2021.
Burlingame began his career working for various grain elevator companies. That included working for Tabor Grain, which was later acquired by ADM. Over the years Burlingame held a wide range of supervisory roles, Lonergan said.
The Chuck B will be stationed in the Seneca, Ill., harbor and will be used for switching and harbor fleeting services.
Lonergan said the process of building the boat included overcoming several challenges, including both the workforce and supply chain issues related to the COVID-19 pandemic and a major hurricane that hit the region.
"Luckily, no damage came to the boat during that time," he said.
In fact, because the boat was built in-house, work was able to continue on it using all of ADM's COVID-19 protocols.
"It was a good way to keep everybody employed," during the slowdown that resulted from the pandemic, Lonergan said.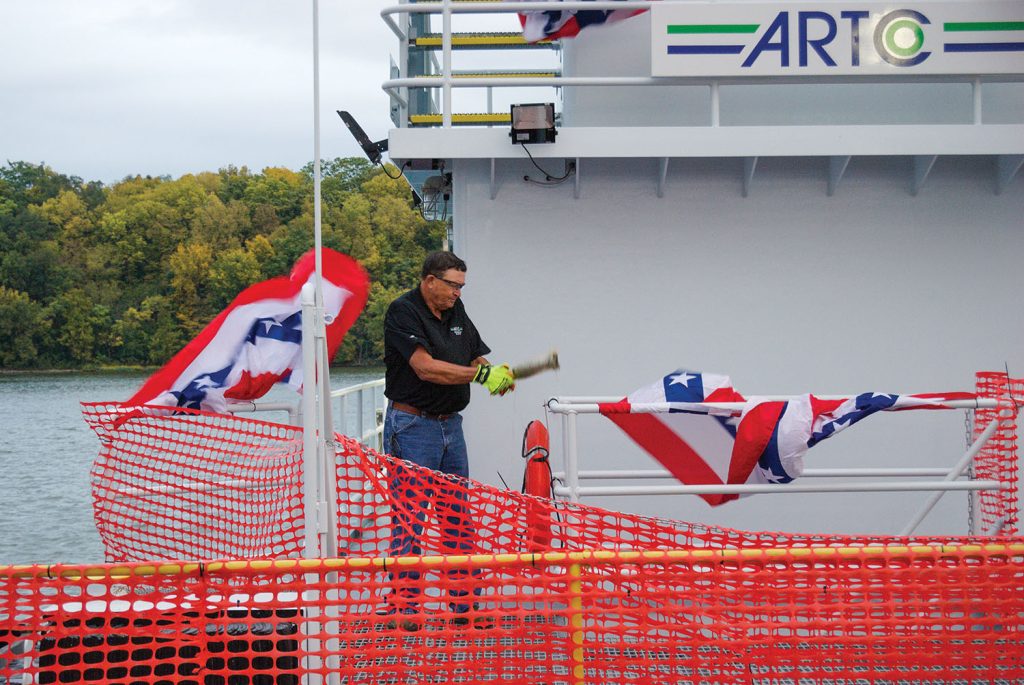 The boat has a unique double skin between the outside hull and the engineroom and fuel tanks, which ARTCo also used on its first two boats built in-house. 
"It just adds a bit more environmental protection for us, and it creates that barrier there," Lonergan said. "If something were to happen, we have a safety net."
Additionally, he said, the double skin and the addition of all-new technology mean the boat's lifespan is considerably longer than other similarly sized boats.
"We're here for the long haul," Lonergan said.
ARTCo employees and their families were able to walk through the Chuck B before the christening ceremony began. There were also food trucks on-site and a prize raffle.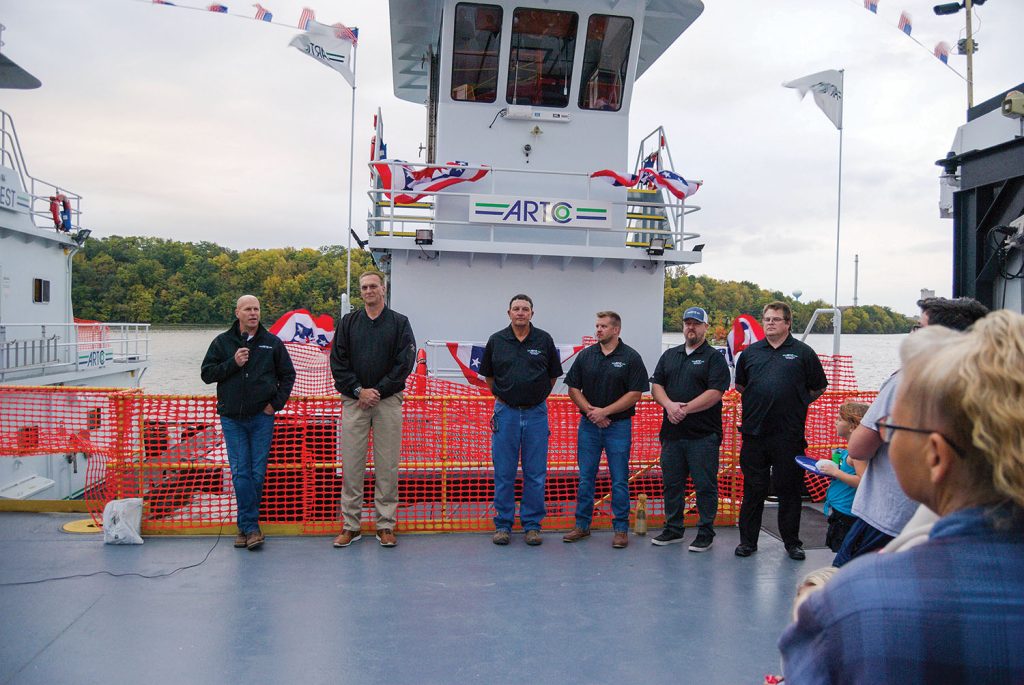 Those providing remarks during the ceremony included Paul Wujek, vice president of transportation; Chris Boerm, president of transportation; Burlingame; Lonergan; and Capts. Benjamin Gracey and Jeremy Crandall.
Wujek and Boerm also shared stories from working with Burlingame over the years.
Burlingame broke a bottle over the new vessel's railing to conclude the ceremony.
Boat Specifications
The Chuck B is from Entech Designs and used all internal ARTCo labor. 
It is  58 by 26 by 8 feet and has a 6-1/2- foot draft. 
The Chuck B is powered by two 470 hp. Caterpillar C18 main engines from Fabick CAT, which turn four-blade, 54- by 44-inch propellers through Twin Disc MG5222DC reduction gears at a 5.04:1 ratio. Shafts are 6 inches, and it has Johnson Stuffing Box seals.
It features a John Deere 4045 65 kW Marathon generator from MSI and a Mitsubishi split system for heat and air conditioning as well as Kidde FX-5 fire safety equipment and Murphy Alarms engine alarms. Electronics and communications equipment were all installed by Wheelhouse Electronics.
The vessel has tankage for 7,000 gallons of fuel, 1,300 gallons of potable water and 135 gallons of lube oil. Wastewater treatment is from the Scienco/FAST L1X 3030.
An electric over hydraulic steering system installed by Eagle Control Systems turns the rudders. Deck equipment includes 30-ton Patterson winches.
Eagle Construction of Harvey, La., provided floor coatings, and paint is from Sherwin Williams. Fendering is by Schuyler.
Caption for top photo: The Chuck B is the newest vessel from American River Transportation Company (ARTCo), a wholly-owned subsidiary of ADM. The twin-screw boat was built in-house at ARTCo's shipyard in New Orleans, La., using a design from Entech Designs. (Photo courtesy of ARTCo)