The last of more than 11,000 knitted and crocheted hats and scarves will be packed up with hand-made Christmas cards within the next week as part of the "Christmas on the River" portion of Seamen's Church Institute's annual Christmas at Sea event.
Within the past five years, the number of handmade knitted and crocheted items has more than doubled, said Joanne Bartosik, who oversees the program for SCI.
The boxes will be shipped to towboat companies and sent along during crew changes so that they will arrive in time for those spending Christmas working on the river system.
Bartosik praised volunteers who have spent hours taping, labeling and stuffing the boxes. Those included 60 students and faculty at San Jacinto Maritime Academy in La Porte, Texas, who packed 4,300 knits and crochets in one day before 16 pizzas arrived.
Sign up for Waterway Journal's weekly newsletter.
Our weekly newsletter delivers the latest inland marine news straight to your inbox including breaking news, our exclusive columns and much more.
Bartosik sent 9,000 hats and scarves to Paducah, Ky.; Houston, Texas; Gallipolis, Ohio; Vicksburg, Miss.; Cincinnati, Ohio; and Daphne, Ala., for packing. 
She had already sent 2,911 to the Rev. Tom Rhoades, senior river chaplain, to pack for crews in south Louisiana. People from three churches and one company used an assembly-line process at Ingleside United Methodist Church in Baton Rouge to pack them all in four hours, he said.
"We had people taping the bottom of the boxes and people putting on stickers for the number of knits in that boxes and the companies they go to, and then we had people putting in the knits and the cards," he said.
Rhodes said that the 750 cards in the boxes were just as important as the knitted and crocheted gifts. Many of them are made by children.
"They're very endearing to Dads on the vessels, and to Grandpas," he said.
Still A Need For More
While the ministry is reaching more mariners than ever, Rhoades said there is still a need for more.
"We need to keep growing," he said. "Even though we've doubled it, we still need about 30 percent more to get everybody. We have one company that could use 2,400."
The boxes are much more important than spreading Christmas cheer, he said.
"It's a really important ministry," Rhoades said. "It not only impacts them because they're away from home and lonely and isolated and you miss the big holidays, but they're very tangible, so whenever I get on a boat and say that I'm from Seamen's Church, they say, 'Oh, you're the one who brings us knits,'" he said.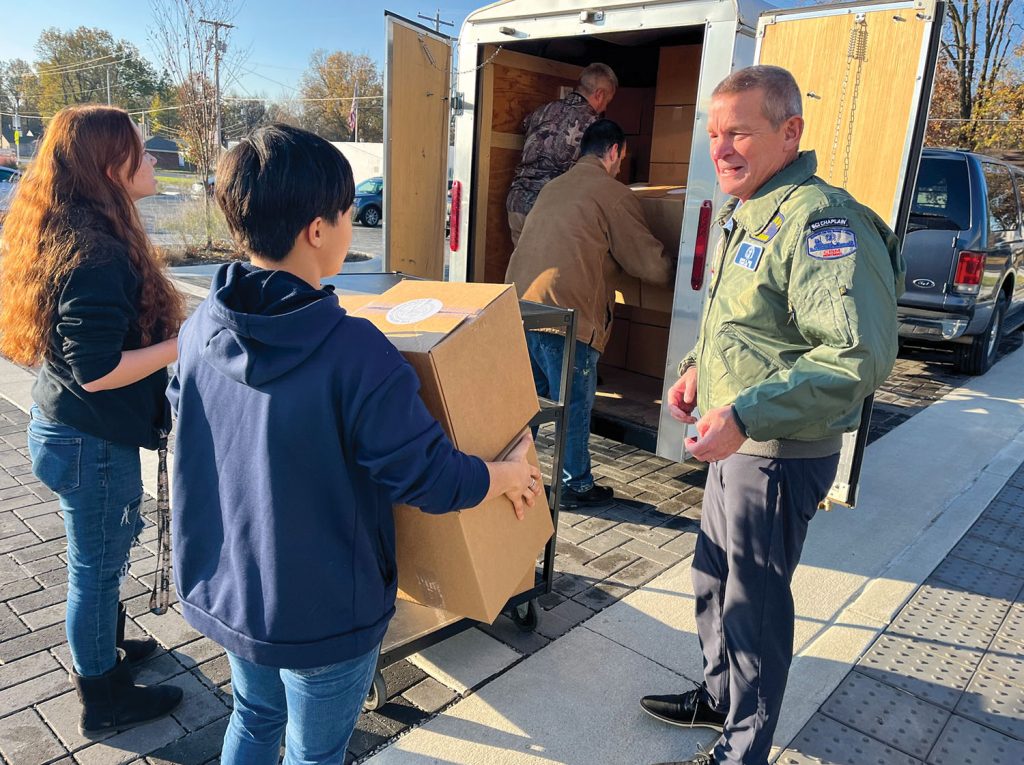 The gifts provide a connection between SCI and the mariners that sometimes opens the way for chaplains to provide services and offer help where needed.
"The knits are like knocking on the door," he said.
Additionally, he said, the card-making program spreads awareness of the maritime industry to the children who make them, from Sunday school classes to scouts to schoolchildren.
In Paducah, students from Paducah Tilghman High School's Navy Junior Reserve Officer Training Corps (NJROTC) packed just under 400 boxes over four days, said the Rev. David Shirk, another SCI river chaplain.
"They had a really great attitude," he said. "They were just knocking it out. Some were working on Christmas cards. Some were doing the boxes."
The river portion of Christmas at Sea has now grown so large that it exceeds the number of knitted and crocheted items sent out to blue-water mariners at the Port of Newark in New Jersey, Bartosik said.
"That number has more than doubled in the five years I've been with the program," she said. "That shows SCI's commitment to the mariners and the generosity of more than 1,000 volunteers."
Those volunteers come from all 50 states, Washington, D.C., Canada and Europe. Many of them have a connection to the maritime industry, often through a brother, father or grandfather. Others knit or crochet as part of faith-based ministries.
"A lot of people tell me their grandchildren don't want any more hats or scarves, and they're just delighted that we are good stewards of their gifts, that they go where they are intended to go," Bartosik said.
The boxes, along with the ditty bags that go to blue-water mariners, carry so much more than gifts and cards, she said. They also serve as a message.
"We want to say thank you for all they do to make our modern way of life possible," she said.
Year-Round Effort
While hats and scarves will soon be on their way to mariners for this Christmas, Bartosik said Christmas at Sea has become big enough it is now a year-round effort.
"We work 12 months out of the year," she said. "I will start 2023 on January 2, and we accept donations all year long."
Knitters and crocheters can find information and free downloadable patterns for hats and scarves that meet mariners' unique needs at https://seamenschurch.org/programs-services/christmas-at-sea/. Those who are not as handy with yarn can still help, too. Bartosik said SCI is in need for children to make Christmas cards for mariners. 
"We get a significant amount, but not enough for everyone," she said.
She urged teachers, scoutmasters and others who work with youth and who are interested in helping to visit the website and find out more, adding, "When they get these Christmas cards in the boxes, how can it not put a smile on your face?"