New Orleans-based Harbor Towing & Fleeting (HTF), which has been providing barge fleeting and tripping services in the Crescent City for the past 52 years, held a christening ceremony at the company's Star Fleet below Algiers Point November 11 for the mv. Jimmy Baer.
The boat honors Jimmy Baer Jr., longtime HTF port captain, whose family has been part of the Harbor Towing story since the company's founding.
"He's been with this company over 40 years," said HTF CEO Todd Clower. "His father worked with my grandfather, so Jimmy's been with this company his whole life. He knows everything there is to know about this part of the river, because he's lived it."
Gerald D. Clower, Todd Clower's grandfather, formed the company in January 1970, and it was with that Clower that Baer's father worked from the start. Gerald E. "Jerry" Clower—Todd Clower's father, who now serves as president of HTF—joined the company in 1983. Todd Clower, who owns the company with his father, has been with the company since 2009.
Todd Clower praised Baer for both his breadth of knowledge and experience and his eagerness to pass that knowledge on to the next generation of industry leaders.
"He's taught me all my boots-on-the-ground operational knowledge," Clower said. "Everybody on the river knows him."
About 125 friends, family and colleagues attended the christening for the mv. Jimmy Baer. Standing alongside Baer were his wife, Cindy, and their daughter, Emily. Clower said it was a family affair for him as well, with the November 11 christening coinciding with his dad's 79th birthday. Clower's brother-in-law, Chase McGarry, was on hand, as well. McGarry, an assistant port captain who has been learning under Baer, joined the HTF team just in time to be involved with the refit of the mv. Jimmy Baer.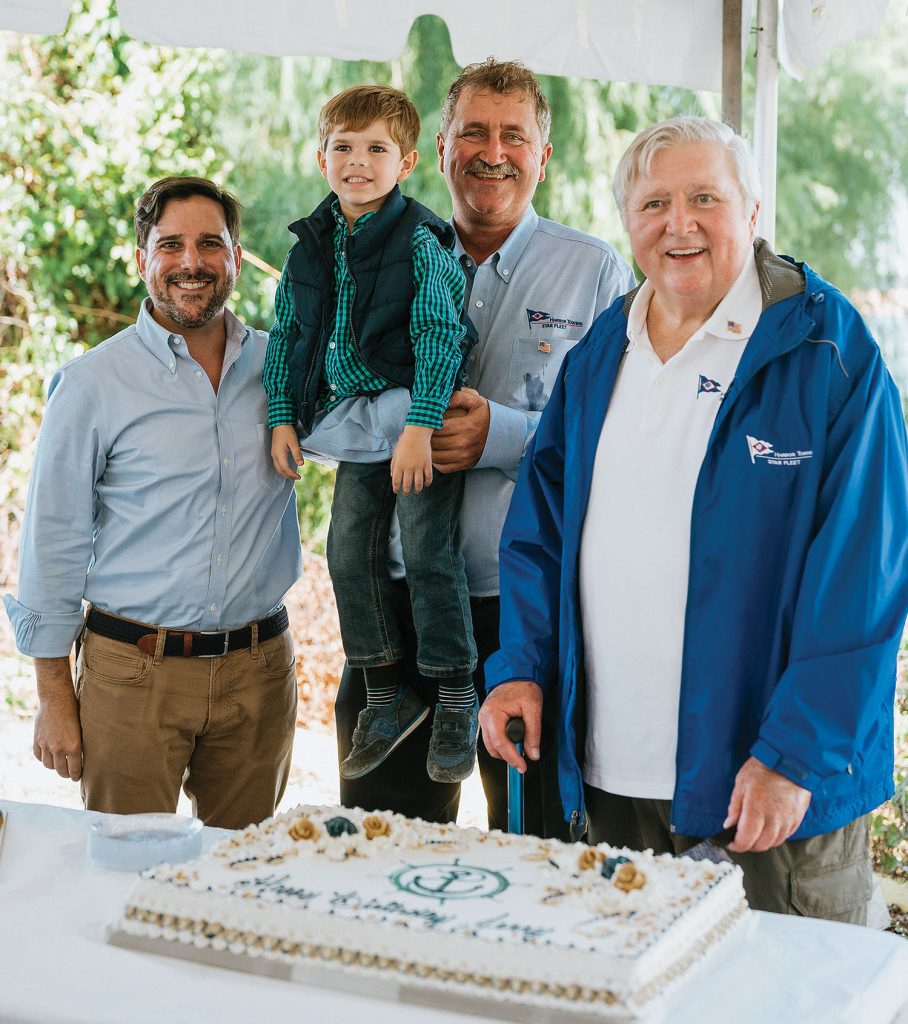 During the christening, Clower also honored another longtime member of the HTF family, Capt. Calvin Lemoine, with a commemorative ship's bell for his 32 years of service. Lemoine, who is captain aboard the mv. Pamela Ann, is retiring in December.
Clower said honoring Baer and Lemoine, celebrating his dad's birthday, being there with his family and having his son, George, be a part of the christening made the entire event especially memorable.
"It was all about family," he said.
HTF bought the mv. Jimmy Baer from Albert Daigle of Daigle Towing Service LLC earlier this year. Formerly named the mv. Brayden Ray (and originally called the Miss Marianne), the vessel was built in 1992 and measures 72 feet by 26 feet. The mv. Jimmy Baer's Caterpillar C32 main engines, paired with Twin Disc reduction gears, produce 2,000 hp., making it the highest-horsepower vessel in HTF's fleet. Harbor Towing's other active towboats include the mvs. Silver Fox, the Pamela Ann and the Wendy C. A fifth HTF vessel, the mv. Todd G, is currently laid up.
Clower said bringing the mv. Jimmy Baer into the fleet is part of a long-term effort to enhance HTF's New Orleans harbor presence.
"We've been systematically upgrading equipment in the fleet," Clower said. "We're always upgrading equipment to make sure we're exceeding the expectations of our customers and the oil majors."
FMT Shipyard on the Harvey Canal in New Orleans did the refurb work on the mv. Jimmy Baer. Work included adding a head on the first deck, relocating the laundry room, refreshing the galley, applying a new coat of paint and reworking the electrical system aboard the vessel.  
Baer said, while he knew of and was involved in the refurbishment of the new vessel since its purchase last spring, he only recently learned it would bear his name. Baer said Clower invited the HTF staff to lunch one Friday a few months ago and, to his surprise, presented him with a wrapped gift. The gift turned out to be a wooden nameplate with "JIMMY BAER" in bright white lettering.
"I had tears in my eyes and all," Baer said. "It means so much to me."
Baer said he got his start at Harbor Towing well before he finished high school.
"I came when I was 15 to work part time in the evening after school," Baer said. "Two years later, at 17, I came on full time."
Baer started out painting and doing odd jobs, like cutting the grass. It wasn't long, though, before he was dispatching on the weekends. During his senior year, school was only a half day, so from even before graduation, Baer was working full time.
"I say I do anything besides sign checks now," said Baer, who added that he even decks when needed. "Anything to keep the boats working."
Besides his family, Baer said he was thankful to share the occasion with retired captains, vendors, friends and neighbors. He said the excitement of seeing his name on the mv. Jimmy Baer still hasn't worn off.
"Todd could have named it after so many people, but he named it after me," Baer said. "It's such an honor."
For more photos from the christening, click on the slideshow below:
From left, Roy Cathcart, Trinity Bonvillian, Jimmy Baer, Capt. Rex Dusang, Capt. Kenny Roussell, Capt. Teddy Hatheway, Corey Clement, Todd Clower and Debbie Wills. (Photo by Katie Sikora, courtesy of Harbor Towing & Fleeting)