Busy during the holidays? Here are some good quick recipes to keep everyone happy and smiling! The parmesan chicken recipe really is quick and easy. All you are really doing is pan-frying chicken, adding pasta sauce and topping with mozzarella cheese. Pretty easy.
Tasty Parmesan Chicken (top photo)
Ingredients:
6 boneless, skinless chicken breasts
2 Tablespoons salt (for soaking chicken)
1 cup buttermilk 
1/2 teaspoon cayenne pepper
1 teaspoon garlic powder 
1 teaspoon salt (for coating)
1 cup flour
1 cup parmesan cheese
1 cup Zatarain's seasoned fish fry or other
1 Tablespoon garlic powder
1/2 cup olive oil
1/4 stick butter
20 ounces canned pasta sauce
1 cup mozzarella cheese
Parsley for garnishing
Directions:
 Place chicken in bowl with water. Add salt, cover and put in the refrigerator. Let soak at least four hours or overnight. This will help to keep your chicken moist while frying. 
 When chicken is done soaking in water, dump water out. Add buttermilk, cayenne, one teaspoon garlic powder and salt to bowl with chicken. Stir gently until chicken is coated. 
 Preheat oven to 350 degrees. In another bowl or pan for dredging, mix, flour, parmesan cheese, fish fry and 1 tablespoon garlic powder. Shake excess buttermilk off chicken and dredge in parmesan/flour mixture.
 Prepare electric skillet with oil and butter and bring to medium high heat. Place chicken in fry pan until cooked through. Check temperature until it reaches 165 degrees or chicken is completely white inside. Time varies depending on thickness of chicken.
 Meanwhile, heat pasta sauce in pan or microwave. Pour pasta sauce in a 9×13 pan. Place fried chicken in pan on top of pasta sauce. Sprinkle with mozzarella cheese. Add parsley for garnishing. Put pan with chicken in oven for 10 to 15 minutes until cheese melts. 
Shredded Chicken And Cheese Sandwich
Shredded chicken is great to have on hand if you need a quick lunch or an extra side dish.
Ingredients:
6 boneless, skinless chicken breasts
1 packet dry ranch seasoning mix
1 teaspoon garlic powder
1 8-ounce cream cheese
1/2 can cream of chicken soup
2 green onions, chopped
pepper to taste
8 buns, or bread of your choice
2 cups fresh spinach
8 slices bacon, cooked
2 cups shredded cheddar cheese
Directions:
 Add chicken to the bottom of a slow cooker Sprinkle with dry ranch seasoning and garlic powder. Top with cream cheese and soup. Add chopped green onion and pepper. Cover and cook on high for four hours. Turn off crock pot. While chicken is still in crockpot, use two forks to shred and mix up. Place a large scoop of shredded chicken on bun, top with spinach, bacon and shredded cheddar. Makes 8 sandwiches.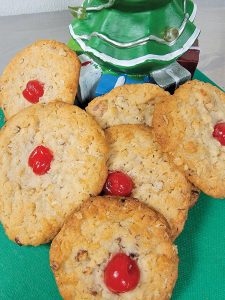 Loaded Sugar Cookies
A good cookie is always great to have after a good sandwich!
Ingredients:
2 sticks soft butter
1 cup granulated sugar
1 cup brown sugar
1 tablespoon peanut butter
1/2 cup vegetable oil
1 teaspoon vegetable oil 
1 egg
1 teaspoon vanilla
2 cups flour
1 teaspoon baking soda
3/4 cup oats 
1 cup lightly crushed cornflakes
1/2 cup coconut
1/2 cup chopped pecans.
Topping:
1 jar maraschino cherries
Directions:
Cream butter and sugars with a mixer. Add peanut butter, oils, egg and vanilla. Mix well. 
 In a separate bowl mix flour and baking soda. Add to butter mixture and combine. Combine rest of ingredients and fold into cookie mix. 
 Measure wax paper or parchment paper approximately 18 inches long. Place cookie dough on paper and roll into a log. Refrigerate two hours. 
 Preheat oven to 350 degrees. Line a cookie pan with parchment paper. Remove dough from refrigerator and slice cookies 1/4-inch thick. Make a small indent in center of cookie. Place maraschino cherry in center of cookie. Bake 10 minutes. Makes about 3 dozen.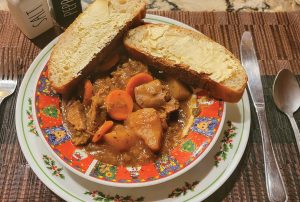 Dump And Go Beef Stew
During the holidays there never seems to be enough time, and you still need to put up a meal! This stew is comfort food, especially when it is cold outside. For the meat you may purchase already cut up stew meat or cut up a sirloin roast. Serve with some nice dinner rolls. To make this more like comfort food, purchase frozen bread dough and bake. Nothing is better than the smell of homemade bread.
Ingredients:
2 lbs. beef stew meat 
1 package beef stew seasoning mix
1 package brown gravy mix
1 12 oz. bag California blend frozen vegetables
2 large potatoes, cut in large cubes and rinsed
1-1/2 cups beef broth
Directions:
For easy clean up use a slow cooker liner. If you don't have one, just spray slow cooker with cooking spray. This is the best part. Just add all your ingredients to the slow cooker, give it a light stir and cook on high for four hours or low for six to eight hours. Serve with a dinner roll or homemade bread.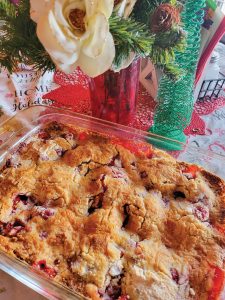 Easy Cherry Cinnamon Rolls
I just made this the other day for company, and everyone thought it was amazing and took a lot of time. For the cinnamon rolls, you can purchase cheap premade cinnamon rolls or two cans of cinnamon rolls. Any canned pie filling will work.
Ingredients:
2 cans cinnamon rolls
1 can cherry pie filling
1/2 box yellow or white cake mix
1 stick of butter
Directions:
Bake your cinnamon rolls in a glass 9×13 pan. I like baking in a glass pan for easy clean-up. (If you use premade cinnamon rolls, cut them up into large chunks and place in 9×13 pan.) Add entire can of pie filling on top of cinnamon rolls. Spread the half-box of cake mix on top of the pie filling. Cut your butter up into pats and evenly distribute the butter on top of cake mix. Bake at 350 degrees for 35 minutes. Cool.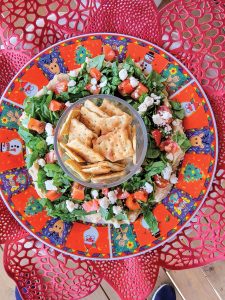 Hummus Wreath Appetizer
This is another pretty company appetizer and easy to put together.
Ingredients:
1 17-ounce container hummus of your choice
1 cup chopped fresh spinach
5 cherry tomatoes, halved
1/2 cup feta cheese
Whole-grain crackers for dipping
Directions:
Place a small bowl in the center of a round platter. Use a spoon or spatula to spread the hummus in a circle like a wreath all around the small bowl. Sprinkle your chopped spinach on top of the hummus wreath. Place halved cherry tomatoes, cut-side down, randomly throughout the spinach/hummus wreath. Sprinkle wreath with a light dusting of crumble feta to look like snow.
Mary Ann Kuper is a cook on the ACBL towboat Harold Dodd.