Our company, American Commercial Barge Line, continually employs better ways to manage everyday tasks, such as being safe on tow or in the galley and smarter ways to handle emergencies. The job of a deckhand is to work as efficiently as possible to accomplish all routine tow work as well as ensuring that safety requirements are being met. Working smarter is safer. Be smart and use the buddy system when carrying pumps, sounders, and other heavy items. Always be smart and help others. As I'm writing this, I can hear my mother saying "Many hands make easy work."
The internet makes my job in the galley easier. I find many recipes on the internet and tweak them to make them my own. Sometimes, however, I find copycat recipes for foods I have had at restaurants that are good. Red Lobster has great biscuits! I always use copycat recipes of KFC's fried chicken and Cracker Barrel's sweet potato casserole. I have listed these recipes.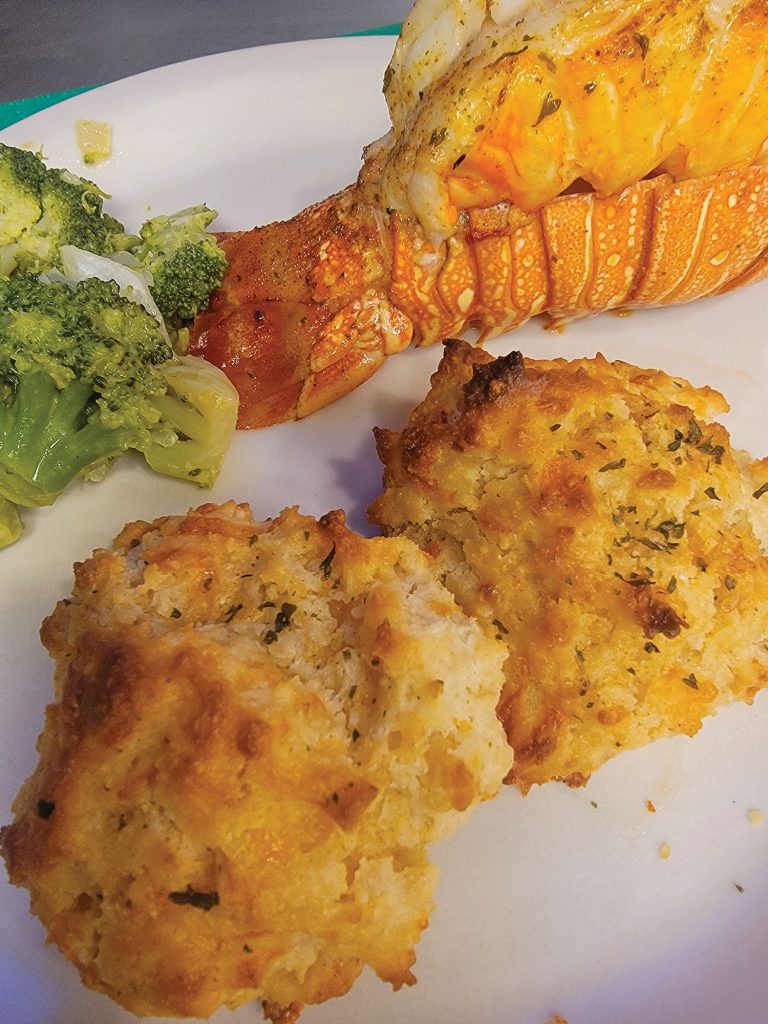 Copycat Red Lobster Biscuits
https://therecipecritic.com/red-lobster-cheddar-bay-biscuits/
These turned out great, just like Red Lobster's!
Ingredients:
2 cups all-purpose flour
1 Tablespoon sugar
1 Tablespoon baking powder
2 teaspoons garlic powder
3/4 teaspoon salt
1 cup buttermilk
1/2 cup melted butter
2 cups shredded cheddar cheese
Garlic Butter Topping:
3 tablespoons melted butter
1/2 teaspoon garlic powder
1 teaspoon parsley flakes
Directions:
Preheat oven to 450 degrees. Line a baking sheet with parchment paper, and set it aside.
In a large mixing bowl, combine flour, sugar, baking powder, garlic powder and salt. Whisk together the melted butter and buttermilk. Combine with the dry ingredients until incorporated. It will make a thick dough. Fold in the cheddar cheese.
Measure out each biscuit in a 1/4-cup measuring cup, and spoon the dough out onto the baking sheet.
Bake for 10-12 minutes until golden brown. Combine garlic butter topping ingredients and brush onto each biscuit. Makes 11 biscuits.
Copycat KFC Fried Chicken (Photo at top of page)
https://copykat.com/kfc-fried-chicken/#recipe
There are so many versions of the copycat KFC fried chicken recipe. The one thing that is in common with these recipes is all the seasonings they put in the flour. But the real recipe is kept in Colonel Sanders' secret vault. However, I have discovered KFC uses a pressure cooker to fry their chicken. I use my pressure cooker for a lot of recipes, but I have never deep fried in it. I assume KFC has an enormous fryer.  The recipe listed here uses a regular deep fryer like the kind you would use at home.
Ingredients
1 whole, cut up chicken
2 cups all-purpose flour
1 Tablespoon salt
1/2 Tablespoon ground thyme
1/2 Tablespoon basil
1/2 Tablespoon oregano
1 Tablespoon celery salt
1 Tablespoon black pepper
1 Tablespoon dry mustard powder
4 Tablespoons paprika
2 Tablespoons garlic salt
1 cup buttermilk
1 egg, beaten
Vegetable oil for frying
Directions:
Rinse chicken and pat dry.
Mix the flour and all the seasonings.
In a large bowl, add buttermilk and beaten egg. Whisk to combine.
Add chicken pieces to the buttermilk mixture.
Soak chicken in mixture for 30 minutes.
Heat oil to 350 degrees.
Place a wire rack on top of a baking sheet.
Remove chicken from the buttermilk and shake off excess.
Place each piece of chicken into the flour mixture.
Coat the chicken fully and shake off excess flour.
Place coated chicken on the wire rack.
Cook 2-3 pieces of chicken at a time for about 15-18 minutes.
Drain the fried chicken on a paper towel or clean wire rack.
Place in warm oven until all pieces are cooked.
Author's note: When I cook chicken, I fry until golden brown. If the temperature gauge does not read 165 degrees, I finish cooking chicken in oven, uncovered until 165 degrees.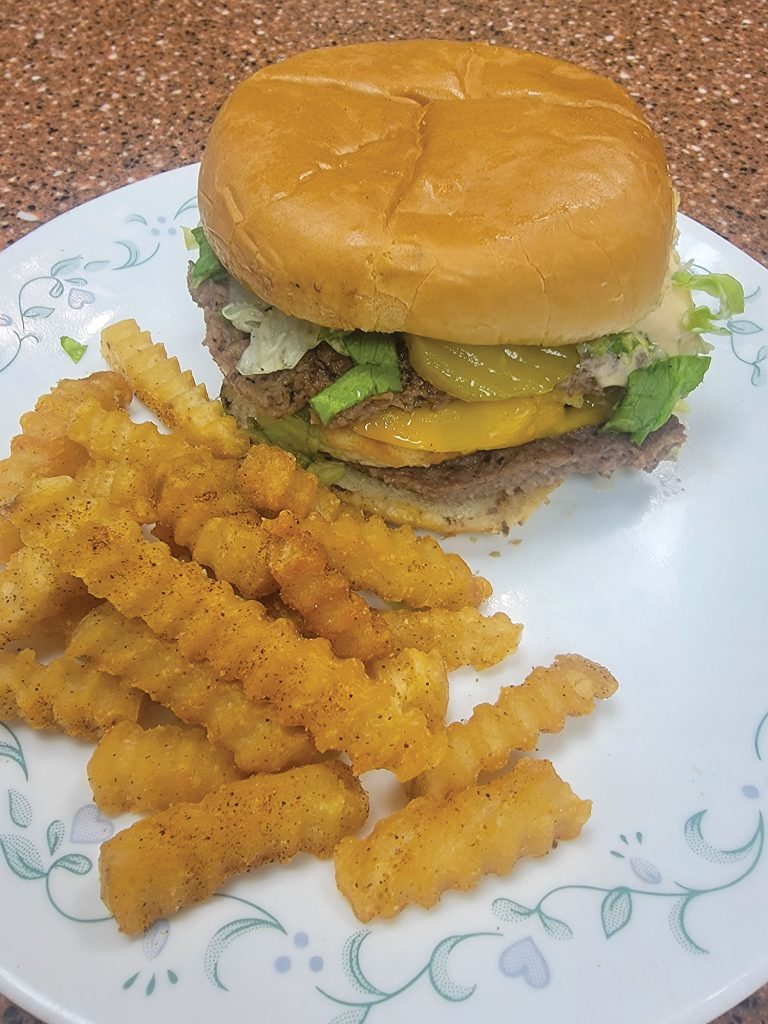 Copycat McDonald's Big Mac
https://topsecretrecipes.com/mcdonalds-big-mac-copycat-recipe.html
Ingredients:
Special Sauce:
3/4 cup mayonnaise
4 tablespoons French dressing
2 tablespoons sweet pickle relish
2 tablespoons finely minced onion
2 teaspoons granulated sugar
2 teaspoons white vinegar
1/4 teaspoon salt
Burger:
3 sesame seed hamburger buns
1/2 pound ground beef
Salt and pepper
2 teaspoons finely diced onion
2 slices American Cheese
4 dill pickle ovals
Directions:
1. To make your special sauce, combine all the ingredients in a small bowl. Stir well.
2. Place the sauce in a covered container and refrigerate for several hours, or overnight, so that the flavors blend. Stir the sauce a couple of times as it chills.
3. When you're ready to build your burger, use the third bun as the middle slice for each burger. You may want to use a serrated knife to cut off a small portion of the top of the third bun.
4. Place the six buns on a hot pan or griddle, face down, and toast them to a light brown. Set aside.
5. Divide the ground beef into fourths and press into four thin patties.
6. Cook the patties in the hot pan over medium heat for 1 to 2 minutes on each side. Salt and pepper lightly.
When I prepare this on the boat, I make more than two burgers. Instead of frying my hamburger patties, I press the hamburger flat and thin on a baking sheet. Sprinkle with salt and pepper. Bake 350 degrees for 20 minutes. Cut cooked hamburger with a pizza cutter into however many patties you need. Proceed to step seven.
7. Divide the ingredients for each burger and build the burgers in the following stacking order from the bottom up: bottom bun, special sauce, onion, lettuce, American cheese, beef patty. Middle bun, special sauce, onion, lettuce, beef, pickles, top bun.  Makes two hamburgers.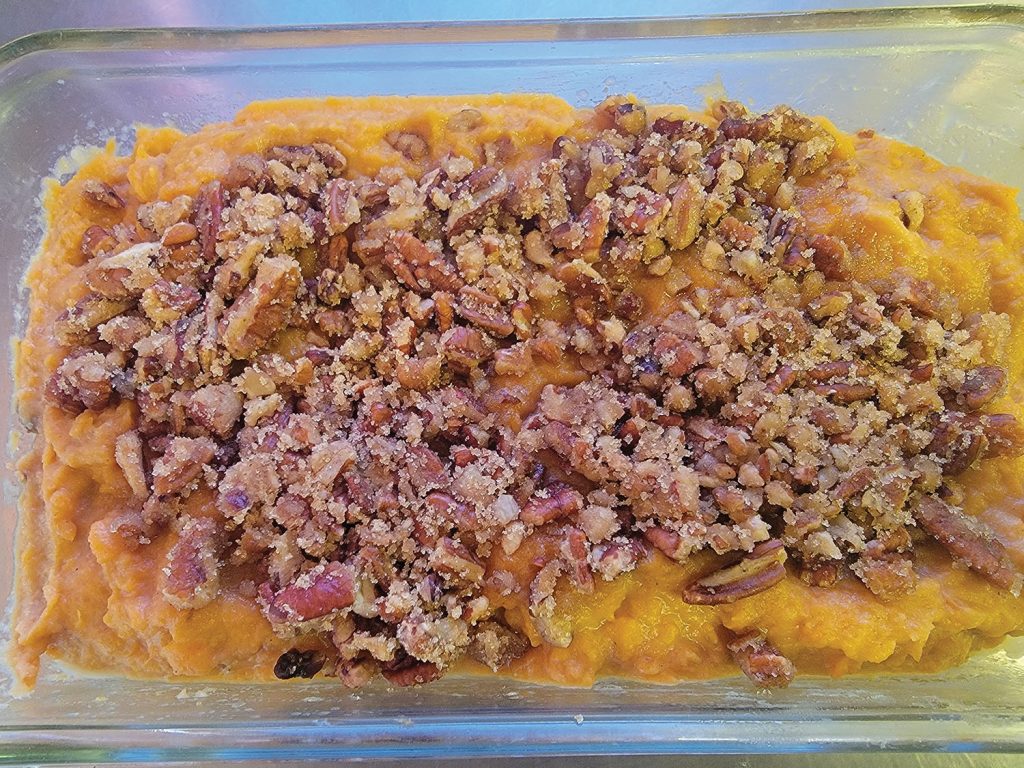 Copycat Cracker Barrel Sweet Potato Casserole
www.eatingonadime.com/cracker-barrel-sweet-potato-casserole-recipe
Ingredients:
4 large sweet potatoes, washed and cleaned, or two 20-ounce cans of sweet potatoes
1/2 cup granulated white sugar
1/4 cup packed brown sugar
2 eggs
1/2 teaspoon cinnamon
1/4 teaspoon nutmeg
1/2 teaspoon salt
1/2 cup milk
1 teaspoon vanilla extract
4 Tablespoons butter, softened
For the topping:
1/4 cup brown sugar
1/4 cup pecans
3 Tablespoons melted butter
Directions:
1. Peel and wash your sweet potatoes first before making the sweet potato casserole. Cut them into small pieces. Place your sweet potatoes in a medium pot with water and cook over medium heat until tender. Drain and mash in a blender. If using canned sweet potatoes; just drain and mash them in a blender.
2. Preheat the oven to 350 degrees.
3. Add the white sugar, brown sugar, eggs, cinnamon, nutmeg, salt, milk, vanilla extract and softened butter to the sweet potatoes. Beat on low speed until well combined.
4. Pour into a greased casserole dish.
For the topping:
5. Mix 3 tablespoons butter and 1/4 cup brown sugar to a small bowl.
6. Add pecans to brown sugar mixture, and pour on top of the casserole.
7. Put it in the oven and bake for about 30 minutes.