When the mv. Charles Reid Perry first went to work for Marquette Transportation Company in 2019, the towboat's namesake was just a toddler. Perry is the grandson of John Eckstein, Marquette Transportation's executive chairman, and the son of Alix Eckstein Perry and Austin Perry.
But on January 21, when the mv. Charles Reid Perry was christened in New Orleans, Perry was taking it all in, exploring his namesake vessel all the way from the wheelhouse down to its skiff on the aft deck.
Perry, remarkably, marks the fifth generation of the Eckstein family to have a Marquette Transportation vessel bear his name. His great grandfather, the late Ray Eckstein, started the company in 1978, and his great uncle, the late Randy Eckstein, founded Eckstein Marine Service the same year. Eckstein Marine later became part of Marquette Transportation as Marquette's Gulf-Inland unit.
Since C&C Marine & Repair in Belle Chasse, La., delivered the 6,600 hp., triple Z-drive vessel to Marquette in 2019, the vessel has been hard at work as part of Marquette's River fleet. In greeting the crowd gathered for the christening, Marquette CEO Damon Judd praised Capt. Kevin Jackson, Relief Capt. Nathan Kraft and the crew of the Charles Reid Perry for making the boat look as crisp and clean as its first day building tow.
"This is a work boat, y'all," Judd said, "and it looks like a showpiece."
Josh Esper, executive vice president of engineering and procurement for Marquette, put into perspective what four years on the job really looks like.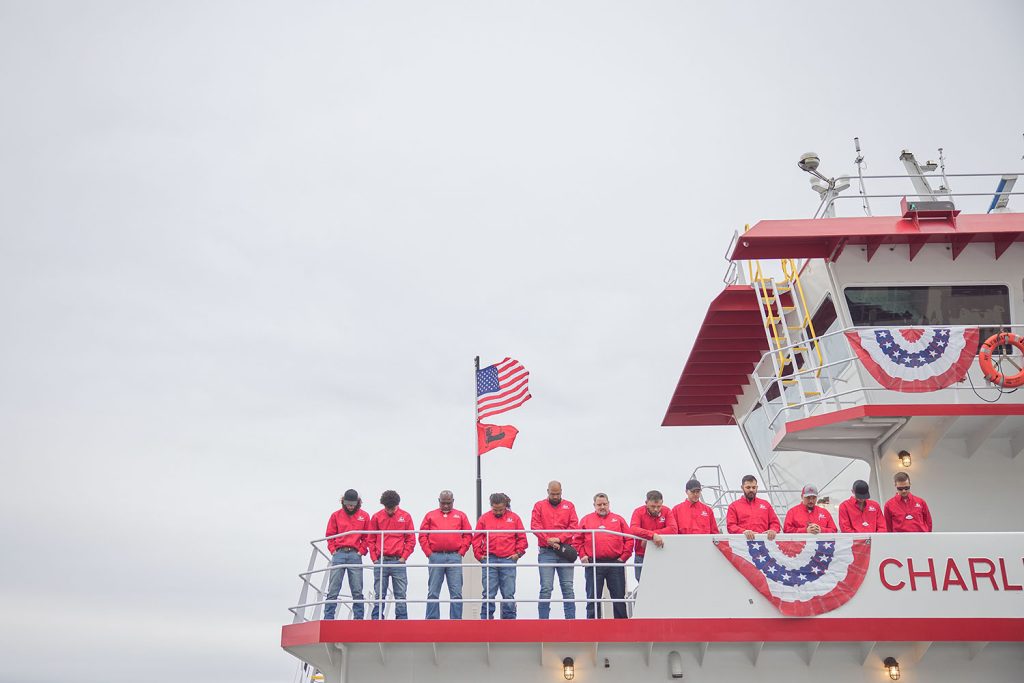 "It's pretty amazing that a boat that's been out operating for four years, has burned roughly 5 million gallons of fuel, has produced 3 billion ton miles, looks like it came out of the shipyard two weeks ago," Esper said. "I just want to give applause to the crew and Capt. Kevin Jackson."
The mv. Charles Reid Perry, part of a five-boat series C&C Marine & Repair built for Marquette between 2018 and early 2020, measures 160 by 50 feet and has a moulded depth of 11.5 feet. Designed by Portland, Maine-based CT Marine, the vessel features three Cummins QSK60-M main engines from Cummins Mid-South. Those engines drive a trio of azimuthing Z-drive thrusters from Karl Senner LLC.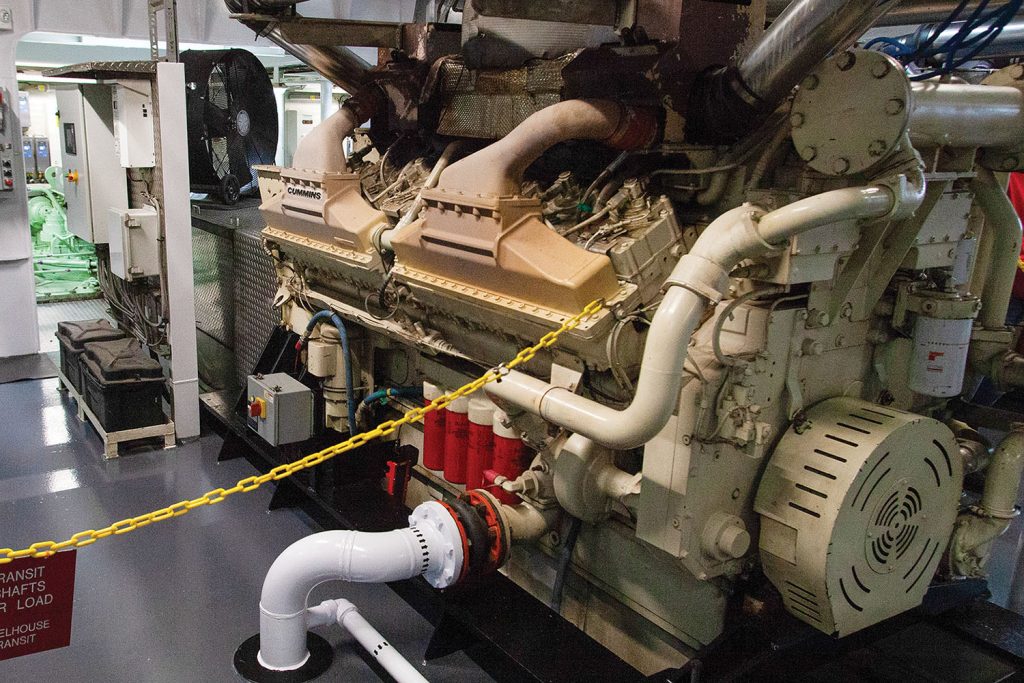 Esper said, with that combination of horsepower and z-drive thrusters, the Charles Reid Perry and the other boats in the series perform well above their horsepower. He also praised the efficiency with which C&C built the series, specifically thanking C&C owner Tony Cibilich, who was in the audience for the christening.
"I think these boats came out in 10-month increments, which is highly impressive," Esper said. "I mean, a boat like this can take upwards of two years to build, so congratulations, Tony."
Esper also singled out Karl Senner and CT Marine for the roles they played in the build program, along with Jerry Jarrett, senior vice president of engineering for Marquette, who spearheaded the project.
Eckstein said the timing of the Charles Reid Perry's christening reminded him a lot about another Marquette christening from a while ago.
"It's almost 30 years to this day," Eckstein said, "I stood here and christened the mv. Alix Ann Eckstein, named after my first child, Alix, who was two years old at the time. It's just really hard to believe it was that long ago. It feels like yesterday."
Eckstein recalled how 1993, the year the Alix Ann Eckstein was christened, was an extremely challenging year for Marquette and the river industry as a whole.
"All of a sudden, the flood of '93 hit, and it was like a gut punch," Eckstein said. "Literally, the entire system, the Upper Mississippi River shut down for a hundred out of 105 days, trashed the crop and everything was bad, but this boat came up for auction. I was like, man if I can get my hands on that thing, that would be something."
Eckstein traveled to New Orleans for the auction and won the auction on a Friday.
"The following Saturday, we had a christening right here for that boat," Eckstein said. "I'll never forget my brother Randy, God bless him, was there that night and at the auction. He said, 'The reason that Marquette got that boat was because everybody else brought their lawyers and my brother, John, brought his bankers.'"
About five years later, Eckstein said, was the christening for his namesake, the John Paul Eckstein. That christening occurred only a short time before Eckstein and his wife, Loree, got married.
"So this is pretty special to me," Eckstein said of the mv. Charles Reid Perry christening and the New Orleans riverfront. "It's a pretty special spot for our family for, over the years, the number of times we've done this."
Regarding the series from C&C Marine & Repair, Eckstein said leaders at Marquette had debated building Z-drive boats for years. The Marquette team knew it would be a risk, he said.
"But we did it," Eckstein said. "We built it. They came out. The performance, as Josh said, is better than expected."
Eckstein commended the vendors who worked on the project, namely C&C, CT Marine and Karl Senner, who partnered together to find solutions on shaft-design dynamics for the vessels.
"Today, the boats operate phenomenally," Eckstein said. "This series of boats is as good as there is in the entire river system, bar none. I couldn't be more excited about that."
Equally as exciting, Eckstein said, are the possibilities for the future of both Marquette Transportation and his family.
"There are photos of me when I'm Reid's age at a boat christening, and I'm hoping that, 50 years from now, he's maybe standing here and there are photos of his kids and grandkids."
Following a blessing for the boat and its crew and the presentation of the Bible and flags, the Eckstein and Perry families climbed aboard the mv. Charles Reid Perry, with Alix Eckstein Perry breaking a bottle of champagne over the rail just above the vessel's starboard nameplate.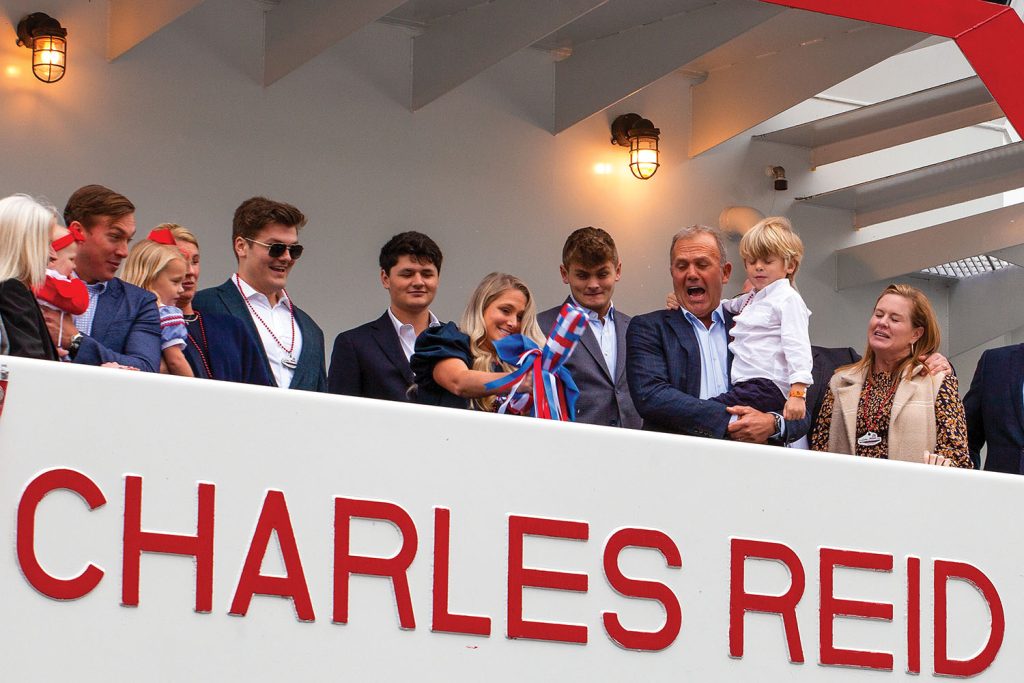 More About The Mv. Charles Reid Perry
The Charles Reid Perry has accommodations for a crew of 13. The main house is built on a bed of springs to minimize vibrations and improve living conditions for the crew. The vessel also features a soft-core joiner system in crew spaces by Marine Interior Systems. The soft-core joiner system, made up of modular, non-progressive panels of mineral wool sandwiched between galvanized steel sheets and with a thin PVC veneer, is non-combustible and reduces noise.
Kraft, the vessel's relief captain, said the vessel is so smooth that he has to visually check the gear readout "because with the springs you can't tell when you're in neutral."
The Charles Reid Perry is equipped with Cummins QSM-11 generators, engine alarms from Versatech and a fire suppression system from Herbert Hiller. Keel coolers are from Fernstrum.
On deck, the Charles Reid Perry features a capstan and six 60-ton deck winches by Wintech. Laborde Products supplied the sanitation system aboard the vessel, and Wheelhouse Electronics provided the Charles Reid Perry's electronics package.
Caption for top photo: The mv. Charles Reid Perry is part of a five-boat series of triple-Z-drive towboats built for Marquette Transportation by C&C Marine & Repair. (Photo Copyright © Brad Rankin Studios)
For more pictures, click on the slideshow below:
The crew of the mv. Charles Reid Perry stands alongside the Eckstein family and Marquette leaders following the vessel's January 21 christening in New Orleans. (Photo by Frank McCormack)