When you are on the boat, sometimes just a good ole pizza is enjoyable to eat. As a barge line cook I am unable to order pizza, so I have to prepare pizza. I will be honest. There have been times I have cheated and purchased a frozen pizza. But if I purchase a frozen pizza, I always have to doctor it up.
There are several home-made pizzas that are pretty good and easy to make. Some of my favorites are the French bread pizza, crescent roll breakfast pizza and canned biscuit dough pizza. Pillsbury's box mix of hot rolls has a great pizza dough on the back of their box. The Pillsbury's box mix is a yeast dough. With this dough you can make many different types of pizza such as: The New York Style thin crust pizza, spinach and artichoke pizza with alfredo sauce, taco pizza, vegetable. pizza, pineapple and ham pizza and even a pulled pork pizza.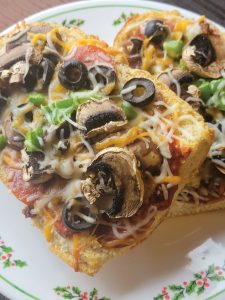 French Bread Pizza
The men on my boat just love this one. It is so easy. Serve with a salad. Double or triple this recipe according to however many people you are feeding.
Ingredients:
1 loaf French bread
Butter or margarine for spreading on bread
Garlic powder
Parmesan cheese
1/2 cup any pizza or pasta sauce
1/2 lb. pork sausage or hamburger
1 cup mozzarella cheese
Toppings:
Black olives
Mushrooms
Green peppers
Directions:
Preheat the oven to 375 degrees. Slice the loaf of bread in half lengthwise. Cut out some of the bread in the middle of the loaf. Butter bread and sprinkle with garlic powder and parmesan cheese. Toast bread in oven until golden brown. Fry your sausage or hamburger until brown. Drain meat. Spread sauce and mozzarella cheese on toasted bread. Slice black olives, mushrooms, and green peppers. Add sliced toppings to pizza and bake for 10 minutes at 375 degrees. 
Canned Biscuit Pizza (picture at top)
This is another quick and easy one if you do not have time to roll out a pizza dough. Of course, add whatever toppings you prefer. This is a dump and bake recipe. This recipe is for an 8×8 pan. Double for a 9×13 pan.
Ingredients:
1/2 lb. ground beef or sausage
1 12 oz. refrigerated biscuit dough
1/2 cup pizza or pasta sauce
1 cup mozzarella cheese
Toppings:
Cherry tomatoes sliced in half
Green peppers
Pepperoni
Directions:
Preheat oven to 375 degrees. Brown meat and drain.  Spray an 8×8 pan with cooking spray. Cut your biscuit dough into fours. Scatter dough in an 8×8 pan. Pour sauce over dough quarters. Add mozzarella cheese on top. Scatter browned meat over mozzarella and add rest of toppings to pizza. Bake 25-30 minutes. When done baking, check that dough has been thoroughly cooked in the middle.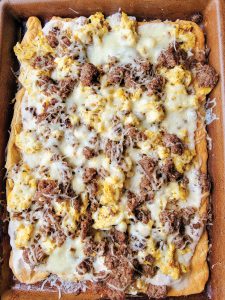 Breakfast Pizza
This is another type of pizza and a nice change to breakfast. Also, this is a good way to use up leftover biscuit gravy. This recipe makes up into a cookie sheet pan size. Putting the crescent roll dough flat on the pan is easy enough, but don't worry about making it pretty. The dough will be covered up by the toppings.
Ingredients:
1 packet biscuit gravy mix prepared according to directions
2 8-ounce tubes crescent rolls
1 dozen eggs
1 lb. breakfast sausage (ham or bacon if preferred)
1-1/2 cups shredded mozzarella cheese
Directions:
Preheat oven to 375 degrees. Prepare biscuit gravy mix as directed. Spray baking sheet with a non-stick spray.  Open both tubes of crescent rolls and place dough flat on baking sheet. Pinch edges together. Bake dough10-12 minutes until baked through and lightly brown on top. While dough is baking, scramble the eggs. Set aside. Brown sausage and drain. Spread gravy mix onto baked crust. Top with eggs, sausage and mozzarella cheese. Return breakfast pizza to oven and bake 10 minutes or until cheese is melted.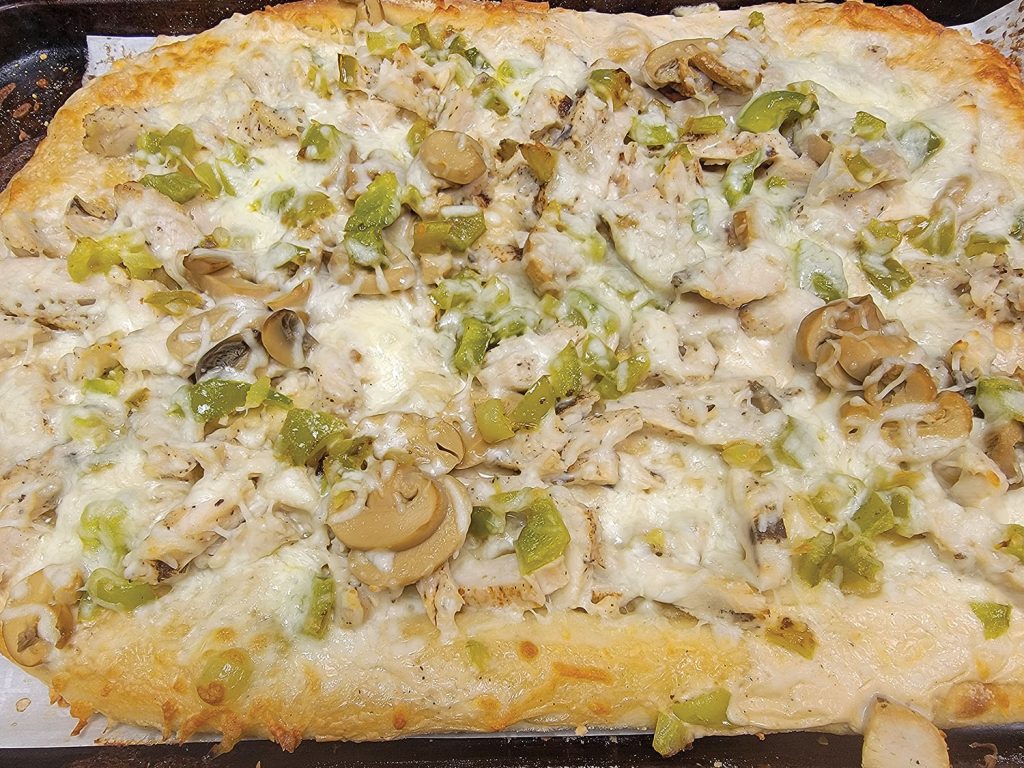 Pillsbury Dinner Roll Box Mix
I have prepared this box mix often for a pizza. This box mix also has an amazing cinnamon roll recipe on the box. I have included the pizza recipe from the back of the box mix in case Pillsbury removes this recipe.
Ingredients:
Non-stick cooking spray
1 box Pillsbury "Hot Roll Mix"
1 cup warm water
1/2 cup olive oil
1/2 teaspoon garlic powder
2/3 cup pizza sauce or alfredo sauce
2 cups mozzarella cheese
1/2 cup grated parmesan cheese
Additional toppings:
Spinach, chicken and artichoke hearts
Directions:
Heat oven to 400 degrees.  Coat two 12-inch pans with non-stick cooking spray.
Combine hot roll mix and yeast packet from box. Stir in hot water and 1/4 cup olive oil into mix and keep stirring until dough pulls away from sides. Knead dough on a lightly floured surface until smooth. Add flour as need to keep from sticking to surface. Divide dough in half. Pat dough onto prepared pans. Pierce dough with fork. Let dough rest for 15 minutes.
Add garlic powder to remaining 1/4 cup olive oil. Brush oil mixture over edges of dough. Bake pizza dough 5-10 minutes or until lightly browned. Top each pizza crust with sauce, cheeses and additional toppings. Of course, you could put the typical red sauce and toppings on this crust as well.
Mary Ann Kuper is a cook on the mv. Harold Dodd.