YouthForce NOLA, an organization dedicated to building bridges between school and work for New Orleans students, and Junior Achievement of Greater New Orleans hosted a career expo March 7 at the University of New Orleans' Lakefront Arena.
In all, some 3,300 underclassmen representing more than 20 high schools from throughout Orleans Parish attended the event. Supporting YouthForce NOLA and Junior Achievement at the career expo were more than 60 companies, agencies, training groups and schools. The event focused on four target industry clusters: business services, digital media and information technology (IT), health sciences and skilled crafts.
And while students were, no doubt, already quite familiar with many of the career paths on display at the event—like those in IT, business and the medical field—they also had ample opportunity to discover careers awaiting them in the maritime industry.
Inside the arena, AccuTrans, Marquette Transportation, Blessey Marine and the U.S. Coast Guard all had booths. Outside, RiverWorks Discovery (RWD) led a collaborative group of around 50 volunteers, representing about 40 New Orleans-area partner companies, who together offered students a glimpse into life on the nation's waterways, how the world is shaped by waterborne commerce, and the diverse career paths available to them in the maritime industry.
Sign up for Waterway Journal's weekly newsletter.
Our weekly newsletter delivers the latest inland marine news straight to your inbox including breaking news, our exclusive columns and much more.
Capt, Kenny Brown, founder of Maritime Throwdown and vessel captain for Ingram Marine Group, served as emcee for the RWD presentation, which took place on a large flatbed-trailer-turned-stage. Brown described how he was 26 years old when he got his start in the maritime industry as a deckhand.
"I worked my way into the wheelhouse by the time I was 30, so that's four years," he said. "I was making $150,000 or more in four years."
In case the students were wondering, Brown explained why he waited until he was 26—six years after high school—to start working in the maritime industry.
"'Cause I'm first-generation," he said. "I didn't know about this stuff. I was 45 minutes as the crow flies from the Mississippi River, and I didn't even know this existed."
Brown said it's a different story for his 18-year-old son, who's currently a deckhand and anticipates being a captain by the time he's 23.
"He knows about this industry and the opportunities that exist because he's second-generation," Brown said.
In a way, Brown said, the students could consider themselves "second-generation," now that they've heard the opportunities that exist for a career in the maritime industry.
Next, Taylor Martin, HR coordinator for Associated Terminals, gave students an idea of the role the maritime industry plays in everyday life. Specifically, she traced the potential path a chocolate chip cookie takes from the points of origin of its ingredients to the grocery shelf. In Martin's scenario, the chocolate originated in Belgium and was shipped in a container from overseas. The flour also could come from overseas or originate in the Midwest and involve barge transport on the Mississippi River. Butter and eggs would come from different parts of the United States, Martin said, with sugar harvested from Louisiana sugar cane fields, moved by barge to New Orleans and refined at the Domino sugar refinery in St. Bernard Parish. All that depends on equipment operators, crane operators, deckhands, pilots, mooring specialists and more to transport raw materials and finished goods.
"There are a lot of different careers you can choose from here, and it's a whole lot bigger than just that chocolate chip cookie ending up on your shelf," she said.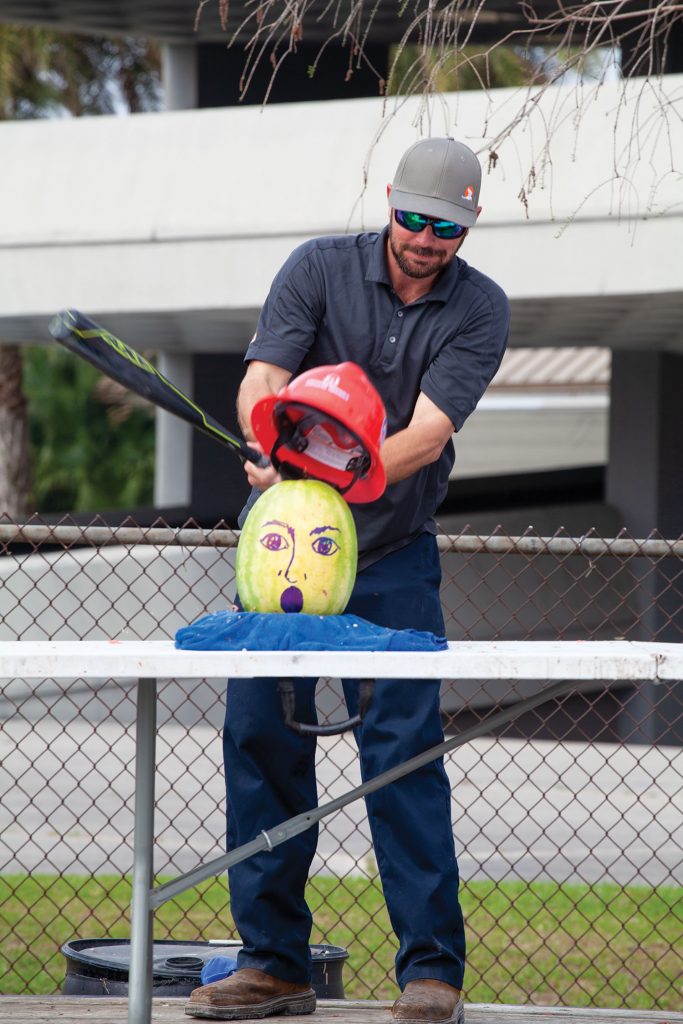 Lloyd Trosclair, safety and training specialist for Turn Services, told his story of starting out working on towboats and now focusing on his company's safety program and training. He also gave students an object lesson to drive home the importance of being safety-conscious and wearing personal protective equipment. Armed with a baseball bat, Troslair demonstrated the difference wearing a hardhat can make. A hardhat protected a watermelon from serious injury. After removing the hardhat, Trosclair struck the watermelon again, splattering it across a table and to the ground below, with some of the students and volunteers helping themselves to a fruit snack afterward.
Finally, Capt. Erin Sullivan, a pilot with the New Orleans-Baton Rouge Steamship Pilots Association, spoke to the students about her career path, which began with her growing up in the New Orleans area, then attending the Texas A&M Maritime Academy in Galveston, Texas. Sullivan pointed to a rope ladder displayed on one side of the stage.
"This is one of the ways we get on ships," she said. "We climb up the side of the ship on a ladder, move the ship between New Orleans and Baton Rouge, and then we go home. We work seven days on and seven days off, so you get a lot of vacation time to do whatever you want."
With each rotation of students, a crew from Delgado Community College's Maritime, Fire & Industrial Training Center would ignite a huge fire and put it out with an industrial fire extinguisher.
Further emphasizing the safety aspect of the work, students then spent time trying to land a life ring around a traffic cone. In doing so, they had the chance to interact with other mariners and shoreside personnel representing tugboat, towboat, barge and terminal operators, pilot associations, Delgado and more to hear their stories and learn more about opportunities open to them.
Errin Howard, executive director of RiverWorks Discovery, said maritime companies partnering together to speak at career fairs and reach out to schools is critical to recruiting the next generation of mariners.
"Kids are already familiar with what it looks like to be a doctor, a nurse, a graphic designer or a welder," Howard said, "but most kids, unless they have a family member in the maritime industry, have no idea."
Especially when working with high school freshmen and sophomores and younger age groups, Howard said, it's important to "plant the seed that the industry exists." That's a collaborative endeavor, she said, made possible when companies work together to tell the story of the maritime industry.
"And I think more and more companies are beginning to understand the value of collaborating like this," she said.
RiverWorks Discovery has a handful of outreach events already on the calendar for the spring. Also in southeast Louisiana, RiverWorks Discovery will host a pair of Who Works the Rivers events March 14 and 23 at the Port of South Louisiana's new headquarters. A Who Works the Rivers will follow in Pittsburgh on April 20, with another held on April 21 in Point Pleasant, W.Va.
Caption for top photo: Lloyd Trosclair, safety and training specialist for Turn Services, speaks at YouthForce career expo in New Orleans March 7. (Photo by Frank McCormack)
Click on the slideshow below for more photos:
Capt. Erin Sullivan, New Orleans-Baton Rouge Steamship Pilots Association. (Photo by Frank McCormack)