Even though I prepare corned beef throughout the year, I still like to make corned beef, cabbage, carrots and mashed potatoes on St. Patrick's Day. However, here are few corned beef recipes I found that I would like to share. I recently cooked these for the men on the boat. Not to toot my own horn, but I have not had a complaint yet! Ha-ha. Enough about that. This is what I would like to share with you folks. I also included a recipe for Irish soda bread.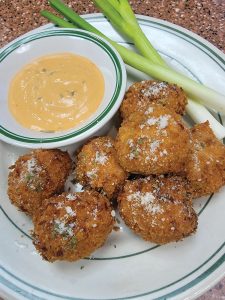 Reuben Poppers
These little babies make great appetizers. They are addicting and taste just like a Reuben sandwich. This recipe yields about 25 popper balls.
Ingredients:
1/2 cup packed sauerkraut, drained
1 tsp. sugar
1 lb. cooked corned beef, shredded and chopped
1 cup shredded Swiss cheese
8 ounces cream cheese, softened
1 Tbsp. honey mustard
1/4 cup pickled jalapeno, chopped (Optional)
Breading:
1/2 cup parmesan cheese
2 cups panko or corn meal
1/2 cup flour
1 tsp. each salt and pepper
1 cup buttermilk
1/2 cup milk
1 cup flour
Directions:
In a large bowl, mix sauerkraut and sugar together. Add corned beef, Swiss cheese, cream cheese and honey mustard. Add chopped jalapeno, if desired. Mix well and refrigerate for one or more hours.
To prepare the breading, mix the parmesan cheese, panko or corn meal, flour and salt and pepper. Set aside. In another small bowl, mix together buttermilk and milk. In a third small bowl, add 1 cup flour. Preheat deep fryer.
Once corned beef mixture has chilled, shape into 2-inch balls. Dip each ball into the flour, then the buttermilk and last the panko or corn meal and parmesan cheese mixture. Repeat with all poppers. Fry the poppers in a deep fryer for 3-4 minutes or until golden brown. Serve with Thousand Island dressing.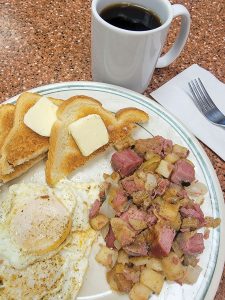 Corned Beef Hash
Hash was originally a way of using up leftover meats. Just add chopped potatoes and onions to any meat, and you have a dish ready to eat. There are so many ways you can change up this recipe. I normally prepare a mixture of hamburger, ground sausage, onion and cubed potatoes to go with breakfast. Sometimes I crack an egg on top of this. Cube potatoes, fry and add your meat. If you are in a hurry to make breakfast, use a bag of frozen cubed potatoes, or even shredded hash brown potatoes. Next time you prepare a corned beef, refrigerate a chunk of it to cut up into hash. This dish is very tasty.
Ingredients:
3 Tbsp. butter
1 chopped onion
1 25-ounce bag frozen potato cubes
2-3 cups chopped cooked corned beef
Salt and pepper as desired
Directions:
Heat butter in skillet until melted. Add onion and frozen potatoes. Cook onion and potatoes until potatoes are lightly browned. Add corned beef to potatoes and onions. Salt and pepper to taste.
Spinach Dip with Corned Beef and Sauerkraut (top photo)
This recipe is exactly what the title states. Make spinach dip and add corned beef and sauerkraut. You will never want to eat regular spinach dip again. The corned beef and sauerkraut really make this dip.  You can add sauerkraut per your taste.
Ingredients:
1 envelope dry vegetable soup mix (any brand – Knorr, Lipton)
6 ounces sour cream
1 cup mayonnaise (any brand – Hellmann's, Blue Plate)
20-ounce bag frozen spinach
1 lb. corned beef, cooked and chopped
1/3 cup sauerkraut
1 Tbsp. sugar
Directions:
Combine vegetable soup mix with sour cream and mayonnaise. Mix in spinach and corned beef. Add sugar to sauerkraut and mix well. Add sugared kraut to rest of mixture. Refrigerate two hours. Serve with celery, carrots, crackers or tortilla chips.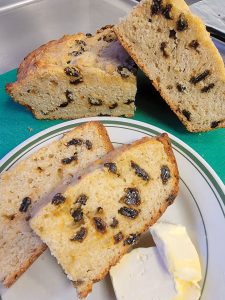 Irish Soda Bread 
Irish soda bread is a bread that is made with baking soda, not yeast. This is a quick bread. This sweet bread is made with raisins and caraway seed. As a reminder, when preparing quick breads, do not knead the dough too much or it will become dense. Also, scoring your bread dough on the top will help ensure the center is cooked. Scoring is just making a few slits on the top of your dough. This bread calls for buttermilk. An easy way to make buttermilk is mix one cup milk to 1 tablespoon white vinegar. Let milk mixture sit about 10 minutes before using.
Ingredients:
5 cups all-purpose flour
3/4 cup sugar
1/4 cup brown sugar
1 Tbsp. baking powder
1 teaspoon salt
1 teaspoon baking soda
1/2 cup butter, cut into cubes
2 cups raisins
2 tablespoons caraway seeds
2-1/2 cups buttermilk
1 egg
1/4 cup melted butter to brush on top of bread.
Directions:
Preheat oven to 400 degrees Fahrenheit. Bread can be baked in a 10–12-inch cast iron skillet in the oven, a large pie dish or a deep-dish Dutch oven. Grease or line the baking dish with parchment paper.
Whisk flour, sugars, baking powder, salt and baking soda together in a bowl. Add butter to mixture and cut with a pastry cutter until butter is crumbly. Mix in raisins and caraway seed. Make a well in the middle of butter and flour mixture. Pour buttermilk and egg into well and whisk milk and egg in well. Next, use a wooden spoon to mix milk and egg mixture into flour just until incorporated. Dough will be sticky. Transfer dough to baking pan. Score an X on top of bread dough. Set timer to bake 1 hour. Check bread in 30 minutes to ensure it is not browning on top. If the bread is browning too quickly, you may have it too close to the top burner. If your bread is in the center of oven and browning quickly you may lay foil on top of bread. Just do not close sides down. Closing sides down will keep too much moisture in bread and may interrupt the rising process. Brush your bread with melted butter, and finish baking.
Mary Ann Kuper is a cook on the mv. Harold Dodd.