Steve Alley's story of how he got his start in the maritime industry might sound unusual today, but not so 40 years ago.
"I answered a blind ad in the newspaper," Alley said with a laugh.
Ohio River Company was looking for someone to design a preventive maintenance program for its fleet of towboats. Alley, who had studied criminal justice at Thomas More University and then business management at Mount St. Joseph University, applied. He interviewed in December 1983 and officially started in February 1984.
"Very few of the vessels had the same equipment on them," Alley said.
In his new job, Alley spent a lot of time riding towboats, getting to know the crews, the business and the vessels inside and out, while developing maintenance plans and streamlining equipment. In those days before email, broadband internet and smartphones, Alley said, he would often have to correspond with vessels by sending and receiving mail at locks.
His time designing Ohio River Company's maintenance program, though, was relatively brief, because, in Alley's words, "I literally worked myself out of a job in about three years."
But he was already hooked.
"It just gets in your blood so fast," Alley said. "You meet some of the nicest people in the world, and you can't help but stay. Some of the most amazing people you will find are right here on our waterways."
While Alley was busy designing the company's preventive maintenance program, Ohio River Company acquired Federal Barge Lines, including the company's covered hopper barge fleet. That acquisition created a sales opening for the company's expanded grain business.
"That got me into the sales side of the industry," Alley said.
And that's where Alley would stay for the rest of his career. With Ohio River Company, Alley served as senior sales manager and director of sales. In 2002, when Nashville-based Ingram Marine Group acquired Midland Enterprises, which included Ohio River Company, Alley stayed on, eventually serving as vice president for dry cargo sales. He retired at the end of 2021 after more than 37 years in the industry.
Ingram Marine Group honored Alley's legacy with a christening ceremony February 15 in New Orleans for the mv. Steve Alley, the fifth of 10 new vessels Houma, La.-based Main Iron Works is building for the company.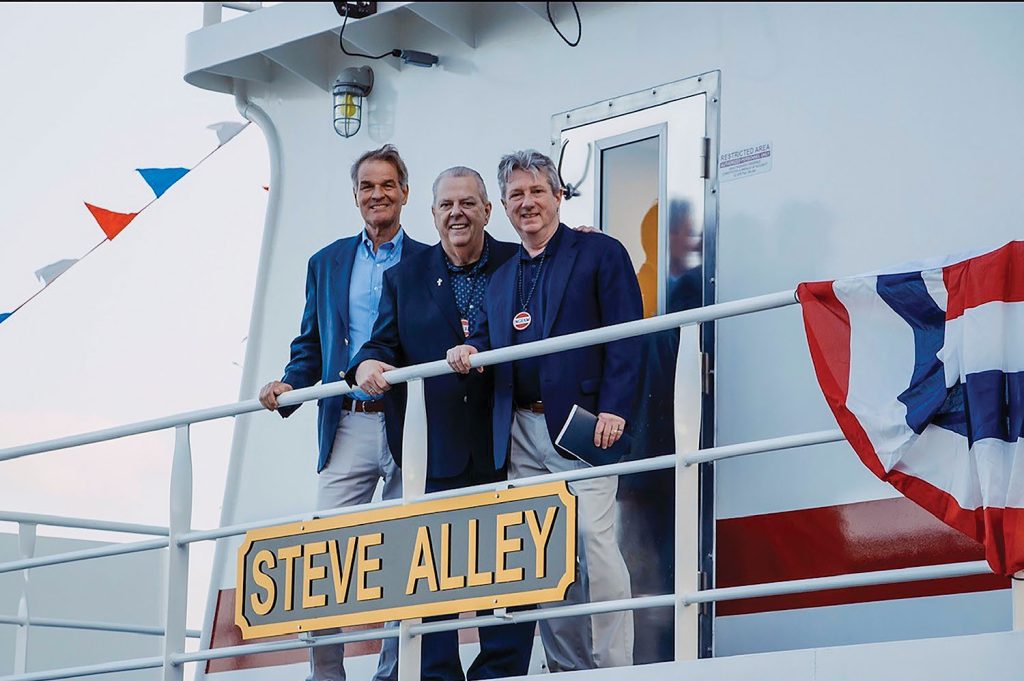 Speaking at the christening, Orrin Ingram, chairman of Ingram Marine Group and CEO of Ingram Industries, said Alley was well-deserving of a namesake vessel, not only for the job he did at Ingram, but also for the manner in which he accomplished it.
"Steve embodies what we look for in an Ingram associate," Ingram said. "He's a hard worker, impeccable integrity and honesty, has a can-get-it-done attitude. In fact, I think that's what made him such a great sales guy."
Ingram Marine Group President and CEO John Roberts said the new vessel is a visible representation of Alley's enduring legacy.
"The legacy of you continues, not only through your hard work and dedication for so many years with this wonderful organization, but now your name is going to be blessing our inland waterways," Roberts said. "Your legacy will continue there as well."
Alley's legacy is bound up in how he did his job and treated people. Throughout his time in sales at Ingram, Alley approached his job as much more than just hammering out contracts for transporting cargoes.
"You're not just selling for you," he said. "You're selling for the 6,000 or 7,000 people who either work for this company or are dependent on this company."
He also held to the philosophy of "collaborative selling," coming alongside customers to find the best possible solution for them, while also including as many people from the Ingram Marine Group family as he could. Doing so helped customers better understand Ingram's side of the equation, while also connecting Ingram personnel with the sales team and cargo owners.
Alley was also passionate about mentorship. He said that was a simple matter of "paying it forward."
"I had some really good mentors in my career," Alley said. "I would have never been successful without them, so I tried to pass that on, especially during my last 10 or 15 years in the industry."
Thomas Kinnard, Ingram's assistant vice president for dry cargo sales, is a great example of someone Alley took under his wing. Kinnard was a dispatcher when he first met Alley. When Kinnard saw how Alley resolved an issue between a customer and supplier, he knew he wanted to learn that side of the business. Soon, Kinnard was hired for a sales role and came up to Kentucky to train under Alley.
"Everywhere I went, he went," Alley said.
"Eight years ago this fall, Steve stuck his neck out for a skinny kid from Nashville to come up and learn about the sales business," Kinnard said at the christening. "But he didn't just bring me up to teach me about sales. He really brought me up to teach me about life. I learned so much under him, how to be a good sales person, how to be a professional, how to treat my customers with the utmost integrity. He taught me all these things, but he also taught me how to be a good father, a good husband, and how to be a real friend."
Alley said life in sales in the maritime industry is extremely tough, with the travel demands and the pressure it puts on families. Thus, when he would interview someone for a sales role, when relevant, he and his wife, Michelle, would do a couples interview with the prospect and his or her spouse.
"You're going to make the decision together, whether you're going to take this job or not," Alley said. "The business never stops moving, so the job never stops."
That's representative of the 'holistic approach' Alley had at Ingram, said Ingram Chief Commercial Officer Chuck Arnold, another member of the Ingram family who Alley mentored.
"You poured into us at Ingram, and you made us all better husbands, wives, brothers and sisters, sons and daughters," Arnold said at the christening, "and through all that, great stewards and great employees that make up this great company and culture."
Since his retirement, Alley has enjoyed spending more time with his wife, children and grandchildren, traveling, serving as a deacon in his church and getting back into golf.
"I have a golf game," he said, "but I don't know where it's at."
He's also doing some consulting work in the maritime space.
"Once it gets in your blood, you just can't shake it," Alley said. "Even after you retire, it's still there."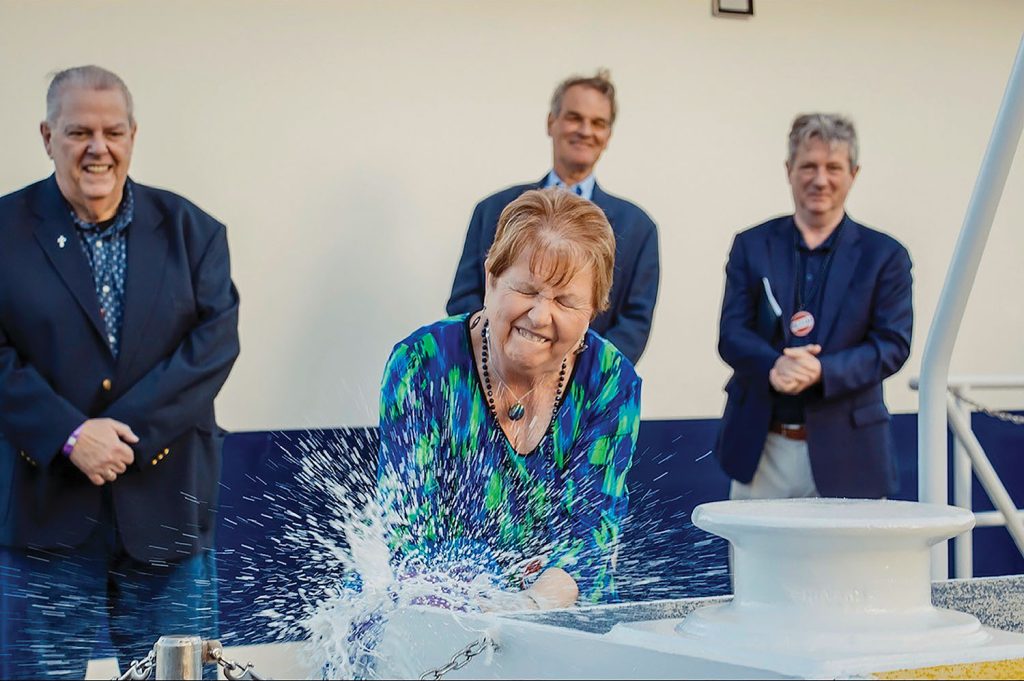 To close the February 15 christening ceremony, Ingram, Roberts, Alley and his wife, Michelle, climbed aboard the mv. Steve Alley, with Michelle breaking a bottle of champagne over the vessel's starboard push knee.
The mv. Steve Alley measures 78 by 32 feet, with a 10-foot depth and an 8.5-foot draft. The vessel design is a collaboration between naval architect Ashraf Degedy, Main Iron Works and Ingram. The Louisiana Cat-supplied Caterpillar C32 Tier 3 main engines produce a combined 1,600 hp. Karl Senner provided the vessel's Reintjes WAF 474 reduction gears. Together, the main engines and gears turn 76-inch by 62-inch, four-blade Michigan Wheel propellers from Houma Machine & Propeller.
Eagle Control Systems supplied the steering system aboard the mv. Steve Alley. Like its system sister vessels from Main Iron Works, the Steve Alley features a twin differential rudder system from Townsend Marine Design.
The Steve Alley has tankage for 18,000 gallons of fuel and 8,000 gallons of potable water.
Southern Power & Equipment supplied the Steve Alley's two John Deere 99 kW generators. The vessel features Duramax bearings and Duraweld keel coolers from East Park Radiator. Dale's Welding & Fabricators supplied the Steve Alley's Kemel shaft seals.
On deck, the Steve Alley features Wintech deck winches. Fendering is by M&M Bumper, and International Marine Systems supplied the electronics and communications equipment.
The mv. Steve Alley has accommodations for nine crew members, with four double staterooms on the second deck and the captain's room on the third deck.
This is actually the second Ingram towboat to bear the name of Steve Alley. The prior vessel, renamed and christened in 2006, was an 800-hp. harbor boat that worked in Loudon, Tenn. Ingram later sold that vessel to New Orleans-based Turn Services.
Caption for top photo: The mv. Steve Alley is the fifth of 10 new towboats Main Iron Works is building for Ingram Barge Company. (Photo illustration courtesy of Ingram Barge Company)
For more photos from the christening ceremony, click on the slideshow below:
Steve Alley (left), Orrin Ingram and John Roberts applaud Michelle Alley after she broke a bottle of champagne over the starboard push knee of the mv. Steve Alley, named for her husband. (Photo by Frank McCormack)