Early in the 20th century, the Charles Ward Engineering Works, Charleston, W.Va., became known for building tunnel-stern prop-driven towboats. The James Rumsey, built in 1903 by Ward, had a contest with the sternwheel D.T. Lane at Charleston. Both boats were steam, with the smaller Rumsey rated at 425 hp. and the Lane rated at 450 hp. While the contest caused a firestorm of controversy among the river community, there was no clear winner.
The Rumsey was in the U.S. Engineers fleet at Wheeling, W.Va., and later at Huntington, W.Va. It was sold in 1934 to Louisville Sand & Gravel, which renamed it Steve Click Jr. That firm operated it until selling it to a Jesse Cooper in 1946. It was lost by sinking at Helena, Ark., in 1947.
In 1906, Ward built a larger prop boat that was twin-screw and rated 800 hp. The steel hull was 150 feet by 26 feet, and the triple expansion engines were 9's, 14-1/4's, 25-1/2's – 14-inch stroke. It was fitted with a Ward water tube boiler that was fired by oil. The cabins were of wooden construction, and there was a single smokestack rising behind the pilothouse. The boat was named A.M. Scott, and Way's Steam Towboat Directory says that it was first a "pleasure steamer" based at New Orleans, but it does not indicate the owner's name. The List of Merchant Vessels of that period did not show ownership, but it gives the home port of the Scott as Wheeling, W.Va., through 1911.
In 1909, a group of Kansas City businessmen incorporated the Kansas City & Missouri River Navigation Company. Soundings, a history of Missouri River navigation by John Ferrell that was published in 1995, lists 13 men who were involved in the formation of this concern. In April 1909, the new navigation company purchased the A.M. Scott. They must have been satisfied with the performance of the prop-driven vessel because, in 1911, the sternwheel packet Chester, which had been purchased earlier by the company, was taken to New Orleans, where a tunnel stern was placed on it to make it a prop towboat.
Sign up for Waterway Journal's weekly newsletter.
Our weekly newsletter delivers the latest inland marine news straight to your inbox including breaking news, our exclusive columns and much more.
The Kansas City company also had special barges designed for it and built by the Kansas City Structural Steel Company. These barges were 120 by 20 feet and had separate cargo compartments within that were 40 by 10 feet. Loaded with 200 tons of cargo, they would draft 4 feet. In 1911, the company reported that it had served 63 shippers and handled 1,084 tons of freight. Three years later it had 221 customers and had moved 13,677 tons that season. In 1912, the firm bought the sternwheel packet Annie Russell and converted it to a towboat, renaming it Advance. It remained sternwheel.
In 1913, the A.M. Scott was taken to Point Pleasant, W.Va., where the oil burners were removed, and it was modified to burn coal. It appears that at this time it lost the single smokestack and thereafter had twin stacks behind the pilothouse. A photo of the boat taken at this time appeared in the S&D Reflector some years ago that shows the Scott at Point Pleasant and with a pile of coal on the stern. With the formation of the Inland Waterways Corporation (IWC) in 1920, the assets of the Kansas City & Missouri River Navigation Company were sold to the new government-owned concern.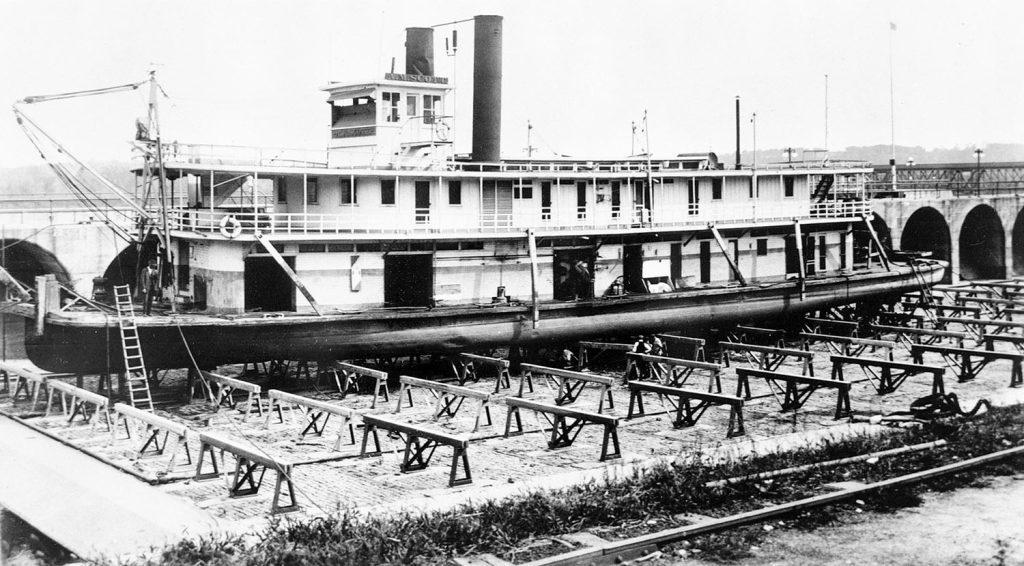 The IWC would only make sporadic trips on the Missouri River until regular service was established in 1935. The A.M. Scott was placed in a run from St. Louis to New Orleans after this, and Way's says that Capt. Frank Hyatt and Capt. Edgar Meek were masters. It later ran on the Warrior-Tombigbee River. In May 1927, with Capt. Clarence Moxley master, it was engaged in flood relief work at Greenville, Miss., during the massive flood experienced that year.
The IWC began making great strides in building new and innovative towboats, and in 1928 the A.M. Scott was retired and sold to Bisso at New Orleans. This pioneering vessel had not only proven the feasibility of tunnel-stern propeller propulsion, but it had also had a hand in proving that the Missouri River was worthy of federal expenditure for navigation improvements. It languished in the Bisso fleet for some time and was eventually dismantled.
Caption for top photo: The A.M. Scott when new. (David Smith collection)