For the sixth year, 40 of the industry's future leaders were honored at the Inland Marine Expo with the "40 Under 40" award, which recognizes individuals for their outstanding contributions to the inland marine transportation industry in a variety of fields. All 40 honorees were nominated by executives and peers for their hard work and dedication to the industry.
Over the course of 10 weeks, The Waterways Journal is featuring recipients. This week we recognize Andrew McIntyre, Randy Moore, Dane Morris and Johnny Nguyen.
Andrew McIntyre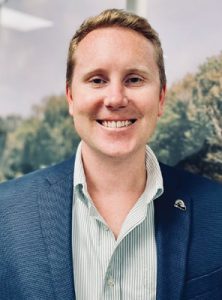 Andrew McIntyre, 33, is vice president, gulf-inland operations for Marquette Transportation.
McIntyre began his journey into the maritime industry by attending the State University of New York Maritime College, where he received his bachelor's degree in maritime transportation.
Following his graduation, he joined Kirby Corporation as a steersman, operating inland towboats for crude oil and chemical tank barges on the Gulf Intracoastal Waterway and with Mississippi and other western rivers. He then transitioned into working offshore, holding leadership roles at GulfMark Offshore and Jackson Offshore Operators.
McIntyre joined Marquette Transportation as a port captain in 2019. His leadership, operational knowledge and strong performance led to a 2020 promotion to director of gulf-inland operations, said Jeff Hudson, chief human resources officer at Marquette Transportation.
Besides taking on a broader leadership role at Marquette, McIntyre pursued and obtained his Master of Business Administration (MBA) from the University of New Orleans, graduating in 2022. He was then promoted to his current role earlier this year.
"Andrew is a high-performing, impactful young leader whom we are grateful to have on the Marquette Team," Hudson said.
Randy Moore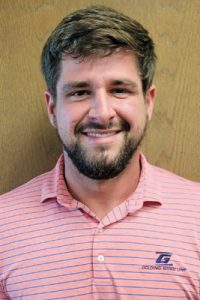 Randy Moore, 33, is port captain for Golding Barge Line.
Moore started out in the maritime industry as a green deckhand. He has since become well versed in locations on both the inland waterways and the Gulf Intracoastal Waterway.
"He has put in a lot of hard work and dedication into his career to be successful and continues to be successful," said Hannah Lewis, health and safety director for Golding Barge Line.
Moore progressed through the ranks at the company and trained many other mariners before becoming the company's shoreside port captain.
Lewis praised his knowledge and added, "It is amazing and inspiring to listen to his experiences, advice and expertise on events. Captain Randy is a subject expert on high water, low water, navigational maneuvers, as well as personnel relationships. We are thankful to have Captain Randy a part of our team and for his dedication to GBL and the maritime industry."
Dane Morris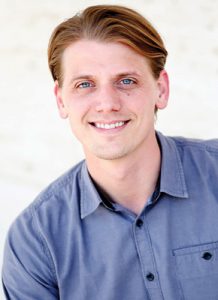 Dane Morris, 37, is Missouri River navigation restoration program manager for the Kansas City Engineer District.
Steve Engemann, president of Hermann Sand & Gravel Inc./Missouri River Towing LLC, said Morris has been instrumental in getting the Missouri River channel back in shape, working collaboratively with stakeholders to address many challenges.
"He listens to the industry about the challenges we face and works well with and inspires the engineering team to get to solutions," Engemann said.
He added that because of the Kansas City Engineer District's efforts, his company is investing in equipment to ship more products on the river.
"With the leadership Dane has shown in the district, we have a solid future ahead," Engemann said.
Aimee Andres, executive director of Inland Rivers, Ports & Terminals, also singled out Morris for praise, noting that in the latest round of meetings between the industry and the Corps, there was a "wonderful collaboration, understanding and communicative relationship."
"I believe this is, in part, due to the positive impacts Dane Morris is making within the district," she said.
Stacey Fowler, waterways manager for the Missouri Department of Transportation's waterways program, said Morris' willingness to listen and explore how stakeholders can help each other regarding river issues has been inspirational.
"Dane is a leader both in the USACE and in the waterways community," she said.
Johnny Nguyen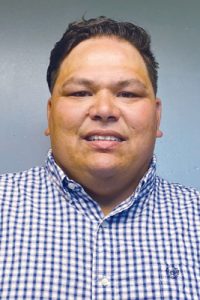 Johnny Nguyen, 37, is a captain at Wepfer Marine.
He has been with the company more than 16 years.
Nguyen joined the industry a few years after graduating high school. He came to work for Wepfer Marine, which was then Waterways Marine, in spring 2007 as a deckhand.
"Johnny excelled and quickly became one of the leaders in the fleet," said Alex Willingham, manager of Wepfer Marine.
In 2010, Nguyen became a tankerman and took the lead in helping to grow the fuel business in Greenville, Miss.
"He quickly became the tankerman that captains wanted to work with," Willingham said. "However, that was not enough for Johnny. He knew this was his path and wanted to achieve more."
In 2015, Nguyen was chosen to join Wepfer Marine's steersman program.
"Once receiving his credentials, Johnny worked every extra day possible to accrue the hours necessary to achieve the master rating," Willingham said. "Seemingly overnight, he made captain and shortly after accumulated the time needed to be granted the Master Unlimited rating."
Nguyen is a dedicated leader who takes on the task of training new deckhands and tankermen, she said. He routinely assumes the lead role in fleeting operations.
Walt Wepfer, captain at Wepfer Marine, said Nguyen has shown a desire to learn and grow throughout his career.
"Recently he has stepped up as a leader in the harbor, working with our crews and customers to provide efficient and timely service and to maintain secure fleets as well as continue to develop the next generation on the river," Wepfer said.
"We are proud to have Johnny Nguyen in the Wepfer family."