When Ray Eckstein founded Marquette Transportation Company in the late 1970s, his very first employee was his daughter, Cindy L. Erickson.
Erickson grew up along the banks of the Mississippi River in Cassville, Wis., but she moved to Paducah, Ky., along with her husband and three small children in 1991 after her father moved the business there. She worked alongside her late father, brother John Eckstein, who is now the company's executive chairman, and late husband, Tom Erickson, at Marquette for 25 years.
That dedication, both to the company and the family, is why the mv. Cindy L. Erickson, christened September 9, is the second boat the company has named in her honor. The original Cindy Erickson was a 1962 model built by Nashville Bridge Company and sold in 2016.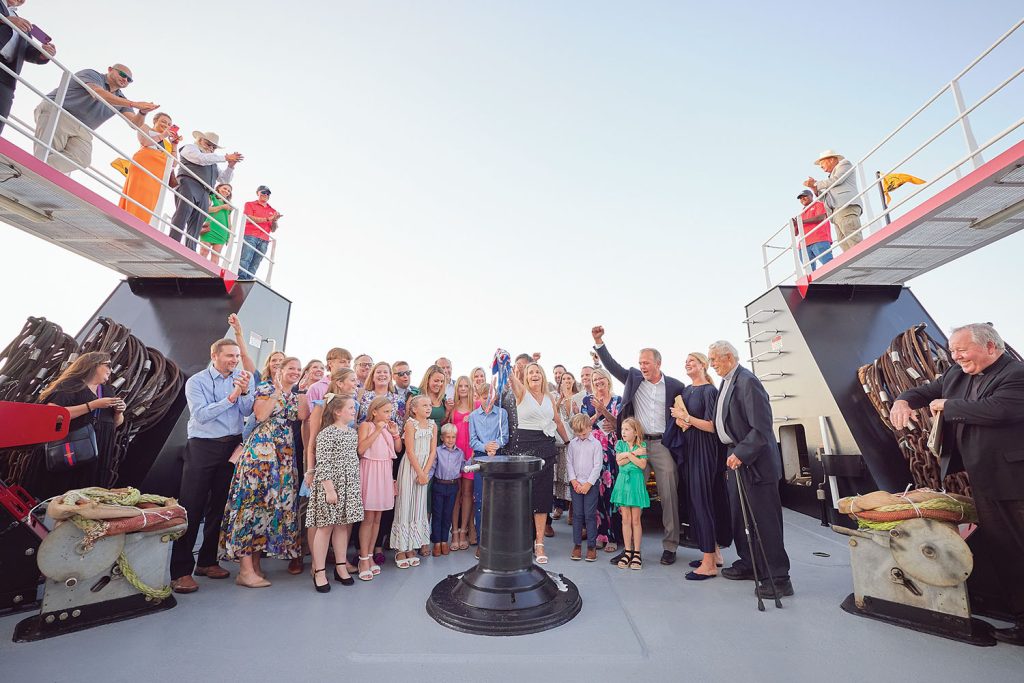 While the new boat named in her honor actually went to work for the company in February 2018, Marquette still wanted to recognize Erickson and celebrate with the crew, even though the ceremony had been delayed by river conditions both high and low along with a worldwide pandemic.
The 6,600 hp. Z-drive boat normally traverses the Mississippi between New Orleans and St. Louis, but having the christening in Paducah, where Erickson still lives, was important to her, both so that family and friends could more easily visit and so that her pastor, the Rev. Brad Whistle, could be the one blessing the boat.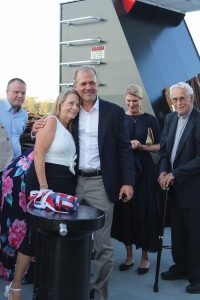 The crowd gathered at the Paducah riverfront on a perfect September day had a chance to tour the vessel before the program and to attend a reception that followed at the 1857 Hotel.
The crew was presented with a Bible from Whistle, pastor of St. Thomas More Catholic Church, a U.S. flag from the United States Coast Guard and the Marquette flag by Christopher Myskowski, senior vice president-river operations, before the bottle-breaking.
President and CEO Damon Judd began the program by welcoming the audience and thanking the boat's crew for their work, both every day and getting the boat ready for the christening.
"The pride and professionalism of the mariners who work in our river system are incredible," he said.
Josh Esper, executive vice president-engineering/procurement, agreed, saying, "This looks like a brand-new boat that just came out of a shipyard, and it's been out operating 5-1/2 years. We planned on doing this earlier, but unfortunate circumstances in the world prevented us from doing that. But here we are today, and the crew did a fantastic job."
Since the vessel came out, he noted, it has used 6.5 million gallons of fuel, had just under 36,000 hours on the engines and had traveled roughly 215,000 miles.
In discussing the vessel particulars, he made special note of the three Z-drive propulsion units, which can turn a full 360 degrees, offering exceptional maneuverability.
"This boat has got superior maneuverability and the ability to stop a lot of tonnage," he said.
Because of that, he said, it's able to handle big tows, often the same amount of tonnage as a conventionally built boat with 9,000 to 10,000 hp.
The mv. Cindy L. Erickson can push as many as 42 barges southbound, he said, carrying roughly 83,000 tons of grain in one tow.
"This boat can do a lot more than your typical 6,000," Esper said. "It can take 20,000 to 25,000 more tons of grain."
The Cindy L. Erickson is the first boat of a five-boat series of 6,600 hp., 160- by 50-foot triple-screw Z-drive towboats for Marquette built between 2018 and early 2020. It was built by C&C Marine & Repair in Belle Chasse, La. Also part of that series are the mv. Jerry Jarrett, the mv. Chris Reeves, the mv. Charles Reid Perry and the mv. Randy Mauer.
"A lot of collaboration, and a lot of hard work went into designing this vessel, and it's performing great," Esper said, thanking C&C owner Tony Cibilich by name along with Jerry Jarrett, who has worked with Marquette for close to 40 years.
John Eckstein thanked all of those who had come to the ceremony and summed up the day's events, saying, "It's exciting to be here and see this beautiful boat."
He highlighted the innovative technology, which had been used in off-shore and smaller horsepower vessels but was relatively new to line-haul boats on the Lower Mississippi when it was built, before saying that even with that technology, it takes having the very best mariners to make it all work.
"This is America at its best," he said. "They want to work, and they're making a good living down here, working in heat you can't imagine and conditions you can't imagine. I just can't say enough."
He then offered a toast his late father liked to use, along with the short, traditional toast: "To the boat. May it float!"
Whistle then prayed over the vessel, asking for angels to watch over and protect the boat and crew and to bless "the fruits of their labor." He also offered an ancient Gaelic blessing, dating to 1589, before Erickson broke a champagne bottle to officially christen it.
"I feel very honored having this boat named after me," Erickson said. "To have this vessel officially blessed in my hometown, by our parish pastor, Father Brad Whistle, means a great deal to me. Paducah is where my late husband and I raised our family and the place where all of my children and grandchildren now reside. Having all my family, husband Tomislav, his children and my dear friends here to celebrate with me makes this a very special moment."
Erickson said she wanted to take a moment to recognize a few important people in her life who have passed away, including her late husband Tom, parents Ray and Kay Eckstein and brother Randy Eckstein.
"Without them, I wouldn't be who I am today," she said.
Additionally, she thanked her brother John Eckstein and "the Marquette family."
"Naming a boat for a family member is a tribute to the legacy my father started," she said.
Erickson also noted that the christening came seven years to the day after Marquette christened the mv. Ray A. Eckstein.
Vessel Specs
The mv. Cindy L. Erickson was completed by C&C Marine & Repair in Belle Chasse, La.
For main propulsion, the vessel is outfitted with three Cummins QSK-60, Tier 3, fully electronic diesel engines producing 6,600 hp. at 1,800 rpm.
The three Z-drive units were provided by Karl Senner. The electrical system is powered by two Cummins QSK-11 Tier 3 generators.
The triple azimuthing Z-drive configuration is designed for backing and maneuverability. The Z-drives operate at lower engine loads to boost fuel efficiency.
The mv. Cindy L. Erickson can hold 133,000 gallons of ballast water and has a diesel fuel capacity of 114,000 gallons. The vessel's dimensions are 160  by 50 by 11 feet, 6 inches, with an eye level of 40 feet, 3 inches. It can accommodate a crew of up to 13 people.
The boat features engine alarms from Versatech and a fire suppression system from Herbert Hiller. Keel coolers are from Fernstrum.
On deck, the Cindy L. Erickson features a capstan and six 60-ton deck winches by Wintech. Laborde Products supplied the sanitation system aboard the vessel, and Wheelhouse Electronics provided the electronics package.
Capt. Doicus Langley also noted the boat's creature comforts, including that the superstructure is built on springs to reduce vibration.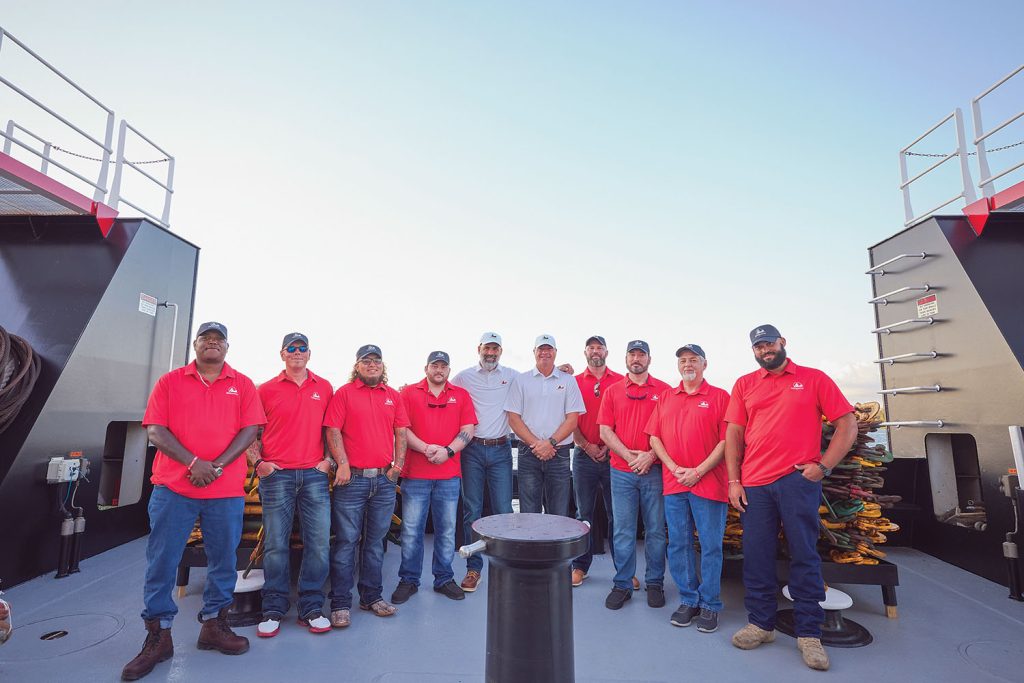 The vessel also features a soft-core joiner system in crew spaces by Marine Interior Systems. The soft-core joiner system, made up of modular, non-progressive panels of mineral wool sandwiched between galvanized steel sheets and with a thin PVC veneer, is non-combustible and reduces noise. Additionally, it has full-sized showers, a large lounge and a spacious wheelhouse.
"I've been on a lot of boats on the river, but this is by far the most comfortable," he said.
Additionally, he said, "It backs really well and handles its stern better than any vessel I've ever been on."
Caption for top photo: The 6,600 hp. mv. Cindy L. Erickson was built by C&C Marine & Repair. (Photo by Brad Rankin)
For more pictures from the Cindy L. Erickson christening, click on the slideshow below:
Capt. Doicus Langley, Sol Sims and Relief Capt. Jereme Runde in the wheelhouse. (Photo by Nelson Spencer Jr.)