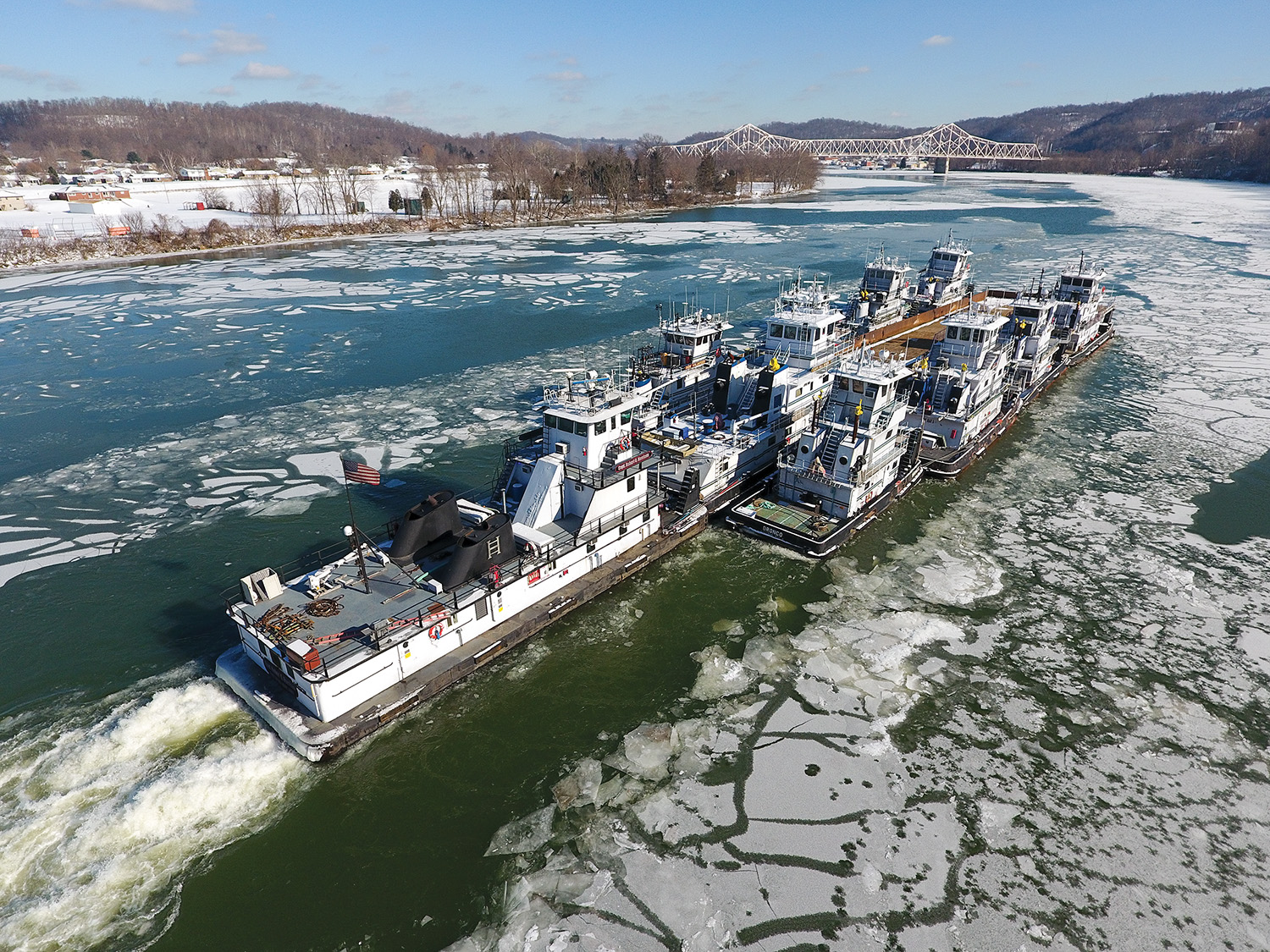 Nine former Kirby Inland Marine towboats are towed to Pittsburgh by the mv. Capt. Robert G. Harrison. (Photo by C.R.Neale)
The 15 towboats that Ohio River Salvage Inc., Pittsburgh, Pa., bought from Kirby Inland Marine LP, Houston, Texas recently are nearing arrival at the buyer's facility on Neville Island. The vessels, all in the 40-year-old range, each with roughly 1,000 hp., are the mvs. Bronco, Capt. Bill Ikner, Creole Tut, Dan L., Dixie Renegade, Dixie Volunteer, Laredo, Medina, Nickie B., North Wind, Palomino, Port Arthur, Pride, Roan and Stallion. The sale was finalized December 5.
The boats are being towed in three flotillas, the first one consisting of nine boats and the other two of three each. Catching the attention of boat watchers as it progressed up the Ohio River, the first batch was pushed by the mv. Capt. Robert G. Harrison, an 85-foot, 1,800 hp. towboat owned by Bellaire (Ohio) Harbor Service LLC, with Capts. Ron Harmon and Bill Layman, and deckhands Joe Blake and Scott Kaldor aboard.
Sign up for Waterway Journal's weekly newsletter.
Our weekly newsletter delivers the latest inland marine news straight to your inbox including breaking news, our exclusive columns and much more.
By January 4, the odd-looking conglomeration had reached Bellaire Harbor Service's landing at Ohio River Mile 93.6, where it was being held up until the ice in the river clears, said Bellaire's president, Bob Harrison. The tow was comprised of the towboats Creole Tut, Port Arthur, Dixie Renegade, Dixie Volunteer, Capt. Bill Ikner, Bronco, Dan L., Laredo and Stallion. The second and third flotillas were reported to be northbound near Smithland Lock.
Similar tows were assembled in 2010 and 2014, when Ohio River Salvage bought a number of towboats and barges from American Commercial Barge Line and the now-defunct Warrior & Gulf Navigation Company. Then, eight ACBL and 10 WGN boats were pushed up the Ohio River to Pittsburgh, where they were put to use or eventually fixed up and sold.
Separately, Kirby sold earlier the 70-foot, 1,800 hp. towboat Capt. Daniel Clement to Borghese Lane, McKees Rocks, Pa., which renamed it the Cori Weiland.